Friday Nite Videos | Jan 12, 2018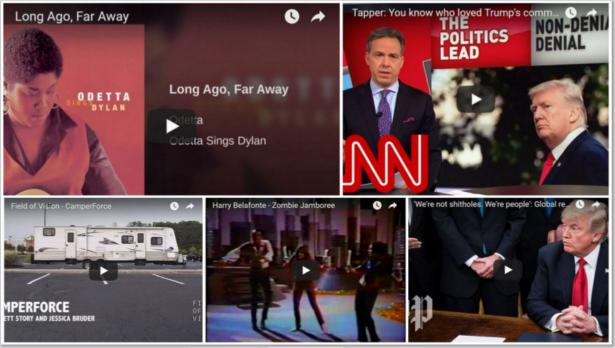 To view a video click an image below,
---
Odetta, the musical 'Voice of the Civil Rights Movement,' brings the haunting refrain of one of Bob Dylan's most radical songs about war, inequality and oppression: Things like that don't happen / No more, nowadays. 
---
CNN's Jake Tapper compares reactions to President's Trump "shithole countries" remarks following the President's tweeted denial.
---
Here's how the world responded to President Trump's disparaging Jan. 11 remarks about immigrants from "shithole countries," including El Salvador, Haiti and all of Africa.
---
In Belafonte's version, the Zombie Jamboree takes place in a New York cemetery, naturally enough, in the wake of nuclear war, which Belafonte adds a verse about how to avert.
---
A short by Jessica Bruder and Laura Poitros (Citizenfour) featuring the stories of some of the thousands of nomadic senior citizens recruited by Amazon to work in its far-flung giant warehouses. With secret camera footage from inside the Amazon empire, and a twist ending.