President's New Budget. Stark Vision of GOP Reality. Attention Must Be Paid; Here are the Proposed Cuts; Huge Increase for Pentagon
Life support - Trump's solution to slash all forms of social programs, in place for generations.,photo credit: Getty/Sebastian Rose // Think Progress
Trump Budget Offers Stark Vision We Cannot Afford to Ignore
While tens of millions of struggling Americans must reduce their already modest standards of living, this budget would widen inequality, worsen poverty and hardship, and further divide the country
by Robert Greenstein
February 12, 2018
Center on Budget and Policy Priorities
A President's budget reflects his vision for America.  From that perspective, President Trump's vision is stark, with the most affluent individuals and powerful corporations accumulating more wealth — and wielding more power, and facing fewer limits, to treat workers and consumers as they choose — while tens of millions of struggling Americans must reduce their already modest standards of living.
While some media coverage has portrayed this budget as largely irrelevant, such a judgment is premature and likely mistaken.  The President is his party's leader, his party controls the House and Senate, and his budget reflects his priorities and vision for the country.  Congress likely won't enact many of the budget's specific proposals in 2018.  But the budget shows what the President intends to seek if his party retains control of the House in November and picks up a seat or two in the Senate — the narrow margin by which legislation to repeal the Affordable Care Act (ACA) fell short last year.
The budget comes just weeks after the President and Congress enacted a top-heavy tax cut, one that the Tax Policy Center estimated will give those who make more than $1 million a year an average annual tax cut of $70,000 — more than the entire annual income of the median-income household.  Nevertheless, the budget calls for slashing one program after another that provides basic assistance for large numbers of Americans of modest means and promotes upward mobility.
It proposes once again to repeal the ACA's coverage expansions and gouge Medicaid deeply on top of that — cutting Medicaid for seniors, people with disabilities, and families with children, as well as other adults — and to eliminate federal protections for people with pre-existing conditions (a central feature of the Cassidy-Graham bill, which the budget embraces).  That would leave millions more low- and moderate-income people uninsured or underinsured.
It proposes deep cuts in basic nutrition, housing, and income assistance for millions of Americans below or close to the poverty line, most of whom work for low wages, are elderly or disabled, or care for young children.  For example, the Supplemental Nutrition Assistance Program alone (SNAP, formerly known as food stamps) — which research shows produces important long-term benefits for children — would be slashed a stunning $213 billion (or nearly 30 percent) over ten years.  Under the budget's proposals, at least 4 million low-income people would lose their SNAP benefits altogether.  More homelessness and hunger would inevitably follow.
It makes a mockery of Administration rhetoric that urges the poor to work harder.  For instance, its proposals would lead to the eviction of many people receiving rental assistance if they don't have jobs or aren't enrolled in work programs, even as it also proposes to raise rents sharply on many of them if they do work.  Their rent would rise from 30 percent of their income — after accounting for child care and other costs — to 35 percent of their gross income with no accounting for the costs of child care that may be essential to give poor mothers an opportunity to work. Moreover, many working families would likely lose SNAP benefits and health coverage.  And, the budget's shrunken overall levels of funding for domestic appropriated programs, especially after 2019, would also lead to cuts over time in job training and college aid.  
The budget also violates the spirit of the bipartisan agreement that congressional leaders negotiated just a few days ago, by dropping most of the restored funding that the deal provides in 2019 for non-defense discretionary (NDD) programs, while maintaining the deal's defense funding increases. NDD includes education and training, scientific and medical research, transportation and infrastructure, low-income housing, environmental protection, the national parks, and the like.
Even with its "addendum" in the aftermath of the bipartisan agreement, the budget would set overall NDD funding for 2019 some $57 billion below the levels the bipartisan agreement calls for.
On top of that, it makes further changes (such as preventing certain savings in mandatory programs from helping to finance NDD), so that in programmatic terms, overall NDD funding in 2019 would actually be below the 2019 sequestration level, which Congress just agreed is too low to meet national needs.
This violation extends to specific programs as well.  For example, the bipartisan agreement calls for adding $2.9 billion per year over the next two years to the discretionary Child Care and Development Block Grant, boosting this key federal program to help make child care affordable for low- and modest-income parents.  But the budget reneges on that and proposes essentially flat funding for the program. The Administration's blatant dismissal of a major bipartisan agreement on which the ink is barely dry may make bipartisan agreements harder to reach in the future.
And then, in years after 2019, the budget calls for cuts of unprecedented depth in non-defense discretionary programs even though that's the part of the budget that contains many federal investments in long-term economic growth.  By 2028, funding for non-defense discretionary programs would fall 42 percent below the 2017 level, after adjusting for inflation.  Indeed, by 2028, total NDD spending, measured as a share of gross domestic product, would be at its lowest level since Herbert Hoover was President. 
The budget disappoints in other ways as well.  Like the President's first budget, this budget once again uses unrealistic economic and revenue assumptions to artificially reduce projected deficits and debt.  The President continues to assume much larger impacts on economic growth and federal revenue from his tax-cutting and other policies than non-partisan experts find likely.  We expect the Congressional Budget Office's assessment of the budget to again show its fiscal claims to be unreliable.
The budget further disappoints in its highly touted infrastructure package, which turns out to be something of a shell game — cutting key existing infrastructure programs to shift funds to a shiny, though poorly conceived, Trump infrastructure package that shirks federal responsibilities in this area by relying unrealistically on states, cities, and private parties to come up with the vast bulk of needed funding.
The budget is a key way in which a President leads.  And our nation faces serious fiscal challenges that demand serious leadership.  But rather than a budget that reflects such leadership, this is a budget that rests on rosy economic and other assumptions and gimmicks, obscures the fiscal challenges we face, and proposes policies that maintain the huge new tax cuts that the wealthy and powerful received from last year's tax bill while delivering one blow after another to those who are down on their luck. 
This budget would widen inequality, worsen poverty and hardship, and further divide the country.  With it, the President essentially calls on us to ignore what Lincoln called "the better angels of our nature" — and instead to enter a new Gilded Age.
[Robert Greenstein is the founder and President of the Center on Budget and Policy Priorities.  He is considered an expert on the federal budget and a range of domestic policy issues, including anti-poverty programs and various aspects of tax and health care policy.]
The Center on Budget and Policy Priorities is a nonprofit, nonpartisan research organization and policy institute that conducts research and analysis on a range of government policies and programs. It is supported primarily by foundation grants.
Trump's budget cuts Medicare, Medicaid, and Social Security, breaking core campaign promise
This would be over a trillion dollars in cuts to some of the nation's most vulnerable.
By Ryan Koronowski
February 12, 2018
Think Progress
When he began his presidential campaign, Donald Trump promised to "save Medicare, Medicaid and Social Security without cuts."
This is a promise, however, President Trump would like to break. Trump's 2018 budget proposal would cut all three programs, which help the most vulnerable in American society, by billions of dollars.
Fox News's website tells readers that Medicare is spared "as he promised during the 2016 campaign," but a cursory search of the White House's own budget document reveals this is not true.
The White House's position is largely in line with the congressional GOP, which has also tried to pass a budget that would cut $1 trillion from Medicare and almost half a trillion from Medicaid.
Here is what the Trump administration's budget proposal would do to Medicare, Medicaid, and Social Security.
Cutting Medicare by $266 billion
The Trump budget document, titled "An American Budget: Major Savings and Reforms," proposed cutting a net $266 billion under the category, "Medicare: Eliminate wasteful federal spending." Among other things, Trump's budget proposal changes the way patients are reimbursed for post-acute care, making it harder for physicians to refer patients to other providers, and "limits hospital payments associated with early discharge to hospices."
Cutting Medicaid by $1.1 trillion
The Trump budget proposes cutting Medicaid, under the simple guise of "reforms," by $1.1 trillion over 10 years. The goal is to encourage states to transition away from the Medicaid expansion that Obamacare allowed, in part by imposing a "Medicaid per capita cap and block grant with the Consumer Price Index."
Cutting Social Security by $72 billion
The full budget document proposal lists "Reform disability programs" in line for a $72 billion decrease over the 10-year budget window. This includes explicit cuts to Supplemental Security Income programs and Social Security Disability Insurance programs, both managed by the Social Security Administration.
SSDI recipients are people who have become disabled and who have paid taxes into the Social Security Trust Fund, while SSI is needs-based — both programs have a lengthy waiting period before anyone receives benefits.
The cuts target retroactive SSDI benefits, multi-recipient SSI families, overlapping unemployment and disability payments, and other administration programs.
Last year, when an almost identical proposed cut in 2017's budget document appeared, a source with knowledge of the budget told ThinkProgress that the cuts were of such a magnitude that it would be like making the program into a block grant.
The 22 agencies and programs Trump's budget would eliminate
BY Brett Samuels
February 12, 2018
The Hill
President Trump on Monday unveiled his budget proposal for the 2019 fiscal year, which makes significant cuts to some federal agencies and projects as part of an effort to slash the federal deficit by $3 trillion over the next 10 years.
As part of that effort, Trump has proposed eliminating funding for several agencies, grant programs and institutes. 
While lawmakers are unlikely to enact most of Trump's proposal, here's a look at some of the centers and agencies the White House wants to abolish.
1. The McGovern-Dole International Food for Education, which donates agricultural commodities and financial assistance to carry out school feeding programs in foreign countries.
2. The Rural Business and Cooperative Service, which provides loans, grants and payments intended to increase opportunities in rural communities.
3. The Economic Development Administration, which provides federal grants to communities in support of locally-developed economic plans.
4. The Manufacturing Extension Partnership, which subsidizes advisory and consulting services for small and medium-size manufacturers.
5. 21st Century Community Learning Centers, which helps communities establish or expand centers to provide before- and after-school programs and summer school programs.
6. Gaining Early Awareness and Readiness for Undergraduate Programs, an Education Department program that provides grants to support college preparation for low-income students.
7. The Agency for Healthcare Research and Quality, which researches ways to enhance the effectiveness of health services.
8. The Advanced Research Projects Agency, which provides support for Energy Department projects.
9. The National Wildlife Refuge Fund, which compensates communities for lost tax revenue when the federal government acquires their land.
10. The Global Climate Change Initiative, a proposal that reflects Trump's decision last year to withdraw from the Paris climate agreement.
11. The NASA Office of Education, which provides grants to colleges and universities, museums and science centers. The funding would be redirected within NASA.
12. The Chemical Safety Board, which is tasked with investigating accidents at chemical facilities.
13. The Corporation for National and Community Service, which funds service opportunities, promotes volunteering and helps nonprofit organizations find volunteers.
14. The Corporation for Public Broadcasting, which funds public television and radio stations including Public Broadcasting Service  and NPR.
15. The Institute of Museum and Library Services, which funds museums and libraries nationwide with grants.
16. The Legal Services Corporation, a nonprofit that provides civil legal assistance for low-income individuals.
17. The National Endowment for the Arts, which funds American artists and projects with grants.
18. The National Endowment for the Humanities, which provides grants to American humanities scholars.
19. The Neighborhood Reinvestment Corporation, which funds community development projects nationwide.
20. The Denali Commission, the Delta Regional Authority and the Northern Border Regional Commission, which fund infrastructure and economic projects in specified areas.
21. The U.S. Trade and Development Agency, which provides U.S. goods and services for foreign projects.
22. The Woodrow Wilson International Center for Scholars, a think tank focused on international affairs and foreign policy.
All Guns, No Butter -- Trump's budget is a return to the let-'er-rip era of defense spending.
By Fred Kaplan
February 12, 2018
Slate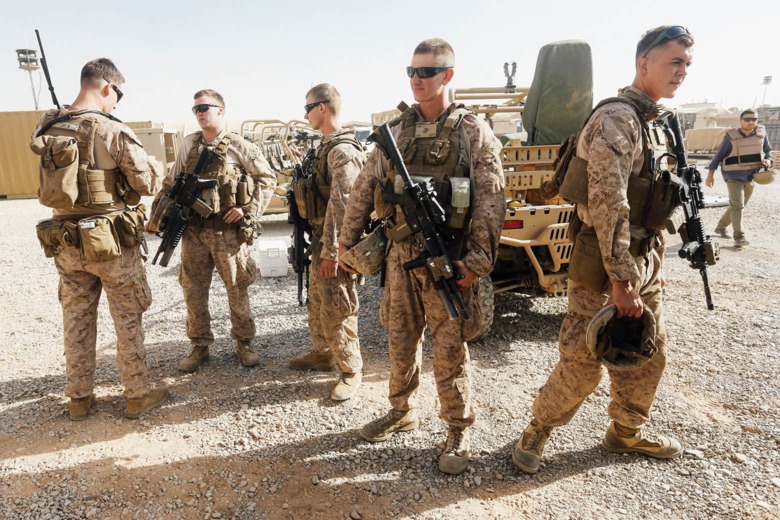 Back in 2013, when Gen. James Mattis was head of the U.S. Central Command, he told the Senate, "If you don't fully fund the State Department, then I need to buy more ammunition."
On Monday, President Trump proposed cutting this year's State Department's budget by 26 percent. Fulfilling his own prediction, Secretary of Defense Mattis is proposing a 28 percentincrease in spending for missiles and munitions—a 50 percent increase over the sum for those items in President Obama's last budget.
To put it another way: The $20.7 billion he's requesting for just missiles and munitions—a mere 3 percent of the total military budget—amounts to just a little less than the $25.8 billion that Trump is asking for the entire State Department.
Such is the lopsided picture of national security displayed by Trump's fiscal year 2019 budget proposal.
The administration is asking for $716 billion for the total military budget—a 10 percent increase over the current level. (This includes $686 billion for the Defense Department and $30 billion for other departments' defense-related items, including the Energy Department's nuclear labs and warheads.)
At a news conference, Pentagon officials, attempting to minimize the economic burden of such a large budget, noted that it amounts to just 3.1 percent of GDP. But this means little, especially at a time of overall economic growth. More pertinent facts about the budget might include these:
• As a percentage of discretionary federal spending, the Defense Department is allotted almost exactly the same as all other departments combined.
• Almost all government departments are cut, in some cases drastically, except defense.
• Finally, for all of Mattis' talk of sound management practices, his budget kills just one program—an upgrade of the Air Force's 20-year-old JSTARS battle-management plane—which would have cost $7 billion over several years. Mattis has decided instead to build a new plane.
In short, we are seeing the return of a let-'er-rip era in defense spending, last seen in the George W. Bush administration. Trump is outspokenly inclined to give his generals whatever they want. Congress last week handed the Pentagon an extra $160 billion—for fiscal years 2018 and 2019 combined—with no strings attached.
Certainly there are shortfalls in the military's budget, especially given the almost constant rotation of ships, planes, and troops to battle zones worldwide. Mattis' budget fills some of these with huge increases in the "operations and maintenance" account, a boost in innovative procurement practices and a well-deserved 2.6 percent hike in military pay.
But opening up the spigots so widely, and unconditionally, sends a message to the defense bureaucrats and program managers: Keep the money flowing out, and it will keep flowing in.
Here's one small but telling indicator. Ever since the mid-1960s, the three main services—the Army, the Air Force, and the Navy (including the Marines)—have received an equal share of the total military budget, plus or minus one or two percentage points. This was a formula, hit upon by the Joint Chiefs of Staff, to avoid the internecine warfare that had plagued the services' relations up till that time. Toward the end of the Obama years, this artifice became unsustainable: The Army stopped building big new tanks while the Navy and Air Force kept building more ships and planes. So, in Obama's last year, as a share of the three services' budgets, the Navy got 36 percent, the Air Force 35 percent, and the Army a mere 29 percent.
In the budget that the Pentagon released on Monday, the three services are back to equal handouts: The Navy and Air Force each get 34 percent, the Army 32 percent. So either a rational divvying up of defense dollars just happens to allot each service almost the exact same amount, or bureaucratic games are going on.
So how would the $716 billion be spent, if—as is likely—Congress lets the administration do as it pleases? The picture is clearer if we look just at the Pentagon's $686 billion share.
• Ten percent of it, or $69 billion, goes for "overseas contingency operations," i.e., to fight the wars, including $46.3 billion for the war in Afghanistan and $15.3 billion for the wars in Syria and Iraq.
• A huge increase is in shipbuilding, from the $27 billion in Obama's last budget to $31 billion for fiscal year 2018 to $33.1 billion for fiscal year 2019—including two Virginia-class submarines, three Aegis cruisers, and one aircraft carrier—with plans to boost the number of Navy ships in the next four years from 289 to 326. This may make sense, given the vast expansion of U.S. military missions around the globe. No one is asking whether this expansion of missions makes sense.
• An increase in missile defense programs from $8.5 billion in Obama's last year to $9.9 billion.
• The beginnings of an increase in strategic nuclear weapons, including $2.3 billion (on top of the $2 billion in Trump's fiscal year 2018 budget) for the new B-21 long-range bomber and $600 million (on top of $500 million in '18) for a new air-launched cruise missile.
• An increase in spending for combat planes from $45.3 billion in Obama's last year to $55.2 billion in 2019, almost one-fifth of it—$10.7 billion—for 77 F-35 stealth jet fighters (which are still experiencing difficulties in tests of theiractual stealthiness).
Officials at the Pentagon's news conference indulged in some of the usual rhetorical hat tricks, not least the claim by Comptroller David Norquist that in 2016, the U.S. military was the smallest it's been since World War II. As Norquist well knows, smallest does not necessarily mean least capable. One would be hard-pressed to find a general or admiral who would trade the military of 2016 with that of almost any previous year.
Few analysts in Congress, or in the think-tank world, scrutinize the defense budget the way they once did. When a nation is at war, much less when it's embroiled in a half-dozen wars, there is a natural tendency to give the generals and admirals whatever they say they need.
But, again, 90 percent of Trump's defense budget has little to do with the wars we're fighting but rather with the wars we might be fighting in the future. There's vast room for debate about those wars: the chances we'll really be fighting, the merits of whether we should be, the weapons we'd need to do so, and—not least—the things we might be doing now to prevent those wars from erupting, some of which have nothing to do with the size of the defense budget.
[Fred Kaplan is the "War Stories" columnist at the Slate. Previously he was Rep. Les Aspin's defense-policy adviser in the House of Representatives. He worked for the Boston Globe for 20 years — in D.C. through the '80s, as Moscow bureau chief in the early post-Soviet era, then New York bureau chief for seven years during Giuliani Time and the attacks on 9/11 — all the while doing occasional free-lance writing (including reviewing jazz, high-end audio, and movies, which he still does for Stereophile and Sound & Vision).]