labor
California Nurses Union Leader RoseAnn DeMoro Retiring, But Remains 'On Call'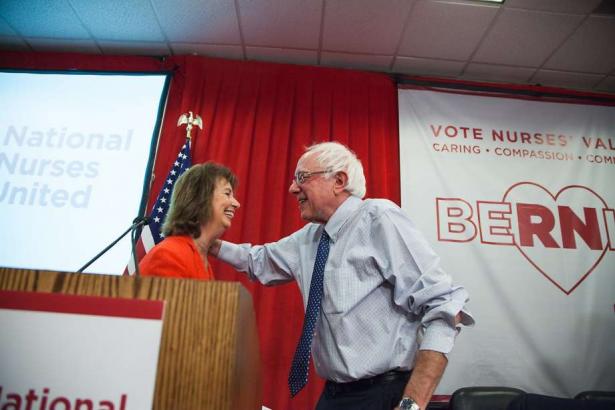 RoseAnn Demoro hugs Sen. Bernie Sanders, independent-Vt., during the nurses union's "Brunch with Bernie" in August 2015.,Santiago Mejia, Special To The Chronicle
Sen. Bernie Sanders calls her "very tough" and "an invaluable ally." Longtime consumer advocate Ralph Nader praises her as "the greatest labor organizer of her time." AFL-CIO President Richard Trumka admires her "iron will." Filmmaker Michael Moore says she is "the pain-in-the-ass labor leader all workers need fighting for them."
Nobody would call RoseAnn DeMoro, who transformed the California Nurses Association into one of the state's most powerful political forces and a national player, retiring. But on Sunday, she will retire from the organization she has led for 32 years, saying she leaves the union "100 percent" ready to fight its battles.
"I've done everything I could possibly do for one organization. I really do think we need to open up space for other people," DeMoro, 69, said during an interview at the union's Oakland office. "It's not like I'm disappearing from the face of the earth. I told them I'm permanently 'on call' for anything."

She doesn't have any immediate plans. Might be another Sanders presidential campaign. Maybe she'll be a roving movement organizer. Regardless, don't expect this water-skiing, poker-playing grandmother of three to mellow.
"I have 41,600 people following me on Twitter," DeMoro said and laughed. "And I've got enough of a bad attitude to have that kind of following."
That statement was vintage DeMoro. Brash. Collegial. Funny. And a tad foreboding. She never saw herself as just a union leader, she was building a social movement.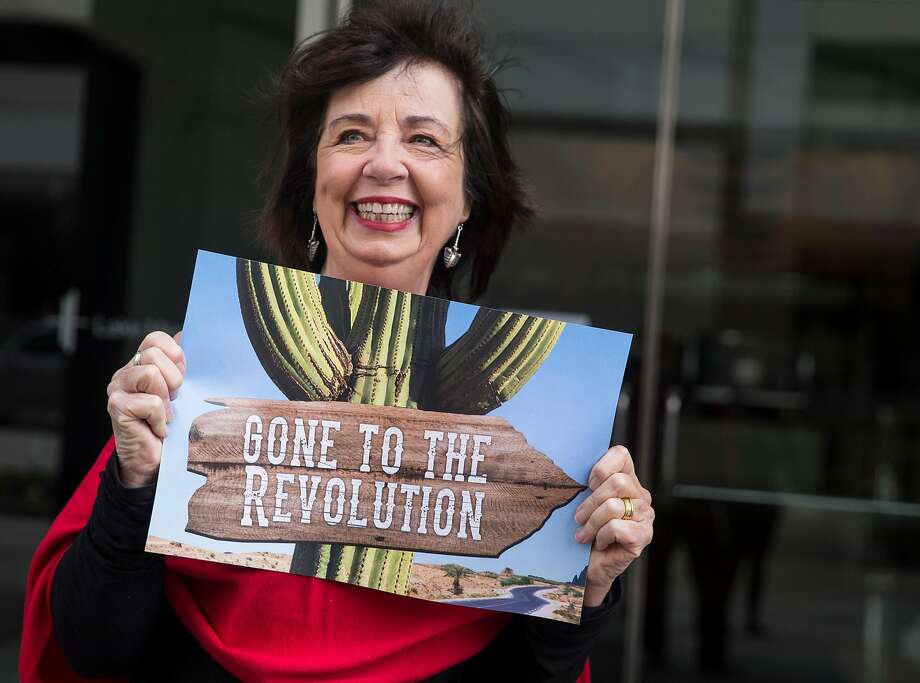 Photo: Jessica Christian, The Chronicle
RoseAnn DeMoro shows a sign at her retirement party in Oakland.
That attitude helped the nurses union deflate former GOP Gov. Arnold Schwarzenegger. When few others would take him on early in his first term, the nurses dogged him with 107 demonstrations within a year, helping to shrink his once sky-high approval rating. In much the same way, they torpedoed the 2010 gubernatorial campaign of his potential Republican successor, billionaire Meg Whitman, by following her around California with a living prop — a pearl-draped actress dressed as "Queen Meg" riding in a horse-drawn chariot.
Her union's relentless advocacy helped to elevate single-payer health care into an issue in both California's gubernatorial race and the national conversation. When the country adopts a single-payer system, Sanders has predicted, "people will look back and say RoseAnn DeMoro and the national nurses union helped do that."
Along the way, she's scrapped with Democrats for not being progressive enough and with other unions for being "toadies of the Democratic Party." She's dismissive of unions that engage in labor-management partnerships and prefer conflict resolution to a picket line.
"I never gave up on conflict," DeMoro said. "We're in a class war in this country."
She gave a lot of gray hairs to Art Pulaski, a frequent ally whose job as executive secretary-treasurer of the 2 million-member California Labor Federation is to make sure the state's unions are on the same page.
"She's pretty independent-minded, you can say that. She drove me nuts with some of the things they did," Pulaski said. "We'd say, 'We need some help with the governor's campaign,' and RoseAnn would say they're putting up a billboard of Schwarzenegger in a bikini.
"But a lot of those campaigns, like the one with Queen Meg, were brilliant. The theater helped make the larger concepts understandable to her membership and everybody else," said Pulaski, "You never get social change if you didn't have somebody advocating for what seems to be the unattainable."
Over the years, DeMoro helped to transform her organization from a 19,000-member professional association whose executive board was dominated by nurse managers into a union with 100,000 members in California and an additional 50,000 members in other states through National Nurses United.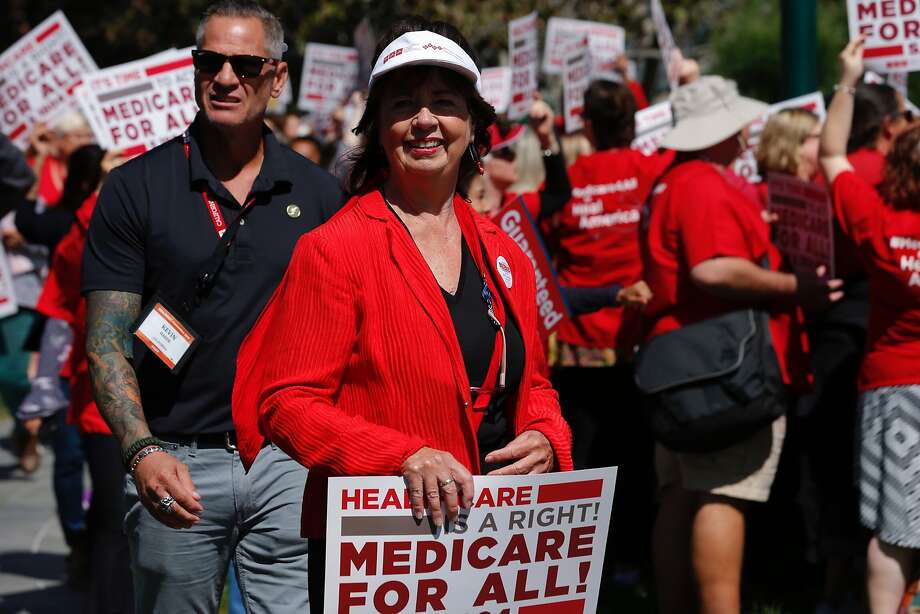 Photo: Santiago Mejia, The Chronicle
RoseAnn DeMoro attends a rally in San Francisco last year.
"RoseAnn is a fighting labor leader from the old school," said Gov. Jerry Brown, who is a longtime friend. "She stuck by her friends and intimidated her adversaries. She got things done."
To DeMoro "not convincing Jerry to do single-payer" — even though Brown supported single-payer care when he ran for president in 1992 — is "my greatest failure." Even though she's leaving, single-payer will remain one of the union's highest priorities.
Some of DeMoro's national allies, such as Trumka, leader of the 12.5 million-member AFL-CIO, naturally worry about losing a crucial leader at a tenuous time for organized labor. With the Supreme Court considering the Mark Januscase, which could limit unions' ability to collect some dues, thereby diminishing their political power, organized labor could be facing tough times.
"It's impossible to fill the shoes of somebody like RoseAnn," Trumka said. "There will be a learning curve to have the credibility that RoseAnn had."
However, DeMoro has long been planning for her succession. For the past several years, she has been grooming Bonnie Castillo, who unlike DeMoro worked as a registered nurse, to replace her. DeMoro and her leadership team have spent years collectively creating the agendas that will guide its future.
"It's not like I impose my will," DeMoro said. "The organization is kind of set in stone in terms of (how) we're going to fight for social justice as an organization."
That long-term vision is key to the union's success. DeMoro achieved that vision by showing her membership that patients brought with them not only medical problems, but the ailments of society.
Under her watch, the union began to regularly hold educational programs for its membership that showed, for example, how poverty contributed to a patient's ailments. How climate change affected the air they breathe. How the bottom-line ethos of the health care industry meant fewer nurses to do more work and led to sick patients becoming sicker.
Not only did the nurses study the issues, they regularly trained for street activism. If, say, 100 nurses gathered for a meeting, they'd spend their lunch break protesting in front of Clorox headquarters. Or Kaiser Permanente. Or Sen. Dianne Feinstein's house.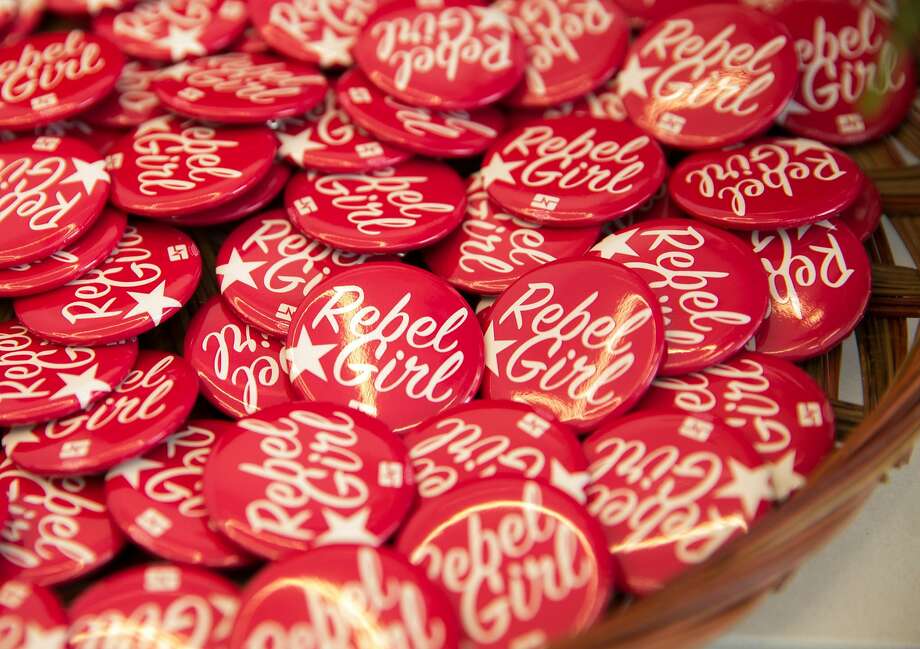 Photo: Jessica Christian, The Chronicle
Buttons honor RoseAnn DeMoro during her retirement party in Oakland.
"They spend a lot of time and resources making sure that the members of the union are educated about the nature of their jobs and the world around them," Sanders said in an interview. "They have looked at American society in a very sophisticated manner."
Trumka said that kind of educational effort combined with street action is very unusual among unions.
Pulaski added, "The nurses, like every single one of them, understand the social context of their work. And a lot of that is because of RoseAnn."
The roots of DeMoro's activism go back to her working-class upbringing in St. Louis as the daughter of a pizza parlor owner.
"My parents weren't very political," DeMoro said, then paused a beat to deliver the punchline. "They were Democrats."
They imbued in her a bottomless work ethic and a desire to help working people like their neighbors. With her high school sweetheart and husband of 49 years, Don, she found her way to California as a union organizer.
And now, even though she is retiring, some opponents — including some progressive and union allies — remain reluctant to criticize DeMoro on the record.
"They've got bigger problems than me," DeMoro said. "There is a sweeping move to wipe out all workers' rights, all human rights. I'm not to be feared. In fact, people should hang with me, and we'll fight it together."
And should anybody try to use this transition moment to try to divide the nurses union, Castillo offered a warning that sounded like something her predecessor might say.
"We know what solidarity means," Castillo said. "We will be very mindful of those who see to create division. That's not going to happen. We'll make very sure that won't happen."
Joe Garofoli is The San Francisco Chronicle's senior political writer. Email: jgarofoli@sfchronicle.com Twitter: @joegarofoli

Senior Political Writer