Friday Nite Videos | April 13, 2018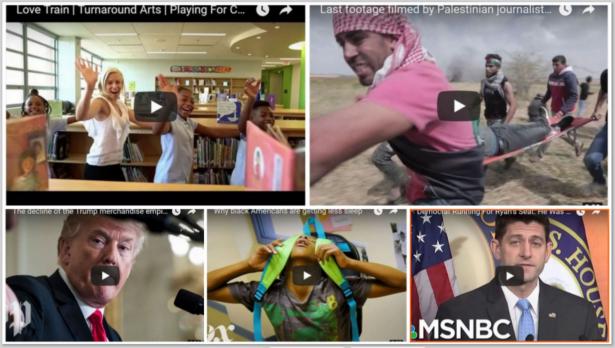 To view a video click an image below,
How the sleep gap reflects inequality and contributes to it.
Turnaround Arts infuses struggling schools with the arts as a strategy to bolster reform efforts. Turnaround Arts is a national program of the John F. Kennedy Center for the Performing Arts that works in 73 schools in 37 districts across 17 states and the District of Columbia.
Palestinian journalist Yasser Murtaja captured the mass civilian uprising in Gaza from extraordinary perspectives on the ground and in the air. Shortly after this film was made he was shot and killed in Gaza.
Randy Bryce, a Democrat running for Paul Ryan's seat in Wisconsin says Ryan's agenda has always been to give "tax breaks to the wealthiest" Americans and that he's been "complicit with allowing" Trump "to do whatever" Trump decides he wants to do.
Before he ran for president, Donald Trump was raking in money from Trump-branded steaks, eyeglasses, ties, K-cups, cologne and a dozen other licensed products. But now, nearly all of his partnerships have disappeared.