Why D.C. Statehood Is a Reproductive Justice Issue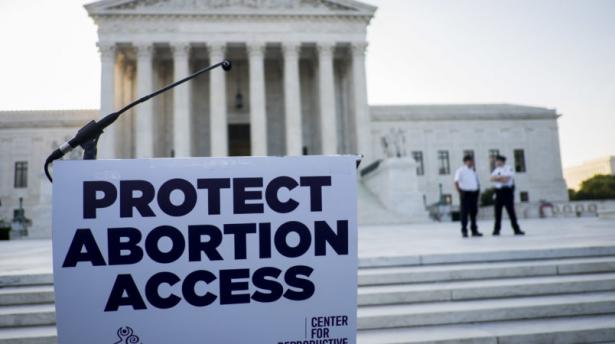 Pete Marovich/Getty Images North America
"D.C." is often shorthand for describing government excess, out-of-touch politicos, and decisive power. It's also a place where political activists convene their big march or rally.
But the District of Columbia is more than ground zero for the resistance. For starters, it's home to almost 693,000 people (more than Vermont and Wyoming). It's also the city of "taxation without representation," as it says on our license plates. We have no representation in the U.S. Senate, only one member in the House with no real voting power, and meager accountability for the mayor and D.C. Council to enact even popular policies promised to their voters.
It's outrageous that residents of the city where national policy is made get little more than empty gestures from local politicians and virtually no attention on the national political scene. We battle reproductive injustices, overpolicing of Black and immigrant communities,  and neglect of low-income parents and families of color, all of which are systemic issues in our society, but are compounded when we lack a political voice. Sovereignty for D.C.—the ability to control our budget, guard against federal infringement, and demand accountability from local elected officials—would help residents to have more control over the quality of our lives.

Lisa Hunter, a former U.S. Department of Health and Human Services appointee, parent, and D.C. Council candidate for Ward 6, noted in an interview that, "The worst-kept secret in D.C. politics is that the council is great at passing bills, having parties, and declaring victory. The secret they hope you don't consider is that passing bills means almost nothing in D.C."
For a bill to become a law here, Congress has to approve it during a 30-60 day period, and members can kill a bill on the spot, regardless of constituent support or D.C.'s ability to fund and implement it. Congress must also approve the D.C. budget—how city government spends revenue residents generate ourselves—as part of yearly federal appropriations bills. Statehood would change that, solidifying the D.C. population's place in discussions about social justice issues, where it is often missing.
One of the most disturbing infringements of federal power over D.C.'s local finances in recent years was on funding for abortion care. In 2011, congressional Republicans threatened to shut down the governmentuntil Democrats conceded to end public insurance funding for abortion in the District, playing the health care of thousands of low-income women as a leverage point in partisan politics. Jeryl Hayes, president of the D.C. Abortion Fund (DCAF), explained the provision's unpopularity in an emailed statement: "D.C. residents overwhelmingly support abortion access and the notion that the type of insurance you have should not dictate whether or not your insurance covers your health care needs."
DCAF before and since has stood in the gap for people unable to cover out-of-pocket fees for abortion care. However, the sovereignty offered by statehood would allow D.C. to join states like neighboring Maryland to provide Medicaid funding for abortion care.
House Republicans—led by the now-disgraced former Arizona Rep. Trent Franks (R)—have tried on multiple occasions to impose unconstitutional 20-week bans on abortion care in the District. Franks' bills repeatedly failed to pass the Senate, but served as a jarring reminder that forces in the federal government view pregnant people in D.C. as a bargaining chip, at best, and as objects to control, at their most insidious.
The preoccupation with restricting abortion access often correlates with poorer health-care standards for pregnant people, and this disproportionately falls on women of color. D.C. has the highest maternal mortality rate in the country. According to a 2016 report by the Centers for Disease Control and Prevention, an average of 39 women per 100,000 died annually of causes related to pregnancies after live birth, nearly double the national average. But the rates for non-Hispanic Black women in D.C. were about 71 per 100,000 over the same period. Relatedly, infant mortality in predominantly Black Southeast D.C. is twice the national average and 10 times that of the city's wealthiest quadrant.
The D.C. Council responded by giving preliminary approval to the establishment of a maternal mortality review committee in early February, which is a nice idea in theory—establishing a process to conduct research and analyze data can be helpful down the line—but it's far too late, does not include study of maternal morbidity (longer-term effects of pregnancy, labor, and delivery that could have adverse impact on health), and provides no next steps for pregnant people trying to navigate D.C.'s maternal health care disaster now. As Hunter pointed out, "There are very clear things we can act on right now in order to make D.C. a safer place to give birth … We could ensure women in Southeast have a network of providers—midwives, doulas, doctors, nutritionists, and nurses alike—visiting them in their homes, if they'd like," she added. "Expecting mothers can't afford to wait for proposed solutions to be unearthed by our bureaucracy a few years from now."
In this instance, Congress has actually taken more intentional consideration of the crisis than city government, requesting an immediate response to questions about how providers and D.C.'s Medicaid program and local hospitals will ensure safety and quality of care. These actions came on the heels of two local obstetrics wards closing, both of which were in predominantly Black, Latinx, and immigrant neighborhoods.
Local birth workers who serve those communities were long aware that these wards were not providing the highest standard of care for pregnant people, and frequently referred their patients to faraway hospitals in mixed- and higher-income neighborhoods rather than their local provider. But not everyone can access care far away from their home. Somesha Ayobo, a pregnant Black woman from Southeast D.C., was taken to one of these hospitals in June 2017 and experienced a litany of botched treatments that killed her that day and her newborn four days later.
The corrosion of hospitals serving people of color, immigrants, and low-income patients is due to the city's decades of neglect for these communities' broader health needs in favor of serving wealthier communities, and efforts to build more of them. The 20001 zip code near downtown was recently rated the second-most gentrified in the nation (measuring changes in neighborhood demographics since the year 2000), and the pollution created by this excessive development literally leaves native residents in the dust.
Combating gentrification may be a futile effort in some respects, but statehood might give folks dipping their toe in our city for a few years and pricing out native residents more reason to treat D.C. like a homeinstead of an experience. Paradoxically, it's often social-justice or progressive-leaning folks who move into gentrifying communities, price out original residents, but don't bother to become registered D.C. voters because the city will hold a temporary place in their lives. The trappings of statehood—voting rights, national representation, legitimacy, and accountability for local electeds—would be a step toward improving the transients' engagement with our communities.
This wave of gentrification makes it no surprise that D.C. also has the most expensive child care system in the country. Jeremiah Lowery, director of the Universal Childcare NOW Coalition and at-large candidate for D.C. Council, argues, "With so many other budget demands, our child care system is never fully funded to meet the needs of parents in D.C. With voting representatives in Congress, we would have elected leaders who have more power to shift federal money to help fund our child care system and help get us on a pathway to high-quality universal access for all parents."
Statehood would help address issues of sovereignty over our budget and policy priorities, but possibly more importantly would also afford citizens more power to hold our local elected officials accountable for promises made and shirked. The Neighborhood Engagement Achieves Results (NEAR) Act, which employs a public health approach to combating violence and reducing overpolicing of communities, unanimously passed the D.C. Council in February 2016. Although features of this popular law have proven successful in other cities, securing funding and full implementation have been a long haul for community organizers in part because of foot-dragging by the mayor and some council members. As a state, we could call foul on elected officials' excuses of the city's current nontraditional lawmaking structure and congressional oversight to push for implementation of the policies that best serve our communities.
Becoming a state wouldn't even be a difficult path: D.C. statehood advocacy groups have mapped out a plan, but for the most part, it would require a simple majority vote in Congress, just like all other states have had to do since the original 13 colonies. While Democrats did include statehood in its 2016 party platform, there's still plenty of work to do to convince residents of other states that it's worth it to push their elected officials to fight for our autonomy.
D.C. won its right to elect a city government when Congress passed the Home Rule Act of 1973, the same year the U.S. Supreme Court decided Roe v. Wade. Inseparable from the struggle for reproductive justice and individual bodily autonomy is our city's fight for the rights held by other citizens of this country: to hold our elected officials accountable—at the federal and local levels—for representing our values and delivering the resources we need to foster safe and healthy communities. We can't afford to wait for equality any longer.
[Shireen Rose Shakouri is an advocate for reproductive justice and a proud D.C. voter, who with equal pride reps her New York roots.]