Philadelphia Orchestra: Don't Go to Israel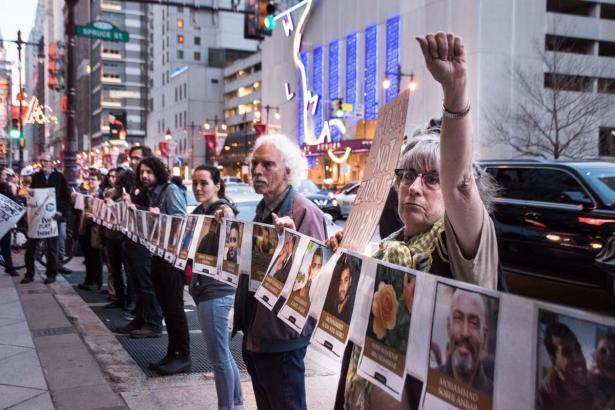 Pro-Palestine protest against the Philadelphia Orchestra's planned tour of Israel.,Photo: Joe Piette /Philadelphia Inquirer
By Touring Israel, Philadelphia Orchestra Ignores Crimes Against Palestinians
By Susan Abulhawa
April 27, 2018
Philadelphia Inquirer

The Philadelphia Orchestra's planned tour of Israel, in partnership with the Jewish Federation, is set to begin June 1.
By performing in Israel, the orchestra will provide musical accompaniment to the world's last settler-colonial state, at a time when other artists are canceling appearances there following the Palestinian call for a global boycott (BDS) of Israel, modeled after the South African anti-apartheid boycott.
Among the strategies Israel has launched to combat BDS is "Brand Israel," a propaganda initiative that seeks to exploit culture to divert attention from Israeli crimes.  Arye Mekel, Israeli deputy director general for cultural affairs, explained it as the "way you show Israel's prettier face."
The Philadelphia Orchestra's trip to Israel is part of this strategy.
More than 100 musicians, artists, scholars, and human-rights activists, together with 35 social justice organizations, sent a letter to the orchestra's leadership calling on it to cancel the trip. We asked for the chance to further discuss the issues in person.
Believing we could appeal to orchestra leaders' sense of morality, we quoted the wordsof Nobel laureate Desmond Tutu: "People who are denied their dignity and their rights deserve the solidarity of their fellow human beings. … I have witnessed the systematic humiliation of Palestinian[s]… familiar to all black South Africans."
The orchestra's co-presidents, Ryan Fleur and Matthew Loden, sent a short response that I can only describe as dismissive, patronizing, and micro-aggressive. We followed up with another letter to reiterate our desire to meet, but received no answer.
One of the things mentioned in our letters was a scheduled dinner with Miri Regev, a politician who once referred to African asylum-seekers as "a cancer" and later apologized to cancer patients for the association.  She said, "Heaven forbid … I did not compare them [Africans] to human beings."
The itinerary (open to orchestra members and patrons joining the trip) boasts multiple visits with military personnel, including a "VIP visit to an IDF [military] base." This is the same military that has killed 40 Palestinians and wounded 5,000 more in the span of just four weeks. A video of snipers celebrating after shooting an unarmed Palestinian man in December was leaked and immediately went viral.  In response, Israel reprimanded the person who filmed the shooting and is seeking tocriminalize future videos of crimes against Palestinians.
Fleur and Loden claim neutrality, invoking lofty verbiage like "cultural diplomacy," "brotherly and sisterly love," and "peace and tolerance."
But based on their press release, the orchestra's tour is in celebration of Israel's 70th anniversary, which marks the year when 80 percent of the indigenous non-Jewish population were forcibly evicted and had their properties, homes, and heritage stolen by recent European Jewish immigrants with no direct ancestral ties to the land.
Unwilling to let such ignominy pass unnoticed, concerned Philadelphians began weekly protests outside the Kimmel Center and will continue to do so.
The orchestra's tour is ultimately a collaboration with an apartheid state that oppresses millions through the use of color-coded IDs denoting one's ethnicity, color-coded license plates, segregated roads, segregated buses, and a two-tiered legal system (harsh military orders and courts for occupied Palestinians and a civilian justice system for Israelis).
It is morally indefensible for Philadelphia's world-renowned orchestra to participate in Israel's propaganda, particularly as Israel is murdering and maiming thousands of defenseless human beings now before our eyes.
[Susan Abulhawa is an international bestselling author and human-rights activist living in Bucks County. @sjabulhawa]
From Berlin, The Son of a Storied Philadelphia Orchestra Musician Opposes the Group's Israel Tour
By Peter Dobrin, Classical Music Critic
May 27, 2018
Philadelphia Inquirer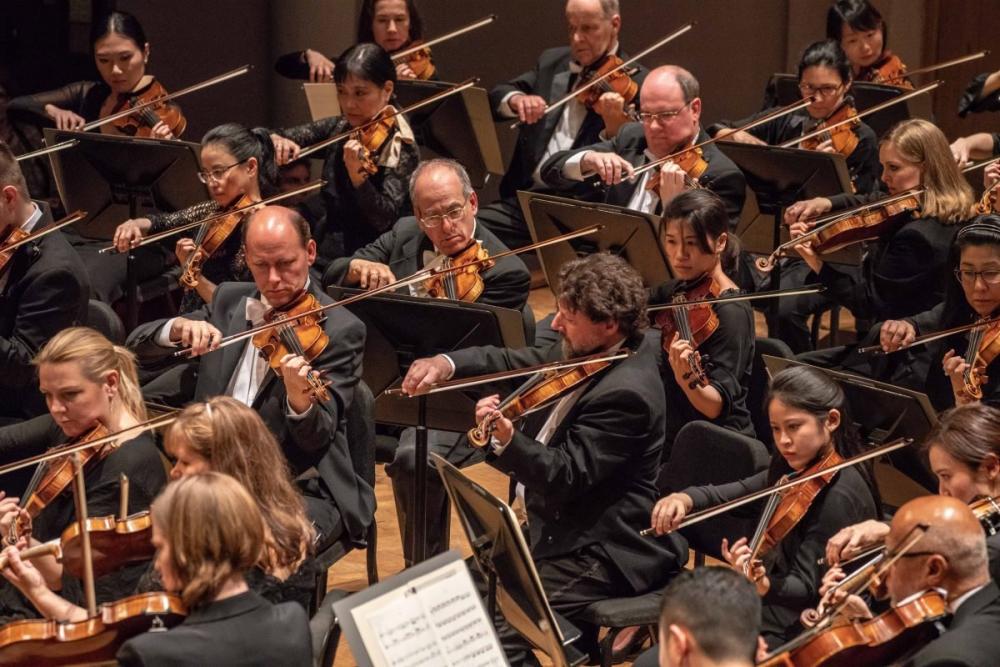 As the Philadelphia Orchestra wends its way through Germany in the next few days before heading to Israel on its spring tour, there is one musician watching nearby who harbors an unusually deep affinity for the ensemble but who still feels the orchestra has made "a terrible mistake."
In fact, for Berlin-based viol player and musicologist Laurence Dreyfus, it's personal. His father, George Dreyfus, was a violinist in the Philadelphia Orchestra for nearly a half-century. The younger Dreyfus, founder of the early-music Phantasm ensemble, was one of the signers of the petition that circulated a couple of months ago urging the orchestra to not go to Israel.
"While I personally don't support disrupting performances and can imagine how stressful that is for the musicians concerned — I surely wouldn't want a performance of mine own to be disrupted and believe it is counterproductive for the audience present — I think the broader context of constant human rights violations in Israel/Palestine needs addressing urgently."
Despite his family history with the Philadelphians, he said his solidarity lies "entirely with the protesters outside the halls." Pro-Palestinian demonstrations have taken place in Philadelphia before the tour and in Europe during it.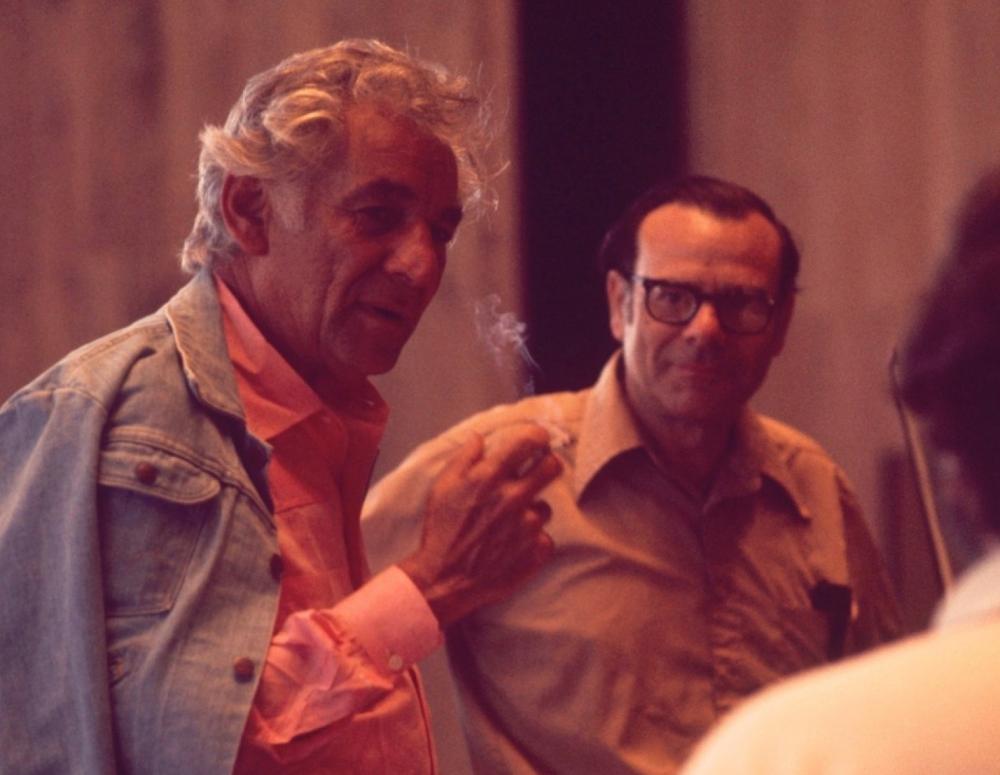 George Dreyfus, the son of Jewish immigrants from Eastern Europe, joined the Philadelphia Orchestra in 1953. Until his retirement from the orchestra in 2001, he was a visible stalwart of the ensemble, often the first person warming up on stage before a performance began. He died in July at age 97.
The orchestra was a big part of Laurence Dreyfus' childhood. "I more or less grew up backstage in the Green Room, attending weekly concerts for much of my youth and studying with two members of the cello section," he wrote in one of several emails on this topic.
"When I think of the huge prestige the Philadelphians enjoyed on the world stage and the role they played as ambassadors of peace and détente, what springs to mind — also from my own childhood and youth — are the orchestra's thrilling tours to the Soviet Union in 1958 and to China in 1973, both of which contributed to a thawing of international tensions at the time. No sign of that with this misbegotten venture! Just the opposite, in fact."
He asks: "Is the orchestra happy to have taken such a partisan side in this case, despite their disavowals to the contrary? I suspect Matías Tarnopolsky [the orchestra's incoming CEO, who starts in August] will have some damage to undo when he arrives on the Delaware."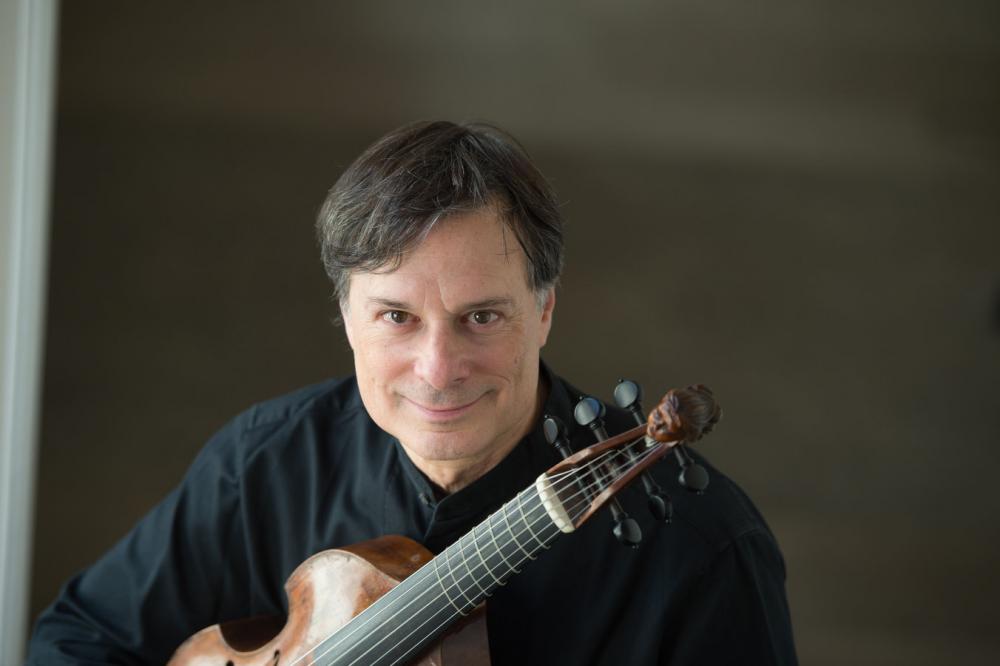 Right now, the orchestra's main face of the controversy is music director Yannick Nézet-Séguin, whose first concert of the tour Thursday night in Brussels was interrupted by two protesters chanting pro-Palestinian slogans and unfurling a sign. Nézet-Séguin, the orchestra, and pianist Hélène Grimaud came to a halt in the Brahms Piano Concerto No. 1. The concert later resumed and went off without further incident.
Afterward, the conductor told the audience that they are musicians, not politicians, and use music rather than words.
The orchestra has maintained that the tour — which continued with a concert Friday night in Luxembourg that was not interrupted and a Saturday night concert in Paris that drew some leafletters outside beforehand — is an act of cultural diplomacy.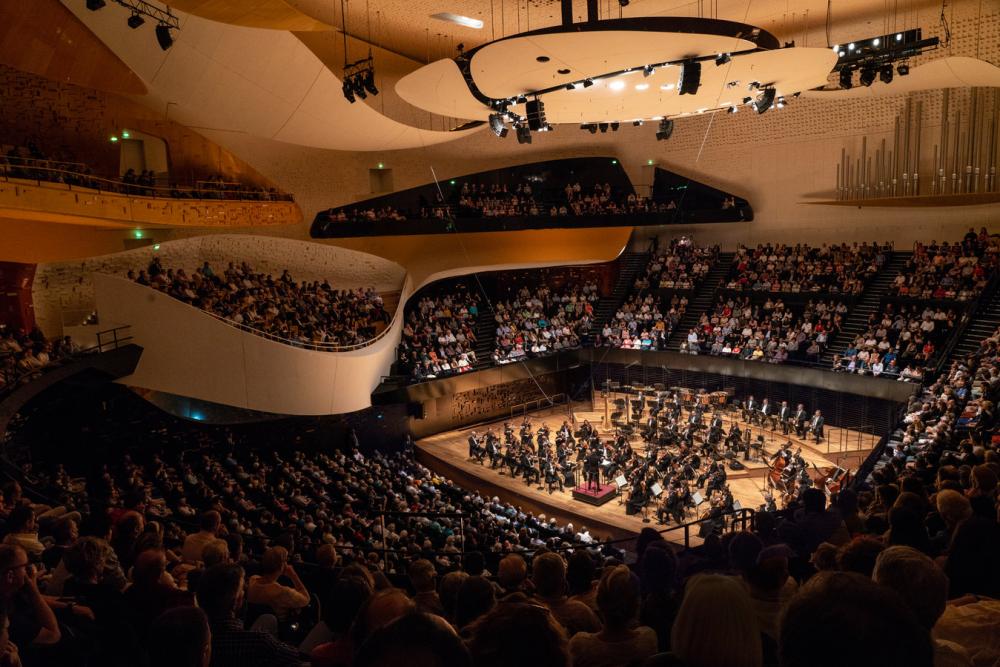 "We respect the right of free expression and peaceful protest. We also believe in the vital importance of music as a unifying form of expression, bringing light to our shared human values," the orchestra said in a statement released Saturday. "While in Israel, many of our musicians will participate in residency activities with Israeli citizens of diverse backgrounds and faiths, creating together a message of hope and unity."
Still, Dreyfus said he found Nézet-Séguin to sound "very disingenuous in stating — as he did at the Brussels performance before the encore — that musicians deal in notes, not in words, essentially exculpating musicians from defending moral positions so that we can make music in a better world."
An orchestra spokeswoman Saturday said Nézet-Séguin was unavailable to speak more fully of his thoughts and feelings on the matter.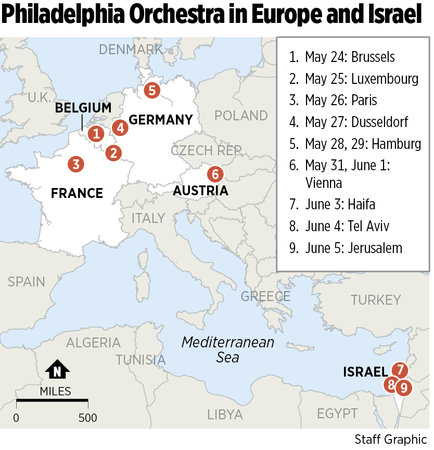 Dreyfus isn't planning to attend any of the protests that might greet the orchestra in Germany and Vienna before it moves on to Israel. "But I suppose I feel (perhaps mistakenly) that I can be most effective by talking to people with whom I come into contact through reasoned debate and also by joining with others in signing letters and petitions that likewise lay out persuasive arguments."
Performances are scheduled Sunday in Dusseldorf, Monday and Tuesday in Hamburg, Thursday and Friday in Vienna, and June 3-5 in Israel.
And how would his father feel about the question of whether the orchestra he played in for nearly a half-century is about to make a "terrible mistake" by going to Israel?
It's hard to know, says Dreyfus. "He was someone very much of his generation in supporting the idea of an Israeli state generally, though not their right-wing governments."
But the younger Dreyfus, who is also Jewish, feels compelled to act.
"Sometimes gentle methods — even if they rest on an implacable set of principles — have greater rhetorical force than confrontational ones," he says. "I can well imagine, however, that if one were living in Gaza or the West Bank today these ideas might seem a waste of time. But in the U.S., Europe and elsewhere as well I would hope it's possible to turn the tide against positions that perpetuate great injustices.
"Musicians and artists of all stripes — who make it their business to act as persuasive humanists — can play a small but admirable role in this venture."