Friday Nite Videos | June 1, 2018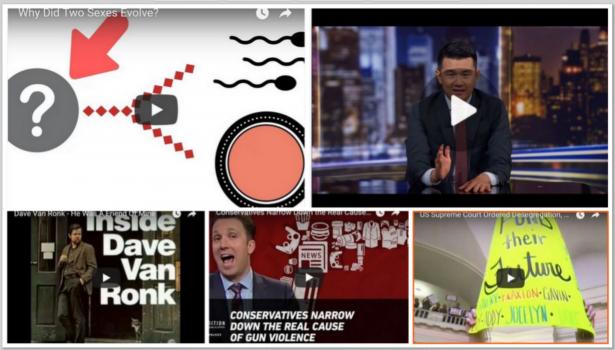 To view a video click an image below,
Ronny Chieng gives his take on televangelist Jesse Duplantis, a "prosperity gospel" preacher who is asking $54M for a private jet.
Dave Van Ronk ('The mayor of Greenwich Village'), performs a classic homage to a lost comrade.
The origin of the sexes is a very interesting question in theoretical biology. This video covers a famous hypothesis for the evolution of the sexes: The Hurst-Hamilton Hypothesis.
Free-thinking conservatives turn to creative sources to determine the root cause of gun violence, including doors, video games and high-shelved grocery store porn.
Historian Nancy MacLean discusses how Virginia pioneered voucher schools to thwart the 1954 Brown v. Board of Education Supreme Court ruling