Alexandria Ocasio-Cortez Won, How Did It Happen, What Does It Mean - Locally, In New York, Nationally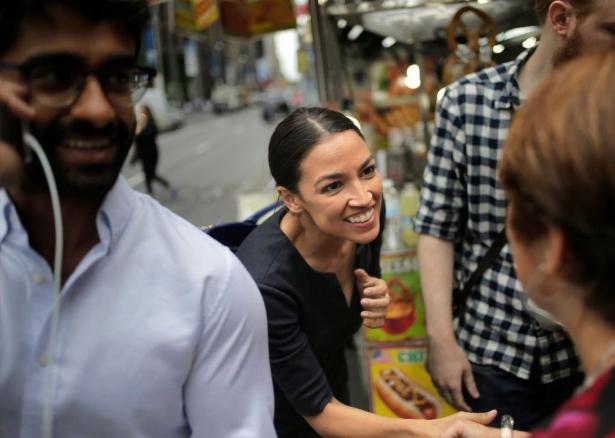 Alexandria Ocasio-Cortez greets a reporter near Rockefeller Center in New York, June 27, 2018. The 28-year-old political newcomer who upset U.S. Rep. Joe Crowley in Democratic primary says she brings an "urgency" to the fight for working families., credit: Seth Wenig / AP // New York Daily News
Why Alexandria Ocasio-Cortez Won
By Michael Kinnucan 
June 29, 2018
Jacobin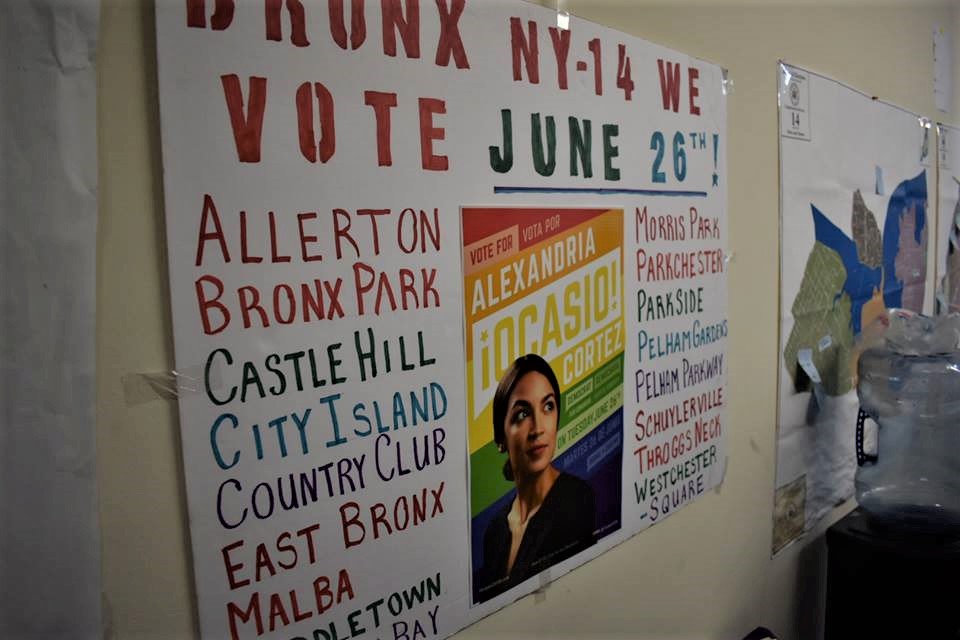 Alexandria Ocasio-Cortez's victory is a shot across the bow of the Democratic machine. Here's how it happened.
T
he more you know about New York politics the more surprising Alexandria Ocasio-Cortez's victory over Joe Crowley is. Crowley wasn't merely the fourth-ranked Democrat in the House; he was the dominant force in Queens politics for a decade, the king of the Queens machine. The extent to which Crowley and "county" exerted power over every race in Queens and over New York politics more broadly is hard to overstate; only six months ago, Crowley minted a new city council speaker  —  the second-most-powerful position in city government. The fact that he got taken down by an outsider is nothing short of breathtaking; the power centers of New York politics are reeling. If Crowley can be beaten, no one is safe.
I'm a member of the New York City Democratic Socialists of Americaand do electoral work in Brooklyn. I did very little work directly on the Ocasio-Cortez campaign but watched it closely.
You should respect my views on New York politics a little less from now on because never in a million years did I expect this to happen. I started out thinking, "This will be cool because she's surprisingly good, she'll get 30 percent which will dent Crowley's aura and loosen the machine's grip, and most importantly it will build capacity for DSA." I had a post ready to go for when she lost about how it had built capacity for DSA (which it did, enormously, as electoral work so often does). It was only in the last couple of weeks that I started dreaming of 40 percent. When she won I was blown away.
So it was a shock to the machine and it was a shock to us. But there are still lessons we can take from it now.
Machines, Money, and Media
So, ex post facto, why did it happen? How did it happen? I mean again, don't listen to me, but:
I've been saying for a long time that the "machine" terminology is a source of confusion. Historically an urban political machine doled out huge amounts of patronage directly to large numbers of people and therefore had the allegiance of large numbers of people. This was good, actually: delivering jobs to the working class in exchange for political allegiance ain't socialism but it's better than what the reformers were often trying to do. But in the course of history the machine lost its capacity to deliver that kind of patronage, and currently "the machine" as it exists at the county level doles out things like judgeships to a small number of people behind the scenes and that's it. For that reason its interest in turning out votes and capacity to turn out votes has declined massively, and it has developed a strong interest in suppressing turnout and driving disengagement from politics. This makes it vulnerable. "Double turnout and win" may not be a plausible strategy in a presidential general election where 60 percent of people are turning out, but when you're dealing with a primary where 3 percent of voters (10 percent of Democrats) are turning out, well, there are those people who are close enough to being politically engaged that you can push turnout up to 15 percent. And if you can do that (by knocking on doors) you're in a position to dominate elections.
Crowley was very powerful but "powerful" meant "holds the strings of power within the party," not "magically capable of turning out votes." These things aren't unrelated  —  Crowley could and did control money, endorsements, etc.  —  but they're not identical. It was foolish to think, as I did think, that just because Crowley was the most powerful Democrat in Queens he was the most invulnerable electorally. There was a tendency to think that no one could challenge him when in fact it was the case that no one (no sitting politician with a career to think about) dared challenge him.
Candidate quality, man. If you've ever been in a room with Ocasio-Cortez, you know what I mean. She has the thing. You don't need the thing, lots of sitting politicians don't have it, but when you find it  —  it's something else.
White people representing majority-minority districts are intrinsically vulnerable. There are more of them in Queens. Make a list and come at them.
The Democratic base is consistently and almost universally to the left of the Democratic elected party. Well to the left. Not just DSA people but lots of Indivisible people are to the left of their reps. There's a real gap between the politicians whose instincts were forged by Reagan-Clinton and the rest of us whose instincts changed with 2008 and changed more after Trump. Extremely favorable national press coverage gave Ocasio-Cortez a certain amount of credibility and a vast amount of money. It's very hard when you're a political outsider to separate yourself from the dozens of cranks who run for office and get 5 percent every year; getting covered in the Intercept matters for that. It also matters for attracting small-dollar donations. This element of AOC's campaign isn't really systematically reproducible, however: if we want to run not one but dozens of socialists for Congress (and boy do we want that), they can't all be the focus of media attention or viral small-dollar donations. We need to think more systematically about where the money will come from.
Speaking of money: AOC raised more than $300,000, concentrated heavily late in the campaign after she went viral. However, she was outraised and outspent roughly ten-to-one. That might convince you that money doesn't matter, which would certainly be the wrong conclusion to draw. A version of Ocasio-Cortez campaign without staff, an office and campaign lit (without well over $100,000, in other words) wouldn't have gone anywhere. What her win illustrates, instead, is the diminishing utility of campaign money: your first $100,000 gets you the absolute essentials, your thirtieth $100,000 just buys you another couple of TV spots. We can win when we're massively outgunned, but we can't win without a serious fundraising infrastructure to buy the basics.
Something I can't emphasize enough: There is no replacement for strong volunteer canvass. $3 million dollars is not a replacement for volunteer canvass. If you're wondering what you can do to change the political situation right now, the answer is "volunteer canvass."
Coalitions Matter
If anyone tells you this was DSA's victory solely, they're wrong. Ocasio-Cortez  —  a brilliant candidate at the right moment  —  brought in a whole mess of volunteers from all over the place, from other organizations as well as off the street. What's true, I think, is that DSA was the biggest organized bloc of her volunteers. I hope Alexandria or someone else is out there organizing the rest of them! The worst thing about electoral work is that sometimes there's no organization ready to build on the connections it creates; we need to make sure that doesn't happen here.
Some people in DSA need to get used to the fact that its wins will almost always be in coalition.
No One's Safe Now
We're a lot more powerful in New York City than we were on Monday. Like a lot. By "we" I mean DSA, the Left, and progressives  —  all of us. But let me be clear: we're NOT more powerful because we have an extra vote in Congress that will do what we want. She probably will  —  her politics are evidently good and pretty fearless  —  but it doesn't matter as much as the other thing.
The other thing is that a very powerful incumbent was challenged from the left, and went down. Believe me when I say that there isn't an incumbent in New York who didn't watch and learn from that, and from how close Yvette Clarke's challenger came. They're quaking in their boots, because that never happens; incumbents never lose. This one did  —  the guy no one expected  —  and now they're all looking for ways to insulate themselves from left challenge.
On the night of, I said, "This is our Eric Cantor moment." The moment when the Democratic incumbents realize that the base is angry and no one is safe. The Republican Party has gone insane mainly because most incumbents are more vulnerable to a primary challenge than to a general challenge, and the Republican base (and its vastly wealthy donors) has demonstrated that it will come for you if you're not a psychotic white supremacist. Now Democrats know that we'll come for them if they're not some shade of red. Shit's gonna be great.
This totally changes the map of NYC politics; people are looking vulnerable who weren't even thought of before. Plus there's a massive power vacuum in Queens. I hope you're recruiting candidates today for 2020 and 2021. Start now. Start making a list.
Build the Organization
Obviously electoral work builds power, builds organization, and builds membership. I hope that's a conversation we can put to rest.
DSA in New York suddenly has a bit of cred, a bit of power. This is our first big win in New York. Let's be careful and thoughtful about how we conduct ourselves; the world  —  not the world of media but the world of power  —  suddenly has an eye on us.
[Michael Kinnucan is a member of NYC-DSA's Electoral Working Group, a former member of the DSA National Electoral Committee, and deputy campaign manager for the DSA-endorsed state senate campaign of Julia Salazar in North Brooklyn.]

Click here.
OK...What Just Happened In Queens? And Why Are Politicos Really Flipping Out?
By Ben Yee
June 28, 2018
Ben Yee Blog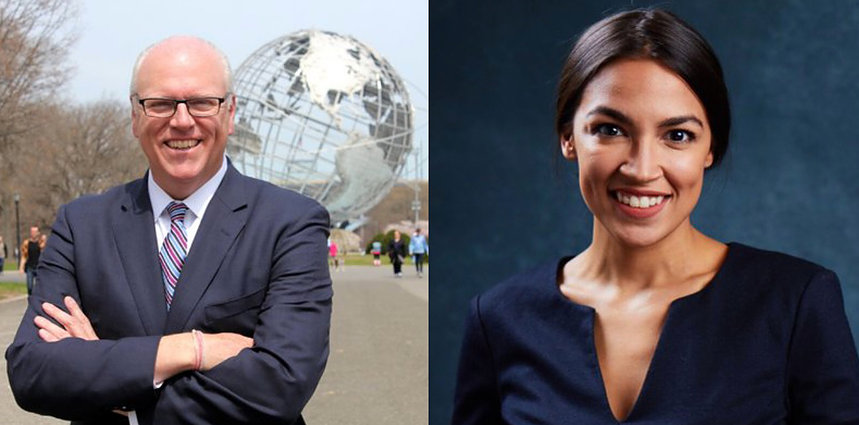 First off, when I posted on Facebook about how I need to write something about Alexandria Ocasio-Cortez's dramatic upset in her race against Rep. Joe Crowley, I meant I wanted to rant for two pages about how ecstatic I am about that outcome. However, since so many people asked for analysis, here's a little something for everyone.
For readers totally unfamiliar, we're going to start with some basics and build the NYC political ecosystem, and national fundraising environment from the ground up.
Who is Joe Crowley and why is this such a big deal?
Joe Crowley holds two important positions. First, he is a Congressman from Queens. In that role, he is the fourth highest ranking Democrat in Congress. That means he has a lot of influence over things like what Democrats in Congress do and how they negotiate on the Federal budget. This is the position Crowley lost last night.
Second, Joe Crowley is the Leader of the Queens County Democratic Party. And the Queens Democratic Party is the machine of machines. It is the envy of anyone hoping to build a political machine and secure their dynasty. Crowley still retains this post.
The Queens Machine?
Without going too much into it, county parties are responsible for electing Party members to local office. However, in doing so, they often hand-pick who those members will be. These decisions are often made based on who's been the most loyal to Party leaders and are enforced by Party backing in primary elections with money, volunteers and endorsements from County aligned organizations and politicians.
By way of example, Crowley was hand-picked by his predecssor in Congress and, through some underhanded machinations, arrived in Congress without any challenge. How? His predecessor, Thomas Manton, was a 6 year incumbent who was running unopposed. After he made the ballot, he dropped out giving Crowley his spot in an uncontested race. You don't need a machine to do that. But without a machine it's unlikely anyone would think a 20 year incumbent who never faced an election is completely safe; especially after a major redistricting.
Who cares about Queens?
Now we're at the meat of it. Ocasio-Cortez's win upsets the power balance not just for NY but for the nation. A power balance which has implications for the very nature of our democracy.
Aside from the fact that Crowley was poised to become Speaker of the House and would have live or die power over any legislation or budget item, he was also so secure in his County machine that he was expanding. Many people involved in the nuts-and-bolts of politics (like myself) saw a slow but steady encroaching by Queens' power over the rest of NYC.
For example, his support for Yuh-Lin Niou was critical in securing a former Queens staffer and resident an Assembly seat in Lower Manhattan. Endorsements from folks like Scott Stringer, who may be involved in a contested race for Mayor in 2021, came in since Queens votes will be needed by anyone who wants to win.
Crowley also played a decisive role in turning City Council votes from Queens and the Bronx - with whom he had developed an alliance - to Corey Johnson for Speaker.
These examples are not meant to cast aspersion on those candidates who received Joe Crowley and the Queens Party's blessing. Nor is it a comprehensive list. Getting votes and endorsements is a fact of political life. This is meant to illustrate the incredibly nimble moves Crowley was making to expand the influence of the machine he ran. And he was very, very good at it.
This was the potential renaissance of machine politics and political bosses in NY.
With a county machine ascendant in the Bronx (which is home to the NY Assembly Speaker), and a deeply entrenched and well resourced machine in Queens (which was lead by the potential House Speaker), these two organizations were poised to press their influence and model into Brooklyn (who's machine is on the backfoot, thanks to organizations like NKD), and Manhattan (which has no machine). Evidence of seeds having  already been planted in lower Manhattan abound.
With Ocasio-Cortez's win there's a little breathing room. The Bronx is still growing in strength and a politically astute Crowley still runs an extensive Queens organization. We're not out the woods yet, but we're at a clearing.
But one thing is over for sure, the imminent coronation of the Boss of Bosses. To a strategic politician (which I believe Crowley to be) this expansion was a means to an end. Along with California, NYC is the political piggy bank for America. Locking up that ecosystem under a single Party leader would have not only secured Crowley the Speakership of the House, but made him a King, a Kingmaker and an insanely powerful speaker.
If that's true, it was a masterful plan and Joe Crowley is a brilliant man with vision. But he looked too far from his own district. The voters of New York have been given an opportunity to ward off this outcome, and the ramifications of this could be monumental (though they needn't be, so more on that at the end).
How did this happen?
I want to talk about three things: Alexandria Ocasio-Cortez, the District and the Machine's approach to elections.
Alexandria Ocasio-Cortez.
She came out of nowhere and people are making a big deal that she's a socialist and socialists can win. That is absolutely irrelevant and I wish people would stop saying it immediately. Of course socialists can win, anyone can win. Donald Trump can win. The trick there is to be aligned with the voters of your district, to do what it takes to make them think you care about them.
So let's look at Ocasio-Cortez as a candidate. I'd say, three things you need to know about Ocasio-Cortez which are more general than a specific policy platform:
First, she is charismatic. Whenever I've met Alexandria she was open, friendly and optimistic. She didn't let Crowley's incumbency, political positioning or the fact everyone was afraid to talk to her get her down. In person, Crowley is also charismatic, I think. Just check him out playing "Born To Run" for Ocasio-Cortez at his concession. But Ocasio was approachable, did not come off as someone with a savior complex and is a good talker; voters like that. But let's move on…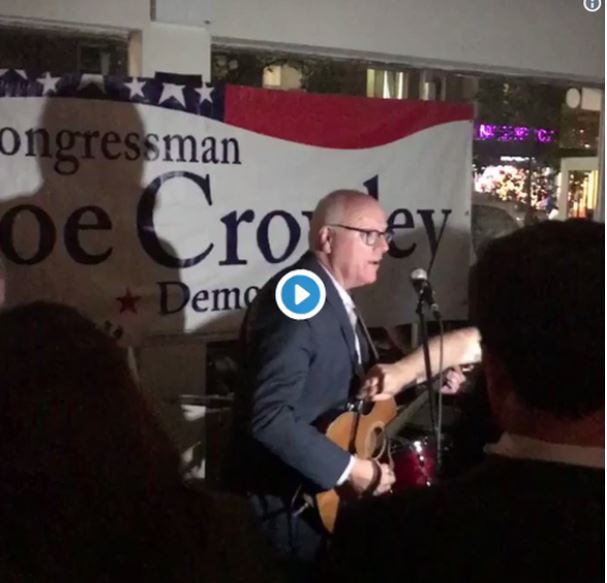 Listen here
Second, she is tough. Not because she ran against Crowley, per se. The reason young upstarts run against incumbents and not successful public servants is because elections are a zero-sum game: either you get all the power, or you get none of it. People who are already successful have too much to lose. New people, not so much.
Ocasio-Cortez is tough for taking on Crowley, sure. But the toughness that mattered was her unyielding dedication to campaigning and being out there. She knocked doors and was willing to break boundaries to get elected. The most substantive conversation I had with her was at Caucus Weekend in Albany. Caucus Weekend - a conference of electeds and Party insiders - I'm sure a million people told her she's ruining her life. If they did (which, again, I'm sure of it) she didn't seem to mind. Speaking of which…
Third, she matched the district, and she knew it. Not just politically, but demographically. I've been fighting machines for a decade. I've had many encounters with Queens and learned a lot about how they operate; for good or ill. When my friend in the Queens reform movement told me someone was running against Crowley, my words were "I doubt it." At Caucus weekend I spoke to this challenger for about an hour where she told me about her district. My words were "You definitely have a path".
The District.
Unbeknownst to me, or like, anyone, NY 14 is majority minority; with Hispanics being nearly HALF population at 46%. Ocasio-Cortez is Hispanic, Joe Crowley is white.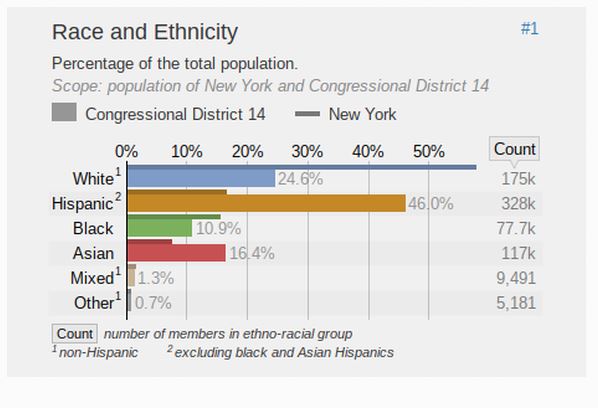 36% of the district under 40. Ocasio-Cortez is 28, Joe Crowley is 56.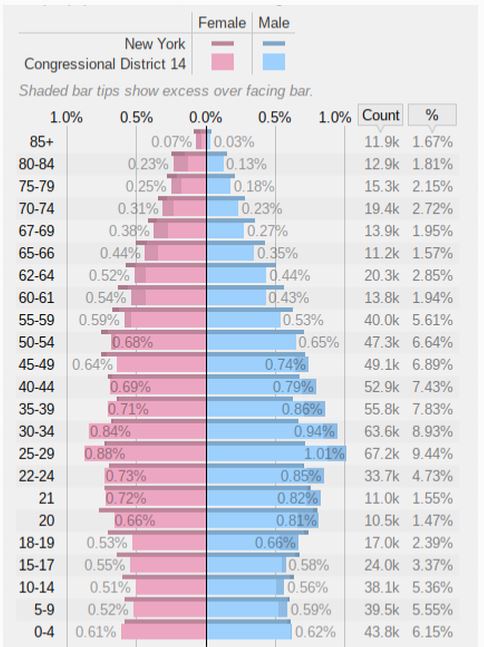 A third of the votes came from The Bronx. THE BRONX. Crowley is a Queens guy. He's THE Queens guy. But, he was redistricted to cover it in 2010. Ocasio, on the hand, is from (you guessed it) The Bronx. I've been in local politics for 10 years and I never realized Joe Crowley represented The Bronx, I bet Bronx voters didn't either.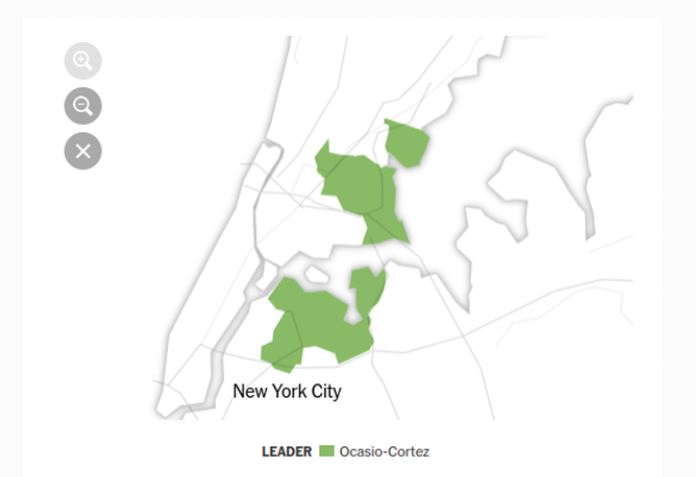 I
t's true that Crowley performed decently there (still getting a minority of the votes), probably in part due to his alliance with the Bronx County Party. But, I mean, what the ever loving ****?
Crowley's campaign.
There's two halves of this. The campaign Crowley ran, which was exceedingly conservative - focusing on tried and true methods like direct mail, and the County Party's inability to perform.
I'm not going to attempt to legitimize dissecting a campaign I wasn't on. Instead, I will only say that Crowley had every possible institutional advantage. Incumbency, money, networks and Party backing. It is completely understandable that someone in that situation would run a conservative, predictable race. Why take chances? Just drop some money on proven campaign methods.
In my purely speculative mind, though, the Crowley campaign overestimated how important his incumbency was. Joe Crowley may have been extremely well known to anyone in Democratic politics, but the instinct of machines to fly under the radar makes me think that, for many, this was a race between two unknowns.
And if you're unknown, then you need an aggressive campaign which builds trust and rapport with voters. Something mail alone - no matter how much you send - cannot do. Compare this with the responsive text messaging the Ocasio campaign undertook to develop feedback loops. And this ties into the failure of the machine.
Succinctly put, the machines place A LOT of emphasis on client-patron relationships. You can hear it in the way they talk about voters. Watch for the following logic in how they, and wannabe bosses, behave: Leaders are elected, but voters follow the leader.
As a result, earnest voter contact is not a machine strong suit. While they can mobilize people to knock on doors, the main rationale for machine participants is maintenance of power and advancement in the client-patron hierarchy. That comes across.
Additionally Machines don't want to be too active or too well known - expanding engagement to people you haven't vetted, or aren't referred to you, could upset the power balance. And that is what Ocasio's active campaigning did. By creating a conversation and engaging voters.
Could Crowley have won? I honestly believe he could have by investing in other types of campaigning. But I don't want to give machines any ideas here. And I am super freakin' ecstatic the machine model failed to generate the turnout it needed. Afterall, in NY-14 only 27,658 voters turned out. Across the river in NY-12, 41,218 voters came out in a mostly non-machine district.
A special note, you may be wondering why I didn't mention the overall political climate. Good question. A lot of what makes a winning candidate are fundamentals.
What does this mean?
I am so *****  *****ing happy this happened. When I heard Alexandria won I was basically manic for three hours.
In 2007 I joined the Obama Primary campaign. When he became President, there was a moment of soul searching in the Democratic Party. An instant when people thought to take his campaign's national model of grassroots organizing and apply it locally. That moment fizzled and died.
But it did live on in Manhattan Young Democrats, which I had joined as Vice President. And it worked. We grew rapidly, and as we did, we butted heads with Queens. I like the folks from Queens, I consider many of them friends and I have honestly learned a lot from them. But holy *** did we not agree on how politics and the electorate should be organized.
Over the last decade I've been successful in pressing for reform in Manhattan County; becoming Secretary of the County Party and joining the State Party governing committee. But even as I felt progress was being made in Manhattan, I felt an unease about a deepening retrenchment of machine politics everywhere else.
I am ashamed to say that I did not vociferously endorse Alexandria Ocasio-Cortez because I thought it would be political suicide for myself. I felt the gains reformers had made were being threatened and I wanted to protect them the best I could by hanging tight in Manhattan. When Joe Crowley flexed his muscles in lower Manhattan and the Speaker's race, I decided not to take the gamble. I was already a vocal critic of another powerful Democrat - Governor Cuomo - and had voted against him at the State Committee. I thought it would be a fool's errand to go hard for someone likely to lose.
Why am I telling you this? No machine is stronger than the people. No detached incumbent can stop someone who truly cares about their district and the people in it. Alexandria Ocasio-Cortez's election has renewed my faith in power of grassroots organizing and political courage.
Is It Over? Nah.
Now, I promised to talk about how we're not out of the woods yet. And that's true. The County Party organizations will always exist. And they're still run by people who know politics, who are smart and, above all, who are patient. But how they behave is up to voters. Voters choose their electeds. Voters choose their Party leaders when they VOTE IN PRIMARIES and, in systems where Parties are so important, voters have to hold them accountable.
That's how I started. Running young people in the County Party. But if voters don't take the reigns, reversion to the machines, insiders and unaccountable politics will happen. Now, is a unique opportunity to reshape our political landscape. Not just here in NY, but everywhere. Donald Trump is doing it, you can too.
If you want to learn more, check one of the civic workshops I teach. It's like this, but in person with slides. You can sign up for the mailing list at benjaminyee.com or find me on facebook at facebook.com/BenYeeNY.
An Additional Note
I would like to add a point not included in the original. As one of the graphics shows, about 28,000 voters participated in NY-14's election. That's around 12%. 
28,000 people just upended the political structure of New York City, the Democratic Party and, possibly, the United States.
[Benjamin Yee is Secretary of the Manhattan Democratic Party and State Committeeman for the 66th Assembly District. He was a fundraiser and Digital Director for Barack Obama in 2008. After Obama '08, he joined Manhattan Young Democrats, and ran the first Open Seat Project which educated people on, and elected them to, New York's County Committee.]
After Ocasio-Cortez's Victory, Democratic Socialists Are Just Getting Started
By Maria Svart
July 2, 2018
New York Daily News
Since Democratic Socialists of America member Alexandria Ocasio-Cortez's earthquake victory over Rep. Joe Crowley on Tuesday, everyone from the New York Times to Fox News has told you what democratic socialism means. They haven't done a very good job.
So as director of DSA, the largest socialist organization in America, I'll explain. Democratic socialism means a world where we all can live in dignity and comfort. It means a world that we, the working-class majority, run for ourselves, without the poverty, oppression, environmental devastation, and war the wealthy have given us.
Democratic socialists believe that if poor and working-class people unite and fight across differences, we can win a better world — a democratic socialist world.
Ocasio-Cortez's victory was a bright spot in a dark few weeks. Trump's horrific policy of separating immigrant children from their families outraged millions, inspiring protest and heroic civil disobedience.
But the protests have not been enough. Immigration and Customs Enforcement has not reunified children with their parents and has no clear plan to do so. ICE continues terrorizing whole communities through mass deportations. Capitalists move money and factories across borders while workers and their kids are imprisoned trying to find a better life.
Meanwhile, Republicans quietly released a plan to cut trillions from Medicare, Medicaid and Social Security, on top of last year's tax cuts, which sucked trillions from public services into the super-rich's bank accounts. They divide us by gender, sexual orientation, national origin, or ​race to pit workers fighting against one another other for crumbs.
This was never clearer​ than the morning after Ocasio-Cortez's victory, when the Janus vs. AFSCME Supreme Court decision reminded us that the rich are still winning. Janus, which will weaken public employee unions, is a victory for capitalists and the right, who can't stand workers fight​ing​ for better wages, benefits, and protections at work and across society​.
Why are corporations and their political lackeys so intent on attacking workers' rights? Because they want it all — all the money, all the power. And under capitalism, they can have it.
To get it all, businesses keep wages as low as possible and erode benefits to drive up their profits. They need to keep us from democratically stopping them, ​so they block and discourage millions from voting through voter ID laws, ​​gerrymandering, and a​n exclusionary two-party political system. Then they reinvest the money they stole from us in buying elections and hijacking both major parties.
The results are clear. Big business already takes nearly everything: from 2009 to 2013, 85% of all new U.S. income went to the top 1%. Meanwhile, 30 million people don't have health insurance. Student debt has grown 700% in the last two decades. Children in communities like Flint lack clean water, and people sleep in the streets while developers build ever-more unaffordable luxury housing.
Most people see that Wall Street Democrats aren't doing anything for them and Republicans have gone off the deep end, and the rich getting richer while everyone else gets screwed. It's easy to give up hope.
But there is an alternative. We can ​stop the rich — and ​change the world.
This year, West Virginia teachers inspired workers across the country by striking against ​health care ​cuts and corporate control of government.
DSA members are running for office, and winning, from Montana to ​​Tennessee. And thousands of New Yorkers said "enough is enough" when they chose democratic socialist Ocasio-Cortez over the status-quo incumbent in Congress.
Days before her victory, Ocasio-Cortez ​told Vogue magazine about democratic socialism, "There is no other force, there is no other party, there is no other real ideology out there right now that is asserting the minimum elements necessary to lead a dignified American life."
She's right.
Today, thousands of DSA members across the country are organizing for Medicare for All, rent control, abolishing ICE, a federal jobs guarantee, tuition-free college, free and legal abortions, a fighting labor movement, and ending police violence and mass incarceration, climate devastation, and war.
But we're also fighting for much more. We want a new era of history marked by democracy, solidarity, freedom, and equality. And we're going to win it.
Our movement is growing. But as it does, everyone from the Wall Street Democrats and Republicans to mainstream pundits and especially the rich will try to undermine us.
We should remember the words of American socialist leader Eugene Debs in 1918 against those opposing that better world: "Every time they strike a blow, they add a thousand new voices to the hosts proclaiming that socialism is the hope of humanity and has come to emancipate the people from their final form of servitude."
Twelve hundred people joined DSA within 24 hours of Ocasio-Cortez's win, joining over 43,000 members in 220 chapters across all 50 states. In 2016, Bernie Sanders inspired millions, and in the past week DSA members have brought that message to millions more. We are just getting started.
[Maria Svart is national director for the Democratic Socialists of America.]