Death and Displacement: A USAID Export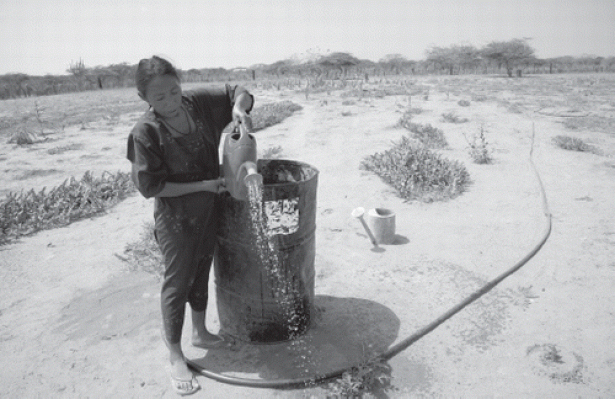 A Cerrejón foundation/USAID farm outside of the mining concession during a surprise visit. ,Victoria McKenzie
In April 2013, the northeastern department of La Guajira, Colombia was suffering its worst drought in three decades. The streams that flow down from the Sierra Nevada and Serranía del Perijá had reduced to a trickle, and the scattered wells on the already arid Caribbean peninsula were running dry. In the previous three years, thousands of Indigenous Wayuu children had died of thirst, hunger, and disease.
But when word arrived that the U.S. ambassador to Colombia would be visiting one of the farms operated by the Cerrejón multinational mining conglomerate's charitable foundations, instructions from management were clear: do whatever you have to, just make the farm green. "It was," said a Cerrejón foundation employee, who asked to remain anonymous, "a totally short order. Everyone had to work."
Even at the height of the regional drought, Cerrejón's open-pit coal mine, once the world's largest, continued to guzzle seven million gallons of water a day. But without rain or effective irrigation, the Cerrejón foundation farm was baking under the desert sun. Funded in part by the United States Agency for International Development (USAID), the farm had never managed to produce enough food for even a handful of the 500 families it was meant to sustain. So in the weeks leading up to the ambassador's visit, with La Guajira in the midst of what would eventually be declared a "humanitarian crisis" by the UN, the foundation sent out two trucks and a tractor to siphon water from catchments belonging to Indigenous communities surrounding the mine. "They really wanted the U.S. ambassador to see it looking beautiful," the foundation employee explained.

Between 2008 and 2016, USAID distributed over $780,000 in direct grants and subcontracts to the Cerrejón foundation system, which has since been consolidated into the Cerrejón Foundation. The partnership ostensibly sought to "promote greater transparency in the judicial system," "increase access to renewable energy sources," and "improve the socio-economic status and overall wellbeing of marginalized Afro-Colombians and Indigenous communities" in the region. But a months-long investigation in La Guajira found no evidence that those goals have been advanced or seriously pursued at all.
Headquartered on mine premises, the Cerrejón Foundation claims to function independently of the Cerrejón company but makes little secret of its underlying conflict of interest. "Autonomy as such does not exist," admitted Otto Vergara, a former foundation director. "The foundations do what Cerrejón orders." Often, those orders not only undermined USAID's stated objectives in La Guajira, but also helped obscure Cerrejón's long history of displacement, abuse, and environmental degradation beneath a patina of "responsible mining."
Take for example the Cerrejón Foundation for Institutional Strengthening of La Guajira, which received a $623,571 grant through USAID's Afro-Colombian and Indigenous Program. NACLA obtained a regional guidebook, published by that same foundation and stamped throughout with USAID insignia, that claimed there is not a single Afro resident in a majority-black mining municipality—an easily disprovable falsehood that aligned with an argument Cerrejón's legal team had put forward to prevent local communities from securing collective land rights.
According to numerous residents, another Cerrejón foundation project that received $150,000 in USAID funding to extend judicial protections to "marginalized and vulnerable populations" actively discouraged those very populations from pursuing legal recourse against the mine.
For the past two decades, Colombia has been by far the largest recipient of U.S. foreign assistance in the hemisphere. The USAID-Cerrejón Foundation partnership represents a small fraction of that total spending but is indicative of a deeper historical pattern in USAID's Colombia programs, U.S. assistance to the region more generally, and the model of corporate social responsibility itself.
Corruption and the Company on the Caribbean Coast
Since colonial times, La Guajira has been perceived as hostile, godless, remote: fundamentally incompatible with civilized Western society. Early Spanish settlements on the coast struggled under constant siege from European pirates and Indigenous raiding parties. The arid interior of the Alta Guajira peninsula was abandoned to smugglers and the Wayuu, who thrived at ranching and horse husbandry, while escaped African slaves formed autonomous roches in the more verdant southern foothills.
As late as 1815, Simón Bolívar still thought of the region as unconquered territory. "Goajira," he wrote in his "Letter from Jamaica," would be an important "acquisition" for the future Republic of Colombia, just as soon as the "savages who inhabit it" could be subdued. But the peninsula's relationship to the modern nation-state remains largely unchanged from the days of Spanish rule.
The second poorest department in the country, La Guajira was administered from Bogotá under the colonial intendencia framework until 1965. For decades since, national elites have been content to allow local caciques to plunder the department, provided they deliver votes on election day. Three former governors are currently serving criminal sentences of up to 55 years, including for aggravated homicide. Four more are under investigation for embezzlement, contract racketeering, and election fraud. Driven largely by contraband, the informal economy employs 85% of the labor force. As legendary vallenato composer Amilcar José Calderón Cujía put it, "in Guajira, even death arrives late."
From its very inception, Cerrejón has been an integral part of this peculiar political economy. Soon-to-be senator Luis Carlos Galán, later assassinated at a presidential campaign rally, held intense congressional debates over "errors," "improvisations," and "irregularities" in the original 1975 Cerrejón concession, arguing that the terms of the 50-50 ownership split between Colombia's state oil company and Exxon Mobil heavily favored the multinational and jeopardized the country's long-term energy future.
The government went ahead with the partnership anyway, and after several years of exploration, the project broke ground in 1983. Since then, Cerrejón has displaced at least 15 Afro, Indigenous, and campesino communities from its 170,000-acre concessions, according to Colombia's Center of Investigation and Popular Education (CINEP), a leading Colombian human rights group. In some cases, these displacements have been achieved through paltry buyouts, negotiated family-by-family, rather than collectively, as the 1991 Colombian Constitution requires; in others, through attrition and the steady exhaustion and contamination of farmland and drinking water; and in others still, through intimidation and forced expropriation.
The company has always worked in tandem with local government to "impose models of development, productivity, and quality of life," wrote CINEP in a 2013 regional history. Such models, they continue, are designed to "erase the collective consciousness and cultural identity" of ethnic minorities with constitutionally protected ancestral land claims to Cerrejón's concession zone.
"Here, the government is the Cerrejón company," said Wilman Palmezano, a 57-year-old Afro-Colombian community leader who has spent more than a decade resisting attempts to relocate his family. "We've tried to file complaints, but the Cerrejón manages everything here."
"It's a notorious fact," wrote Colombia's Supreme Court, in a 2016 decision handed down in Palmezano's favor, "that environmental and administration authorities don't perform periodic and effective monitoring" of Cerrejón's mining operations. Suits brought against the company on environmental and public health grounds have often failed for lack of baseline evidence. In La Guajira and other mining regions, said the late Robert Moran, a geochemist and water expert who studied mining for the Colombian Comptroller's Office, "there is no public, reliable data that is not controlled by these mining companies. It's like an old feudalist state."
Cerrejón, by its own estimates, accounts for more than half of La Guajira's annual GDP and, perhaps more significantly for the department's political class, tens of millions of dollars in disposable revenue. The company has put forth voluntary policies to ensure the "effective use of royalties," and the national government has implemented royalty reforms of its own. But coal remains a wellspring of departmental corruption, and Cerrejón has been directly implicated in Guajira's mafia politics.
Starting in the 1980s, Colombia's major extractive enclaves became focal points in its escalating civil war. And Guajira, with its ubiquitous poverty and established smuggling routes, made for particularly fertile territory for the armed conflict. Leftist guerrillas swept into the department, bombing Cerrejón's private railway and kidnapping its personnel. Funded by narcotrafficking, right-wing paramilitary groups were not far behind. With the military and financial support of the U.S. security package Plan Colombia, the Colombian government sent troops as well. In keeping with the explicit U.S. priority on protecting energy infrastructure, the Colombian Army created an entirely new battalion on land donated by Cerrejón.
Amid the heightened military presence, paramilitaries terrorized Guajira with impunity. Following an especially gruesome massacre in 2004, nearly 600 people were forcibly displaced from a Wayuu community neighboring Cerrejón's private Caribbean port. Cerrejón insists it "has never had ties with illegal organizations of any kind." But police records indicate that local leaders who have clashed with the mine have faced death threats and anonymous attacks.
Jairo Fuentes, a Wayuu leader, was criticizing the mine on a European speaking tour when one unidentified caller told his family to "prepare a coffin." Later, Fuentes said he received a similar call directly: "Do you think Cerrejón doesn't know what you're up to?" Colombia ranks among the most dangerous countries in the world for environmental activism, but Fuentes has more immediate reasons to take the threats seriously. His brother, also an activist, was "disappeared" in 2009, shortly after their community, Tamaquito, fought for and gained legal status as an Indigenous reservation, posing a resettlement headache for the Cerrejón.
In 2013, Governor Juan "Kiko" Gómez, convicted of four murders and accused of ordering hundreds more, was arrested at the annual Cerrejón-sponsored Coal Festival in the municipality of Barrancas, where he had begun his bloody ascent through politics as a councilman and then as mayor. The paramilitary leader and convicted narcotrafficker Arnulfo Sánchez González, alias "Pablo," testified via Skype from his U.S. jail cell that he and Gómez once met with a mine official to discuss organizing a death squad to assassinate Cerrejón union members. Another paramilitary commander, "Jorge 40," said Gómez operated a local death squad from an estate he owned near Cerrejón's Barrancas concession. Alias "Lucho" told investigators that the group "watched over El Cerrejón and estates like Kiko Gómez's."
The paramilitaries had not yet given their testimony when USAID began awarding contracts to Cerrejón foundations in 2008. But known paramilitary affiliations have not necessarily deterred the agency's Colombia investments. USAID has faced criticism for supporting palm oil expansion in stolen, ancestrally Afro, Pacific territories, including through grants to companies controlled directly by paramilitary narcotraffickers. And while the agency has since called those contracts a mistake, the decision to partner with Cerrejón is harder to dismiss as an error or lack of judgment.
London School of Economics historian Megan Black has presented archival evidence that U.S. planners with experience in Indian removal programs were encouraging the Cerrejón project as early as the 1950s. According to Black's findings in her paper, "Interior's Exterior," the U.S. Point Four Program, a precursor to USAID, enlisted Department of the Interior officials to conduct initial geological surveys of the future Cerrejon site; "facilitate contacts" between a U.S. coal company and the Colombian government; introduce technologies that "altered considerably" the country's coal mining capacities; and counsel their Colombian counterparts on how to "revise mining laws to allow for greater exploitation."
The USAID-Cerrejón foundation partnership, in that sense, fulfilled a policy vision first laid out when U.S. international development programming was still in its formative stages, reflecting a deep if no longer articulated belief that the optimization of natural resource extraction is too important for human progress to be left to the discretion of naïve local actors. USAID, the agency boasts, "has a long, successful history of collaborating with the private sector in partnerships" that seek to "simultaneously achieve development objectives and address key business interests."
The New Face of "Responsible Mining"
The ranching village of Tabaco awoke one morning in 2001 to the shouts of anti-riot police who had come to drag residents from their thatched-roof homes and the rumble of the bulldozers that had come to level them. The Ministry of Mining and a local judge had certified the eviction—unconstitutionally, the Supreme Court later determined. But Cerrejón representatives and private security personnel were on hand throughout Tabaco's destruction, carried out to make way for the mine's planned expansion.
The ensuing international outrage marked a turning point for Cerrejón, in form if not necessarily in practice. At the strong encouragement of the International Monetary Fund, the Colombian government had sold its stake in the company in 2000, for some $1.1 billion less than it had invested into the project. Not long after the Tabaco incident, ExxonMobil sold its stake, as well. New ownership—comprised of Swiss commodity giant Glencore, South African mining firm Anglo-American and Australia's BHP Biliton—moved quickly to rebrand itself as a leader in "responsible mining," launching a system of charitable foundations to complement an in-house "corporate social responsibility" division. In theory, Cerrejón would contribute to the foundation system's budget, but the company would handle any project or issue falling within the mine's self-defined "area of impact."
A panel commissioned by Cerrejón warned that any "potential impact could be discredited from an initial stage" at the mere suggestion of conflicting interests. An autonomous "administrative structure" would need to assure would-be investors and partners that resources slated for "sustainable development" were not in fact being used to underwrite the company's profits.
Although the panel applauded Cerrejón's intentions, it emphasized that positive "community engagement practices" alone wouldn't erase the stain of Tabaco. "Good ideas are never enough," wrote the experts. Ultimately, it's the "manner in which they are perceived" that counts. With that in mind, the panel concluded that the success of Cerrejón's charity experiment "would depend in good part on the relationships and alliances" the foundations were able to forge with reputable local and international actors.
Cerrejón board members brought on to lend prestige to the fledgling initiative included two former Guajira governors, two former ministers of mining (one of whom had also been governor), and a former representative of the World Bank's Water and Sanitation Program. Collaborative projects with such recognized names as the Ford Foundation, World Food Program, and—most notably—USAID, spoke to Cerrejón's proactive compliance with the "highest international standards."
But structural independence from the company never materialized. The directors of three of the four Cerrejón foundations lived and worked on mine premises as of summer 2017. Otto Vergara, who resigned as director of one of the foundations over what he describes as "ethical disagreements," said his orders came directly from the foundation's board of directors, all of whom are now Cerrejón officials. "What the [foundation's] board did was underwrite Cerrejón's directives, whether they came from the Vice President of public affairs, or from the President himself." He continued, "They don't allow the foundations to work outside [Cerrejón's] area of influence … The reason they gave us in the end is that the foundation was the 'operational arm' of social responsibility."
Documents obtained from the Bogotá Chamber of Commerce show that, despite Cerrejón's assurances that its foundation boards would include individuals not associated with the company, all external members of one foundation's board quit several years ago. During a two-year period, only two members appear in any of that board's minutes: Cerrejón President Roberto Junguito, and Jorge Álvarez, the head of the company's legal division.
Tangled Ties
Seven years after Cerrejón forced Tabaco residents from their homes, the company signed a formal resettlement agreement. The following year, USAID's Colombia Regional Governance and Consolidation Program solicited a Cerrejón foundation to "undertake a diagnostic of departmental education conditions." Two years later, that same foundation received roughly $180,000 from the USAID Access to Justice Program, to construct "Justice Houses" that would "promote a culture of lawfulness" in La Guajira.
The contractor that assigned that grant wrote in a 2012 program evaluation that public-private partnerships have been "very successful" at serving "marginalized and vulnerable populations," highlighting the Cerrejón Foundation partnership as a particularly promising example. Going forward, "USAID should continue to coordinate with this type of NGO."
But according to Jairo Fuentes, the Wayuu leader of the Tamaquitos reservation, local Indigenous communities mistrusted USAID's justice program from the start, specifically because of its ties to the mine. "We've been trampled by Cerrejón. And here comes a company to teach us? That's the government's job. Why is Cerrejón participating in the justice system?"
Lino Ustate, a former attendant at the Barrancas justice facility, said that many of the residents who turned to the Justice Houses for guidance had grievances pertaining to the mine itself. They'd come "saying that their livestock were dying where Cerrejón had placed them, looking for help in suing, or to ask Cerrejón to give them more land," Ustate said. "But nothing happened. Nothing was resolved. The animals died." The Justice Houses "were supposed to attend to these communities. They didn't."
The Justice Houses covered the Afro-Colombian ranching communities of Roche, Chancleta, and Patilla, which Cerrejón had been pressuring into resettlement since 2008. At the same time that USAID was partnering with the foundation system to extend legal coverage in the area, Cerrejón was steering residents away from the courts altogether—and into closed-door negotiations where the company could exert even greater leverage.
The local leader Wilman Palmezano recalls company officials "advising" him against getting a lawyer when discussions between the mine and the communities first started. Instead, they proposed paying him a monthly salary to represent the community, a gesture Palmezano took as an attempt to recruit him in favor of resettlement. But Palmezano was hesitant to enter into talks without an attorney. "I saw the way they were negotiating," he said. By targeting families individually, with offers set by the company's own appraisers, Cerrejón could avoid entering into the prolonged collective negotiation process called for by the Colombian Constitution.
The best hope of maintaining a unified front against Cerrejón lay in Roche's racial identity. The Colombian Constitution affords Afro-descendant and Indigenous peoples semi-autonomous communal ownership of their ancestral territories, as well as the right to the collective negotiation of development projects, and when necessary, collective resettlement. Years of jurisprudence have affirmed that, before commencing extractive activities, companies must first go through a concerted process of "prior consult" with potentially affected Afro and Indigenous populations.
Prior consult, however, is vaguely defined and inconsistently enforced. According to an interpretation endorsed by Cerrejón, it only applies to communities whose ethnic identity has been formally recognized by the national government. In Colombia's entire Caribbean region, just two such Afro communities exist. Neither Roche, Chancleta, nor Patilla are counted among them, though residents trace their lineage back to escaped slave enclaves founded during colonial rule.
Through its Access to Justice Program, USAID contracted one of Cerrejón's foundations to perform demographic surveys on Guajira's "context of ethnic diversity." The Cerrejón foundation system, USAID explained, boasted "the support of one of the leading companies in the country" and "has received major recognition of communities and the Department."
A 2005 World Bank study had classified Barrancas, the municipality to which Chancleta and Patilla belong, as "predominantly"—over 75%—Afrodescendant. Yet in court, Cerrejón has repeatedly echoed the foundation system's assertion, challenging the "blackness" of Palmezano and other petitioners. During one exchange, Juan Carlos García, a company lawyer, explained that Chancleta, Roche, and Patilla had no historic claim to their land, because legal ownership over the southern Guajira peninsula had been assigned to private individuals by Spain's King Carlos V—back when Chancleta, Roche, and Patilla's forbearers could legally be owned. "This isn't anyone's ancestral territory," he concluded.
Palmezano's response was simple: "If I say I'm black, I'm black." And in 2012, Colombia's Supreme Court agreed with him, ruling that, contrary to the company's position, it is not the "place" of national authorities to "determine the existence of ethnic communities." One month prior to the decision, ACDI/ VOCA, a preferred USAID global contractor, awarded a four-year, $623,571 Afro-Colombian and Indigenous Program grant to a Cerrejón foundation. A month after the decision came down, that foundation published the demographic guidebook.
As of 2015, Garcia, the Cerrejón lawyer, was still contesting the "blackness" of Palmezano and other residents in court. The company, said Garcia, had conducted all the appropriate "anthropological evaluations and assessments" and concluded that "there are no minorities" on its concession.
In a 2015 program audit, USAID's Inspector General's office explained how the lack of definitive "political recognition" harms Colombia's ethnic minorities. The audit, which pointed to the Cerrejón foundation grant as an example of unjustified, possibly illegal non-compete contracting, noted that USAID's land formalization initiative had made "little progress" in securing collective titles for Afro communities. Without those protections, the audit warned, Afro-descendant communities are "vulnerable to losing their lands, homes, and important cultural sites."
That's precisely what has happened in Chancleta, Roche, and Patilla. The Colombian Ministry of Environment ordered Cerrejón to complete the resettlement of Chancleta by 2011, citing the health hazards posed by proximity to the advancing mine. But the process dragged on for another six years, a delay Palmezano believes was due in part to his refusal to waive legal counsel, and in part because half the village has refused to move into the company's resettlement zone, dubbed "New Chancleta."
On its website, Cerrejón calls New Chancleta a "town with new horizons and perspectives on development, quality of life, and growth for the community." Instead, New Chancleta is a bleak, semi-urban slum alongside a busy highway, still within the mine's concession. Layers of weeds grew across the settlement's streets, and the dilapidated park stood empty. According to residents, basic services in the resettlements are unreliable. In response to a civil suit Cerrejón lawyer Juan Carlos Garcia argued that residents were unaccustomed to modern treatment techniques and that the salt water flowing from their taps was "perfectly drinkable." With no room to grow food on their lots, the community has lost touch with traditional agricultural practices. Residents who once enjoyed de facto ownership over their lands have been reduced to leaseholders in the new settlements: they are not allowed to sell, bequeath, or rent the suffocating concrete blocks the mine built to house them; nor can they leave the premises for over 60 days, contracts confirm. "They are going hungry," said Palmezano, "because they made a bad deal."
Resistance, Placation, and Repression
El Cerrejón's private railway carves a stark, 93-mile trail of black dust and wayward cattle carcasses across the Alta Guajira desert, from the multinational's open-pit coal concessions at the base of the peninsula, to its private port on the Caribbean. Bisecting hundreds of Indigenous Wayuu communities en route to the coast, the train has become a constant, rattling symbol of exploitation and decay, but also a site of creative resistance.
Government authorities respond aggressively to protests, dispatching anti-riot police to break up demonstrations and detain leaders. But railway shutdowns are so routine that the company has devised its own special method for dealing with potential disruption. If a community has a disagreement with Cerrejón, the company will send over a 'fireman,' or fixer, from its charitable foundation system, explained one high-ranking employee who spoke on the condition of anonymity. "He's in charge of taking your money, other money, and making gifts to make the community happy."
By "your money," the employee was referring to support that Cerrejón foundation system's pilot farms— like the one that the foundation scrambled to make presentable before the U.S. ambassador's visit—have received from USAID's Clean Energy Program. The farms themselves have struggled in Guajira's drought conditions—according to one employee, a number of farms lack even a basic irrigation system. But USAID backing has proven useful for another purpose.
In separate conversations, three ranking foundation employees described a similar process, through which the Cerrejón foundation system used USAID foodstuffs and farming supplies to placate communities with disputes against the mine.
Residents of Petsuapa, a Wayuu community, demanded payment for the use of their land after Cerrejón ran power lines through the village. When Cerrejón refused, the situation became "really delicate," according to Otto Vergara, the former Cerrejón foundation director. In the end, Petsuapa received a USAID-supported farm through Cerrejón's Indigenous Guajira Foundation.
After the village of La Horqueta began fighting Cerrejón in court over the diversion of its only water source, USAID wrote about the heavy toll drought had taken on the community. Foundation press releases show the community subsequently received USAID-supported farms and food donations. Ichichon and Orroko also benefited from USAID-backed farming projects. According to an employee with first-hand knowledge of the decision-making process, the Cerrejón foundation assigned these projects so that the communities, which had a long, combative relationship with the mine, "would release the train and let it pass." A December 2015 foundation press release quotes Aleida Tiller Ipuana, the "president" of one group, as saying that the "training" she received from USAID and FCFI "has been very important because it allows us to have access to information so that we can know our rights." But it turns out Tiller—who lives in one of the communities that allegedly received a USAID-backed project in exchange for lifting its protest of the Cerrejón railway—is a Cerrejón Foundation employee.
A different foundation employee said that residents pursuing restitution for animals slain by Cerrejón's train came away from meetings in a shed at one of the foundation pilot farms with USAID-marked tools and foodstuffs.
In 2014, the year after the U.S. ambassador's visit to the best-kept of the Cerrejón foundation farms, USAID's Colombia Clean Energy Program tasked the foundation system with installing 42 manual and solar-powered pumping systems in 38 isolated rural communities. "Thanks to the project," some of those communities are "harvesting crops in completely desolate lands," the program reported.
USAID's Inspector General's Office had a different reaction. According to its 2017 audit, Tetra Tech ES, the contractor hired to implement the Clean Energy Program, failed to conduct a required risk assessment and sustainability study. As a result, it ignored crucial facts that might have discouraged the project. Cerrejón, the audit team noted, had attempted two similar projects before, both of which failed for lack of maintenance funding. Neither the contractor nor the Cerrejón foundation appear to have considered the impact Guajira's salty subterranean water would have on the lifespan of the pumps the foundation eventually installed. The audit team concluded that the Cerrejón project "did not contribute to CO2 reductions or increased electrical power provided to the community. Further, the project's activities replaced an existing manual water pump system that did not produce pollution."
In 2014, the same year the Cerrejón foundation was contracted to implement the Clean Energy Program, more than 600 residents of the Provincial Indigenous reservation joined a $4.2 million suit against the company, seeking reparation for environmental damage and for a mine blast that killed an 11-year-old boy from the community. The complaint alleges that particulate pollution from nearby active coal pits have contributed to widespread respiratory disease, that the mine has depleted and polluted the river that sustains Provincial's farms, and that daily dynamite blasting causes structural damage to their homes.
After nine months of court-ordered negotiation, Cerrejón put an offer on the table. According to one of the reservation's lawyers, Dora Lucy Arias, the proposed deal was worth less than 1% of the claim, and was worded as a "gift," in corporate social responsibility parlance, without acknowledging damages. Cerrejón agreed to "work out its differences in perception about the environment" with the community through a number of publicly-funded programs, including recycling classes.
Arias said that when Provincial asked for material compensation instead of third-party projects, company lawyer Juan Carlos García explained this was "impossible"—the programs were already in place, and cost the company nothing. Throughout the negotiation process, the company's representatives repeatedly referenced "international cooperation" as a means for resolving the dispute. "At the meetings I attended, they left us with very few options," one community leader explained. "They said, 'Take this deal or leave it.' Some people had run out of money, and they said, 'If we don't take this, we'll be left with nothing.'"
With conciliation at a standstill, Provincial decided to move forward with the lawsuit.
Standing in front of a Bogotá notary, mine officials formally promised not to meet with community members, many of whom do not speak Spanish, unless one of the plaintiffs' lawyers were present. But the following month, Arias learned that company officials had approached people in their homes, to "explain the agreement," and had gotten six residents to sign the rejected deal in name of the entire reservation, without truly understanding it. The final agreement was worth 0.6% of the damages sought, Arias said.
Families on the reservation said that Cerrejón guards had threatened to take their farms. On one visit, we observed a masked Cerrejón "ranger" making himself at home by a family's corn field. Among the benefits outlined in the settlement, which precludes any future legal action by Provincial, are materials from the USAID-supported Cerrejón foundation system farm. According to a community leader, the family of the boy killed in a 2008 mining explosion was supposed to be compensated in any deal, along with residents whose family members had "died with coal in their lungs." But no such clause was included in the final settlement, according to the human rights attorney representing the reservation.
"I asked them, 'That's it? Nothing for my little boy's death?'" the boy's mother, who asked not to be named for fear of retribution, said. "How can this be left out?" The company pressured the community, and confused them, taking advantage of their unfamiliarity with Western law and of the Spanish language, as well as their desperate poverty. "We gave away our rights," said an elderly Wayuu leader.
USAID and Cerrejón Beyond La Guajira
The Hotel Waya Wayuu is located hundreds of miles from the wind-swept, white-sand Caribbean beaches of the Alta Guajira peninsula, on an isolated strip of highway by the southern entrance to the hemisphere's largest open-pit coal mine. A private partner of Cerrejón, it was constructed with $150,000 in USAID financing, part of an effort to "strengthen Wayuu tourism."
Two women in the tourism industry—one Indigenous, one Afro—said they were "treated like garbage" when they applied for jobs there. A company guide said the hotel, which advertises itself with a billboard of a traditionally clad Wayuu woman, gets most of its business from high-income mining contractors.
In March 2018, 250 Wayuu leaders gathered at the hotel for a meeting with Cerrejón executives. Two years earlier, the Constitutional Court had ordered the company to draft an "immediate plan to mitigate environmental, social, and cultural damages" in La Guajira and "compensate damages caused by the exploitation of carbon to the environment and the rights of the community." After losing an appeal in 2017, Cerrejón seemed finally ready to comply with the court's ruling.
Media reports have referred to the new dialogue process as a "retroactive prior consult." But Cerrejón itself has been careful to avoid invoking the concept, which would imply acknowledging rights to communal ownership and collective resettlement. Dora Lucy Arias, the lawyer representing Provincial, described the distinction as a ploy to "distort and minimize in the company's favor the meaning of the sentence." Cerrejón, she said, "wants to show the court that it's already getting things in order and does not require further decisions in that respect."
Tabaco residents, despite winning their case, still have not been resettled on land the company promised; of 427 hectares, Cerrejón has only turned over 189, according to Samuel Arregoces, Tabaco leader and Afro-Colombian rights activist. The resettlement compounds of Chancleta, Patilla, and Roche are in a state of disrepair, with some of the homes "almost falling down," and the communities remain without clean drinking water—two years after a panel of high court judges ordered the company to immediately address these problems. Roche won a suit against the company in 2017, when the Constitutional Court again ordered Cerrejón to conduct retroactive "prior consult" on the mining expansion several years after the expansion was completed.
Some communities have fared better than others. Tamaquitos, the Indigenous community and official reservation, was moved to a piece of land spotted with trees and traditional Wayuu homes. It was a years-long struggle to get the company to comply with the agreement negotiated with the community, but the clean water and farming projects are advancing, according to Fuentes, the reservation leader.
The same privileges have not been afforded to Afro-Colombians, whose ethnicity is not acknowledged in any of the company's resettlement materials. The few photographs of black residents once on the website have been taken down.
According to Arias, the Constitutional Court is strategically allowing the mine to continue its activities as long as there is some small compensation negotiated with the communities retroactively. "And we already know under which conditions these [negotiations] occur—a situation of profound asymmetry between residents and the company."
This story was reported with support from the International Women's Media Foundation.
Victoria Mckenzie is deputy editor of The Crime Report and editor at CBS Crimesider. Her work focuses on criminal justice, public sector fraud, and international development.
Steven Cohen is a master's candidate at NYU's Arthur L. Carter Journalism Institute and Center for Latin American and Caribbean Studies. His work has appeared in BBC, La Silla Vacia, Vice, The New Republic, Christian Science Monitor, and The Nation.