Household Debt: How the Bottom Half Bolsters the Booming U.S. Economy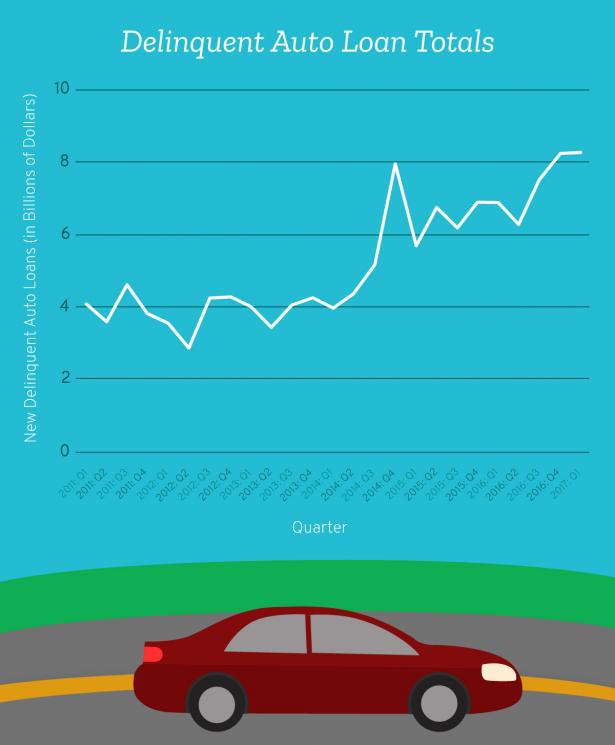 Delinquent auto loans helped bring non-mortgage household debt to a record high in the first quarter of this year. ,The Pennyhoarder
By almost every measure, the U.S. economy is booming. But a look behind the headlines of roaring job growth and consumer spending reveals how the boom continues in large part by the poorer half of Americans fleecing their savings and piling up debt. 
A Reuters analysis of U.S. household data shows that the bottom 60 percent of income-earners have accounted for most of the rise in spending over the past two years even as the their finances worsened - a break with a decades-old trend where the top 40 percent had primarily fueled consumption growth. 
With borrowing costs on the rise, inflation picking up and the effects of President Donald Trump's tax cuts set to wear off, a negative shock - a further rise in gasoline prices or a jump in the cost of goods due to tariffs - could push those most vulnerable over the edge, some economists warn. 

That in turn could threaten the second-longest U.S. expansion given consumption makes up 70 percent of the U.S. economy's output. 
To be sure, the housing market is far from the dangerous leverage reached in 2007 before the crash. With unemployment near its lowest since 2000 and job openings at record highs, people may also choose to work even more hours or take extra jobs rather than cut back on spending if the money gets tight. 
In fact, a growing majority of Americans says they are comfortable financially, according to the Federal Reserve's report on the economic well-being of U.S. households published in May and based on a 2017 survey. 
Yet by filtering data on household finances and wages by income brackets, the Reuters analysis reveals growing financial stress among lower-income households even as their contribution to consumption and the broad economy grows. 
The data shows the rise in median expenditures has outpaced before-tax income for the lower 40 percent of earners in the five years to mid-2017 while the upper half has increased its financial cushion, deepening income disparities. (Graphic: tmsnrt.rs/2LdUMBa ) 
It is this recovery's paradox. 
A hot job market and other signs of economic health encourage rich and poor alike to spend more, but tepid wage growth for many middle-class and lower-income Americans means they need to dip into their savings and borrow more to do that. 
As a result, over the past year signs of financial fragility have been multiplying, with credit card and auto loan delinquencies on the rise and savings plumbing their lowest since 2005. 
Myna Whitney, 27, a certified medical assistant at Drexel University's gastroenterology unit in Philadelphia, experienced that firsthand. 
Three years ago, confident that a steady full-time job offered enough financial security, she took out loans to buy a Honda Odyssey and a $119,000 house, where she lives with her mother and aunt. 
Since then she has learned that making $16.47 an hour - more than about 40 percent of U.S. workers - was not enough. 
"I was dipping into my savings account every month to just make all of the payments." Whitney says. With her savings now down to $900 from $10,000 she budgets down to toilet paper and electricity. Cable TV and the occasional $5 Groupon movie outings are her indulgences, she says, but laughs off a question whether she dines out. 
"God forbid I get a ticket, or something breaks on the car. Then it's just more to recover from." 
DRAINING SAVINGS 
Stephen Gallagher, economist at Societe Generale, says stretched finances of those in the middle dimmed the economy's otherwise positive outlook. 
"They are taking on debt that they can't repay. A drop in savings and rise in delinquencies means you can't support the (overall) spending," he said. An oil or trade shock could lead to "a rather dramatic scaling back of consumption," he added. 
Some economists say that without the $1.5 trillion in tax cuts enacted in January, spending, which has grown by around 3 percent a year over the past few years, could already be stalling now. 
In the past, rising incomes of the upper 40 percent of earners have driven most of the consumption growth, but since 2016 consumer spending has been primarily fueled by a run-down in savings, mainly by the bottom 60 percent of earners, according to Oxford Economics. 
This reflects in part better access to credit for low-income borrowers late in the economic cycle. 
Yet it is the first time in two decades that lower earners made a greater contribution to spending growth for two years in a row. 
"It's generally really hard for people to cut back on expenses, or on a certain lifestyle, especially when the context of the economy is actually really positive," said Gregory Daco, Oxford's chief U.S. economist. "It's essentially a weak core that makes the back of the economy a bit more susceptible to strains and potentially to breaking." 
JOBS NOT RAISES 
While the Fed expects the labor market to get even hotter this year and next, policymakers have been perplexed that wages do not reflect that. 
With inflation factored in, average hourly earnings dropped by a penny in May from a year ago for 80 percent of the country's private sector workers, including those in the vast healthcare, fast food and manufacturing industries, Bureau of Labor Statistics figures show. 
"It stinks," says Jennifer Delauder, 44, who runs a medical lab at Huttonsville Correctional Center in West Virginia. In seven years her hourly wage has risen by about $2 to $14. 
She took on two part-time jobs to help pay rent, utilities and a student loan. But she still sometimes trims her weekly $15 grocery budget to make ends meet, or even gathers broken fans, car parts, and lanterns to sell as scrap metal. A $2,000 hospital bill early this year wiped out her savings. 
Even so, Delauder, a grandmother, recently signed papers for a mortgage of up to $150,000 on a house. "I'm paying rent for a house. I might as well pay for a house that I own," she said. 
Hourly wages for lower- and middle-income workers rose just over 2 percent in the year to March 2017, compared with about 4 percent for those near the top and bottom, while spending jumped by roughly 8 percent. 
That reflects both higher costs of essentials such as rent, prescription drugs and college tuition but also some increased discretionary spending, for example at restaurants. 
Economists say one symptom of financial strain was last year's spike in serious delinquencies on U.S. credit card debt, which many poorer households use as a stop-gap measure. The $815-billion market is not big enough to rattle Wall Street, but could be an early sign of stress that might spread to other debt as the Fed continues its gradual policy tightening. 
More borrowers have also been falling behind on auto loans, which helped bring leverage on non-mortgage household debt to a record high in the first quarter of this year. 
While painting a broadly positive picture, the Fed's well-being survey also noted that one in four adults feared they could not cover an emergency $400 expense and one in five struggled with monthly bills. This month the central bank reported to Congress that rising delinquencies among riskier borrowers represented "pockets of stress." 
That many Americans lack any financial safety net remains a concern, New York Fed President John Williams told Reuters in an interview last month. "Even though the overall picture is pretty good, pretty solid, or strong," he said, "this is a problem that continues to hang over half of our country." 
(Graphic: Poorer Americans help fuel economic boom - at a price - tmsnrt.rs/2LdUMBa) 
[Reporting by Jonathan Spicer; Additional reporting by Ann Saphir in San Francisco and Howard Schneider in Washington; Editing by Tomasz Janowski.]