Global Left Midweek - August 1, 2018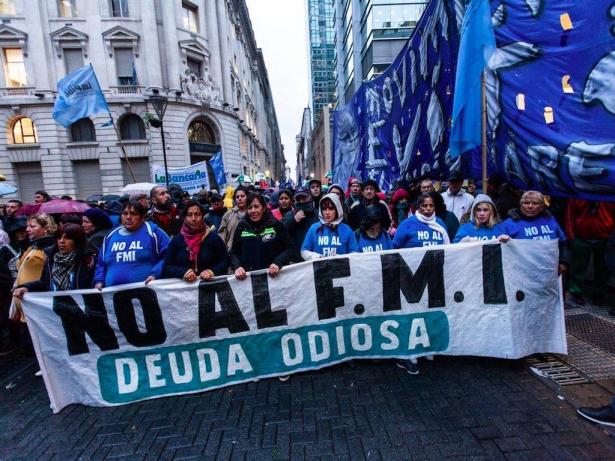 Buenos Aires: "No to IMF, detestable debt", Newsclick.in
Welcome to Global Left Midweek, formerly Global Left Saturday. There's a lot more going on in left parties and social movements around the world than what we know from the US media. This Wednesday feature focuses on new developments that have a direct connection to domestic efforts for social transformation, peace, and planetary survival. - Portside moderators
__________
South Africa: Nationwide Action Against Gender-Based Violence
Aphiwe Ngalo / Daily Maverick (Johannesburg)
On Wednesday 1 August 2018, women and gender non-conforming people from all corners of South Africa plan to shut down activity in the country and march in protest against gender-based violence.
__________
Germany: An Internationalist Answer
Gregor Gysi / transform! europe (Vienna)
Across the Left in Europe and Germany, there are those who focus on national responses, and those who seek and develop internationalist responses.
__________
Philippines: Mindanao Activists Never Folded Their Banners
Kloyde A. Caday / New Mandala (Canberra)
Rejection and apathy are blocks that try to subdue the young activists in urban Mindanao. But they are focused on a more important duty, and that is to call upon the people to come out from their comfort zone through dialogues and mobilisations.
__________
Argentina Says: Never Again IMF!
Zoe PC / Newsclick.in (New Delhi)
In the late 90s, IMF intervention in the Argentine economy led to a massive crisis and provoked a major social mobilization against the organization and the government. As president Mauricio Macri seeks to repeat history, the people are preparing for another huge round of protests.
__________
What the New Global Pro-Choice Movements Can Teach Politics
Deirdre Duffy / The Conversation (Boston)
There has been huge progress in countries like Argentina and the Republic of Ireland contributing to historic commitments by their governments to ensuring abortion access.
__________
Europe: Mistrust in the Institutions Motivated Social Movements to Participate in Electoral Politics
Donatella della Porta / Krytyka Polityczna (Warsaw)
Young activists often connect to social movements of the past but with the exception of trade unions, and are open to transnational organization.