The World Chess Championship Is Deadlocked After Game 2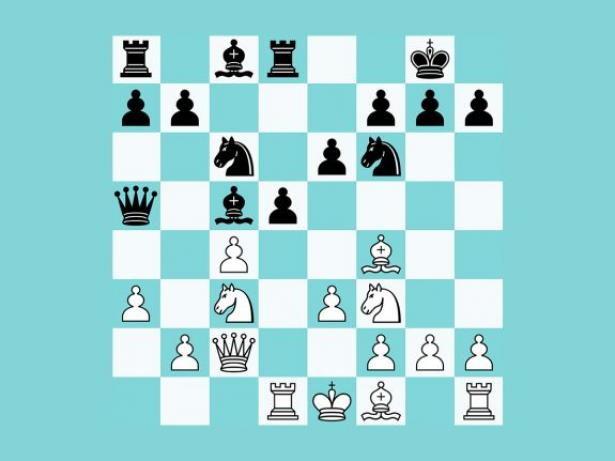 Heavy rain showers, a gentle breeze and 57 degrees in London, the BBC reported this morning. The top American grandmaster Fabiano Caruana was unprepared for such weather, arriving for Game 2 of the World Chess Championship sporting a wet blazer.
Never mind the sartorial dampness, however. He arrived excellently prepared for the chess.
His opponent is Magnus Carlsen of Norway, the three-time defending world champion and world No. 1. Caruana, the world No. 2, is vying to become the first American world champ since Bobby Fischer won the title in 1972. The pair had already played an epic, 7-hour, 115-move draw in Game 1 on Friday, and the best-of-12-game match sat level, 0.5 points apiece.1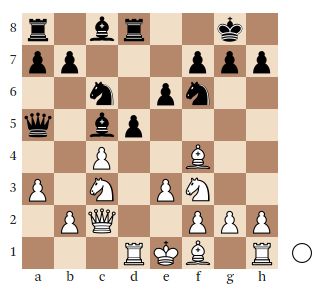 Tick tock.
Tick tock.
"Magnus almost touched a piece!" yelled Anna Rudolf, another match commentator, capturing quite faithfully the causes of — and level of — excitement that accompanied Game 2 of the World Chess Championship.
Carlsen eventually did actually touch a piece, breaking the unbearable tension, moving his bishop to e2. And by this point, this particular chess position had only ever been seen once before in a competitive game according to ChessBase — in an obscure contest between two English players in 2014 in Aberystwyth, Wales.
Nevertheless, Caruana appeared ready for everything, moving quickly through the novelty. He was prepared for the chess, if not the rain.
This trend continued. Carlsen thought for another 12 minutes before making his 12th move, 9 minutes for his 15th move, 15.5 minutes for his 16th move, 9 minutes for his 19th move and, well, you get the idea. In many ways, the roles were reversed from the first game. Caruana, whose own time had ticked down to mere seconds in Game 1, opened up an hour advantage on the clock in Game 2, and looked rather comfortable.
Carlsen faced another ?! — er, I mean interesting — position while contemplating his 17th move, shown below.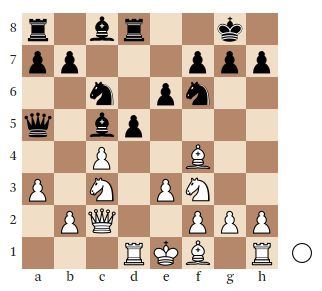 The chess computer engine that keeps me warm during the games suggested a rather dramatic sacrifice: taking black's pawn on f7 with the white knight. Black's king would take the white knight, but white would gain exciting but complex attacking chances. Carlsen opted against the gambit — instead developing a bishop to f3 — perhaps because his clock was loudly ticking in his ear.
Caruana started scratching his own head at this point — but the tension soon slackened. By move 26, the queens and remaining bishops had been traded off the board, leaving the two in another endgame involving only rooks and pawns, just like they had on Friday. This version, however, ended much more quickly than the marathon that came before.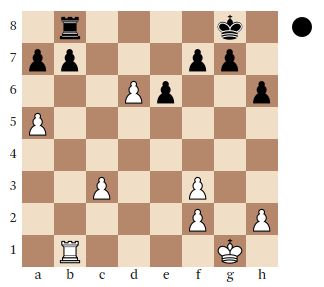 Carlsen and Caruana played around here for a bit, but shook hands and agreed to draw after 49 moves.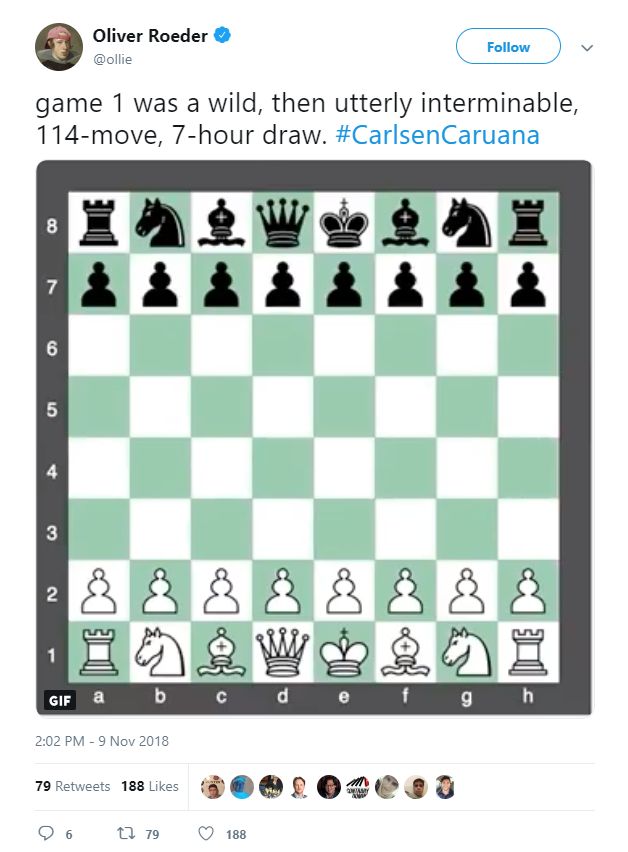 Click here to view animation of game 1.
The match now sits at 1-1 in this race to 6.5, and will likely stretch to the end of the month. We'll be keeping the chart below updated throughout.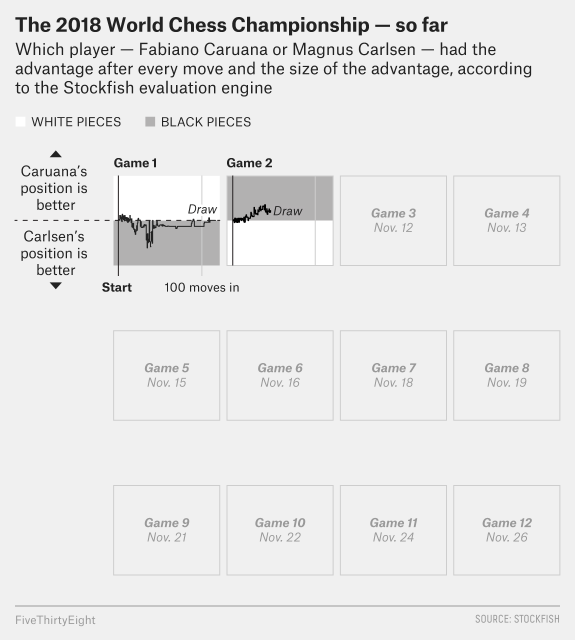 Sunday is a rest day, and Game 3 begins Monday at 3 p.m. Greenwich Mean Time — that's 10 a.m. Eastern. I'll be covering it here and on Twitter.
---
Oliver Roeder is a senior writer for FiveThirtyEight.