Media Bits and Bytes - November 27, 2018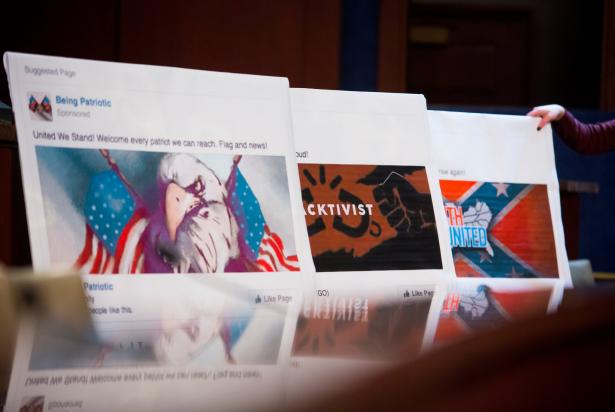 At a Senate Intelligence Committee hearing in November 2017, Facebook and other tech giants were asked about Russia's election meddling,Eric Thayer for The New York Times
Conflict and Compromise Await New Congress in Telecom, Media, Tech
By Adonis Hoffman
November 19, 2018
Broadcasting and Cable
There will be several big issues in communications that will drive attention and action from the Commerce Committees of both Houses of Congress.
The Midterm Election Didn't Salvage Net Neutrality
By Klint Finley
November 7, 2018
Wired
Net neutrality supporters had hoped the issue could be a major factor in the midterms. But it didn't work out that way.
NPR Infomercial for Its Sponsor Amazon Muzzles Criticisms
By Adam Johnson
November 24, 2018
Fairness and Accuracy in Reporting
If Amazon's marketing department wrote and produced a segment on their AI technology for NPR, it's difficult to see how it would have been any different.
How Facebook's Leaders Fought Through Crisis
By Sheera Frenkel, Nicholas Confessore, Cecilia Kang, Matthew Rosenberg and Jack Nicas
November 14, 2018
New York Times
Facebook has gone on the attack as one scandal after another — Russian meddling, data sharing, hate speech — has led to a congressional and consumer backlash.
How Lies Become Truth in Online America
By Eli Saslow
November 17, 2018
Washington Post
"Click LIKE if you believe we must stop Sharia Law from coming to America before it's too late," read the first item, and she clicked "like."
One Hundred Websites That Shaped the Internet
By Gizmodo Staff
October 19, 2018
Gizmodo
We set out to rank the websites—not apps (like Instagram), not services (like PayPal)—that influenced the very nature of the internet, changed the world, stole ideas better than anyone, pioneered a genre, or were just really important to us.