Faculty Blast CUNY's Support for Amazon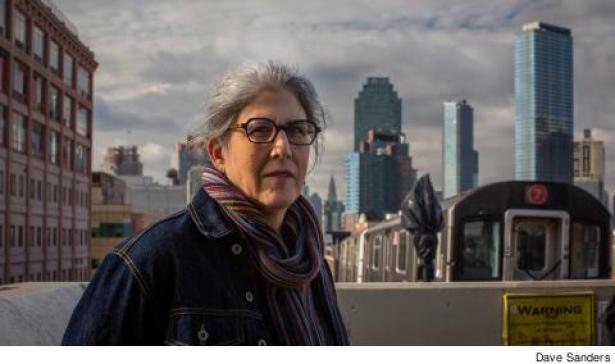 Laurie Gluck of LaGuardia Community College worries what Amazon will do to the campus neighborhood, Dave Sanders
As community activists, tenant advocates and Queens lawmakers decried the billions of public subsidies given to Amazon to build a new headquarters in Long Island City, CUNY management effectively told company CEO and world's richest person Jeff Bezos, "CUNY is at your service."
"It's exciting to see Amazon recognize Long Island City, where our college serves as the educational anchor, as the place to be in New York," LaGuardia Community College President Gail Mellow said in a statement. "Having Amazon in our backyard will be transformative for our students – particularly the 3,500 in our tech programs each year. Many of our students are sure to be future Amazon employees. We're ready to develop partnerships with Amazon and look forward to getting to work."
LaGuardia, situated right off the 7 line in Long Island City, will be, along with the CUNY School of Law, the most directly impacted CUNY campus if and when the Amazon facility is completed. Interim Chancellor Vita Rabinowitz and Board of Trustees Chair Bill Thompson made it clear in an op-ed in the New York Daily News that they will dedicate assets for training students for jobs for the online retail giant, a place constantly under fire from labor activists for reports of poor working conditions and low pay. In separate statements, Rabinowitz said that the university "stands ready to work with Amazon…to provide skilled graduates ready to compete for Amazon's 40,000 new jobs" and Thompson said CUNY will "commit our considerable college assets to ensure that Amazon has a strong pipeline for talent, ideas and innovation."
THEFT OF PUBLIC FUNDS
Many PSC members saw CUNY administration's unified commitment to Amazon as a betrayal of the university's mission by turning it into a vocational school and a pipeline to an unaccountable private business. PSC President Barbara Bowen said, "The key issue is the giveaway of public resources to the world's richest company – one with a horrible labor record. Billions in state resources are being handed over to Amazon while CUNY is being starved of funds."
John Whitlow, an associate professor at the CUNY School of Law, told Clarion, "If recent history is a guide, the benefits of this plan will inure overwhelmingly to the already well-off, and the rest of us will be left living more precarious lives in an increasingly unequal city."
For PSC members working in Long Island City, fears about overstraining already crumbling infrastructure, rising housing costs and the cheapening of LaGuardia's status to an Amazon workforce pipeline abound.
"I worry that it will push the already gentrifying neighborhood to further gentrify and become a place of the haves and the have-nots," said Rebekah Johnson, an associate professor of education and language acquisition (ELA) at LaGuardia. "Is Amazon going to provide affordable housing for employees and other local people?"
For Laurie Gluck, who has been teaching at LaGuardia for 32 years, currently in the the ELA program, the news about Amazon is, as Yogi Berra would say, déjà vu all over again, as she recalls how concerned residents were when the Citigroup building in Long Island City was completed in 1990.
"I don't think they fulfilled their promise to improve the neighborhood," she said, noting that area's transformation from a gritty industrial neighborhood to a landscape of bland luxury condos. "The proliferation of glassy high-rises is just soul-sucking. To think Amazon will make that any better is outlandish."
Gluck added, "I have serious doubts that this will benefit LaGuardia at all. CUNY's off the radar of private institutions."
Lara Beaty, an associate professor of psychology, noted that the addition of another corporate headquarters would exacerbate the ongoing deterioration of public infrastructure in the area. "All these buildings have gone up, and the city hasn't upgraded the infrastructure – sewage, transportation, et cetera," she said. "The traffic around here is already pretty bad, and this will make it worse. Parking is impossible, we don't have enough parking spaces. So that's going to get worse."
Even if Amazon promised to hire LaGuardia students and graduates, it would still be troubling, Beaty added. "My personal concern is that we'll suddenly be preparing students to go work at Amazon. We will become more about worker training rather than transitioning students to a four-year college," she said. "The job that looks good when you're 20 looks very different when you're 40 or 60. There's been so much written about how poorly Amazon workers are treated. That is a real concern."
ACTION AHEAD
As this newspaper went to press, the LaGuardia PSC chapter was planning a teach-in about the effects of the Amazon deal on the campus, and some PSC members were planning to denounce CUNY's support for the deal at the December 3 CUNY Board of Trustees hearing. Also at press time, CUNY advocates had scheduled a demonstration outside Thompson's Financial District office demanding that he rescind his support of the Amazon project.
In other words, many PSC members are joining a growing movement engaged in the resistance to the plan. The deal has received criticism for the enormous public subsidies provided – the company will reportedly get up to $2.5 billion in tax breaks and subsidies – as well as the lack of public oversight, as Mayor Bill de Blasio announced that the city and state did not intend for the plan of the new headquarters to go through the normal public-approval process.
The Retail, Wholesale and Department Store Union, citing a long and well-reported record of low pay and abysmal working conditions in Amazon's grueling warehouses, also joined the chorus against the Queens headquarters.
Opposition is mounting in the political arena, too. State Senator Michael Gianaris called for a boycott against Amazon and other Queens lawmakers, including City Council Member Jimmy Van Bramer and Congresswoman-elect Alexandria Ocasio-Cortez, blasted the deal. Asserting that there has never been a "statistical correlation between corporate welfare and jobs," State Assemblyman Ron Kim and State Senator-elect Jessica Ramos in a Daily News op-ed called for more state legislative oversight of the deal and vowed new legislation that "would charge companies like Amazon extraction and automation fees for taking their profits out of state and replacing human labor with robots" and prevent Amazon from monetizing its incentive package upfront to a third party for an immediate cash-out."
HURTING THE PUBLIC
For Samuel Stein, a PhD student at the Graduate Center and an urban studies instructor at Hunter College, whose book Capital City: Urban Planners in the Real Estate State will be released by Verso next year, the tax giveaways to Amazon by two Democratic elected officials is a finger in New Yorkers' eye, as the city suffers from record-high rates of homelessness, reports of public housing units going without heat and the possibility of a subway and bus fare increase as commuters deal with more delays and overcrowding.
"Our budget priorities are truly backward. CUNY? Underfunded. NYCHA? Underfunded. MTA? Underfunded," he told Clarion. "The world's richest human wants to help gentrify the world's most diverse urban area? This is a sell-out of historic proportions, calling to mind some of the worst episodes in New York City urban planning."