Global Left Midweek - International Women's Day 2019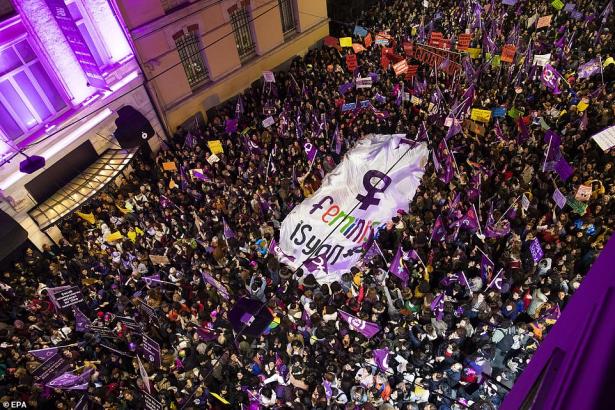 Thousands of women shout slogans as Turkish police block the roads during rally marking International Women's Day at Istiklal Street in Istanbul, Photo: EPA
International Women's Day Video Special
Peoples Dispatch (New Delhi)
Mobilizations were held across the world as part of the Feminist Strike to reject patriarchal and capitalist violence and show the power and force of women, transgender and gender diverse people.
eBrochure on International Feminist Movements: And Still, It is Moving!
Bärbel Danneberg, Angelina Giannopoulou, Nika Kovač, Julia Vladimirova, Nora García Nieves, Salome Chagelishvili, Selin Çağatay, Andrea Peniche, Claudia Krieglsteiner, Josefine Landberg / transform! Europe (Vienna)
Short spots on feminist struggles in Argentina, Bulgaria, Georgia, Greece, Portugal, Slovenia, Spain, Sweden and Turkey.
Massive Marches in Spain Display the Strength of the Feminist Movement
Demonstrations called on Friday, International Women's Day, brought out an estimated 350,000 protesters in Madrid and 200,000 in Barcelona.
Brazilian Feminists Resist 'Attack on Our Fundamental Rights'
Claudia Fanti / Il Manifesto Global (Rome)
Maria Amélia de Almeida Teles fought the military dictatorship and was savagely tortured. She's still resisting. 'In the war against democratic progress, our very bodies are the territory being fought over.'
Police Attack Feminist Night March With Pepper Gas
Hikmet Adal / Bianet (Istanbul) 
After women announced that they would gather in front of French Cultural Center in Taksim, İstanbul at 7.30 p.m for the 17th Feminist Night March, the police closed all roads leading to the İstiklal Avenue.
South Korea: 'Change Has Already Begun'
Park Ju-young / Korea Herald (Seoul)
About 5,000 participants flocked to Gwanghwamun Square to celebrate International Women's Day on March 8.
Sudanese Women Protesters Sentenced to 20 Lashes, Month in Jail
Khalid Abdelaziz / Reuters (London)
Hundreds turned out for protests in Khartoum and Omdurman that day, undeterred by the emergency measures.
Alex Finnis / i (London)
Hundreds of sex workers take to the streets to protest laws they say are sexist and jeopardise their lives.