Media Bits and Bytes - April 16, 2019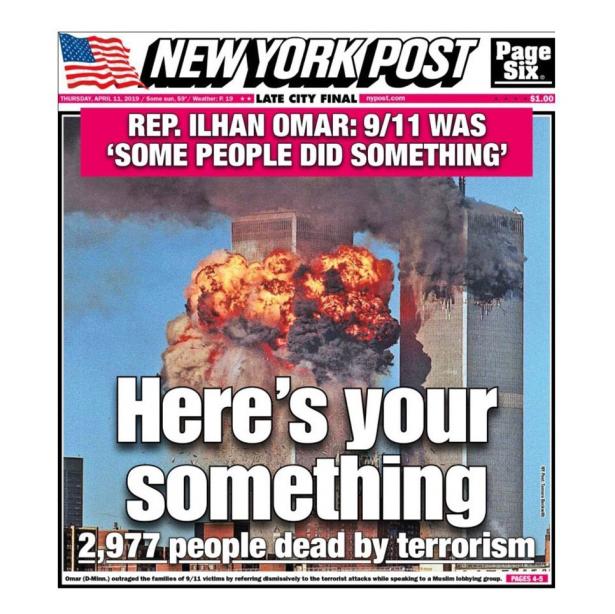 NY Post puts the crosshairs on Rep. Ilhan Omar,credit: NY Post Tamara Beckworth
Victory! The House of Representatives Passes Net Neutrality Protections

By Katharine Trendacosta and Ernesto Falcon
April 10, 2019
Electronic Frontier Foundation
Americans overwhelmingly support an Internet where Internet service providers (ISPs) have to treat all the data transmitted over their networks in a nondiscriminatory way.
Why the Assange Arrest Should Scare Reporters
By Matt Taibbi
April 11, 2019
Rolling Stone
The WikiLeaks founder will be tried in a real court for one thing, but for something else in the court of public opinion.
Yemeni Bodegas Boycott New York Post Over Attacks on Ilhan Omar
By Lois Beckett
April 13, 2019
The Guardian
Murdoch-owned paper published front page that Yemeni American Merchants Association says 'provoked hatred'.
Detroit Couple Launches Pro-Socialism Streaming Service
By JC Reindl
April 13, 2019
Detroit Free Press
Means TV is an Internet-only web streaming service that would offer entertainment programming with "pro-worker" and "anti-capitalist" viewpoints, including original TV shows, talk shows, comedy sketches, reality TV and on-the-ground reporting.
The Impact of Johnson Publishing on Black Media Shouldn't Be Forgotten
By Ricardo A. Hazell
April 11, 2019
The Shadow League
Today we mourn the death of an iconic imprint that was responsible for bringing us Jet, Ebony, and much more. Both of these publications were pivotal in producing coverage of the Jim Crow System, and the Civil Rights struggles to overturn it later on.
By Conrad Duncan
April 8, 2019
The Independent
Many employers require workers to submit daily screenshots to document their progress on the app or deduct pay if the app is not used frequently.
Chicago is Tracking Kids With GPS Monitors
By Kira Lerner
April 8, 2019
The Appeal
Cook County has a new contract for juvenile ankle monitors that critics say are an invasion of privacy.