Global Left Midweek - June 5, 2019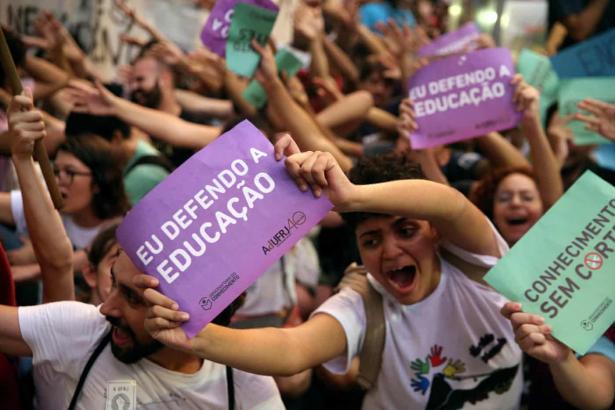 Thousands protest in Rio de Janeiro against education cuts announced by Bolsonaro's government, Photograph: Fabio Motta/EPA
Vermondo Brugnatelli / Il Manifesto Global (Rome)

The human rights activist Kameleddine Fekhar had been on a hunger strike since March 31. On May 28, he died in a hospital after his condition had deteriorated. The sorrow and indignation for his only-too-predictable death gave rise to remembrance and protest activities around the world.
__________
Spain: Podemos Meltdown
Dick Nichols / Green Left Weekly (Sydney)
Its European parliament vote, achieved separately by Podemos and the United Left in 2014, fell from 18% to 10% (11 seats to 6). In the state elections, where the United Left and Podemos ran separately in some regions, the radical left lost two-thirds of the 99 seats won in 2014, as its average vote fell from 13.7% to 6.7%. In Extremadura, it managed to hold four of the six seats won in 2015.
__________
Sudan: Reign of Terror
Pavan Kulkarni / Peoples Dispatch (New Delhi)
The Sudanese Professionals Association is deeming the events a "bloody massacre", and has called for a "total civil disobedience", and vowed "we will not retreat".
__________
Brazil: Student Upsurge
Tom Phillips / The Guardian (London)
Hundreds of thousands of students, academics and teachers have taken to the streets of Brazil for their latest mass protest against far-right president Jair Bolsonaro's assault on education.
__________
Ireland: Sinn Féin Divisions
Fiach Kelly / Irish Times (Dublin)
There are members who want to be more liberal on social issues and those who think Sinn Féin is preoccupied with same-sex marriage and abortion; those who think it should tack further to the left and those who think it should go towards the centre.
__________
Oaxaca, Mexico: Tribes Fight for Water Rights
Samantha Demby / NACLA Report (New York)
In southern Mexico, a multi-ethnic network of towns has halted the construction of a mega-dam. Now they are organizing to manage their own natural resources and revitalize their culture as native water protectors.
__________
Pakistan: Army Crackdown on Pashtun Movement 
Mohammad Taqi / The Wire (New Delhi)
The Pakistan army shot and killed at least 13 civilians and injured dozens more at a sit-in staged by the Pashtun Tahaffuz Movement (Pashtun Defence Movement or PTM), in the tribal North Waziristan district of the Khyber-Pakhtunkhwa (KP) province.
__________
Honduras: Rebellion Against Government
Zoe PC / NewsClick (New Delhi)
Thousands participated in the national strike against the privatisation of health and education. The mobilizations channeled the widespread anger against the government of Juan Orlando Hernández.
__________
Belgium: Workers' Party Win
Marc Botenga / Jacobin (New York)
Last week's elections produced grim results for the Left across most of the continent. But in Belgium, the Workers' Party made a historic breakthrough.