Global Left Midweek - June 12, 2019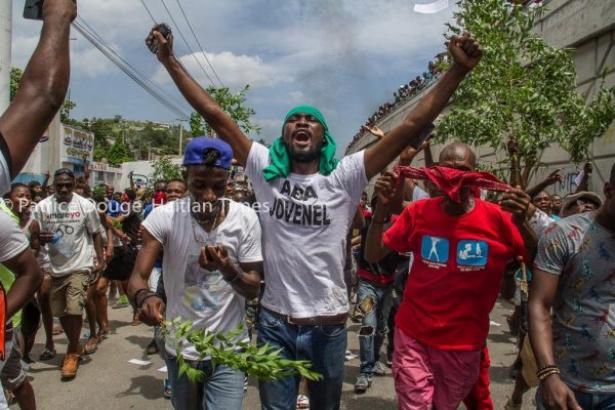 In Port-Au-Prince, protesters calling for the resignation of President Jovenel Moise, Credit: Patrice Douge, Haitian Times
Revolt If Not Revolution: Algeria and Sudan
Gilbert Achcar / Le Monde diplomatique (Paris)
Is this the next phase of a profound change in the Arab world? The uprisings haven't repeated the mistakes of 2011.
__________
Sudan: 'Build Barricades, Then Run'
Kaamil Ahmed / Middle East Eye (London)
Anger against military council moves from open demonstrations to civil disobedience amid a violent crackdown.
__________
Call for Solidarity with Sudan's Uprising
The Central Committee of Sudan Doctors' Media / Alliance of Middle Eastern Socialists
Please spread widely to radical organizations, anti-racist organizations, progressive politicians and especially to any unions in the health and medical field. Statements,  protests and other events  in solidarity with the Sudanese uprising are desperately needed.
__________
France: Black Vests!
Luke Butterly / Verso Books (London)
The Gilets Noirs, the largest collective of undocumented migrants in France, have been conducting a series of high profile actions, most notably the recent protests at Charles De Gaulle airport calling for an end to deportation flights. 
__________
Strike Paralyses Haiti
Al Jazeera (Doha, Qatar)
Protesters demand the resignation of President Jovenel Moise over corruption allegations.
__________
Honduras: Roots of the National Strike
Beth Geglia / NACLA Report (New York)
As Honduran teachers and doctors resist the neoliberal restructuring of health and education services, educator and organizer Bayron Rodríguez Pineda explains the roots of the mobilizations and the growing people power in the streets.
__________
Denmark: Social Democrats' Dilemma
Rune Møller Stahl / Jacobin (New York)
Denmark's general election is set to produce the most left-wing parliament in decades. But the country's Social Democrats have disgraced themselves with anti-immigrant rhetoric.
__________
Philippines: Labor Organizer Gunned Down
Business and Human Rights Resource Center (New York)
Various groups have released statements of condemnation and urgent calls for government to investigate Leonides "Dennis" Sequeña's death and the growing number of killings of activists and leaders fighting for workers' rights.
__________
State Department: We'll Fight Corbyn Before Election
John Hudson / Washington Post
Secretary of State Mike Pompeo said he would not wait for Labour Party leader Jeremy Corbyn to become prime minister to "push back" against him or any future actions he might take against Britain's Jews. Defenders of Corbyn say the charges of anti-Semitism are politically motivated and stem from his long-standing support of Palestinian rights and criticism of Israeli government policies and Western imperialism.