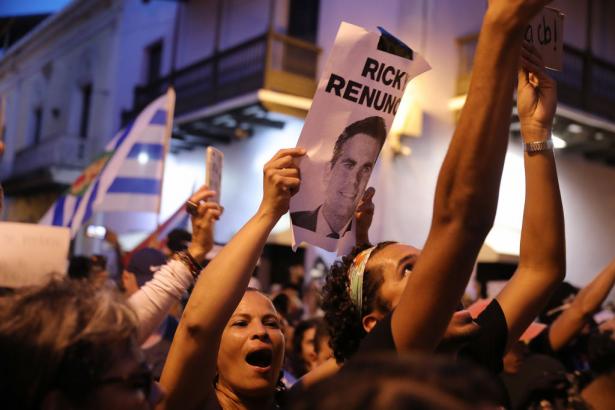 Protesters demonstrate along a street leading to the governor's mansion as they call for Puerto Rican governor Ricardo Rosselló to step down on July 16, 2019 in Old San Juan, Puerto Rico,Joe Raedle / Getty Images
A rising tide of indignation is taking over Puerto Rico. People from all walks of life are calling on the conservative governor of Puerto Rico, Ricardo Rosselló, to resign. They have taken to social media and flooded the streets to express their disdain for the governor and his top aides.
Puerto Ricans have not seen this kind of popular, cross-sectoral support since they called for the removal of the US military from the island municipality of Vieques. The outcome of these mobilizations will determine Puerto Rican history for generations to come. What led to this outrage, and where do we go from here?
Puerto Ricans learned over the past month that multiple government agencies were under FBI investigations that included the top brass of the Ricardo Rosselló administration. During a radio interview on June 24, the head of Puerto Rico's tax collection agency protested that the agency he oversaw was riddled with corruption, controlled by an "institutional mafia" of government bureaucrats who took payments in exchange for favors, such as erasing debts and fines. Last week, the FBI indicted former head of education Julia Keleher and former head of the health insurance administration Ángela Ávila-Marrero. The straw that broke the camel's back was the publication of a leaked chat that Governor Rosselló administered alongside a group of his top aides.

As of today, 889 pages of the chat have been leaked, but more may be on the way. They revealed the Machiavellian and unscrupulous workings of the governor's inner circle. The injuries launched against opponents and supporters abound in the chat.
In it, the governor instructed aides to mobilize social media trolls against their political rivals or dissenters. Hordes of social media trolls were instructed to fill out online polls to give the false impression that a majority of Puerto Ricans approved of the governor's policies and performance. Aides fed editorial lines to major local news outlets, fed questions to reporters, and called for one-on-one interviews at will.
They joked about the death of political opponents, made homophobic comments about the sexuality of celebrities, made fatphobic jokes about their own supporters, made transphobic jokes, referred to women opponents and supporters as prostitutes and whores, ridiculed the elderly in their own party, expressed their desire to kill political rivals, referred to protests against gender-based violence as minuscule, and undermined the DOJ-mandated police reform. They ridiculed the anti-bullying campaign that Puerto Rico first lady Beatriz Rosselló had spearheaded, while engaging in bullying themselves in the chat. Chat participants perpetuated stigma about mental health.
The governor shared a picture of a poor neighborhood that he oversaw from his vacation home in Cayey with a hashtag that translates to "we can't ask for statehood like this." He boasted about terminating a commission that had been set up to audit the Puerto Rican government's debt, moving Lin-Manuel Miranda's Hamiltonfrom the University of Puerto Rico to a different theater, and privatizing the Puerto Rico Electric Power Authority and ferry services to the island municipalities of Vieques and Culebra. The chat revealed that the governor's aides would discuss confidential documents with lobbyists and get the federally imposed fiscal control board to edit documents that were damaging to his administration prior to their publication.
Perhaps most enraging to the people of Puerto Rico, who are still reeling from the devastation caused by Hurricane María, was when they learned that chat participants coordinated to suppress news stories about fatalities in the aftermath of the hurricane and even joked about using the dead to suppress dissent. The day after the chat was leaked, a demonstrator told a reporter during a protest: "My name is Luis Alejandro Vázquez. I'm here because of my dad. They found him dead three weeks after María. When I read that they needed a corpse to feed the vultures, I couldn't take the pain."
Puerto Rico is at a crossroads. The intensity and magnitude of the public outcry has few precedents. The New Progressive Party leadership is standing between the public and their desire for change. Among the excuses that Ricardo Rosselló supporters have made for the governor are that we all make mistakes, the other political parties are corrupt too, the chat was meant to be private, and the governor needs time and space to reflect. Yet support for the Rosselló governorship is dwindling within his own party, with some calling for his resignation, others calling for him to refrain from seeking reelection and abandon the party presidency, and some more timidly calling on him to reflect.
Rosselló has accomplished a seemingly impossible aspiration. He has managed to unite an embattled political left and nonpartisans against him. The result has been overwhelming. Thousands have taken to the streets and social media to voice their outrage. Well-known celebrities like Lin-Manuel Miranda, Bad Bunny, Ricky Martin, and Ednita Nazario went as far as calling for street protest and the governor's resignation. Federal elected officials from both parties in both chambers, including Arizona representative Raúl Grijalva and Florida senator Rick Scott, have also called for new leadership. On the ground, people from marginalized and wealthy communities, and from different races, genders, sexualities, geographical regions, and ideologies, chant "Ricky resign, and take the Fiscal Oversight Board with you."
Demonstrators are setting their sights on a target that is much larger than Ricardo Rosselló. They are increasingly aware that the problems that led to this uprising are systemic and that the solutions should be crafted accordingly. Protesters are demanding the adoption of measures to curb government corruption, increase media transparency and autonomy, include a feminist perspective in the K–12 curriculum, declare a state of emergency in response to the crisis of violence against women, implement health-care reform and electoral reform, conduct new elections, disrupt ongoing bankruptcy negotiations, audit and cancel Puerto Rico's debt, and eliminate the federally imposed Fiscal Oversight Board.
The solidarity networks that emerged across the globe in the wake of Hurricane María created the bases for the anti-Rosselló mobilizations. Mutual assistance organizers had been setting the stage for politicizing their networks. They did so by living and organizing in the communities in which they helped set up mutual assistance groups, and by building a bottom-up resistance to the systemic causes of their despair.
Groups like the Colectiva Feminista en Construcción had been making a case within the Left for going beyond building an oppositional resistance. They called for crafting an agenda for an emancipatory future, one that would only become reality by building popular mobilizations through cultural work, popular education, self-defense, and direct action. Groups like the Colectiva made it into the governor's chat, in the form of disparaging references, because they had effectively held the government to account for its neglect of the crisis of gender-based violence. Yet their struggle is not limited to gender. Rather it aims at enacting an anti-systemic praxis that simultaneously targeted neoliberalism, colonialism, capitalism, patriarchy, and racism.
What Puerto Ricans witnessed in the governor's leaked chat is how class power conspires to put the governor's boys club and the interests they defend in power, while keeping the rest of the population in their service. The movements and organizations that were disparaged in the chat were targeted because they threatened this system. It is our duty to support and build on the efforts of these movements, who withstand attacks, precarity, and exhaustion in their struggle.
In the aftermath of Hurricane María, the hashtag #PuertoRicoSeLevanta (Puerto Rico rises) became commonplace. The Rosselló administration co-opted the phrase and deployed it with such frequency that it lost significance. The public was unable to observe any indication that Puerto Rico was in fact rising from the wake of the hurricane's destruction. Government officials continuously touted their reconstruction efforts, aided by multimillion-dollar public relations operations, while privately they used their chats to discuss how to frame the narrative around the recovery in their favor. After months of manipulating local news coverage, polls, government reports, and social media, the veil that protected the image of the Rosselló administration has fallen — and finally, Puerto Rico rises.
Fernando Tormos-Aponte is a Scholars Strategy Network postdoctoral fellow at the University of Missouri–St Louis. He is from San Juan, Puerto Rico.
Jacobin is a leading voice of the American left, offering socialist perspectives on politics, economics, and culture. Subscribe here.