State Supreme Courts Don't Reflect the Diversity of the Communities They Serve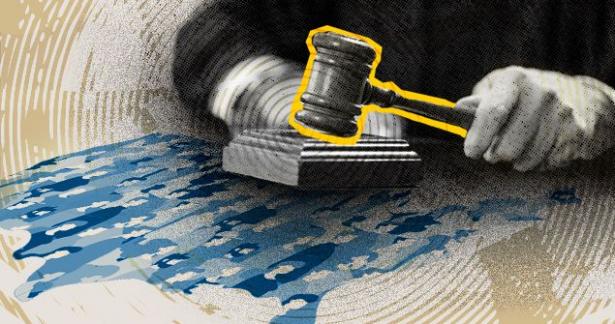 ,
We spent a year studying the gender and racial makeup of state supreme courts, which are typically the final arbiters on state law. Our new report, State Supreme Court Diversity, paints a bleak picture of the demographic makeup of these powerful courts. It also points to judicial elections as a key inflection point for addressing the racial disparities we found.
Currently, white men are dramatically overrepresented on state supreme court benches. Though white men make up less than a third of the population, they hold a majority of seats on state supreme courts. Meanwhile, though people of color make up nearly 40 percent of the U.S. population, they hold only 15 percent of state supreme court seats.
Twenty-four states currently have an all-white supreme court bench. This includes eight states in which people of color are at least a quarter of the state's general population. And in states that have at least one justice of color, there are substantial gaps between the diversity in a state's general population and its high court bench: the percentage of people of color on the bench is higher than their representation in the state's population in only five states.
Eighteen states have never had a Black justice on their state supreme court. And 13 states have not seated a single justice of color since at least 1960, the earliest year for which we had comprehensive data.  
We also examined how justices initially reached the bench — whether through elections or appointments — and found striking racial disparities.
Elections have rarely been a path to the bench for people of color. Since 1960, only 17 justices of color have first reached the bench through an election, comprising 4 percent of initially elected justices. Comparatively, 141 justices of color were initially appointed to the bench since 1960, comprising 12 percent of all initially appointed justices.
Although candidates of color were more likely to have prior judicial experience as challengers to incumbents or as candidates for open seats, they won less often than their white counterparts.
On average, candidates of color also raised less money than their white counterparts. And once on the bench, justices of color who must run for reelection also face different electoral dynamics than white incumbent justices. Justices of color are challenged for reelection more often than their white counterparts.
Incumbent justices who are people of color also win less often than white incumbent justices, with a win rate of 82 percent, compared to 90 percent.
A diverse bench is crucial in achieving a fair system of justice and judicial legitimacy in the eyes of the communities our judiciary is intended to serve. But across the country, state supreme courts fail to reflect our increasingly diverse nation. We hope this report will prompt action and reform to build an inclusive judiciary.
---
Alicia Bannon is Managing Director of the Brennan Center's Democracy Program. She leads the Center's fair courts work, where she directs research, advocacy, and litigation to promote a fair and impartial judicial system. Ms. Bannon has authored several nationally-recognized reports and articles on judicial selection, access to justice, and government dysfunction, including Who Pays for Judicial Races? (2017), Rethinking Judicial Selection in State Courts (2016), and Criminal Justice Debt: A Barrier to Reentry (2010). She was previously an adjunct professor at NYU School of Law, where she taught the Brennan Center Public Policy Advocacy Clinic, and at Seton Hall Law School, where she taught a course in professional responsibility and legal ethics. Prior to joining the Brennan Center, Ms. Bannon was a John J. Gibbons Fellow in Public Interest and Constitutional Law at Gibbons P.C. in Newark, N.J., where she engaged in a wide range of public interest litigation within New Jersey and nationally. Ms. Bannon was also previously a Liman Fellow and Counsel in the Brennan Center's Justice Program.
Ms. Bannon received her J.D. from Yale Law School, where she was a Comments Editor of the Yale Law Journal and a Student Director of the Lowenstein International Human Rights Clinic. She clerked for the Honorable Sonia Sotomayor in the Court of Appeals for the Second Circuit and the Honorable Kimba M. Wood in the Southern District of New York. She graduated from Harvard College summa cum laude with a degree in Social Studies. Prior to law school, she worked in Kenya and Uganda managing impact evaluations of education and health interventions, and at the Center for Global Development in Washington, D.C.
Laila Robbins is a Research and Program Associate in the Democracy Program, where she focuses on issues pertaining to fair and impartial courts. Prior to joining the Brennan Center, Laila interned at Brooklyn Defender Services, where she created Brooklyn's first police accountability database, which attorneys use to enhance defense services and mitigate police misconduct.
Laila Robbins graduated cum laude from Yale in May of 2017 with a degree in History and distinction in the major. While an undergraduate student, she worked as a research assistant for Professor Kate Stith at Yale Law School, conducting empirical and quantitative research on nationwide disparities in the application of sentencing enhancements for repeat nonviolent drug offenders. At Yale, she also received a fellowship to study domestic policy at Yale's Institution for Social and Policy Studies, and served as the Vice President of the Yale Undergraduate Prison Project, mentoring inmates at a Connecticut prison and facilitating advocacy initiatives.
The Brennan Center for Justice at NYU School of Law is a nonpartisan law and policy institute that works to reform, revitalize – and when necessary, defend – our country's systems of democracy and justice.
At this critical moment, the Brennan Center is dedicated to protecting the rule of law and the values of Constitutional democracy. We focus on voting rights, campaign finance reform, ending mass incarceration, and preserving our liberties while also maintaining our national security. Part think tank, part advocacy group, part cutting-edge communications hub, we start with rigorous research. We craft innovative policies. And we fight for them – in Congress and the states, the courts, and in the court of public opinion.
Join the fight to safeguard American democracy!
Your commitment means the Brennan Center will continue to protect and promote the ideals of equal justice for all.  Become a partner in our work, and help lead the charge to restore our democracy. The Brennan Center is a tax-exempt 501(c)3 nonprofit organization.