Global Left Midweek - July 31, 2019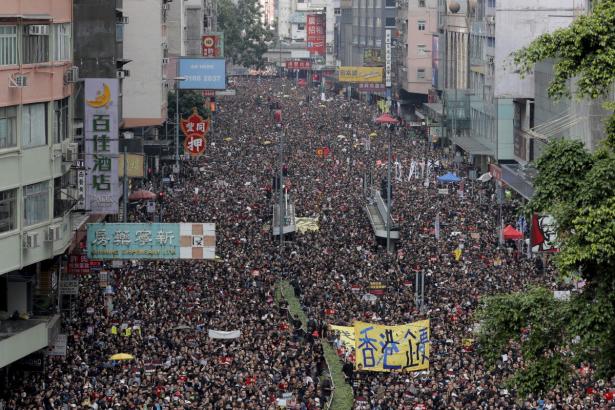 Hong Kong protests continue, Photo: AP
BoJo and the New Battle of Britain
John Feffer / Foreign Policy in Focus (Washington)
As hard Brexiteer Boris Johnson takes over, Labour is finally coming down on the side of Remain. Will it be too late?
__________
Puerto Ricans' Struggle Continues
The protest movement in Puerto Rico scored its first victory when Gov. Ricardo Rosselló resigned Wednesday night. But that's not demonstrators' only demand: They want "la junta" gone too.
__________
Contradictions in Hong Kong
Promise Li / New Politics (New York)
The aims and direction of localist politics, with respect to neoliberal globalization and the interests of the working class in and beyond Hong Kong, often remain sharply contradictory or muddled. At the same time, we must remember the last week's protests are a powerful reminder of the Hong Kong people's explosive political potential.
__________
Colombia: Mass Outrage at Killings of Movement Leaders
Amy Goodman interviews Luis Gilberto Murillo / Democracy Now! (New York)
Tens of thousands of demonstrators took to the streets on Friday in more than 50 cities and towns across Colombia to protest a surge of lethal attacks on indigenous, Afro-Colombian and environmental leaders in recent years.
__________
India: Opposing the Rise of Lynch Mobs
Ajay Gudavarthy / NewsClick (New Delhi)
Muslims and dalits are the new combined 'other' under the current political regime. While attacks on Muslims consolidates the Hindus, simultaneous attacks on dalits defines who that Hindu is.
__________
Ágnes Heller 1929-2019
Donatella Di Cesare / Il Manifesto Global (Rome)
Her relationship with Marx's thought deeply influenced her own thinking. The result was the trilogy of works for which she soon became well known: A Radical Philosophy, The Theory of Needs in Marx and Towards a Sociology of Knowledge of Everyday Life. 
__________
What is the Vanguard Role of the South African Communist Party?
Jeremy Cronin / Umsebenzi Online (Johannesburg)
The first rally to celebrate the 98th founding anniversary of the Party was however held in Cape Town on Saturday 27 July 2019, and was addressed by Cde Jeremy Cronin, SACP Central Committee and Political Bureau member.
__________
International Plea for Imprisoned Union Members in Iran
International Trade Union Network of Solidarity and Struggle
The trade unions, the signatories of this letter, strongly condemn the unbearable repression and harassment of the Iranian trade-unionists and labour rights activists. They call on the Iranian regime to respect the international conventions ratified by its government, including freedom of association, gathering, strike and collective bargaining. They demand solemnly the immediate and unconditional release of all the arrested trade unionists, journalists and labour rights activists.