WFP's Nod to Warren Reminds Progressives of the Inevitable Need to Choose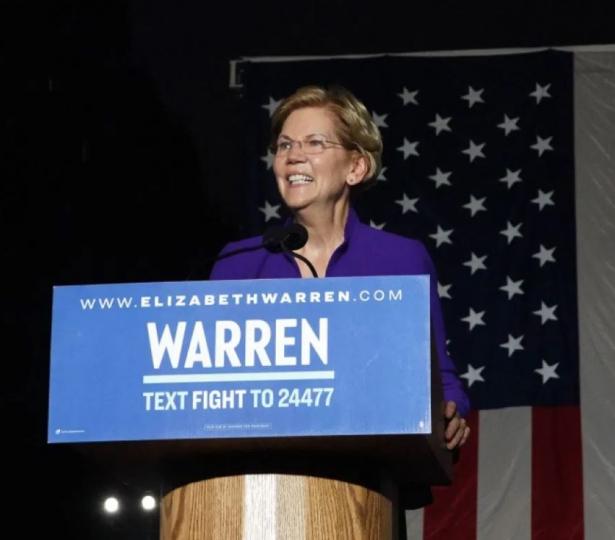 Elizabeth Warren wrapped up a speech in front of an estimated 20,000 people in Manhattan's Washington Square Park on Monday night., credit: Debra L Rothenberg/Shutterstock // RollingStone
Even before the Working Families Party endorsed Elizabeth Warren, the labor-left organization that advocates for a more progressive Democratic politics had endorsed Elizabeth Warren. While the WFP's decision to back the senator from Massachusetts for the 2020 Democratic presidential nomination drew lots of attention Monday, the group first endorsed Warren in February 2015, when it called on the senator—as "the nation's most powerful voice for working families"—to challenge front-runner Hillary Clinton for the party's 2016 nomination. Warren chose not to run, and Vermont Senator Bernie Sanders stepped up. The WFP eventually backed his bid, with a December 2015 announcement from party leadership that "we're standing with Bernie Sanders to build the political revolution and make our nation into one where every family can thrive."
Now the WFP is again with Warren. That's significant, as is the fact that it isn't with Sanders. Significant is not necessarily the same as definitional, however. Many friends and allies of the WFP were still speaking up for the senator from Vermont after the announcement Monday that the senator from Massachusetts had prevailed in endorsement balloting in which 50 percent of the vote was cast by WFP members and grassroots supporters and 50 percent by the WFP national committee.
The WFP's decision to endorse distinguished it from the majority of progressive groups and unions, which are waiting to make choices between Warren and Sanders, and the several other contenders who lay claim to the progressive mantle in 2020. (New Jersey Senator Cory Booker, former secretary of housing and urban development Julian Castro, and New York Mayor Bill de Blasio were also in the running for the WFP nod.) There have been few major endorsements so far even from the left-leaning labor, environmental, and activist groups that in 2015 first cheered on a "Draft Warren" movement and then backed Sanders—although the Vermonter has gained endorsements from Democratic Socialists of America, Progressive Democrats of America and, more recently, the United Electrical, Radio and Machine Workers of America union.
On Monday, Warren campaign aides expressed hope that the WFP move might break loose additional endorsements—especially among the national and local labor organizations that have worked closely with the party in New York, Philadelphia, Milwaukee, and other communities across the country. Sanders backers expressed doubts that this would happen. They also pointed out that while Sanders once declared that "the WFP is the closest thing there is to a political party that believes in my vision of democratic socialism," the party's endorsements of New York Governor Andrew Cuomo over Democratic primary rival Zephyr Teachout in 2014 and of New York Representative Joe Crowley against challenger Alexandria Ocasio-Cortez in a 2018 primary had drawn criticism from progressives. (Notably, the party backed Cynthia Nixon's 2018 from-the-left challenge to Cuomo, and earned high marks for throwing in early with the 2019 campaign of Tiffany Caban for Queens district attorney.)
The WFP vote illustrated the challenges that arise when two favorites of progressives are running against one another. Sanders won almost 90 percent of the vote against Clinton in the WFP endorsement vote four years ago. This time the WFP announced that—"after a three-month endorsement process in which tens of thousands participated in debate and discussion, online forums, house parties, and live Q&As with five contenders for the Democratic nomination…. The two highest vote-getters were Senator Warren with 60.91% of the vote, and 35.82% for U.S. Sen. Bernie Sanders. More than 80% of voters listed Warren and Sanders as their top two picks."
That was good news for Warren on several levels. The endorsement drew lots of attention from media outlets that barely covered the WFP's 2015 decision. Beyond the media coverage of the endorsement itself was the fact that it came at a moment when many progressives are starting to talk about when they will have to make choices between two senators whose combined poll support consistently tops that attained by former vice president Joe Biden.
WFP national director Maurice Mitchell argues that the time is now. He couched this assessment in the kindest terms, speaking about "the tough choice progressives face this year," noting that the WFP still considers Sanders "a crucial ally in the fight for a more just world" and expressing hope that Warren and Sanders will continue to align during the primary campaign as "a formidable duo on the campaign trail, organizing voters behind full-throated progressive messages."
"But in the end," Mitchell said, "we believe this campaign is too important to sit on the sidelines."
Joe Dinkin, the national campaign director for the party that started in New York but now organizes and campaigns in more than a dozen states nationwide, echoed that theme. "The right-wing is organized and they're working for their candidate Donald Trump," said Dinkin. "The corporate wing of the Democratic Party is working for their candidate: Joe Biden. And we just could not sit on the sidelines. We have to start organizing to make sure that the Democrats nominate and elect a progressive candidate."
Warren posted a video of herself throwing her hands up in celebration after the endorsement was announced. She also headed for a Monday evening rally that drew thousands to Washington Square Park in New York City—the urban base from which the union-aligned WFP began working more than two decades ago on an inside-outside strategy to move the Democratic Party to the left on economic, social, and racial justice issues. Her campaign left little doubt that it would make everything it could of the endorsement from a prominent progressive group.
But plenty of WFP allies responded to the endorsement of Warren with kind words and shows of solidarity for Sanders. "Although I'm proud of my work with @WFP, I still believe @BernieSanders is the best choice for working families because of his stance on CJR, M4A, Economic Justice and #NoMiddleGround," tweeted Milwaukee County (WI) Supervisor Marcelia Nicholson.
[John Nichols is The Nation's national-affairs correspondent and host of Next Left, The Nation's podcast where politics gets personal with rising progressive politicians. He is the author of Horsemen of the Trumpocalypse: A Field Guide to the Most Dangerous People in America, from Nation Books, and co-author, with Robert W. McChesney, of People Get Ready: The Fight Against a Jobless Economy and a Citizenless Democracy.]
Copyright c 2015 The Nation. Reprinted with permission. May not be reprinted without permission. Distributed by Agence Global.
Please support our journalism. Get a digital subscription to The Nation for just $9.50!