Until Her Death at 100, Chicago Artist Peggy Lipschutz Loved Two Things: Art and Politics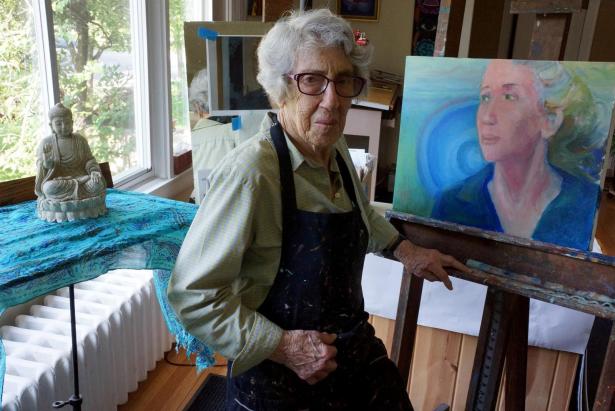 Peggy Lipschutz in her Evanston home in 2013 with one of the last paintings she did in oil. (Jerri Zbiral photo), Jerri Zbiral
"I have two loves," Peggy Lipschutz once said, "art and politics — politics being people, what happens to people."
Lipschutz loved those things up until she died on Sept. 24, three months shy of her 101st birthday. A couple of days before her death, at home in an assisted living facility, a friend found her propped up in bed reading the Chicago Tribune and grumbling that Joe Biden was selling out the progressive wing of the Democratic Party.
Chicagoans of a certain age may remember Lipschutz from her appearance on "Mr. Rogers' Neighborhood," or in their classrooms, where she did her "chalk talks," swiftly illustrating with colored chalk whatever song the musician with her was singing.
She did chalk talks with the famous likes of Pete Seeger, Arlo Guthrie and Ella Jenkins. She did them in union halls, senior centers, at PTAs and labor protests. She did them for Harold Washington's Chicago mayoral campaign. She did thousands of them with Rebecca Armstrong.
"I heard that Peggy, the chalk talk artist, needed a new singer," Armstrong recalled Friday. "She lived a few blocks from me in Evanston, so I trotted over with my guitar and auditioned for her. She hired me on the spot."
That was in 1978 and for the next 35 years, in more than 800 Chicago-area schools, they performed an act called "Songs You Can See." While Armstrong sang, Lipschutz stood at a large easel sketching in time with the music.
They took their show to Cuba and performed on Cuban TV. In 1999, they were the opening act for Nelson Mandela's acceptance of a nonviolence prize in South Africa.
Whatever Lipschutz did, whether it was chalk talks or painting portraits in oil, she worked with a conviction: Art shapes politics and politics shapes art and both shape people.
"I got the feeling that she woke up in the morning thinking about the human condition," said Mark Dvorak, one of her many musician friends. At his request, she made large drawings to illustrate "What a Wonderful World," which he often sings at schools and libraries.
"I've carried them with me ever since," he said. "They're fantastic, even stepped on and drooled on."
Lipschutz, who grew up in England in a politically active family, began drawing at the age of 10. When she was 19, her family moved to New York. She eventually landed in Chicago where, at age 30, she married a man who played flute in the quartet in which she played cello.
Together they had three children, Ruth, now a social worker; Joan, a nurse; and David, who owns Blind Faith Cafe in Evanston. Eventually, she separated from her husband, but she and her art carried on.
Lipschutz used her art to educate people about the Holocaust, civil rights, women's rights, cancer. For a while, she collaborated with her daughter Ruth on chalk talks about mother-daughter relationships.
"And she was into women's music before I was," Ruth said. Together, they traveled to women's music festivals.
Jerri Zbiral met Lipschutz in a mural painting workshop in the 1970s.
"She was very striking in her presence," she said. "She was a short, wrinkled lady, but she had an aura of command about her and a very gentle way. When I first met her, I was very intimidated. When I told her that later, she laughed. She was very quiet and shy, and yet she was a performer."
They became close friends and years later, Zbiral made a documentary called "Never Turning Back: The World of Peggy Lipschutz."
Lipschutz credited her longevity to decades of yoga, and for a while she even ran a yoga studio in her house. But three years ago, after breaking her hip, she moved out of her Evanston home into the Selfhelp Home in Chicago.
She had already given up the chalk talks, which by her early 90s she found too grueling, and returned to painting. When her hands got too shaky for painting, she went back to drawing. After moving to the Selfhelp Home, she liked to sit in the nearby Mariano's and sketch people eating lunch.
Peggy Browning, a musician, often visited her at the new place.
"Up until a couple of months ago," Browning said, "she was walking from her place to the lakefront, a quarter mile, barreling through with her walker."
On Lipschutz's hundredth birthday, Armstrong organized a musical party for her at the Old Town School of Folk Music. Lipschutz had a long association with the school, and some of her most notable paintings hang in its two locations.
"What's most remarkable about her," Armstrong said, "is that she is a model for the new kind of elder that America desperately needs more of. That vigor, that understanding that one has a purpose in life. Taking hold of life with 100 percent of her capacities as a thinker, a woman, an activist, an artist. That made her an extraordinary role model."
But even role models wear out. Lipschutz lamented that she no longer walked well enough to attend protest marches. Drawing got harder. When the end came, her daughter Ruth said, she went willingly.
"A hundred is enough," she said not long before she died.
She also said it had been fun.
---
Mary Schmich is a columnist for the Chicago Tribune and winner of the 2012 Pulitzer Prize for commentary. A Georgia native, she has written her column since 1992 and was previously a Tribune national correspondent. She also teaches yoga, plays mandolin and piano, and co-hosts an annual holiday singalong at the Old Town School of Folk Music.