New California Regulations Strengthen Workers in the Ride Share Industry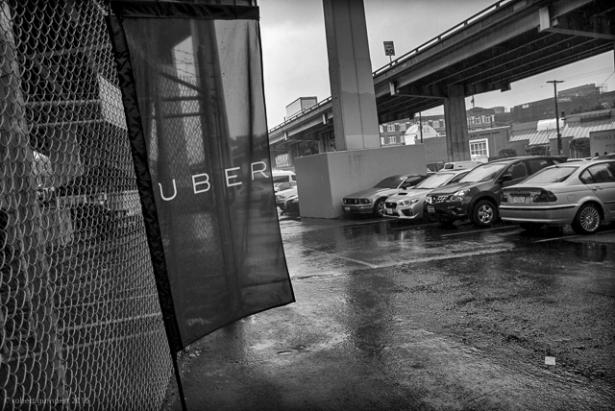 2016. San Francisco, CA. UBER parking lot. ,Robert Gumpert 2016
For several decades, corporations have sought to undermine labor rights by turning more employees into "independent" workers, and foregoing any responsibility for paying Social Security, unemployment compensation, workers compensation or other benefits like vacation and sick time. These costs are shifted to workers and eventually to taxpayers as well.
A new California law, Assembly Bill 5 (A.B. 5) reverses this trend, which will have a profound impact on the so-called "gig" economy best exemplified by the ride share companies Uber and Lyft.
A.B. 5, signed into law on September 18 by California Governor Gavin Newsom, codified an earlier decision of the California State Supreme Court that established a simple and clear test for determining whether a worker is an "independent contractor" or an "employee." The Supreme Court "Dynamex" case established a simple "A, B, C" test:

A. The worker is a contractor if he/she is "free from control and direction of the hiring entity;"
B. The worker is a contractor if he/she "performs work that is outside the usual course of the hiring entity's business;"
C. The worker must be in an "independently established trade, occupation, or business."
Under the Dynamex test, drivers for Uber and Lyft are clearly employees and not independent contractors. This decision was welcome news for workers and unions in many other sectors of the economy as well. For example, the Teamsters union has sought to organize the thousands of truck owner-operators who transport ocean containers to and from major U.S. ports. There are over 15,000 drivers in Southern California who service the ports of Los Angeles and Long Beach where 40 percent of Pacific Rim traffic comes into the United States.  The union and its allies have sought largely unsuccessfully to reclassify these workers as employees. Now the Dynamex decision — and the passage of A.B. 5 — hold out hope that this strategically powerful workforce can be united in unions and finally win collective bargaining rights.
Nowhere was the impending passage of A.B. 5 met with such controversy as in the ride share economy dominated by the two publicly traded behemoths, Uber and Lyft.  These worldwide multi-billion dollar companies see Dynamex and the new state law as threats to their business model and their very existence.  The ride share giants argue that drivers love the flexibility of choosing to work or not work by simply turning on or off their smart phone "apps." What they don't publicize is that many drivers are working 70 hours a week just to make ends meet. After paying their expenses for car maintenance, fuel and leasing, their earnings often fall below the minimum wage.
Too many business and labor commentators have accepted the emerging independent contractor employment model as an inevitable feature of technological progress. But while the Uber apps may be wonderful, the "uber" exploitation of workers is unacceptable!
The argument for the preservation of flexibility and the benefits to workers and their families harken back to the opposition to child labor law restrictions in the early part of the twentieth century. It was said that some parents in their desperation to bring in more income aided their children in falsifying documents so that the little ones could work in the coalmines. The earnings from child labor often enabled impoverished families to survive – but at a frightening social cost. Reformers and trade unionists argued that the solution was not to perpetuate child labor, but to organize powerful unions in the coal mines and elsewhere.
Uber and Lyft fought hard to be exempted from the provisions of A.B. 5, arguing that the well-being of their drivers depended on it.  Labor leaders from the Service Employees International Union (SEIU) and the Northern California Teamsters opportunistically have sought an agreement with the companies to exempt them from the provisions of A.B. 5.[1]
However, as a result of an heroic grass roots organizing network, that back door deal is dead for now. Rideshare Drivers United (RDU) which represents over 5,000 drivers, fought against the exemptions as a betrayal of the drivers. RDU has led several strikes and job actions in Southern California and has been the most high-profile force in the country organizing at Uber and Lyft. They are aided by some cutting-edge apps of their own that enable drivers to communicate, organize and figure their hourly earnings after expenses.
Fortunately, Lorena Gonzalez, the legislator who authored A.B. 5 is an ex-labor leader who once headed the San Diego Central Labor Council. Gonzalez said of RDU, "Any union that wants to be the voice of ride-share drivers has to be inclusive of that group (RDU) and others."[2] Assemblywoman Gonzalez understands a fundamental principle of trade unionism: no deals should be made without workers being directly involved in decisions about their work life.
Unfortunately, Governor Newsom appears to be interested in getting a "deal" between the high-tech sector and some unions that will exempt ride share drivers from the newly passed law. He has stacked a newly appointed Commission on the Future of Work with Silicon Valley executives and representatives of the same labor unions that tried to cut a deal with Uber and Lyft prior to the passage of A.B. 5.
The fight over A.B. 5 has revealed significant splits in organized labor. Supporters of a sweet deal with Uber and Lyft are also champions of "sectoral bargaining" — meaning all the corporations in a particular industry would be obligated to negotiate with labor and government representatives to determine pay and working conditions in that sector.
The attempt by these unions to reach a deal with Uber and Lyft deal was wrapped in this vision of sectoral bargaining in the ride share industry. The Italian and other European countries experience with a sectoral approach is often positively cited – without any understanding of how the particular features of sectoral bargaining in these countries arose out of workers' movements and their struggle for power.  The U.S. has had sectoral bargaining in the auto and steel industries, but only after dramatic confrontations with management by thousands of organized workers with General Motors, US Steel, and the other major manufacturers in the 1930s and 40s.
The campaign to reclassify so-called independent contractors as workers is far from over in California. However, an important victory has been won in what will be a long war for dignity and justice for ride share drivers and many other gig economy workers.
This piece first appeared in Sinistra Sindicale Numero 14-2019 
[1] "Reform of the Gig Economy A Wonderful Thing: The California legislature's passage of rights for gig workers is biggest blow against poverty in years," By Jay Youngdahl, East Bay Express, September 17, 2019 www.eastbayexpress.com/oakland/reform-of-the-gig-economy-a-wonderful-thing/Content?oid=27574578
[2] "Uber and Lyft Drivers Gain Labor Clout, With Help From an App," by Noam Scheiber and Kate Conger, New York Times, September 20, 2019 www.nytimes.com/2019/09/20/business/uber-lyft-drivers.html
Peter Olney is retired Organizing Director of the ILWU. He has been a labor organizer for 40 years in Massachusetts and California. He has worked for multiple unions before landing at the ILWU in 1997. For three years he was the Associate Director of the Institute for Labor and Employment at the University of California. View all posts by Peter Olney →
Rand Wilson has worked as a union organizer and labor communicator for more than twenty five years and is  currently an organizer with SEIU Local 888 in Boston. Wilson was the founding director of Massachusetts Jobs with Justice.  Active in electoral politics, he ran for state Auditor in a campaign to win cross-endorsement (or fusion) voting reform and establish a Massachusetts Working Families Party.  He is President of the Center for Labor Education and Research, and is on the board of directors of the ICA Group, the Local Enterprise Assistance Fund and the Center for the Study of Public Policy. View all posts by Rand Wilson →