Global Left Midweek - Portugal Election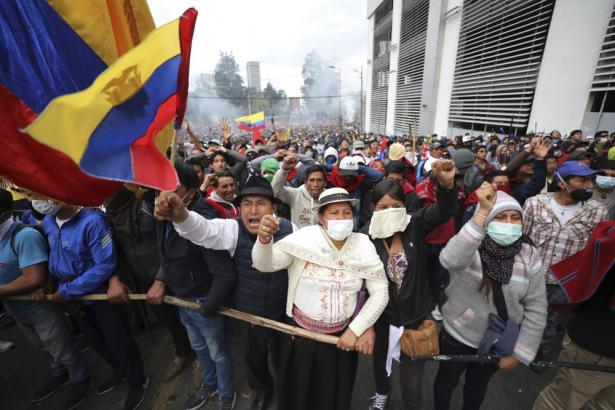 Anti-government demonstrators chant slogans against President Lenin Moreno and his economic policies during a protest in Quito, Ecuador,AP Photo/Fernando Vergara
__________
The Portugal Election
What Happened Nuno Viegas / Rosa Luxemburg Stiftung Brussels Office

The Background Reinhard Naumann / International Politics and Society (Brussels)
The Prospects Catarina Príncipe / Jacobin (New York)
National Strike Alexandra Valencia / Reuters (London) 
Street Action Gonzalo Solano / Associated Press (New York)
__________
Mexico: Oaxaca Wins Abortion Rights
Cecilia Nowell / NACLA Report (New York)
Oaxaca's monumental decision to decriminalize abortion is part of a larger "Green Tide" movement across Latin America. 
__________
Swaziland: Police Violence Against Strikers
Pavan Kulkarni / NewsClick (New Delhi)
Trade unions representing civil servants in Swaziland are preparing for "a major offensive" after ending a ten-day strike. The strike was called off on October 3 after an industrial court issued an interdiction. On October 2, as many as 17 demonstrators were injured when riot police attacked a demonstration of thousands of striking civil servants in Swaziland's commercial hub of Manzini. 
__________
Greece: An Antifascist Lawyer Fights Golden Dawn
Mat Nashed / MSN News (Redmond WA)
A murder trial against 69 Golden Dawn members is described as the biggest case against fascism in Europe since former Nazi leaders were prosecuted in Nuremberg in 1945. 
__________
UK: Farewell to a Working Class Champion
Paddy Shennan / Liverpool Echo
Tony Mulhearn was one of Liverpool's foremost Militant figureheads in the turbulent 1980s. The lifelong campaigner was president of the District Labour Party, a trade unionist, political activist, councillor and parliamentary candidate.
__________
Iraq: Season of Defiance
Sami Moubayed / Gulf News (Dubai)
Iraqi analysts of all stripes and colours seem to agree that the peaceful demonstrators who took to the streets of the Iraqi capital were expressing legitimate concerns, ranging from the improvement of government services to fighting corruption and finding jobs for the unemployed.
__________
Colombia: Ex-FARC Combatants Ponder Rearming
Christina Noriega / Latin America News Dispatch (New York)
Approximately 1,800 ex-combatants had already rearmed since the government and the FARC signed a peace deal in 2016, but the news that former top commanders would launch a new guerrilla insurgency represented a significant blow to the peace process.
__________
Russia: Socialists in Moscow Politics
Russian Socialist Movement, Moscow Branch / LeftEast (Bucharest)
The only possibility to succeed lies in the creation of a democratic and socialist coalition in the Moscow City Parliament. We—and all those who voted for them—should keep demanding of these deputies adherence to the democratic and social agenda on the basis of which they were elected.