film
'The Lighthouse' Review: Dark Nights, Troubled Souls, Hairy Men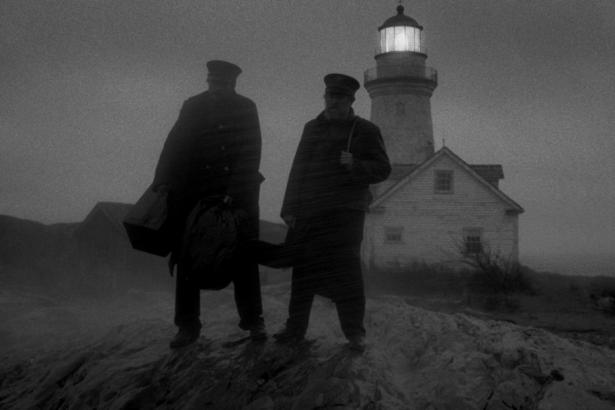 Willem Dafoe and Robert Pattinson in 'The Lighthouse.', A24 Films
Willem Dafoe and Robert Pattinson have two of the most mesmerizing — and pleasurably unnerving — physiognomies in movies. In "The Lighthouse," a sly American Gothic set in the late 19th century, the director Robert Eggers lights and frames the actors to emphasize every bony plane, every facial crease, hollow and pinprick of stubble. The stark black-and-white cinematography deepens the film's shadows and unease, but it also throws these grizzled faces into relief, sharpening their cheekbones and revealing the death's head under each man's grimace.
A horror movie about inner and outer darkness, the film begins with two lighthouse workers, Wake (Dafoe) and Winslow (Pattinson), arriving on a small, desolate island. Over many solitary days and nights, they work, eat, drink and dig at each other, establishing a bristling antagonism born of temperament and boredom or maybe just narrative convenience. Wake likes to yammer, but the men aren't ready conversationalists. In time, their minds and tongues are loosened by alcohol and perhaps a simple human need for companionship. The wind howls, the camera prowls, the sea roars and Eggers flexes his estimable filmmaking technique as an air of mystery rapidly thickens.
Much as he did in his shivery feature debut, "The Witch," about an isolated family of fundamentalists coming unglued in early 17th-century America, Eggers makes the secluded world in "The Lighthouse" at once recognizable and eerily unfamiliar, a combination that draws you in but makes you feel unsettled. (He shares script credit with Max Eggers, his brother.) The image of the lighthouse evokes visions of high seas and storms as well as the promise of safe passage and harbor. But here, that romantic idea soon sours. Looming against the perennially gray sky this brick tower looks utilitarian and ominous, a twin to the 19th century's industrial smokestacks.
An old salt with alarmed hair and a wedge-shaped beard worthy of Melville, Wake is the veteran keeper of the lighthouse flame, the guardian of its traditions, language and superstitions. (Never ever kill a sea gull, he cautions.) Dafoe's mercurial movements, his rippling face and spooky smiles, dovetail beautifully, articulating Wake's moods and adding to the destabilization. He barks orders, sings a shanty, indulges in sentimentality and turns his yowling mouth into an abyss. To Winslow's mounting irritation, Wake also guards the key to the lantern room, a glowing, near-mystical chamber with a magnificent prism that provides the film with blasts of bright light.
With control and precision, expressionist lighting and an old-fashioned square film frame that adds to the claustrophobia, Eggers seamlessly blurs the lines between physical space and head space. The men in "The Lighthouse" don't use the therapy-speak of contemporary American cinema (or life) with its endless overexplaining. Instead, Wake and Winslow come into focus through guttural exchanges, their physicality (farting, sweating, straining) and their built and natural environments. The sparse grass and rocky outcrops, the cramped rooms and vertiginous stairs speak to the men's existential condition — the hardness, confinement and downward spiraling — while (as in "The Witch") a menacing animal suggests a supernatural threat.
Early on, Wake strips — as if to bathe in the lighthouse's radiance — and the story takes a turn for the amusingly perverse as trouble starts creeping around the edges. The men's antagonism deepens as Wake jabbers and Winslow rages, a fury that Pattinson makes visible with eyes that widen into bulges and tremors of emotion that ping under a masklike vacancy. One man masturbates in a frenzy; at another point, he spies on the other grinding alone. The men's sloppy, alcohol-saturated time together produces intimacy but also menace. They laugh, descending into riotous drunkenness and finding connection that both they and Eggers skitter around. The film itself doesn't so much deepen as continue to glide on its seductive surfaces and teasing promise.