Media Bits and Bytes - November 5, 2019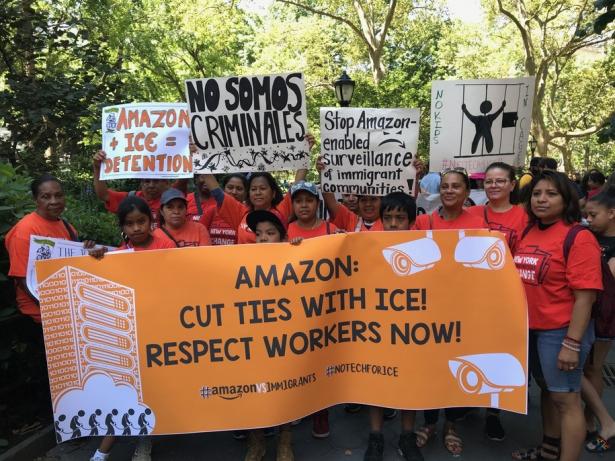 Protesting Amazon in New York City,Photo: Huiying B. Chan/Daily Koz
Twitter, Facebook, and Political Ads
Take 1: Twitter's Double Standard 
By Natasha Lomas, November 2, 2019, TeleCrunch

Take 2: Facebook and the UK Election 
By Leighton Andrews, October 31, 2019, Open Democracy
Tech Workers Take Action Against ICE
By Lauren Kaori Gurley
October 31, 2019
Vice
More than 200 employees at the Seattle-based data visualization company Tableau publicly called out their employer for the first time this week, demanding it cut ties with ICE and CBP.
ACLU Sues Over Facial Recognition Tech
By Drew Harwell 
October 31, 2019
Washington Post
The American Civil Liberties Union sued the Justice Department, the Drug Enforcement Administration and the FBI, arguing that the agencies have secretly implemented a nationwide surveillance technology that threatens Americans' privacy and civil rights.
By Dorothee Benz
November 1, 2019
FAIR
Again and again during Trump's presidency, corporate media have fallen over themselves to find acceptable ways to describe utterly unacceptable behavior, policies and decisions—none more so than the New York Times.
By Valerie Vande Panne
October 28, 2019
Columbia Journalism Review
In a first, when Indian Country Today picks up a tribal newspaper's story, they can not only run it on their own website, but also make it available to the AP and, through them, to the nation's newspapers.
By Greg Roumeliotis, Yingzhi Yang, Echo Wang, and Alexandra Alper
November 1, 2019
Reuters
The U.S. government has launched a national security review of TikTok owner Beijing ByteDance Technology Co's $1 billion acquisition of U.S. social media app Musical.ly. U.S. lawmakers have been concerned the Chinese company may be censoring politically sensitive content, and raising questions about how it stores personal data.
By Hannah Lucinda Smith
October 29, 2019
Wired
Dodgy energy deals, loose regulation, and dubious characters—with links to the Hillary Clinton email hackers—are fueling a burgeoning crypto industry that could provide an end run around US sanctions.