labor
Beyond the MOA: PSC's Path Forward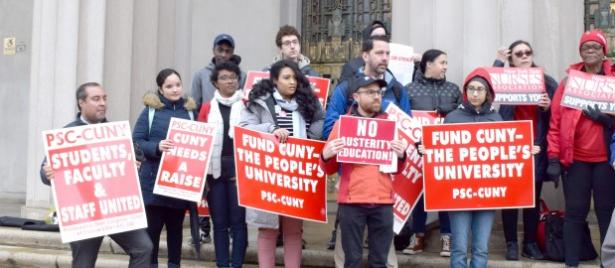 Rally on the steps of the Bronx County Courthouse.,
Over the last several weeks there have been many conversations about the Professional Staff Congress's (PSC) new Memorandum of Agreement (MOA). There is a vocal campaign urging members to vote No, since the MOA fails to provide the advocated $7,000 per class or indeed even guarantee a living wage for adjuncts. There is also a strong defense of the proposed contract, which leadership notes is historic in that it breaks from pattern bargaining and provides the largest salary increase for adjuncts in union history. Yet the polarized nature of these conversations fails to capture the complexities of the contract, and more damningly it misses the larger political battle: returning CUNY to its roots as a public university, breaking the grip of Albany and the elites who benefit from imposing an austerity system on us. Even had the MOA achieved $7k a class, this larger goal would still be far in the distance. Transforming CUNY into a fully funded People's University will require both a fundamental shift in the union's strategy and stronger union-wide solidarity.
The two of us spoke jointly at the PSC Delegate Assembly and are writing in concert because we share an analysis about the PSC's new MOA, which we remain deeply conflicted about, on which one of us voted yes and the other voted no. We write together to articulate a nuanced analysis of the MOA and offer suggestions and critiques in the spirit of moving forward together, even amidst difference.
The MOA contains provisions impacting the full scope of titles within our complex bargaining unit, from various levels of full-time faculty, to Higher Education Officers, to Clinical Lab Technicians, and more. While a complete overview of the agreement is outside the scope of this brief essay, here we offer our analysis on what we see as the main themes of conversations about the proposed contract.

The contract includes some real gains. Material improvements for graduate employees include extension of tuition waivers, greater workload flexibility and, crucially, dedicated funding for health insurance by guaranteeing bargaining unit employment for underfunded, tuition-only doctoral students. This directs a blow to the inequality of doctoral student funding, and incorporates the demands of the Full and Fair Funding Campaign's "Open Letter for Full and Fair Doctoral Funding." Adjunct faculty will be paid around $1200 more per class this coming Spring semester and over $2000 more by contract end, a raise far greater than any we've had before. This money in our pockets eases the burden of financial insecurity. To ignore that dismisses the lived reality of adjuncts and graduate students. On a personal level, we both acknowledge the adjunct raise is meaningful, as we each have caretaking responsibilities such that every dollar and every minute counts.
The contract also includes some real flaws. Despite the raise, adjuncts will not make a living wage. Adjuncts need even more money to live in dignity and actual financial security. The loss of salary steps only applied to adjuncts is significant, as seniority is an important part of the goods the union should provide. Without steps, after 2022 raises will be based on contracts (which are dependent on particular political climates and thus not reliable sources of wage increases) or promotions, which are difficult to get. Union leadership must take these flaws seriously, and continue to fight for more wages for adjuncts, restore seniority-based pay increases and press for greater access to promotions and conversion lines going forward.
The contract contains some ambiguities that must be addressed. Adjunct salaries will increase because we will be paid for 'office hours,' recognizing that our work consists of more than classroom time. However, there is concern that this will be used to add to our existing workload. Our analysis is that the office hour is a positive change in recognizing work we already do. We also recognize that, as adjuncts are precarious and relatively powerless, it is easy to see how this provision can be used to take advantage of members. The union needs to begin working immediately to educate members (department chairs and adjuncts) about what the office hour is meant to do, and should employ more organizers and grievance officers to foster greater knowledge, expanding participation and leadership on the campuses to deal with inevitable issues as they arise. This would have the added benefit of engaging membership in meaningful ways, which we discuss more below.
More than detailing the good and bad of the contract, however, the main issue with the MOA is a difference in the analysis of what power we currently have. Can we achieve more for our colleagues and ourselves now, or do we need to build more power? The bargaining team was able to break out of pattern bargaining and win tens of millions in public investment for CUNY. Once that pattern was broken, could the bargaining team have pushed for even more? It is possible they could have, especially if members had been ready to act in concert and at a large scale (although that is not a given); yet it is also equally possible that Cuomo's relative power and a lingering austerity logic created an impasse at this moment. In our analysis this is the heart of the disagreement over the contract, and there is no simple resolution to it.
Yet to be stuck in this disagreement keeps us from developing better strategies and building the power that both sides agree is crucial. Whatever happens with the MOA, the same struggle comes next: building our power outside the table, through the rank and file. This is why disagreements about the MOA are not insurmountable ones. Regardless of the MOA's success or failure, the next move forward is to organize towards building enough power to leverage the larger CUNY community to demand transformative change. We must develop a radically different strategy from that of our current leadership. We must also embrace a diversity of tactics and authentically engage membership in their goals and ideas, rather than using a push for a strike as a replacement for analysis and power-building.
The first strategic shift the union must make is in opening up decision-making processes and conversations. In this regard, the choice to engage in closed bargaining was a critical mistake. In future bargaining sessions, leadership should have members present at the table throughout the contract campaign and regularly report back, engaging with members around the progress of bargaining. This would demonstrate greater power at the table, and encourage ownership of bargaining among members including around difficult choices being posed; perhaps, for example, avoiding some of the anger generated by decisions like the loss of salary steps. The decision to conduct closed bargaining exacerbated a lack of trust in leadership and left many members feeling alienated and powerless. In the post-Janus era, unions must cultivate an engaged membership, which means empowering members to take control over the union's direction forward, developing diverse strategic approaches and tactics.
We present some specific suggestions about how to move ahead:
The union must stop accepting austerity logic and framing achievements through the lens of austerity. The bargaining team won tens of millions — but CUNY needs, and the State can afford, a billion dollars. To break out of pattern bargaining is a win only if it heralds a change in rejecting austerity logic moving forward. We must provide a counternarrative to austerity, articulating a positive vision for the CUNY we believe in through public-facing media and policy campaigns.
We should conduct research that enables us to identify and expose the political and financial elites that benefit from CUNY's imposed austerity. This research is necessary to have a complete understanding of our battle's political terrain.
The creation of long-term Bargaining for the Common Good alliances with students and NYC working class communities that rely on CUNY. This means bringing everyone to the table and incorporating their needs into our union's vision, platform, and public messaging.
The activation of what Frances Fox Piven names as "disruptive power" which, together with building relations and advancing a forward-looking vision, is capable of generating the urgency and leverage to step up and provide the force we need behind our demands. These could include creative workplace and public actions, escalating direct action. A strike authorization or strike readiness campaign will likely be a crucial part of this step. We agree with our colleagues in 7k or Strike that strike readiness is an important tactic to develop, and one that we need to embrace moving forward.
A more radical legislative strategy might include things like public actions, targeted district visits, protests outside of electeds' offices, bird-dogging, and crucially making funding CUNY an issue that all electeds have to take a stand on. A legislative strategy should center the new narrative as described above, and it should be tied to other proposals, such as the millionaire's tax.
These are just some ideas that can serve as a starting place from which to continue building. Most crucially is that rank and file members should be encouraged to become active, take initiative and think creatively about actions and activities they can take leadership over, rather than have members fall into lock-step with others' ideas or actions.
Our colleagues who support the contract must understand that this is not enough, just as our colleagues who are against the contract must understand that the fight doesn't stop here; both groups must recognize that we need each other to move forward. A Yes vote should not be seen as a full endorsement of the contract, but rather a qualified one. A No vote should not be seen as naive rejection and betrayal but rather reflecting a difficult decision about the path forward. As we look towards the future we need to build more robust, participatory, comprehensive public campaigns, including but not limited to strike readiness, that amplifies our power outside of the bargaining table. We need to keep building the solidarity and power to win parity for adjuncts, equity across the board and the CUNY we believe in for ourselves as workers, for our students, and working class communities of New York.
Rosa Squillacote — Voted Yes
Lynne Turner — Voted No
Based upon our joint statement for the PSC delegate assembly
Lynne Turner is a doctoral candidate in Sociology at the CUNY Graduate Center who teaches Sociology at LaGuardia Community College and Labor Studies at the School of Labor and Urban Studies. Prior to her doctoral studies, Lynne was a longtime organizer, campaigner and educator within several labor and labor-community organizations. She is currently on the executive committee of the Graduate Center chapter of the PSC, an active member of the Committee of Adjuncts and Part-timers and a coordinator of the CUNY Adjunct Project.
Rosa Squillacote is a doctoral student in Political Science at the CUNY Graduate Center. She has over 10 years of experience in criminal justice policy, which is the field of her research. She is a graduate of Hunter College and has been working as an adjunct there since 2012. She is on the executive committee of the Graduate Center chapter of the PSC. She is also the mother of two toddlers, and very tired.