Media Bits and Bytes - November 19, 2019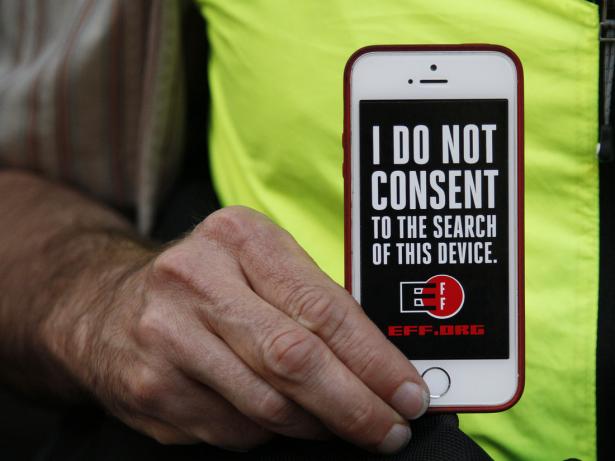 U.S. Customs and Border Protection agents are now restrained from searching the phones and other digital devices of international travelers at border checkpoints in U.S. airports,Photo; Eric Risberg/AP
A Rival for Twitter and Facebook
By Tim Bradshaw
November 13, 2019
Financial Times

Wikipedia co-founder Jimmy Wales has quietly launched a rival to Facebook and Twitter that he hopes will combat "clickbait" and misleading headlines. WT:Social, his new social-networking site, allows users to share links to articles and discuss them in a Facebook-style news feed.
Cities Fight FCC on Local Regulation
By Jon Brodkin
November 14, 2019
Ars Technica
The Federal Communications Commission faces a legal battle against dozens of cities from across the United States, which sued the FCC to stop an order that preempts local fees and regulation of cable-broadband networks.
Corbyn's "Communistic" Broadband Plan
By Greg Ritchie
November 15, 2019
Bloomberg
The promise to provide universal free fiber broadband by nationalizing BT Group Plc's Openreach unit dominated broadcasts and sent telecommunications shares plunging. It's a continuation of Labour's plan to take control of key utilities, with taxes from large multinational companies -- in this case the likes of Amazon.com Inc. and Facebook Inc. -- helping to foot the bill.
Federal Court Curbs Personal Tech Searches
By Tim Cushing
November 14, 2019
Techdirt
A federal court in Massachusetts has ruled border agents can no longer perform suspicionless device searches. The lawsuit was filed by 11 travelers whose devices were seized and searched by CBP and ICE agents. For some of the plaintiffs -- represented by the ACLU -- this happened multiple times. 
By Lucas Koerner and Ricardo Vaz
November 15, 2019
FAIR
For all the supposed threat Trump represents and the enthusiasm sparked by his possible impeachment, Western media continue to march lockstep behind his administration's coups in Latin America.
By Lauren Katz
November 12, 2019
Vox
In addition to traditional cable, we've also got streaming players like Netflix, Hulu, Amazon, HBO Now, and CBS All Access. And more platforms are either coming or already here: Apple TV+ launched in early November, Disney+ arrives today, HBO Max is coming in May 2020, and Peacock from NBC Universal will arrive in April of next year.
The Poor Lose Cellphone Service
By Jared Bennett and Ashley Wong
November 5, 2019
USA Today
Trump is purging subscribers from a program designed to provide poor people with cellphone access.
WBAI is Back from the Dead, Again
By Nayaba Arinde
November 14, 2019
Amsterdam News
The embattled New York radio station went back on air with local control, by court order of NYS Supreme Court Judge Melissa Crane. The restoration of live local broadcasting, access to their website, archives and live stream came after a month of legal wrangling in the courts.
How My Video Went Viral on Rightwing Outlets
By Andy Mannix
November 14, 2019
Columbia Journalism Review
Tony Shaffer, a former intelligence officer and advisory board member for Trump's 2020 campaign, shared a screenshot of the video with his 88,000 followers. Shaffer's tweet was reshared nearly 9,000 times. Conservative news sites such as The Blaze picked up the story; so did countless blogs and message boards I'd never heard of.