Media Bits and Bytes - Year and Decade End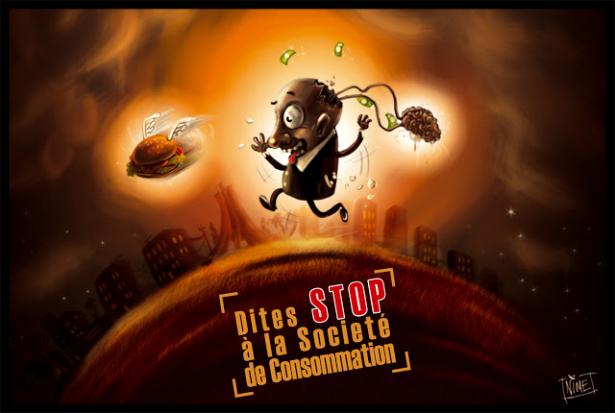 Algerian cartoonist Nime, now imprisoned, on consumer society,Credit: Dans ma bulle
December 15, 2019
New York Times

When the decade began, tech meant promise — cars that could drive themselves, social networks  that could take down dictators. It connected us in ways we could barely imagine. But somewhere along the way, the flaws of technology became abundantly clear. What happened?
By Kent German
December 16, 2019
CNET
Swipe right on the influencer words that disrupted the last 10 years.
By Peter Rugh
December 16, 2019
The Indypendent
Not Santa's workshop: Amazon's warehouse workers endure holiday season speedup.
Victory: San Diego to Suspend Face Recognition Program
By Dave Maass
December 11, 2019
Electronic Frontier Foundation
We just stopped one of the largest, longest running, and most controversial face recognition programs operated by local law enforcement in the United States. A face recognition system used by more than 30 agencies in San Diego County, California will be suspended on Jan. 1, 2020.
Algerian Cartoonists' Online Protest
By Sarah Leduc
December 12, 2019
France 24
After the conviction of one of their own and the election of Abdelmadjid Tebboune as president, press cartoonists in Algeria fear increased repression.
By Eric Nuzum
December 16, 2019
Current
Podcasting, as an industry, is starting to recognize and address some new emerging systemic problems that will become growing concerns over the next few years — problems that public radio has been working on with a decades-long head start. And public radio has a unique opportunity to lead, innovate and win — if it wants to.
Facebook Will Call Some Media "State Controlled"
By Otillia Steadman and Alex Kantrowitz
December 14, 2019
BuzzFeed News
Government-funded news organizations worried they could be damaged by Facebook's imminent plan to label content from state-controlled news organizations are furious at a process they say is opaque and irresponsible.
By Anna Bredava
December 15, 2019
Business2Community
We know what the platforms have been testing, how the user base of each platform changes, and which tactics are growing among marketers. And that's how we draw conclusions. So here are some things that we predict will change in 2020.