Dispatches From the Culture Wars - December 24, 2019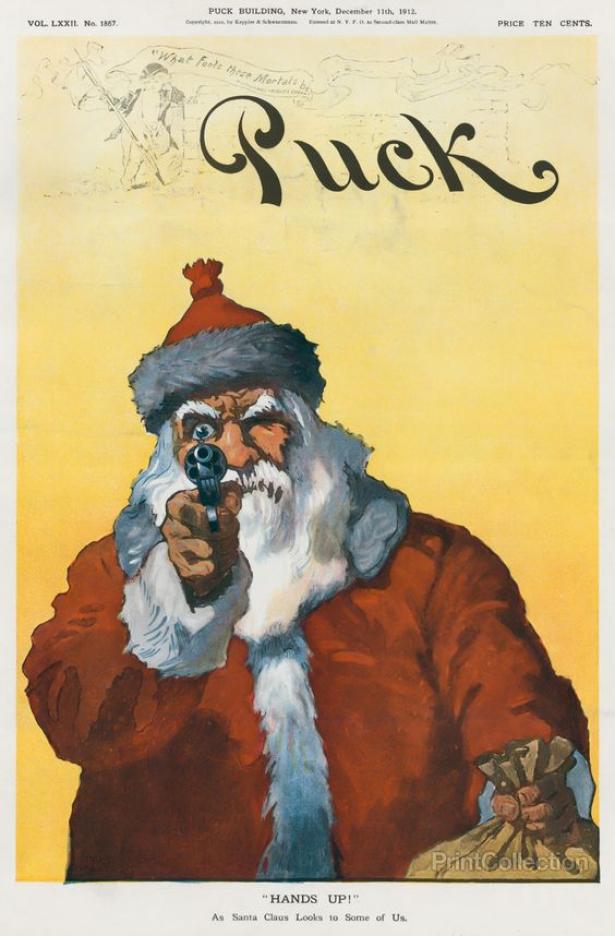 "Hands up!",Puck magazine, 1912
Face to Face With White Nationalist Movements
By Mark Peterson, Claudia Rankine, and James D. Walsh
December 19, 2019
New York Magazine

White nationalism, legitimized by our president's support of "very fine people," has flourished in part because of a refusal to look it squarely in its face and acknowledge it as homegrown. 
Trump Kisses the Canvass
MAGA Boy "Takes It on the Chin"
By Dave Zirin
Decenber 17, 2019
The Nation
UFC's Kevin Lee Hits 'Em Hard
By Simon Samano
December 22, 2019
USA Today
By Jay Michaelson
December 11, 2019
The Daily Beast
President Trump effectively amended Title VI of the Civil Rights Act, which prohibits "discrimination under any program or activity receiving Federal financial assistance," to include antisemitism. Yet the way the order does so is almost perversely ironic. 
Lies, Damned Lies and Recycling
By Matthew King
December 19, 2019
The Baffler
Keep America Beautiful must rank as one of the most devastatingly effective PR campaigns of all time. And it was a tactic that American industry soon exported to the rest of the world.
By Nina McCollum
December 19, 2019
HuffPost
Many people who have never had to rely on government assistance to get food have a lot of misconceptions about how the system works. Some people think recipients are lazy and refuse to find work or that it's easy to get and use these benefits, but nothing could be further from the truth.
Jersey City: Twisting a Tragedy
By Rebecca Pierce
December 20, 2019 
Jewish Currents
Antisemitism can and does exist in left-wing spaces, including those in the Black community. But conflating all Black anti-Jewish attitudes with the left is dangerous, turning a complex problem that occurs accross the political spectrum into a mere cudgel for the right. 
By Eoin Higgins
December 22, 2019
Common Dreams
Revelations that RCMP snipers were ordered to train their weapons on Indigenous water protectors resisting the construction of a natural gas pipeline in unceded Wet'suwet'en territory sparked outrage and led to the worldwide deployment of a hashtag, #WouldYouShootMeToo.
Human Rights Activist Who Aided Migrants Found Not Guilty
By Teo Armus 
November 21, 2019
Washington Post
The verdict in Warren Scott's highly publicized trial marks the peak of a months-long legal saga, after he was arrested nearly two years ago by U.S. agents at an aid station run by No More Deaths.