Climate Change Kills - Australian Bushfires: Extraordinary Satellite Images Show Devastating Scene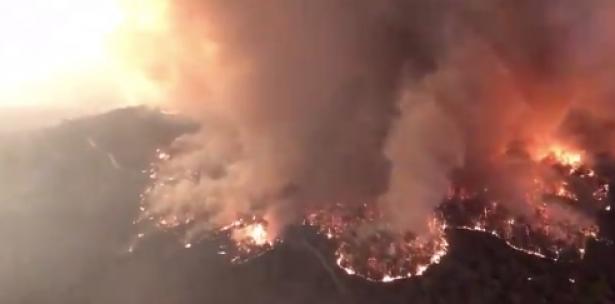 Massive wall of flames that burned from the interior of Victoria state to the Ocean.,Video / Wall of Fire : Australian Bushfires / Glen MOREY / Sydney News & Life
Australian Bushfires: Extraordinary Satellite Images
by Sydney News Editor
January 1, 2020
Sydney News & Life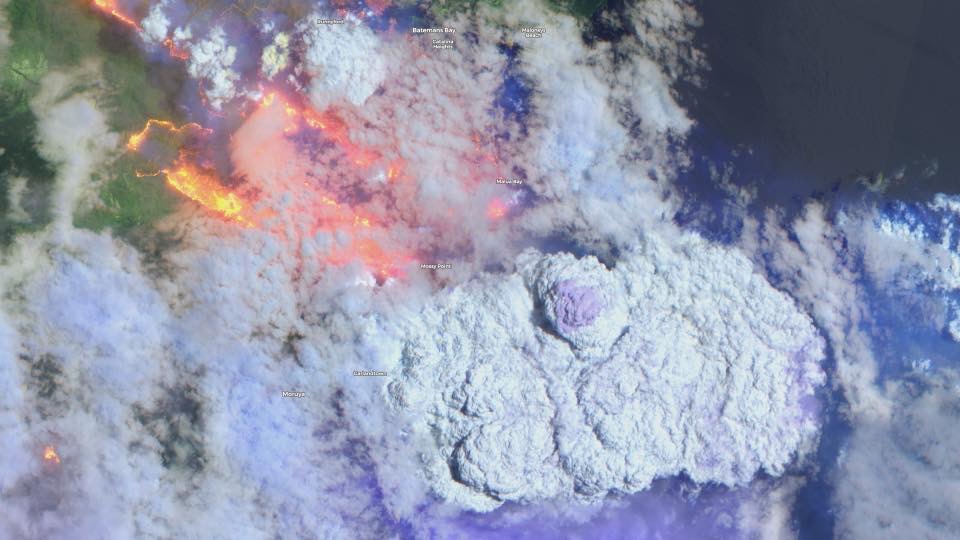 Extraordinary satellite images showing the intense inferno of the Australian bushfires have been published.
The images, taken by a European Union satellite, show the intense wall of fire stretching for hundreds of kilometres across the NSW south coast on December 31 2019.
The Imagery is from Sentinel-2A, shows the Clyde Mountain Fire (near Batemans Bay, NSW) and associated cumulus flammagenitus (pyrocumulus) at around 11:07 AEDT on New Years Eve 2019.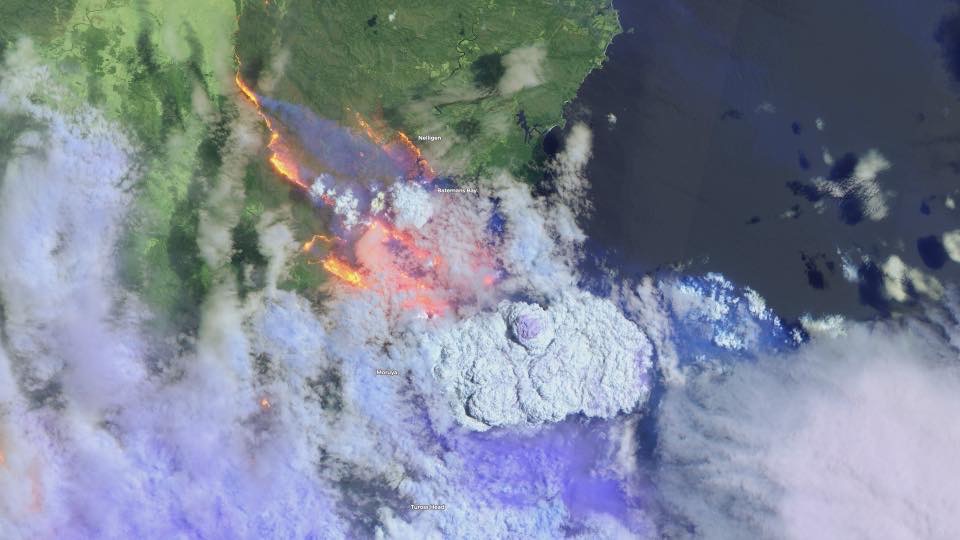 On the ground firefighters were trapped in flames and used their trucks to survive. Many engines were abandoned after the fire overwhelmed crews and some fire fighters suffered injuries in the chaos.
One video shows just how serious conditions are for the mostly volunteer fire fighting heroes.
The crew from Fire and Rescue NSW Station 509 Wyoming recorded this video showing the moment their truck was overrun by the bushfire burning South of Nowra. The crew was forced to shelter in their truck as the fire front passed through. #NSWFires #ProtectTheIrreplaceable pic.twitter.com/Hb0yVrefi9

— Fire and Rescue NSW (@FRNSW) December 31, 2019
Three people have perished in the fires and thousands of homes lost. The toll is set to rise dramatically once authorities reach homes, highways and towns in the region.
A father and son perished defending their property in the fires. Other bodies have been found in cars, as terrified locals try to escape the disaster.
Two fires that were burning at emergency level overnight have been downgraded.
More than 50 fires are uncontained across the state Of New South Wales, eight of which are currently burning at watch and act level.
Authorities are asking people to avoid major and local roads on the South Coast, closed due to power outages.
The fires ripped through towns destroying everything in their wake including homes, schools and businesses. The entire scope of the disaster is still yet to be understood with many missing and settlements unreachable.
The Australian Military is involved trying to bring in supplies to areas cut off and evacuate people.
A reader sent us this video, showing firefighters working to save buildings at the Homemaker Centre in Batemans Bay this afternoon https://t.co/nkBocA1s2f pic.twitter.com/pAs7fKObRE

— Kate McIlwain (@kmcilwain) December 31, 2019
Thousands of people were forced to flee to the coast and jump into the ocean to escape the flames.
My brother just sent me this video from yesterday at #MaluaBay where him and the rest of my family were stranded. #AustraliaFires #bushfirecrisis #Southcoastfires #AustraliaBurns #BatemasBay #RFS #NSWbushfires pic.twitter.com/LmZvZxWwrk

— Lord of the Blondes (@ek_nicholls) January 1, 2020
Incredible images show how people were forced into the water and rovers, lakes and coastal beaches across the SE coast of NSW and NE coast of Victoria.
Evacuation on the beach at #batemansbay @abcnews pic.twitter.com/qZzOJcOKz1

— Alastair Prior (@alastairprior) December 31, 2019
Images posted to social media showed families huddled on the beaches of the region, as there was no escape but to the sea.
Scary images from Rosedale where residents watched houses burn from the beach https://t.co/jiABICLDJt

— 𝕤𝕒𝕞𝕒𝕟𝕥𝕙𝕒 𝕞𝕒𝕚𝕕𝕖𝕟 (@samanthamaiden) January 1, 2020
The Australian navy has mobilised to rescue stranded citizens as roads and bridges were either cut off or had burned down.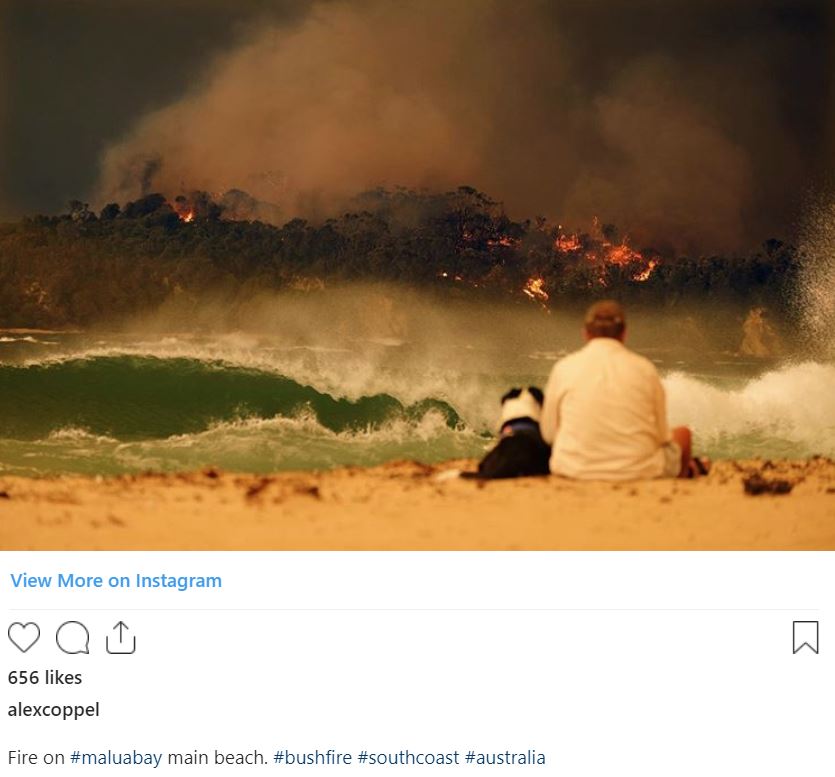 The fires are now regarded as possibly the worst on record, with the situation ongoing since September.
Entire Species Are Being Wiped Out': Ecologists Say Half a Billion Animals May Have Been Killed by Australia Wildfires
"The fires have burned so hot and so fast that there has been significant mortality of animals in the trees, but there is such a big area now that is still on fire and still burning that we will probably never find the bodies."
by Jake Johnson
January 2, 2020
Common Dreams
Ecologists at the University of Sydney are estimating that nearly half a billion animals have been killed in Australia's unprecedented and catastrophic wildfires, which have sparked a continent-wide crisis and forced tens of thousands of people to flee their homes in desperation.
News Corp Australia reported Wednesday that "there are real concerns entire species of plants and animals have been wiped out by bushfires following revelations almost 500 million animals have died since the crisis began."
"Ecologists from the University of Sydney now estimate 480 million mammals, birds, and reptiles have been lost since September," according to News Corp. "That figure is likely to soar following the devastating fires which have ripped through Victoria and the [New South Wales] South Coast over the past couple of days, leaving several people dead or unaccounted for, razing scores of homes and leaving thousands stranded."
The horrifying figures come as images and videos of animals suffering severe burns and dehydration continue to circulate on social media.
Mark Graham, an ecologist with the National Conservation Council, told the Australian parliament that "the fires have burned so hot and so fast that there has been significant mortality of animals in the trees, but there is such a big area now that is still on fire and still burning that we will probably never find the bodies."
Koalas in particular have been devastated by the fires, Graham noted, because they "really have no capacity to move fast enough to get away."
As Reuters reported Tuesday, "Australia's bushland is home to a range of indigenous fauna, including kangaroos, koalas, wallabies, possums, wombats, and echidnas. Officials fear that 30 percent of just one koala colony on the country's northeast coast, or between 4,500 and 8,400, have been lost in the recent fires."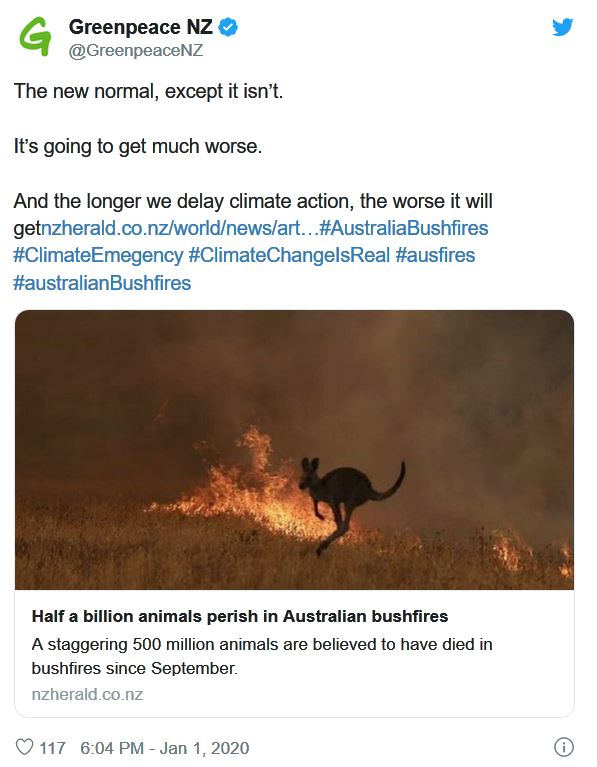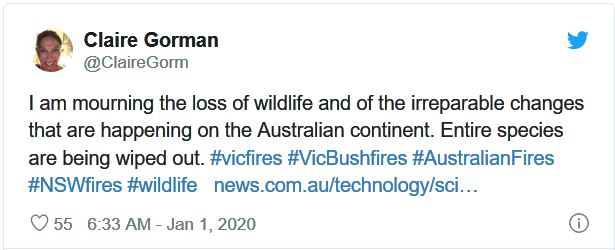 Australia's coal-touting Prime Minister Scott Morrison has faced growing scrutiny for refusing to take sufficient action to confront the wildfires and the climate crisis that is driving them. Since September, the fires have burned over 10 million acres of land, destroyed more than a thousand homes, and killed at least 17 people—including 9 since Christmas Day.
On Thursday, the government of New South Wales (NSW) declared a state of emergency set to take effect Friday morning as the wildfires are expected to intensify over the weekend.
"We've got a lot of fire in the landscape that we will not contain," said Rob Rogers, deputy commissioner of the NSW Rural Fire Service. "We need to make sure that people are not in the path of these fires."
Australian Bushfires: Incredible Video Shows Unstoppable Wall of Flames
by Sydney News Editor
January 2, 2020 
Sydney News & Life
More video has emerged of the extraordinary Australian Bushfires, that have destroyed vast areas of bushland in South Eastern Australia.
The images below show a huge fire front that burnt for hundreds of kilometres from inland to the ocean, an unstoppable wall of flames.
Video taken from a helicopter in the East Gippsland region of Victoria shows the apocalyptic wall of flames stretching dozens of kilometres.
The series of videos was shared to Twitter by Glen Moray today shows the extraordinary vision.
"This is the Wingan Fire just before we had to leave due to fading light on Sunday afternoon," he said.
"It made it to the coast that night and now into Mallacoota."
The fire front went onto destroy hundreds of structures across the region.
Thousands of people are still trapped, as locals were forced to jump in the Ocean at the coast once the fire front arrived.
The fire front was so massive it went onto destroy or damange towns including Genoa, Gipsy Point, Karbethong, Mallacoota, Maramingo Creek, Wangarabell, Wingan River.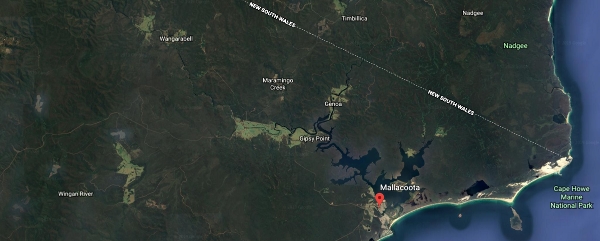 City of Mallacoota in Australia

The entire city surrounded by flames and thousands people have been forced to flee and seek shelter on the beach

Imagine this hell being your reality which soon it will be if we don't act on Climate Change! 💔

— StanceGrounded (@_SJPeace_) January 2, 2020
The entire town was surrounded by the wall of flames. Nothing in the path of the fire could have survived.
At least 17 people are missing in the region.
The Australian Navy has arrived in the area to rescue hundreds of stranded people.
Mallacoota residents forced to shelter on the beach, have returned to find their homes and businesses wiped off the map. @JaydeVincent #9News pic.twitter.com/hTtN0I8Oax

— Nine News Melbourne (@9NewsMelb) January 1, 2020
Naval ships and aircraft have arrived in Mallacoota.

They'll provide emergency supplies and shelter along with specialist teams to help evacuate and assist those in need.

But this isn't over yet. Conditions could still worsen.

Please follow all directions – and stay safe. https://t.co/zN7cNVeGQT

— Dan Andrews (@DanielAndrewsMP) January 2, 2020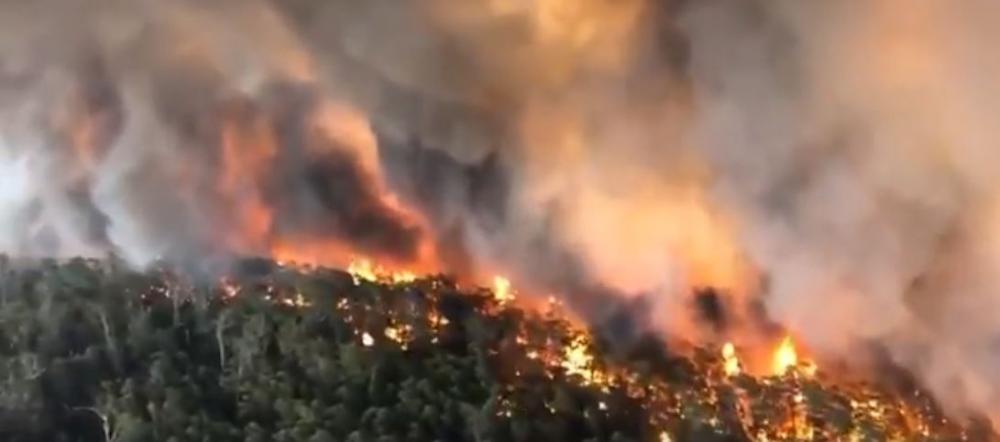 500 million animals lost in Australian bushfires in 2019
by Ryan Northover
December 28, 2019
Sydney News & Life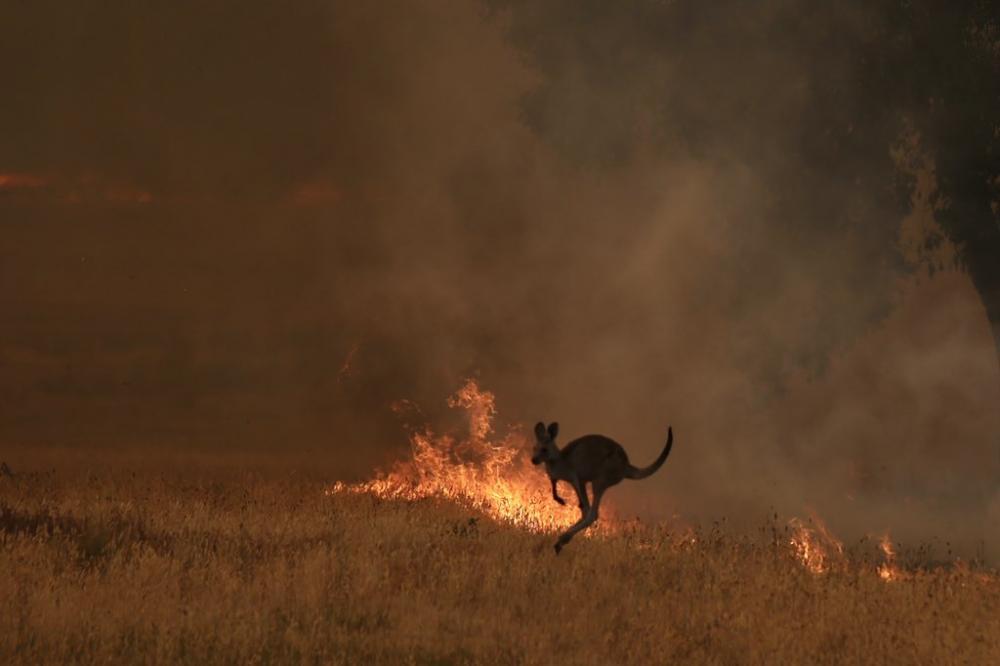 Sydney, NSW – The true cost of the bushfires on the Australian environment and ecology is only just coming to light.
Ecologists from the University of Sydney now estimate some 480 million mammals, birds & reptiles have been lost by the devastating bushfires in 2019.
There are now fears entire species of animals and plant life may be lost forever, with scientists moving to understand the full scope of destruction.
The estimates include some 8,000 koalas lost in the flames. About 30% of the entire koala population of NSW's mid-north coast region has perished. There were only 28,000 koalas in the entire region before the fires began.
The mortality rate of koalas from these fires has been particularly high.
According to Mark Graham, an ecologist with the Nature Conservation Council, koalas "have no capacity to move fast enough to get away" from fires that spread from treetop to treetop.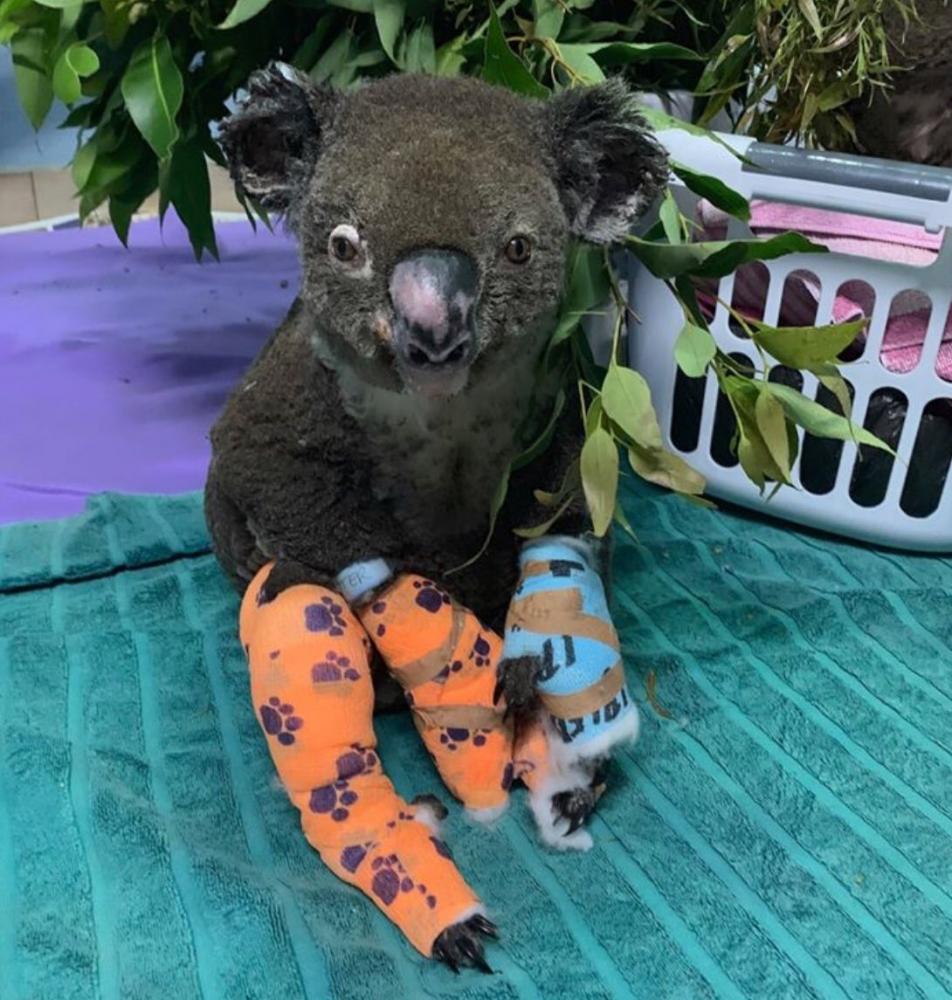 "The fires have burnt so hot and so fast that there has been significant mortality of animals in the trees, but there is such a big area now that is still on fire and still burning that we will probably never find the bodies," Mr Graham told a New South Wales parliamentary inquiry earlier this month.
The fires, across much of NSW, as well as SE Queensland and parts of South Australia, have burned an area the size of Belgium in just a few months.
Large areas of bush land surrounding Sydney, including beloved national parks and areas containing rare and endangered species, have also been lost.
In the Blue Mountains, 50% of heritage reserves have been lost in November and December alone. The UNESCO World Heritage Listed region is home to highly endangered species, including a shrub called the Kowmung hakea, a lizard known as the Blue Mountains water skink, the Wollemi pine, a "living fossil" discovered in 1994.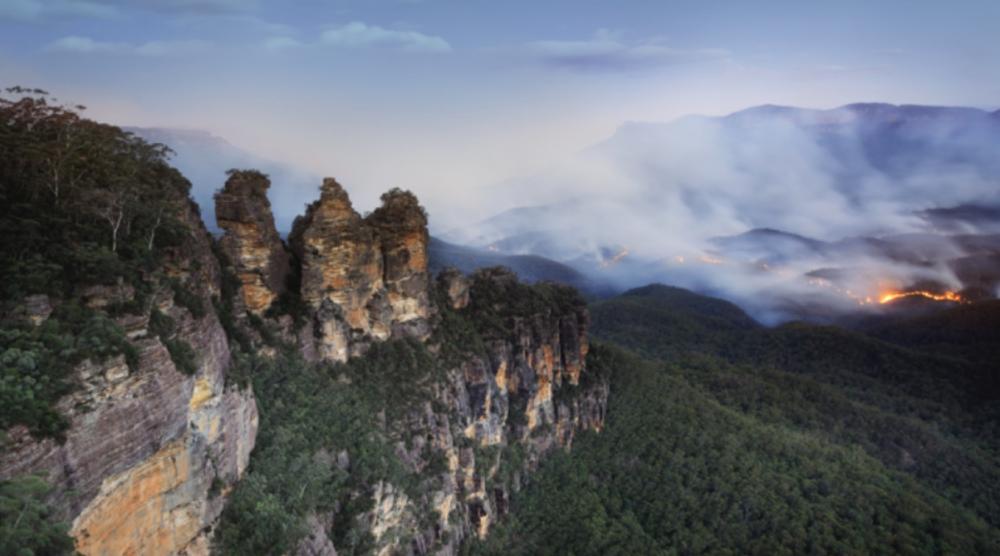 Ancient Forrests Lost
48% of the iconic Gondwana reserves, which include rainforests that have existed since the time of the dinosaurs, have now burned.
The Royoal Botanic Gardens in Sydney estimate that in some areas, up to 30 rare plant species and 30 rare animal species may have been lost.
"Many of these trees have thin bark that does not provide protection against fire," Maurizio Rossetto, an evolutionary ecologist told Science Mag.
Rossetti is particularly concerned about three species, each of which has just a few hundred remaining trees "tightly grouped in a single population." 
Hell on Earth: Bushfire explodes today west of Sydney #sydneynews #nswfires pic.twitter.com/6ZKCX3RGMg

— Breaking News Sydney (@SydneyBrk) December 21, 2019
Species Previously immune to fire now under threat.
Even species that may have previously survived in bushfire season are now under threat.
Animals and insects that exist in wetlands are exposed to burning bush thanks to the long drought in Australia.
Ecologist Phillip Gibbons was worried about a highly biodiverse area, the Tallaganda National Park.
"The issue is a lot of species can survive wildfire because they can retreat to unburnt refugia in the landscape, and the worry is that after a long period of dry that the moist gullies in Tallaganda have dried sufficiently that now they can be burnt in the wildfire," Professor Gibbons told ABC.
The park is home to 13 threatened species, including the scarlet robin, the olive whistler, the spotted tail quoll and the Tallaganda velvet worm.
The velvet worm, which has existed for millennia, has gradually been eliminated from the rest of Australia.
"That's the only place in the world that you can find this species," he said.
"The worm … actually evolved half a billion years ago."
Rare bird species may be gone
Ross Crates, an ecologist at the Australian National University in Canberra, notes the Blue mountains are also the "final stronghold" of a critically endangered bird, the regent honeyeater.
Just 250 to 400 of these striking black-and-yellow nectar feeders remain, and an estimated 80% of breeding pairs nest in the Greater Blue Mountains. 
Potoroos under threat
The northern long-nosed potoroo, a hare-size wallaby that feeds on truffles that grow around the roots of gum trees may also be nearly gone.
Found in the Ngunya Jargoon Indigenous Protected Area, rangers have returned after fires ripped through the area, to find no sign of the critically endangered marsupial.
Climate Change
While bushfires have always been part of the Australian environment, it's clear climate change is making things far worse.
Rare plants and animals, already under pressure from human activity, are now facing extinction thanks to the intensity and now frequency of bushfires.
Australian, prime minister Scott Morrison, has consistently said it was "no credible scientific evidence" linking climate change with the fires. This has been rejected by climate scientists, who have said politicians are "burying their heads in the sand while the world is literally burning around them".