Dispatches From the Culture Wars - January 21, 2020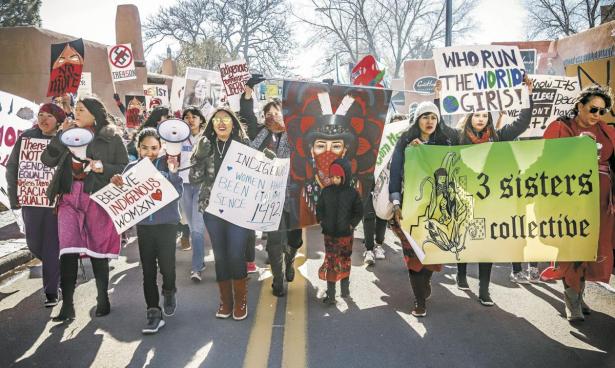 Women's March 2020, Santa Fe NM,Photo: Santa Fe New Mexican
Irish Rebel Song Tops UK Charts
By Colin Brennan
January 9, 2020
Irish Mirror

Irish rebel song "Come Out, Ye Black and Tans" has hit number one on the iTunes singles chart in the UK. It comes after the Government was forced to postpone a planned commemoration of the Royal Irish Constabulary (RIC) next month after a furious backlash.
By Laurin-Whitney Gottbrath
January 20, 2020
Al Jazeera
Militia groups said Monday's event was important in the face of a newly elected Democratic state legislature.
The movement supports women's policies, immigration reform, reproductive rights, LGBTQ rights, racial equality, freedom of religion, workers' rights and tolerance.
March Against Anti-Semitism Misses an Opportunity 
By Joshua Leifer
January 7, 2020
Jewish Currents
Some felt that the lack of clear guidelines or principles for groups identifying as co-sponsors of the march enabled far-right actors to join a march ostensibly organized to oppose hate, thus sending the message that such views were not beyond the pale.
By David Niose
January 11, 2020
Psychology Today
Through a combination of cultural forces, some overt and others subtle, Americans are taught from a young age to accept their country's militarism without question.
A Malignant Supreme Court Case
By Rebecca Klein
January 16, 2020
Huffpost
Donors use a Montana tax credit program to fund religious schools. Nearly a third of the schools, now at the center of a controversial Supreme Court case, maintain explicitly anti-LGBTQ policies.
When Venomous Speech Provokes Physical Violence
By Chip Berlet
January 17, 2020
The Washington Spectator
Demonizing rhetoric that targets a specific religion or race (or any identifiable characteristic) can lead to violence by people who have consumed a steady diet of conspiracy theories fed to them by high-profile leaders.
By Paul Rosenberg
January 20, 2020
Salon
Trump's administration is pushing a Christian nationalist agenda — but a diverse coalition is pushing back hard.