There Have Been 10 Black Senators Since Emancipation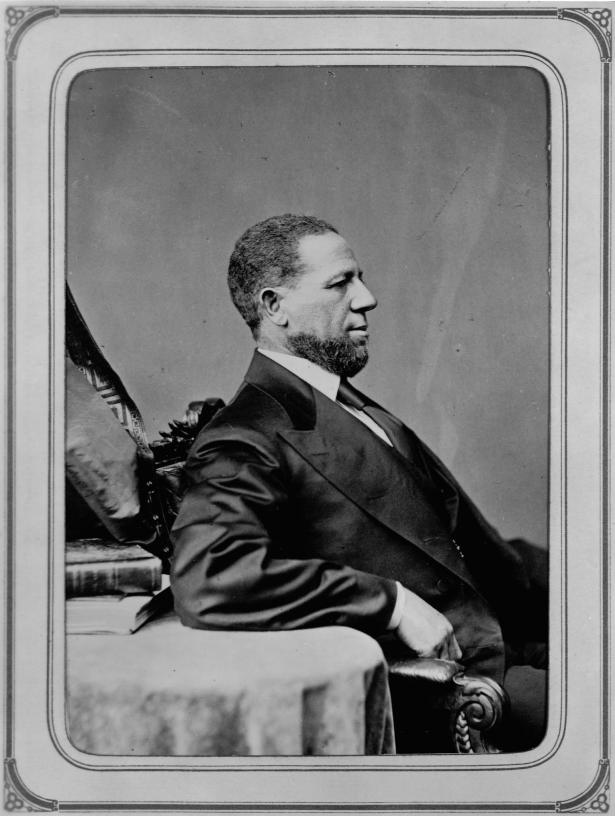 Senator Hiram Rhodes Revels,Mathew B. Brady/Library of Congress, via Getty Images
A few days ago, 300 people gathered in the Old State Capitol in Jackson, Miss., to celebrate the 150th anniversary of the election of Hiram Revels as the nation's first African-American member of Congress.
As nearly everyone knows, in the nation's more than two centuries of existence Barack Obama is our only black president. Less familiar is the fact that of the nearly 2,000 men and women who have served in the Senate only 10 have been black. Of these, Revels and Blanche K. Bruce were elected from Mississippi during Reconstruction. These numbers offer a stark reminder of the almost insurmountable barriers that have kept African-Americans from the highest offices in government and of how remarkable a moment Reconstruction was in the history of American democracy.
Before the Civil War only a handful of black officials existed anywhere in the country — just a few justices of the peace in Northern abolitionist communities. But during Reconstruction some 2,000 African-Americans occupied positions ranging from members of Congress to state legislators, sheriffs, city councilmen and others. This unprecedented experiment in biracial democracy aroused intense opposition from adherents of white supremacy, at that time concentrated in the Democratic Party, who sought to undermine Reconstruction through outright violence and a campaign of vilification that portrayed black officials as ignorant, corrupt and unfit for public service. The New York World, the nation's leading Democratic newspaper, described Revels as "a lineal descendant of an orangutan."

This partisan propaganda was long accorded scholarly legitimacy by American historians. As late as 1947, E. Merton Coulter of the University of Georgia, a former president of the Southern Historical Association, described black officeholding during Reconstruction as "the most spectacular and exotic development in government in the history of white civilization," which was "the longest to be remembered, shuddered at, and execrated."
Hiram Revels is worth remembering as both a pioneer of black political power and a refutation of racist stereotypes. Born free in Fayetteville, N.C., in 1827, he studied at religious seminaries in Indiana and Ohio and at Knox College in Illinois. Ordained as a minister in the African Methodist Episcopal Church in 1845, he traveled the Midwest as an itinerant missionary and courageously ventured into the upper South to bring religious instruction to slaves. When the Civil War broke out, Revels was working in Baltimore as an A.M.E. minister and the principal of a high school for black students. He came to Union-occupied Mississippi in 1864 and threw himself into educating the former slaves.
Revels's political career began in 1868, when Union general Adelbert Ames, the state's provisional governor, appointed him as an alderman in Natchez. He was soon elected to the State Senate. Mississippi's lawmakers, who included almost three dozen African-Americans, chose Ames for one vacant United States Senate term and Revels for the year that remained of another.
In an anticipation of recent efforts to deny the citizenship of Mr. Obama, the Senate's small contingent of Democrats challenged Revels's right to take his seat. The Constitution requires a senator to have been a citizen for at least nine years. But black citizenship, Democrats insisted, had only been established by the Civil Rights Act of 1866 and the 14th Amendment, ratified in 1868. Some even claimed that the prewar Dred Scott decision, which limited citizenship to whites, remained the law of the land. But by a vote of 48 to 8 the Senate chose to seat Revels.
During his year in office, Revels later wrote, "I did all I could for the benefit of my needy and much imposed-upon people." He spoke vigorously for the reinstatement of black legislators who had been illegally expelled from Georgia's General Assembly. He persuaded Secretary of War William W. Belknap to arrange for black mechanics to be hired for the first time at the Baltimore Navy Yard. When a bill to establish a free public education system in the nation's capital came before the Senate, Revels strenuously opposed an amendment to allow racial segregation in school admissions. But the amendment passed, and the District of Columbia's school system was not integrated until the mid-1950s.
Despite his outspoken statements against racial discrimination, Revels was far more conservative than other Mississippi black political leaders. He believed that the "unavoidably poor and ignorant colored people" needed moral and religious guidance from well-disposed whites. In 1890, Mississippi's constitutional convention stripped the state's black population of its right to vote through ostensibly race-neutral requirements, including payment of a poll tax and the ability to explain a portion of the State Constitution. Revels's response was to call on blacks to seek "the confidence, respect and protection of those white citizens who have the influence and power to protect them, winning their respect by their industry." This was essentially the political strategy Booker T. Washington would advocate five years later in his celebrated speech at the Atlanta Cotton States Exposition.
Revels died on Jan. 16, 1901. Two weeks later, George H. White of North Carolina, the last black congressman of the post-Civil War era, gave his farewell address. Until Oscar De Priest's election in 1928 to represent a Chicago district, the House of Representatives remained entirely white. As for the Senate, after the end of Blanche K. Bruce's term in 1881 over three-quarters of a century passed until the election of Edward Brooke of Massachusetts in 1966. Today, the Senate has three black members: Cory Booker, Kamala Harris and Tim Scott.
When Revels's Senate term expired, Frederick Douglass's newspaper, The New National Era, commented that while Revels had few legislative accomplishments, "on the whole we are content. The precedent itself was something." Revels's election, it noted, "was hailed with joy" by African-Americans "as the harbinger of a better time and a brighter period for the black man and the nation." A lithograph of a portrait of Revels by the artist Theodore Kaufmann circulated widely during and after Reconstruction, especially among black families. "We so often see ourselves described and painted as monkeys," Douglass observed, "that we think it is a great piece of fortune to find an exception to this general rule."
If the election of Hiram Revels seemed to augur a permanent change in our democracy, the subsequent abrogation of blacks' constitutional rights in the South, with the acquiescence of the rest of the nation, reminds us that our history is not a Whiggish saga of greater and greater freedom, but a more complicated story of rights gained and rights taken away. But despite the disappointments that followed, the anniversary of Revels's election remains worthy of celebration as a significant moment in the continuing effort to purge this nation of the legacy of slavery.
---
Eric Foner, DeWitt Clinton Professor Emeritus of History, Columbia University, specializes in the Civil War and Reconstruction, slavery, and 19th-century America. He is one of only two persons to serve as President of the Organization of American Historians, American Historical Association, and Society of American Historians. He has also been the curator of several museum exhibitions, including the prize-winning "A House Divided: America in the Age of Lincoln," at the Chicago Historical Society. His book, The Fiery Trial: Abraham Lincoln and American Slavery won the Pulitzer, Bancroft, and Lincoln prizes for 2011. His latest book is "The Second Founding: How the Civil War and Reconstruction Remade the Constitution."
Professor Foner's online courses on THE CIVIL WAR AND RECONSTRUCTION are available from Columbia University at ColumbiaX.