A Health Emergency Demands Treatment Not Tax Breaks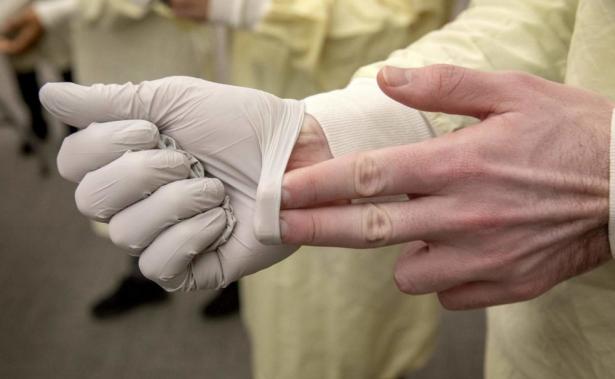 A member of Tufts medical staff removes protective gloves without touching their exterior surface. ,Robin Lubbock/WBUR
The Covid-19 virus shows the complete inability of the US health system to serve the majority of its citizens. But one thing is clear- a tax break and a bail out of the cruise industry will not deal with the virus.
Progressives need to need to enunciate and fight for a plan to deal with the potential pandemic. Leaving solutions up to those who have made the situation worse makes no sense.
Any successful plan must be based on fulfilling several criteria designed to assure that all working people have access to needed services.   As we take these first steps, we also must provide the needed support to first responders. All medical personnel as well as fire fighters need the supplies to protect themselves while they help others. Also in this mix are airline pilots, flight attendants  and all those public servants who come in contact with the public. Their unions are already in discussions with the employers to develop effective responses to the virus.

What  are  the criteria for a plan that could respond to the needs of working people?
1) Access to screening and treatment for every person in any given area. Access means the elimination of all barriers to screening and treatment whether financial, geographical or availability. One means of accomplishing such a project in our area is the re-establishment of the free Blue Bus health screening and treatment project. This project consisted of a blue bus, circulating through the community with appropriate medical staff and equipment on board to do screening and some initial treatment.
2) Maintenance of income. All employees who have been asked to stay at home must be guaranteed their income. A majority of employees do not have two weeks of paid sick leave. This is especially true of low wage workers in all industries, but especially food service. A combination of existing unemployment compensation and new appropriations at the federal and state level are a means of financing this.
3) Guarantee of employment. The employer will guarantee to all workers asked to take a leave from their job that they will have employment upon their return. No negative remarks regarding such absences will be placed in any record of employment.
4) Maintenance of Services: Many firms, especially firms in food service have no means to continue providing service if key employees are required to be absent. Therefore a local government should establish a pool of trained workers who can replace key personnel for the duration. This group of workers could go from establishment to establishment based on need. (An example cashiers, line cooks, etc.). A similar system was employed during WW II to assure production in key industries. The US Employment service exists today." "The United States Employment Service (USES) is an agency of the federal government of the United States responsible for "assisting coordination of the State public employment services in providing labor exchange and job finding assistance to job seekers and employers" (Wikipedia)
5) Amnesty: There can be no barriers to testing and treatment of all people in the area if the pandemic is to be contained. There needs to be explicit guarantees provided by officials at ALL levels that the screening and treatment system will not be employed to entrap individuals.
At one time or another systems have been implemented to fulfill each of the needs defined above.
Screening and Treatment: During the initial phases of the HIV-AIDs epidemic volunteer organizations led by gay and lesbian activists  put together health care outreach systems. Often they worked with local hospitals and organizations like Physicians for Social Responsibility. Together they developed clinics roaming the target areas is a bus painted blue. They offered free screening and arranged for follow-ups and dispensed medicine.. Nothing prevents a community from initiating such a system, assuming there is the political leadership to do so.
Maintenance of Income programs are already in place. It is called unemployment insurance. Currently many are inadequate replacing only a fraction of the lost income. Some have waiting periods. Both shortcomings can be addressed almost immediately. For example, at time of natural disasters governors have ordered changes in the system to eliminate waiting periods- as was the case for example on the Blizzard of 1978!! In Massachusetts. Congress could also immediately increase the funds available to states to finance  the system so that it pays out 100% of the wages to any worker laid off or told to take time off due to the virus. The system is already in place. It is a political challenge that must be overcome if we are to move forward.
Likewise there is no need to create a bureaucracy to fulfill a pledge of an employment guarantee. The employers are responsible. They are always asking for less government intervention- now they can have it. They give their word- but just in case unions, civic leaders, church groups, workers centers, and state departments of labor  can make sure that their word is their bond.
Maintaining Services. There already exist various publically financed training programs throughout the country. The United States Employment Service is still in business. There are other progressive, often union run employment agencies. These can be mobilized to organize and train a pool of workers who can replace those sent home. If we could figure out how to do this in WW Ii certainly we can do it again.
Finally no one is going to go to a hospital, or be screened if they believe that deportation and family separation will be the result of behaving in a responsible manner. The virus is a public health emergency. No pool of people can be excluded from service or the whole idea of virus containment will be rendered  useless. Encouraging people with questionable citizenship status to participate is an absolute necessity- not simply for public health reasons. Agricultural production will collapse in states like Wisconsin, which depend on a agricultural labor force, many of whom may have questionable or no  proper papers if the illness spreads widely/
This of course is a political question and forces all of us who want to deal with this epidemic to face the fact that to overcome the virus it is necessary to overcome the xenophobia, racism and short sightedness of the current immigration policies.
Covid-19 raises other significant issues as well. Over the years the public health  infrastructure of this country has been hollowed out[1]Spending on public health remains three percent below what it was in 2009. The Journal estimates that there are 59,000 fewer local public health workers now than ten years ago. In various states such as Washington and Kentucky health centers maybe forced to close because of lack of funding..
Provision of screening has also put into the spotlight the total lack of  availability of services.  Three months after the virus was identified, the much vaunted private insurance driven health care system in the US has not been able to  provide the level of screening needed to even diagnose the extent of the virus. In the second week of March restrictive rules by the federal government are still impeding the availability of screening. Hospitals have turned people away declining to test for the virus citing restrictive rules emanating from the centers for Disease control.
Just in case you may have insurance, the New York Times made another point.[2] Most plans have deductibles. Those deductibles are generally not fulfilled this early in the year, so that one could be on the hook for the cost of your screening.
Meanwhile other countries which have experienced the virus and ordered massive quarantines or shutdowns have focused their attention on providing care and treatment. They are not worried about a huge drop in personal income and the destitution of families.[3] European counties all have  "safety nets" in place guaranteeing income to those out sick. While the plans vary in the details, all are designed to prevent a recession as a result of income loss due to the virus.
Industry bailouts, small business loans and a meager cut in payroll tax may be good campaign ideas, they do nothing to address the immediate need for the provision of a robust and free medical response to this emergency. They do not meet the minimum needs of working people for job and income security.
[1] Wall Street Journal  "Health Agencies Are Stretched Thin" (Tuesday March 10, 2020 page A-5
[2] New York Times, Coronavirus Highlights the Pitfalls of Deductibles" Tuesday March 10, Business section page  10.
[3] New York Times;  " Social Safety Net in Europe Eases Quarantine's Toll" Tuesday March 10th, Business Section page B-6