food
The legacy of Japanese internment looms over my family's history. For me, cooking forges connection between that crisis and this one.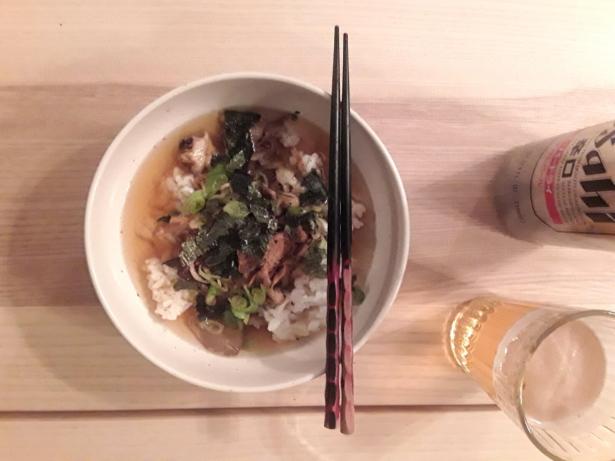 A bowl filled with dashi, rice, seaweed, and other Japanese ingredients. Next to the bowl is a can of the Japanese beer, Asahi.,Evan Jones
The first thing to do was to learn how to make dashi, Japanese soup stock that seems to most commonly involve simmering kombu (dried kelp) and katsuobushi (dried bonito flakes). Dashi is frequently described as the backbone of many Japanese dishes, and since I'm now, apparently, making a lot of Japanese food in my apartment in self-isolation—something I've never done before in my 18-odd years of home cooking—I've had to make quite a few batches of it already. Fortunately, I stocked up on kelp and bonito flakes before everyone in New York was ordered to stay home as much as possible.
I didn't plan it this way. This all came about because of my second-hand bookstore browsing habits. Some weeks before all the bookstores had to close, I found myself thumbing the pages of Japanese Vegetarian Cooking by Lesley Downer—a book published in 1986, with the cover to prove it—and another called The Encyclopedia of Japanese Cooking. I love cooking; I find it stress-relieving, and grounding, and can't imagine life without it, really. I love Japanese food, too. It's easy to plateau with cooking, to learn to make a few things well and spend the rest of your life eating baked chicken or pasta puttanesca, which is fine. But every now and then I like to shake myself out of whatever sustenance trance I've fallen into.
In some indirect way, suddenly immersing myself in Japanese cookery made me feel more connected to my family and to my regional history.

And so, I wound up filling my shelves with Japanese ingredients a week before the call to self-isolate came. There was something delightful to me about having inadvertently stockpiled things I've rarely used before: kelps and seaweeds; natto, a fermented soybean product that's often eaten for breakfast (and which is apparently an acquired taste for some American palates; I'd only seen people eat it on Terrace House); umeboshi, which are salted, pickled ume, which are a kind of sour apricot. Not only would I be cooking in self-isolation, then: I'd be studying a whole new cuisine, and I had plenty of time to do it. There would also be lots of Japanese beer and sake.
But there's something else: In some indirect way, suddenly immersing myself in Japanese cookery made me feel more connected to my family and to my regional history. I'm not Japanese, but my older brother is (we have different dads but were raised together by our mom). In the 1940s, his father and paternal grandparents were forcibly removed from their home in Washington State and brought to California, where they were interned with thousands of other Japanese Americans at Tule Lake War Relocation Center. They lived there under harsh conditions of martial law until nearly the end of the war in 1945.
That connection loomed large for me. I learned about the Japanese internment as a kid in public school on Bainbridge Island, in Washington. I remember being struck by the unfairness and brutality of the era, how bad things got for so many Americans, and how quickly. But I also remember learning that Walt and Milly Woodward, former editors of local newspaper The Bainbridge Island Review, stood defiantly against the internment in their pages—quite possibly the only newspaper editors to do so on the West Coast. I remember learning that many Bainbridge Islanders had defended their Japanese-American neighbors and looked after their properties while they were imprisoned.
I think about all this fairly often—the racist executive order, the prejudiced mob mentality and ignorance, the small acts of decency and resistance—but especially in moments, like this one, when the threat of anti-Asian racism and xenophobia returns. I'm far from Bainbridge Island now, but there's still something from those childhood lessons about being a good neighbor in times of crisis that appears to guide me. It must be one of the reasons that I find myself going to the Japanese-owned bodegas and greenmarkets when I leave my apartment to replenish my isolation stockpile. That and the fact that I need to pick up shichimi togarashi spice powder and a decent daikon radish.