Tidbits – May 4, 2023 – Reader Comments: Young Voters; Writers Strike; Corporate Evil – Workers Deaths, Polluters, Private Equity, Crypto Currency, Debt Crisis, School Vouchers; SpaceX Explosion; Portside Cooking Controversy; Lots of Announcements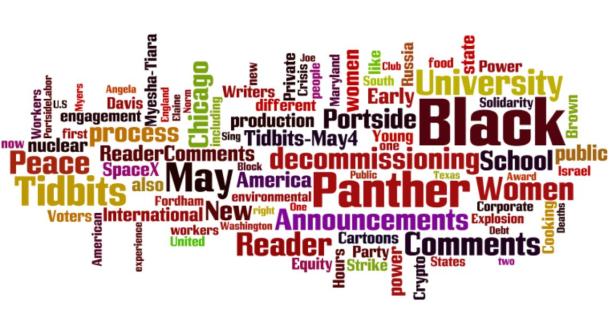 Tidbits - Reader Comments, Announcements AND cartoons - May 4, 2023,Portside
Announcements:
Re: Young Voters Will Transform Even the Reddest States
That would be good news. I hope it is true.
David Johnson
Posted on Portside's Facebook page

      =====
IF their ballot access isn't sabotaged by Republican schemes.
Reed Fromer
Posted on Portside's Facebook page
      =====
Some of those demographics are startling to me, but I do hope Republicans just fade away.
Richard Tetu
Posted on Portside's Facebook page
Re: Hollywood's Writers Are on Strike. Here Are Five Things You Need To Know
(posting on Portside Labor)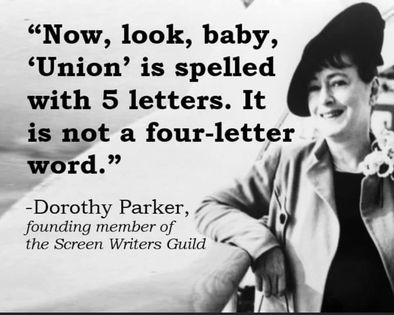 Patricia Dowling
Posted on Portside's Facebook page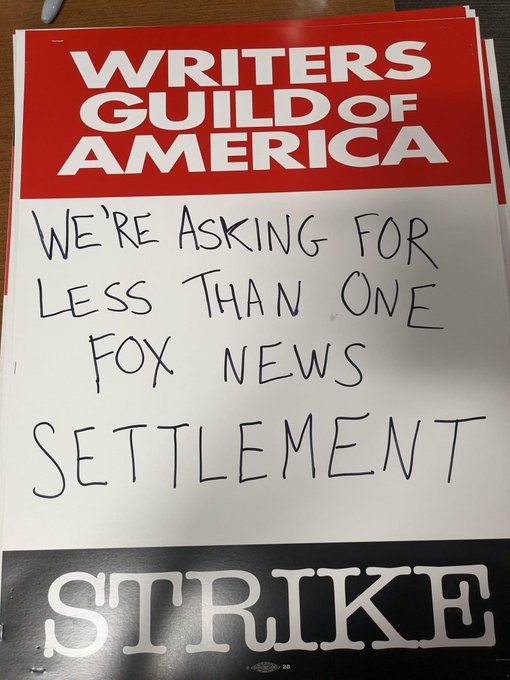 Lalo Alcaraz Retweeted
Cʜʀɪsᴛᴏᴘʜᴇʀ Dᴇʀʀɪᴄᴋ (Writer on STAR TREK: PICARD S2 & 3, THE EQUALIZER S3)
May 2, 2023
It's Not the Writers Who Will Be Grinding Hollywood to a Halt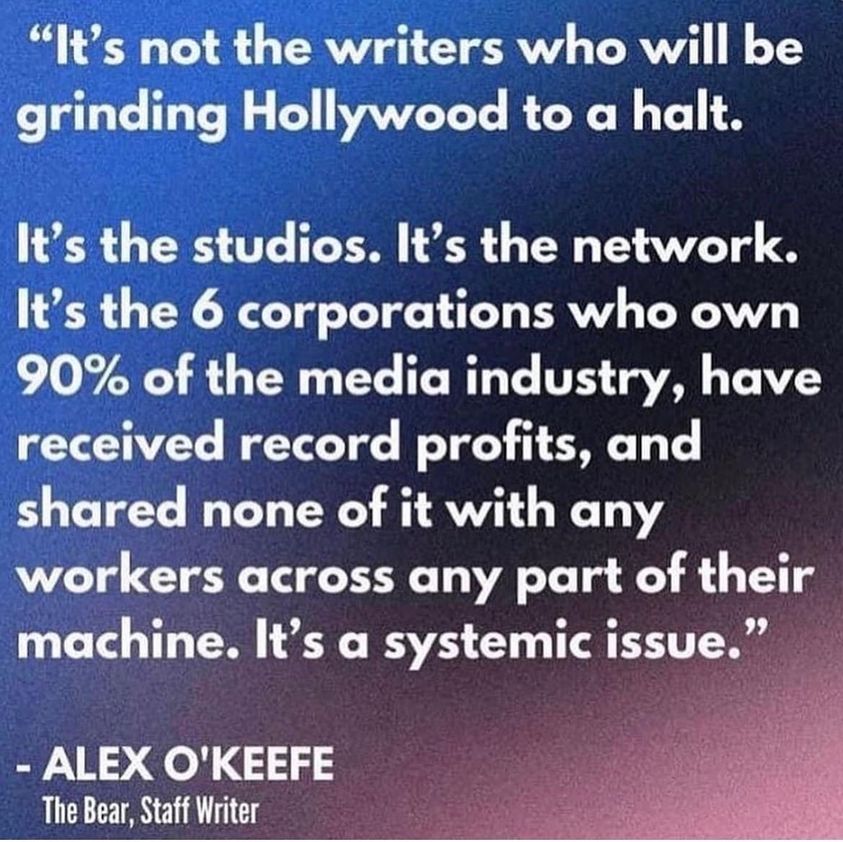 (posting on Portside Labor)  
"Workers' Memorial Week honors workers who have become sick, injured, or lost their lives on the job. The 2023 Dirty Dozen are companies which put workers and communities at risk due to unsafe practices."
Kipp Dawson
Posted on Portside's Facebook page
8 Hours For Work 8 Hours For Rest 8 Hours For What We Will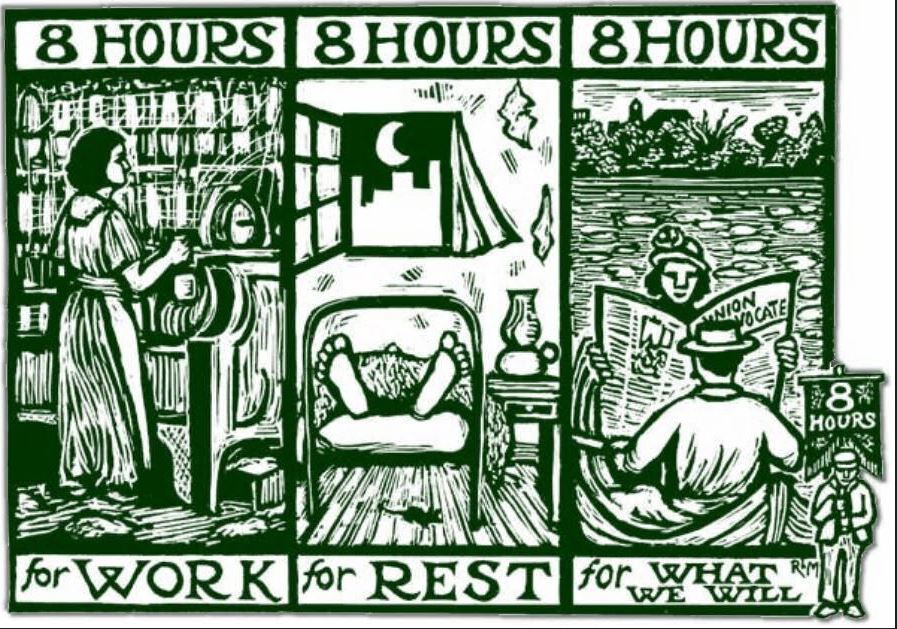 Re: Private Equity Is Gutting America — And Getting Away With It  
It's an incentive system that encourages risky, even reckless behavior but, insulated from liability, they face little consequence if those plans fail.  This explains why private equity firms often have such sorry consequences for everyone except themselves.
Norm Littlejohn
Posted on Portside's Facebook page
Re: How the War on Crypto Triggered a Banking Crisis
Sorry, this is bs. Complete. It's like a Mafia boss claiming that he's just a businessman.
What problem does crypto solve? None. It has used whole countries' worth of electricity for a decade, to "mine" the tokens. Its fervent supporters are no different than, say, goldbugs.
What is the value of any token? That depends on the value that minute, which will change. What backs it? Nothing at all. What does it provide? It's a great way to receive a ransom. (Oh, that's right, the FBI managed to find someone and arrest them.) Overwhelmingly, the purpose of it is tax avoidance and illegal transactions.
Oh, and conning the marks. As Charlie Stross put it years ago, "Quick, invest in crypto now, or you'll miss your chance to lose everything!" A few people made out like bandits, and the rest - a lot of people lost a lot of money.
"Extrajudicial war on crypto"? A correct phrasing would be they were doing their jobs, and there was nothing "extrajudicial" about it.
mark roth, computer programmer and sr. systems administrator (so, yes, I do know whereof I speak)
Re: Fordham Graduate Students Walk Out of Teaching To Demand a Better Contract
(posting on Portside Labor)  
Fordham grad students take action.
"More than 300 graduate student workers at Fordham University's Arts and Sciences school began a three-day walkout this Monday, resulting in hundreds of canceled classes amid growing frustration with the state of their union contract negotiations with the university."
(gratitude to Portside for this article and background articles about the struggle at Fordham, and much more)
Kipp Dawson
Posted on Portside's Facebook page
Homeless is Complicated  --  Cartoon by Joe Heller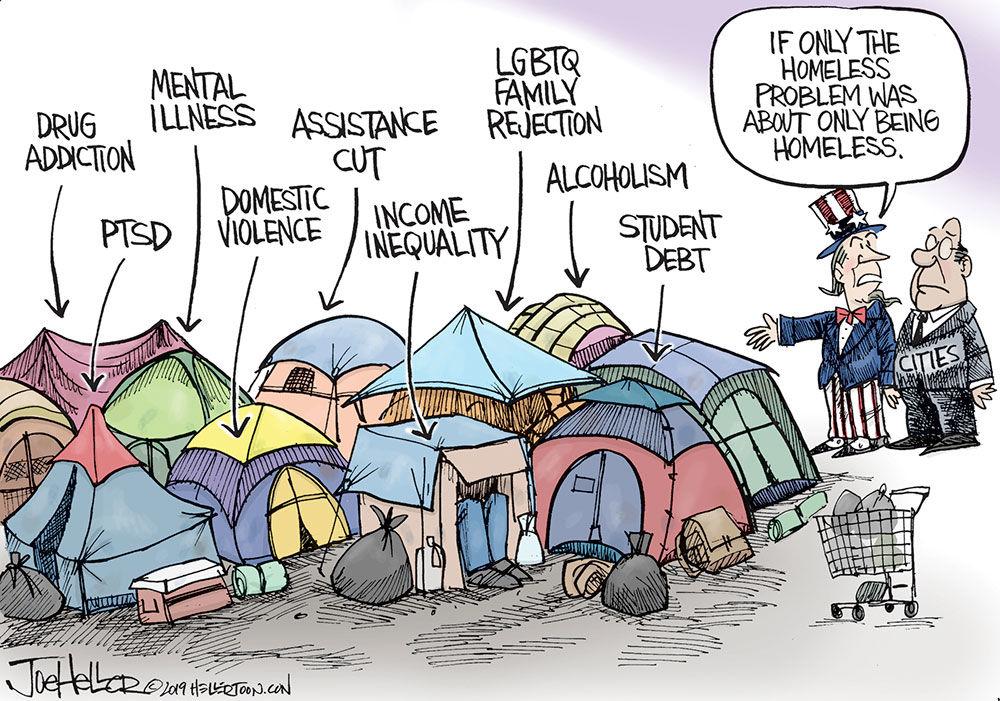 Joe Heller
October 2, 2019
Country Messenger (Scandia, MN)
Re: School Voucher Bills Seek To Defund and Privatize Public Schools  
The MAGA educational plan is to preserve two segregated societies; separate and unequal.
Robert Bressler
Posted on Portside's Facebook page
(posting on Portside Labor)  
"We heard from the rail workers. We heard from the truckers. We've got the longshoremen in the house, too," said Leonard Riley, a longshore worker with the International Longshoremen's Association (ILA) Local 1422 and member of the SWA Coordinating Committee, addressing a packed house at the Teamsters Local 71 union hall during the opening program of the 2023 Southern Worker School.
Norm
Posted on Portside's Facebook page
Re: Partisans Had the Courage To Invent a New World  
To fight fascism, you have to know what you're for.
Occupy Palm Beach
Posted on Portside's Facebook page
Re: DeSantis and Netanyahu: Shameless, Dangerous Anti-Democratic Brothers-in-Arms  
"Florida Governor Ron DeSantis is doing acrobatics to outflank Trump as the most uncritically 'pro-Israel' GOP candidate. His brutal, repressive vision for America is a perfect partner for Netanyahu's vision for Israel and the Palestinians."
Lilly Sanabria
Posted on Portside's Facebook page
      =====
Add trump to three horrible people , dictators
Marion Crossman
Posted on Portside's Facebook page
Re: SpaceX Explosion Sparks Environmental Concerns After Coating Texas Community in Ash  
Not a single mention of Musk's Beavis and Butthead determination to launch on 420, National Cannabinoid Day.
David Blacklock
Posted on Portside's Facebook page
      =====
First think I thought of with this environmental disaster! Texas protect the environment, it's all we have!
Susan Fisk
Posted on Portside's Facebook page
      =====
Damn straight.
Not that Elon would get that.
50 years ago NASA knew better than this nonsense.
America quit adequately funding NASA. It was us, but yes that coward Nixon had plenty to do with it. All he could think was cancellation of manned exploration (Apollo 13 was on his watch)
Yet we now want to be way out in front of where we are now.
Musk isn't doing anything that wasn't on the road map at NASA in the 70s. Comparing 1970 $s to 2022 $s is a fool's errand.
Riding a #SpaceX loose cannon to the outer solar system? No thanks
Mark Walker
Posted on Portside's Facebook page
      =====
FAA SAY NO ….. ???
Ramon Aguilar
Posted on Portside's Facebook page
      =====
This is not the first time a rocket has blown up. Why have we not heard about concerns till now, and since when has Texas, covered by oil fields, cared about the environment?
Wayne Christian
Posted on Portside's Facebook page
Re: The Poverty Paradox: Understanding Economic Hardship Amid American Prosperity
(posting on Portside Culture)  
This is the slow silly season right? Economic hardship for the many is a deliberate policy of the wealthy so the rich can get richer. It is not as if the American political establishment has ever been committed to ending poverty. We just ended the child tax benefit programs that were actually reducing child poverty, including free food at schools.
Most economic proposals will increase poverty, not eliminate it. Now these guys claim to have discovered something new? "The new view must reflect the fact that we need all hands on deck to fight looming, global economic battles, and those battling for America must all be highly skilled." What is this looming global economic battles nonsense? Workers should not be fighting other workers for national corporations, but rather working together globally for the benefit of all.
Charles Patrick Lynch
Posted on Portside's Facebook page
Re: What Home Cooking Does That Restaurants Can't  
While I can't disagree home cooking can be sublime, I can't help wondering if this isn't part of the backlash of shaming another generation of women back into the kitchen—along with taking care of all those children resulting from abortions they weren't allowed to have.
Carol Hanisch
(posting on Portside Culture)  
The two articles today on food seemed clueless about food justice. The person who brags about eating at the best Michelin-stared restaurants world-wide and the notion of fancy food in libraries seemed aimed at those who can afford the expense of eating out and paying high prices. Libraries in much of the U.S. are places where poor people go to use the internet. As libraries are barely surviving in the U.S., the notion of putting wine bars in them seems tone deaf. Who selects the articles you publish?
Gary Anderson
      =====
I agree that this article describes a practice that is aimed at those who can afford it. It was posted as information about a trend in library practices, not as an endorsement. It shows perhaps the desperation of libraries in trying to stay viable and to attract enough patronage to keep operating.
Jeannette Ferrary
Sing in Solidarity Concert - New York - May 7  (Sing In Solidarity)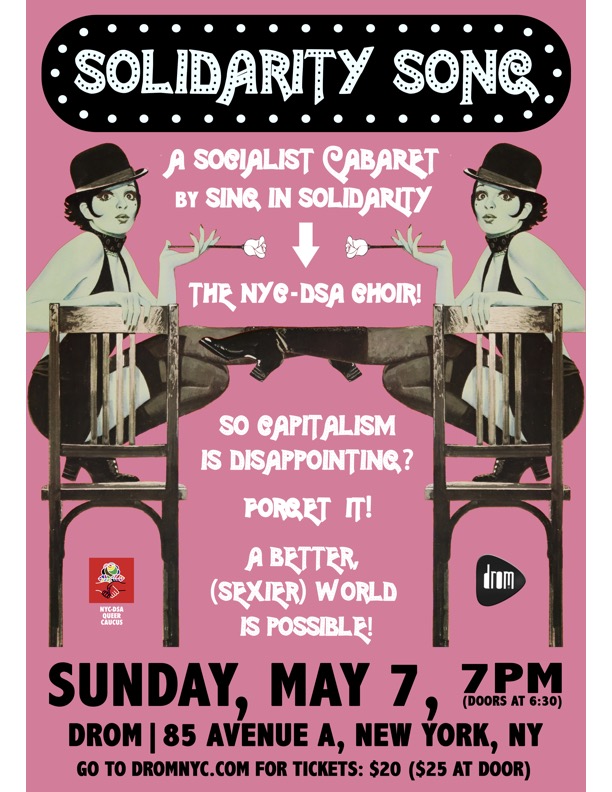 Join us for our first concert of 2023! This will be a cabaret-themed trip to Weimar-era Berlin, with stops along to way to 1930s America by way of the labor movement.
Joshua Myers — Of Black Study - in conversation with James Counts Early - Washington, DC  - May 7  (Politics and Prose Bookstore)
Sunday, May 7, 2023 - 5:00pm
This event is free with first come, first served seating.
5015 Connecticut Ave NW
Washington, DC 20008
Joshua Myers considers the work of thinkers who broke with the racial and colonial logic of academic disciplinarity and how the ideas of Black intellectuals created different ways of thinking and knowing in their pursuit of conceptual and epistemological freedom. Bookended by meditations with June Jordan and Toni Cade Bambara, Of Black Study focuses on how W.E.B. Du Bois, Sylvia Wynter, Jacob Carruthers, and Cedric Robinson contributed to Black Studies approaches to knowledge production within and beyond Western structures of knowledge. Especially geared toward understanding the contemporary evolution of Black Studies in the neoliberal university and allows us to consider the stakes of intellectual freedom and the path toward a new world.
Joshua Myers is an Associate Professor of Africana Studies at Howard University. He is the author of Cedric Robinson: The Time of the Black Radical Tradition and We are Worth Fighting For: A History of the Howard University Protest of 1989.
Cultural educator James Counts Early was born in Ocala, Florida, on January 12, 1947. Early studied Spanish at Morehouse College in Atlanta, earning his B.A. in 1969. He also spent a year studying in Panama at the Canal Zone College. After graduation, Early attended Howard University, where he received his M.A. degree in 1971, and then studied for his Ph.D. degree. While there, he also attended Georgetown University, where he studied Portuguese at the Advanced Portuguese Institute. Active in many organizations, Early served on the founding steering committee of the International Network for Cultural Diversity and was the humanities coordinator of the Trans-Africa Afro Americans and Cuba Cultural Conversation Project in 2000. He has served on the board of directors of the Children's Studio School since 1993, and since 1995 on the National Black Program Consortium, a program that funds independent black filmmakers. Early is a renaissance man. He writes on the politics of culture, lectures internationally and works with those in prison. Skilled with languages, Early is fluent in Spanish, can converse in Portuguese, reads French and has some knowledge of Mandarin Chinese.
'Panther Women,' A Play Honoring Revolutionary Black Women,  In South Shore (Chicago) - Runs Through May 27  (Block Club Chicago)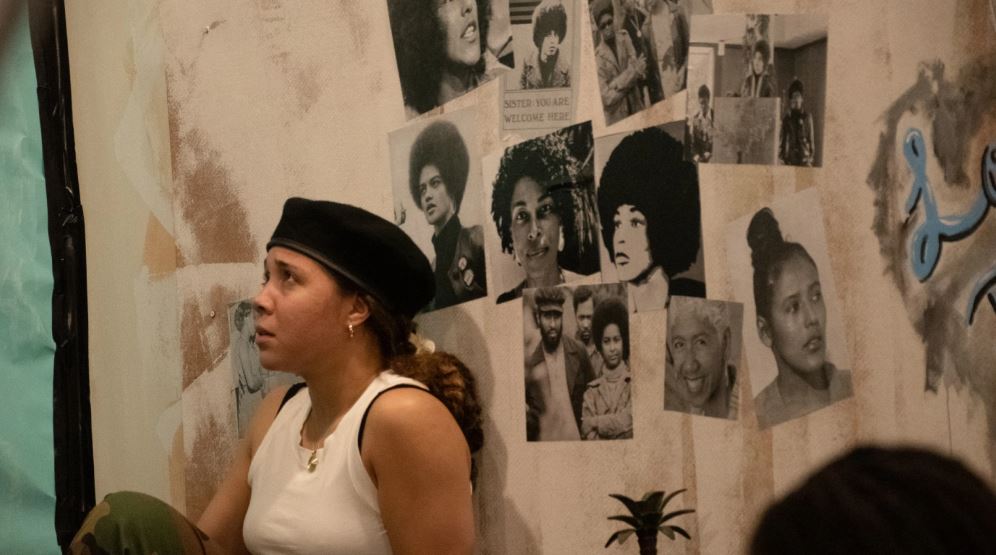 Maxwell Evans
April 28, 2023
Block Club Chicago
SOUTH SHORE — A South Shore-based theater company's first in-person production debuts this weekend, immersing its audience in the underrepresented stories of the women behind Black radical movements.
"Panther Women: An Army for the Liberation," written by India Nicole Burton, premieres with a sold-out show Friday. The performances are held at a newly renovated venue dubbed The Davis, 1825 E. 79th St. in South Shore.
Performances are 7:30-9 p.m. Thursday-Saturday and 2-4 p.m. Sunday through May 27. Tickets are $20. Click here to buy tickets.
"Panther Women" tells the story of Journey, a woman in her mid-30s who looks to the stories of Black revolutionary elders like Angela Davis, Elaine Brown and Assata Shakur as she discovers herself amid modern life.
The contributions and struggles of the three iconic women — and others in the Black Panther Party and Black liberation movements — are explored through dance, music, poetry, monologues and more.
With fourth-wall-breaking moments and an "immersive" costume and set design by Mari DeOleo, the production transports the audience to a Black Panther Party office circa the late-'60s, director Myesha-Tiara said.
"We want you to walk into the space and feel like, 'Whoa, is it 1968 or 2023?'" Myesha-Tiara said. "It's as if you yourself are a Black Panther, because that's how close you are to the show."
Perceptions Theatre, which showcases playwrights of color and was founded by Myesha-Tiara, and Prop Thtr, a longstanding off-Loop company, co-produced the show.
"The team and the artists did an immense amount of research into the women the story is based on," said Olivia Lilley, lead producer of "Panther Women" and Prop Thtr's outgoing artistic director. "Every single element is really reflective of that research."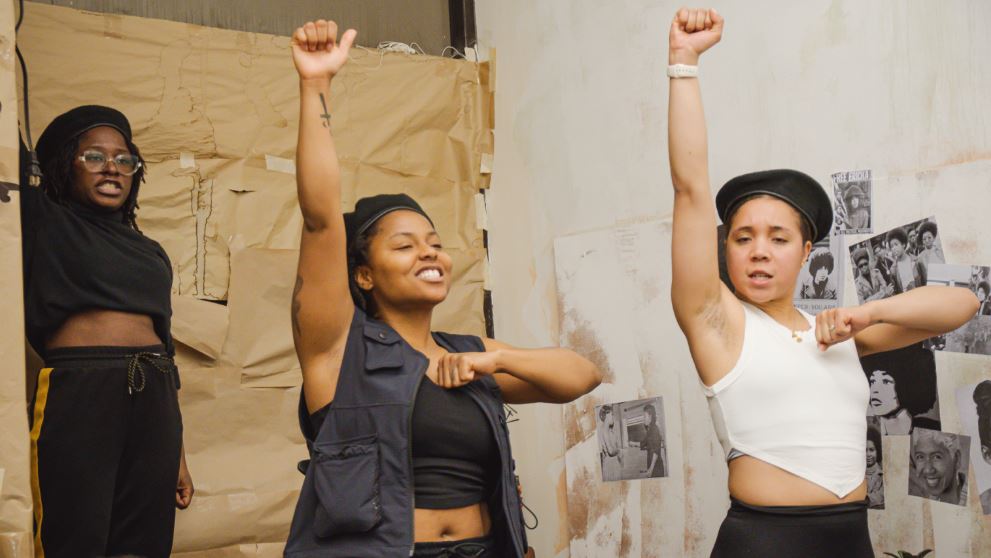 Burton's "Panther Women" comes to Chicago as part of a "rolling world premiere" developed through the National New Play Network, a pipeline of nonprofit theaters that gives a platform to new productions.
The production was previously staged in Cleveland and Indianapolis, where it took on unique forms compared to what Chicago audiences will experience, Lilley said.
"Each city and state gets a different cast, and each performance is completely different from the last one," Lilley said.
"The first one [in Cleveland] was on a big stage in a theater, and it was very, very dance-heavy. This one, it's the first production I've seen of the play where the women are really among [the audience] and the language is the star."
The one-month run at the Davis — named after Angela Davis — will include special performances, including a sold-out Mother's Day brunch, a "kids fun day" and a planned day celebrating local women of the Black Panther Party.
The kids day, which is 2-5 p.m. May 6, honors the Black Panthers' attention to youth nutrition and literacy. Free food, arts and crafts, games, a yoga session and puppet shows are on the agenda, while kids can learn choreography from the "Panther Women" production.
The crew is also working on inviting women who were Black Panther Party members to a special performance dedicated to them. The date for that program is to be determined.
"One ex-Panther woman came to see our previews last week," Myesha-Tiara said. "We were so blessed to have her there as someone who actually experienced these things in real life."
Perceptions Theatre is in the process of establishing the former tax office on 79th Street that will host the "Panther Women" production as its new home, Myesha-Tiara said.
"Right now, we rent spaces from different Black-owned businesses on the South Side," she said. "But we're hoping [for the spot] on 79th to … be our space for the moment, until we move into a bigger space that will still be on the South Side of Chicago."
Perceptions will also host its third annual BIPOC Play Festival this year. It's planned for late August and will showcase up to eight one-act productions by Chicago playwrights of color.
"We're going to continue to create art that reflects the neighborhood that we live in and continue to teach theater education to people who look like us to make sure they have an opportunity in the artistic community," Myesha-Tiara said.
Subscribe to Block Club Chicago, an independent, 501(c)(3), journalist-run newsroom. Every dime we make funds reporting from Chicago's neighborhoods.
The One State Reality: What is Israel-Palestine? - May 11  (Massachusetts Peace Action)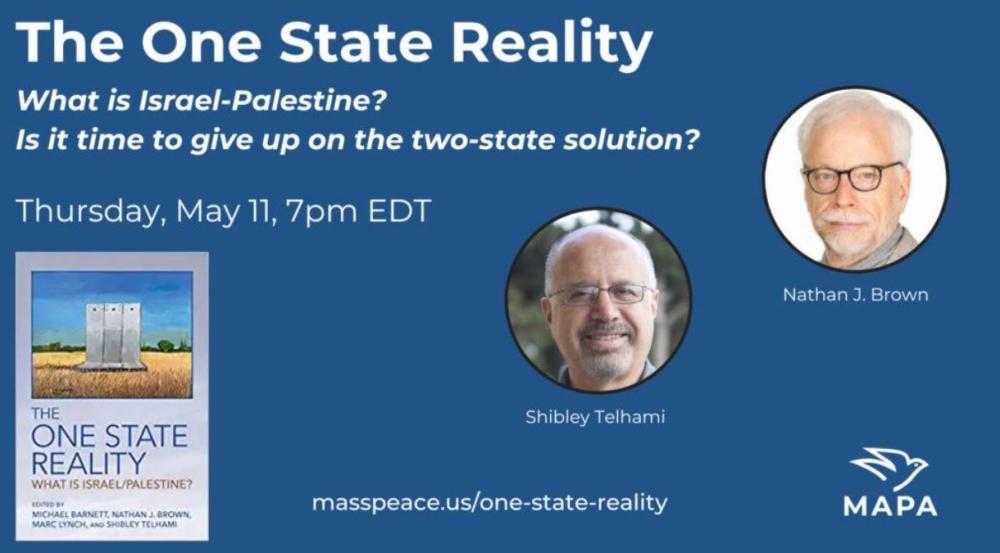 Thu May 11 @ 7:00 pm - 8:00 pm EDT
Is it time to let go of the two-state solution?
A one state reality already predominates in the territories controlled by the state of Israel, according to the authors of an article in the May/June issue of Foreign Affairs, which is more fully laid out in their book, a collection of essays, The One State Reality: What is Israel/Palestine? 
From their publishers, Cornell Press, "The book forces a reconsideration of foundational concepts such as state, sovereignty, and nation; encourages different readings of history; shifts conversation about solutions from two states to alternatives that borrow from other political contexts; and provides context for confronting uncomfortable questions such as whether Israel/Palestine is an 'apartheid state.' "
They also address the role of the United States in the current situation.
"The United States bears considerable responsibility for entrenching the one-state reality, and it continues to play a powerful role in framing and shaping the Israeli-Palestinian issue. Israeli settlement construction in the West Bank would not have survived and accelerated, and occupation would not have endured, without U.S. efforts to shield Israel from repercussions at the United Nations and other international organizations. Without American technology and arms, Israel would probably not have been able to sustain its military edge in the region, which also enabled it to solidify its position in the occupied territories."
Shibley Telhami is the Anwar Sadat Professor for Peace and Development at the University of Maryland, Director of the University of Maryland Critical Issues Poll, and a nonresident senior fellow at the Brookings Institution. He has advised every U.S. administration from George H.W. Bush to Barack Obama. He is the author and editor of numerous books including his best-selling book, The Stakes: America and the Middle East, The World through Arab Eyes: Arab Public Opinion and the Reshaping of the Middle East, The Peace Puzzle: America's Quest for Arab-Israeli Peace, 1989-2011, and his forthcoming book: Peace Derailed: Obama, Trump, Biden, and the Decline of Diplomacy on Israel/Palestine, 2011-2022 (co-authored). Telhami is a recipient of the Excellence in Public Service Award, awarded by the University System of Maryland Board of Regents in 2006, the University of Maryland's Honors College 2014 Outstanding Faculty Award, and the University of Maryland's Distinguished Scholar-Teacher Award in 2018. In 2013, he was selected by the Carnegie Corporation of New York as one of the "Great Immigrants."
Nathan Brown is a Professor of Political Science and International Affairs at the Elliott School of International Affairs at George Washington University. He teaches courses on Middle Eastern politics as well as on comparative politics and international relations.  He has received the Oscar and Shoshana Trachtenberg Award for Scholarship from George Washington University and the Harry Harding teaching award from the Elliott School of International Affairs and named a Guggenheim Fellow, a Carnegie Scholar, and a fellow at the Woodrow Wilson International Center for Scholars. In 2013-2015, Dr. Brown was president of the Middle East Studies Association, the academic association for scholars studying the region. His research has been funded by the United States Institute of Peace and two Fulbright fellowships.  He serves on the board of trustees at the American University in Cairo and is nonresident senior fellow at the Carnegie Endowment for International Peace.  He served as an advisor for the committee drafting the Palestinian constitution, USAID, the United Nations Development Program, and several NGOs.
Massachusetts Peace Action  
11 Garden Street
Cambridge, MA 02138
617-354-2169
Transnational Dialogue on Decommissioning of Nuclear Power Plants: New England (USA) & Northwest Russia - May 19  (Campaign for Peace Disarmament and Common Security)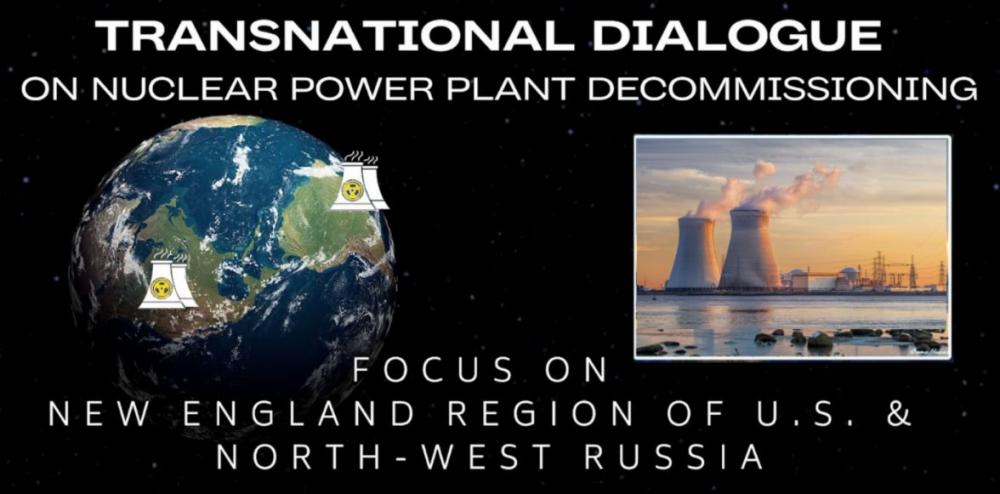 May 19, 2023
U.S.-Russian People-to-People Online Mini-Conference
10:00 am - 12:30 pm EDT
Civil society organizations from the US and Russia are co-hosting a conference to explore the environmental hazards and opportunities of decommissioning nuclear power plants.
Participants will discuss ways to improve safety during the decommissioning of nuclear power plants through greater transparency and effective interaction of stakeholders based on democratic principles that ensure everyone's right to a clean and safe environment.
New England and Northwest Russia have a lot in common. Both regions host commercial nuclear power plants. While some are planning to extend their operational life, others have begun decommissioning or are already partially decommissioned. This process should ensure the transfer of these facilities to a state that will be environmentally safe for present and future generations.
In both countries, this process is controlled by nuclear power plant operators and regulatory authorities. However, the process is insufficiently transparent, and lacks legal procedures for the effective and informed participation of residents and regional legislators.
Our transnational dialogue is aimed at overcoming geopolitical enmity and is designed to demonstrate the benefits of civil cooperation in order to improve the environmental safety outcomes of nuclear decommissioning, something that is important not only for our own countries but for the planet we all share.
Using New England and the North-West of Russia as a model, our speakers will address how citizens and regional legislators can make the decommissioning process safer, making environmental well-being and public safety a priority. We will also examine the opportunity provided by an "autopsy" of decommissioned reactors in the context of reactors seeking lifetime extensions.
Presenters: Sarah Abramson, Oleg Bodrov, Henrietta Cosentino, Paul Gunter, Deb Katz, Nikolai Kuzmin, Andrey Talevlin. Hosted by Joseph Gerson.
CONFERENCE AGENDA
10:00 am
Welcome
Host Joseph Gerson will welcome participants with an overview of the conference and explain  the technical aspects of participating on the zoom platform, including interpretation..
10:10 am
Introduction
Sarah Abramson and Oleg Bodrov will provide an overview on the basics of the nuclear power plant decommissioning process, including what is stated to be available to the public for engagement in this process.
10:15 am
Panel 1: The known environmental hazards of decommissioning in the current experience
Vermont Yankee: Deb Katz.
Pilgrim, MA: Henrietta Cosentino
Leningrad NPP: Oleg Bodrov
10:55 am 
Panel 1 Q&A open to conference participants, led by Linda Pentz Gunter and Nathaniel Trumbull
11:05 am
Panel 2: Environmental hazards & opportunities provided by decommissioning
Reactor "autopsy"and how it can serve license renewal opposition. Paul Gunter
The Seabrook model for community engagement and intervention. Sarah Abramson
Necessary Mechanisms for the Conscious Participation of Civil Society in Nuclear Regions in the Decommissioning of Nuclear Power Plants. Nikolai Kuzmin
11:40 am
Panel 2 Q&A open to conference participants, led by Linda Pentz Gunter and Nathaniel Trumbull
11:50 am
10 minute break
12:00 pm
Panel 3: Opening up public engagement in the decommissioning process
The experience of a lack of an open process and public engagement, and how to remedy it. Russian perspective. Andrey Talevlin 
The experience of a lack of an open process and public engagement, and how to remedy it. USA perspective. Henrietta Cosentino
12:20 pm
Panel 3 Q&A open to conference participants, , led by Linda Pentz Gunter and Nathaniel Trumbull
12:30 pm
Host Joseph Gerson concludes the conference, reflecting on the message, and how attendees can stay abreast of the joint resolution that will be crafted by the conference organizers and later conveyed to policy makers. This resolution will restate that decommissioning processes must include increased public engagement, and bolster the public's power as a key stakeholder in discussions that determine the fate of a nuclear power plant in their community.
Thank you for your interest and participation in this valuable discussion.
Campaign for Peace Disarmament and Common Security
4 Washburn Street
Watertown, MA 02472