Global Left Midweek - May 6, 2020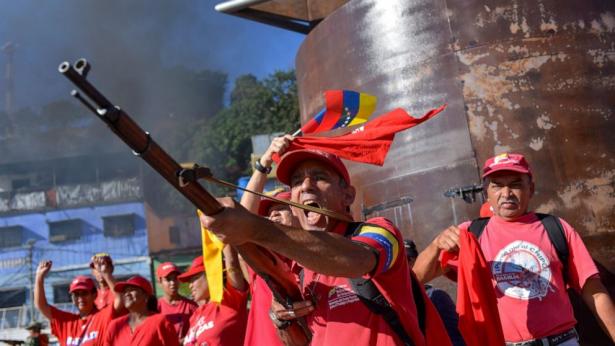 A member of the Bolivarian National Militia brandishes a rifle during an invasion drill in Caracas, Venezuela,AP Photo/Matias Delacroix
__________
Venezuela: Army Thwarts Invasion
Interview with Miguel Tinker Salas / Democracy Now! (New York)
__________
Pandemic Era Analysis
Global Solidarity  maldekstra international / Rosa Luxemburg Stiftung (Berlin)
Rethinking the Way We Organize  LevFem, Bulgaria / LeftEast (Bucharest)
State Interventions, Good and Bad  James Meadway / Novara Media (London)
SE Asia May Day Joint Statement / Green Left (Sydney)
__________
Poland: History on Trial
Jacek C. Kamiński / transform! Europe (Brussels)
Each of the defendants has been accused of "being on the editorial team of the magazine Brzask, the content published on its pages referring directly to the ideas of a communist state system and Marxism and Leninism."
__________
Sudan Bans Female Genital Mutilation
Yuti Joshi / CBS News (New York)
A estimated 9 out of 10 women between the ages of 15 to 49 have been subjected to the practice. But some activists warn the practice could be hard to eradicate in a country where it is so entrenched in the culture.
__________
Brazil: Opposition Alignment
Online Show of Unity / Explica (Austin)
Party Leaders Demand President's Resignation  Ciro Gomes, Fernando Haddad, Guilherme Boulos,and Flávio Dino / Brasil Wire
__________
Party of the Euro Left Takes Stock
Cornelia Hildebrandt / Rosa Luxemburg Stiftung
The Party of the European Left unites completely different parties that have different functions in their respective countries, and correspondingly different expectations.
__________
Panama Protests Demand Government Aid
Peoples Dispatch
Hundreds of residents of four towns in the Guna Yala region blocked the Pan-American highway at Loma Cová, in Arraiján district, for several hours. The protesters demanded the delivery of solidarity vouchers, food bags and other aid promised by the national government.
__________
Report From Kurdish Syria
Ivan Hassib / Al-Monitor (Washington)
For the first time since Syrian Democratic Forces (SDF) commander Mazlum Abdi announced an initiative to resolve inter-Kurdish differences, the Kurdish National Council (KNC) and the Kurdish Democratic Union Party (PYD) kick-started secret, direct talks. 
__________
Legacies
Dennis Goldberg  Jason Burke / The Guardian (London)
Arif Wazir  Dilawar Khan / teleSUR (Caracas)
Adelaida Macusang  Ken E. Cagula / Davao Today