film
My Roy Cohn, and Ours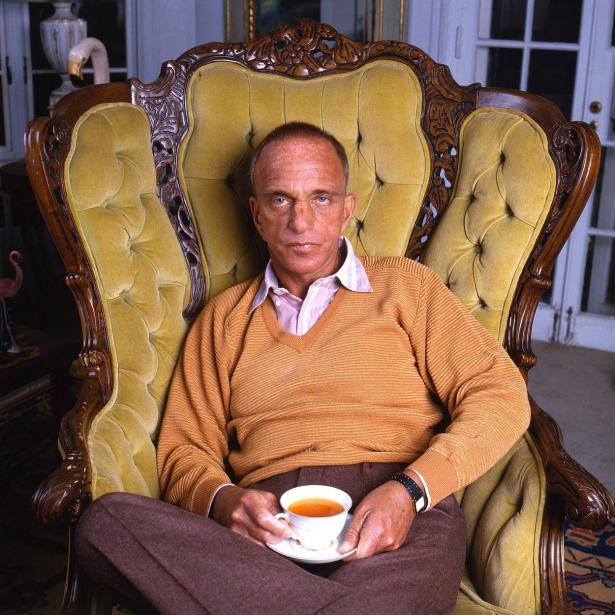 Roy Cohn,Sony Picture Classics
Roy Cohn was my first bad Jew. Long before I knew about Murder Incorporated or Bugsy Siegel or discovered, like many whose grandparents washed up on Manhattan's Lower East Side in the early 20th century, that there were hoodlums, petty criminals, and outright gangsters in my extended family, "Roy Cohn" was an epithet, pronounced with scorn and disgust.
My parents were left-wing New Dealers who, growing up in New York City, were well acquainted with former Communists and fellow travelers. (Some of their best friends …) They bought their first TV set in 1954 so my mother could watch the Army-McCarthy hearings. I was 5 and remember unsuccessfully petitioning to tune into The Kate Smith Show instead. God Bless America versus His Satanic Majesty.
McCarthy seemed to be the personification of evil. Hitler was dead, this guy was alive and present … in my living room! Roy Cohn, who sat by the senator's side whispering in his ear, was something else and something worse. He was a shanda. I gleaned that my parents' contempt for Cohn arose from the fact that he was a Jew like us and consequently somehow related.

And he is with us still. Of all the ghosts and goblins that haunt the American scene none seems more permanently undead than Cohn, who graduated from his apprenticeship to McCarthy to become the New York lawyer, fixer, professional anti-communist and prominent socialite, the baleful subject of books, plays, op-ed pieces and two current documentaries.
Released last fall, Matt Tyrnauer's Where's My Roy Cohn? is available for streaming on a half-dozen platforms; featured at the 2019 New York Film Festival, Ivy Meeropol's Bully. Coward. Victim. The Story of Roy Cohn began showing on HBO June 18, erev the 67th anniversary of the day that the filmmaker's grandparents and Cohn's own most famous victims, the alleged Communist spies Julius and Ethel Rosenberg, were executed.
Born in the Bronx, Cohn was a pampered only child. His mother, Dora Marcus, had been an heiress until the family bank went bust in the crash of '29; his father, Albert Cohn, was a Democratic Party hack and Gov. Franklin D. Roosevelt's first judicial appointment. Essentially educated in the Bronx County Courthouse, Cohn was a prodigy who had by age 20 finished college and law school at Columbia—possibly the only student on a first-name basis with every judge in New York City.
The day he was admitted to the bar, Cohn scored a position as a federal prosecutor in the Manhattan Office of the U.S. Attorney for the Southern District of New York. He participated in several well-publicized trials of accused Soviet operatives, then hit pay dirt with the Rosenberg trial. Cohn coached and molded the most damning witness, Ethel's kid brother David Greenglass, and argued relentlessly that Ethel be sentenced to death, along with Julius, as a way to pressure her husband to confess.
As impressive as Cohn's ability to manipulate the hapless Greenglass was his deployment of dramatic props. Musing on Cohn's introduction of a replica of the cut Jell-O box that supposedly served as the spy signal of recognition, Harvard professor Alice Jardine wrote that this fabricated evidence epitomized the trial's "constantly reiterated, simulated, imitated reality" along with "a 'Russian console table' that was actually from Macy's (with no secret compartment at all); a fraudulent and forged hotel card; a passport photo not for passports; bomb sketches for kids …" The Rosenbergs went to the electric chair while Cohn, Jardine wrote, established himself as "the first truly postmodern character" with an amazing capacity for "negotiating and indeed creating never-ending chains of flashy and purely performative 'realities.'" Within a year of the Rosenbergs' execution, Cohn was in Washington, D.C., recommended by FBI Director J. Edgar Hoover, to serve as chief counsel on Sen. Joseph McCarthy's Permanent Subcommittee on Investigations.
McCarthy was ultimately censured by the Senate, but, after taking the fall, Cohn recovered. He returned to New York and went into private practice, cashing in on his father's connections and living with his mother on Park Avenue to reemerge, after her death, as the city's supreme fixer, his mantra: "I don't care what the law is—I want to know who the judge is." For his second act, Cohn was a New York celebrity who partied with Andy Warhol, summered in Provincetown where he shared a house with Norman Mailer, and hobnobbed at El Morocco, arriving at the nightclub, per right-wing gossip columnist Taki Theodoracopulos, "like Dracula coming out of his coffin at midnight."
Like any true star, Cohn embodied contradictions. He was an anti-establishment figure who wrapped himself in the flag, a lawyer unencumbered by rules, a publicity hound who used bad press as a threat, an announced cultural conservative who hung out in the fleshpots of Studio 54, an active homosexual who delighted in bringing his tricks to Republican functions yet loudly opposed gay rights. He left no children, but his spawn is not difficult to find.
No ordinary prince of darkness, Cohn served at various times or simultaneously as the lawyer for Aristotle Onassis, George Steinbrenner, Claus von Bulow, the Roman Catholic Archdiocese of New York, several organized crime families, the owners of Studio 54, and the young Donald J. Trump. The latter, according to Village Voice reporter and pioneer Trumpologist Wayne Barrett, took advice from Cohn on "every significant aspect of his business and personal life," including designing his protégé's prenup with the Czech model Ivana Winklmayr.
Trump proudly characterized Cohn as his "best friend." Cohn introduced Trump to key mobsters, counseled him to always fight and never apologize, file suit and claim victory, taught him how to feed the press, and demonstrated the importance of a good tan. "Where's my Roy Cohn?" is not really a question—it's a complaint that Trump made in 2017 when he was upset with then Attorney General Jeff Sessions.
Cohn was also a flagrant tax cheat, an insurance fraud, a perjurer, and an embezzler, not to mention a pill head and a sex addict who, as his friend, journalist Sidney Zion, put it, lived in "a closet with neon lights." ("Roy was not gay," explained his protégé Roger Stone, who ran Ronald Reagan's 1980 presidential campaign out of Cohn's East Side townhouse. "He was a man who liked having sex with other men.") Trump dropped Cohn in the mid-1980s, not after his friend was disbarred for stealing from his clients—according to Barrett, Cohn "did not bill Donald for his on-call attentiveness, seeking occasional payments only when the firm was short of cash"—but once it became apparent that Cohn was dying of AIDS.
The irony (or pathos) of the strategically homophobic Cohn's death was scarcely lost. Indeed, it was the subject of two remarkable early 1990s theater pieces—Ron Vawter's one-man show Roy Cohn/Jack Smith which, written by Gary Indiana, paired Cohn with another AIDS casualty, the performance artist and legendary maker of the film Flaming Creatures, and Tony Kushner's Angels in America, in which Cohn emerged as one of the most compelling and human villains in the history of American theater.
For both Jews and queers and especially Jewish queers like Tony Kushner, the Roy Cohn story is a family affair. Several of Cohn's relations are interviewed in Where's My Roy Cohn?, including his cousin by marriage, Tablet writer Anne Roiphe, and they do appear to despise him. Another cousin, the journalist David Marcus, calls Cohn "the definition of a self-hating Jew," citing his vendetta with Manhattan District Attorney Robert Morgenthau, scion of an aristocratic German Jewish family. But that formulation is perhaps too simple.
In 1950, communists were identified with two minorities—Jews and homosexuals. Cohn was both. What better way to inoculate than to declare himself the most resolute of red baiters? Still, Kushner is not alone in suggesting that Cohn sent Ethel Rosenberg to the chair because she reminded him (unconsciously) of his own (Jewish) mother. "I'd have pulled the switch myself if they let me," Cohn brags in Angels in America, which has several scenes between delirious Cohn and Ethel's ghost.
Given that Cohn helped murder her grandparents, Ivy Meeropol's Bully. Coward. Victim. The Story of Roy Cohn is more raw and personal than Where's My Roy Cohn?—and also more compassionate, in part because of its focus on Cohn's gay life. The title comes from a patch on the AIDS Memorial Quilt which Meeropol remembers discovering with her father on a 1988 visit to Washington, D.C.: "We walked onto the Mall and the very first panel we saw was for Roy Cohn, which had his name and the words "bully," "coward," and "victim" sewn onto its surface." (Kushner recalls being impressed by the same patch.)
The family stories were further entwined in the early 1970s when, around the same time that Cohn, liberated by his mother's death, became a more or less openly gay blade, Meeropol's father, Michael, and uncle Robert came out as the Rosenberg sons. Michael even tried to lure the notorious litigious Cohn into a lawsuit during a TV match-up—a hippie homebody challenging the Disco King. In a disarming bit of self-parody, Meeropol cuts from her father leading a living room singalong of "Guantanamera" to a strobe-lit Studio 54 montage.
By contrast, Where's My Roy Cohn?—directed by a one-time Vanity Fairstaffer who "discovered" Cohn in the course of making a documentary on Studio 54—is steeped in celebrity. Dismissing the movie as a fashionable attack by proxy on Donald Trump, as well as a gloating example of demonization, The National Review, a publication that long defended Cohn, made the poignant assertion that Cohn's role as Donald Trump's mentor was less significant than his (progressive?) role as Studio 54's legal pit bull. As if.
However overwrought, Tyrnauer's movie forcefully illustrates Cohn's once cozy relationship with New York's rich, powerful, and privileged, many of them liberals and/or members of the media. Although the two documentaries are equally damning, it's a bit surprising that Tyrnauer's offers the bolder class analysis. Meeropol, a third-generation leftist, is more postmodern in allowing Cohn the last word: "I know what the truth is and they don't." His acolyte in the White House couldn't have put it better.
J. Hoberman, the former, longtime Village Voice film critic, is a monthly film columnist for Tablet magazine. He is the author, co-author or editor of 12 books, including Bridge of Light: Yiddish Film Between Two Worlds and, with Jeffrey Shandler, Entertaining America: Jews, Movies, and Broadcasting.