Media Bits and Bytes - June 30, 2020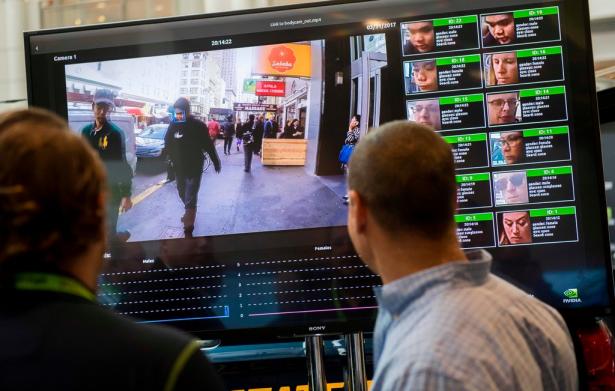 A facial recognition system for law enforcement at a technology conference in Washington, Saul Loeb/Agence France-Presse — Getty Images
By Taya Graham
June 26, 2020
The Real News
The FBI investigated and arrested Michael Avery for posting on Facebook about a Black Lives Matter protest. We talk with a tech industry whistleblower about "snitch apps" and how law enforcement uses technology to "protect" you.
By Abram Brown
June 29, 2020
Forbes
By Thursday evening, it had become clear to the group of young tech designers, marketers and product managers that the website they had launched earlier that day had gone completely, totally viral, capturing attention from a widening swath of their industry.
By Ellise Shafer
June 28, 2020
Variety
TV networks have begun to reconsider the purpose of police-centric shows in their programming.
Could McClatchy Go Non-Profit?
By Jon Allsop
June 30, 2020
Columbia Journalism Review
With the chain facing bankruptcy, the prospect that McClatchy could opt for nonprofit conversion was welcomed by many journalists and journalism-watchers. 
By Clive Thompson
June 23, 2020
Wired
Our throwaway habits can add up. If every adult in the UK sent one less "thank you" email per day, it would cut 16 tons of carbon each year.
Facial Recognition and Racial Justice
AI Ethics By Nicolás Rivero, June 26, 2020, Quartz
Is Tech Making Things Worse? By Jason Hiner, June 25, 2020, CNET
One Bad Algorithm By Amy Goodman, June 26, 2020, Democracy Now!
Mark on the Spot: Facebook Ad Boycott
By James Clayton 
June 29, 2020
BBC News
The Stop Hate for Profit campaign is the latest movement to use boycott as a political tool. It's convinced a series of major companies to pull advertising from Facebook and some other social media companies.