Tidbits - Sept, 3, 2020 - Reader Comments: NBA Strike for Justice and Black Lives Matter; Organizing on Local Issues; No Problems with Mail-in Voting in Mass. Primary; Policing Debate; Tribute to Essential Workers-this Weekend; Resources; Announcements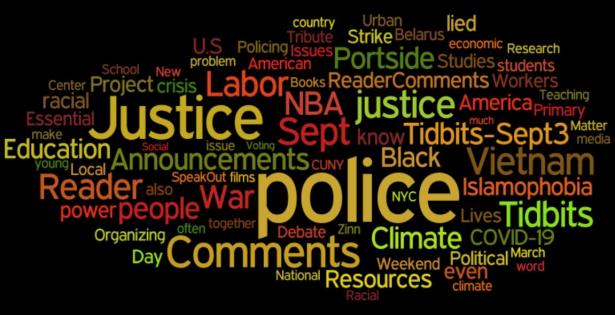 Tidbits - Reader Comments, Resources, Announcements, AND cartoons - Sept, 3, 2020,Portside
Resources:
Announcements:
Re: With Their Wildcat Strike, NBA Players Have Pointed the Way Forward
(posting on Portside Labor)
 
Thank you so much, NBA and NBA Superstar ?? LeBron James and all of the NBA players. You are good and decent people.

Randall Lewis
Posted on Portside's Facebook page
     =====
If this awful year has shown us anything, it's that the WORKERS hold the POWER. If we could ever unite, GOOD sh!t would get done in this country! But we let the corporations, the politicians, the media, the law (all financed and bought by the RICH) control us. Bread and Circuses, as the Romans called it.
Lynn Pacione-Holman
Posted on Portside's Facebook page
     =====
It seems wildly irresponsible to pass judgment on the recent NBA strike and what it means about "the way forward" without even acknowledging the concrete victory the players won from the owners: use of the stadiums for voting.
Why do you pass along this garbage? I sometimes wonder if you even read what you send out or if you're just taken by a headline.
Jon Zerolnick
Believe me, he says. He has 'Latino Vote' locked up  --  cartoon by Lalo Alcaraz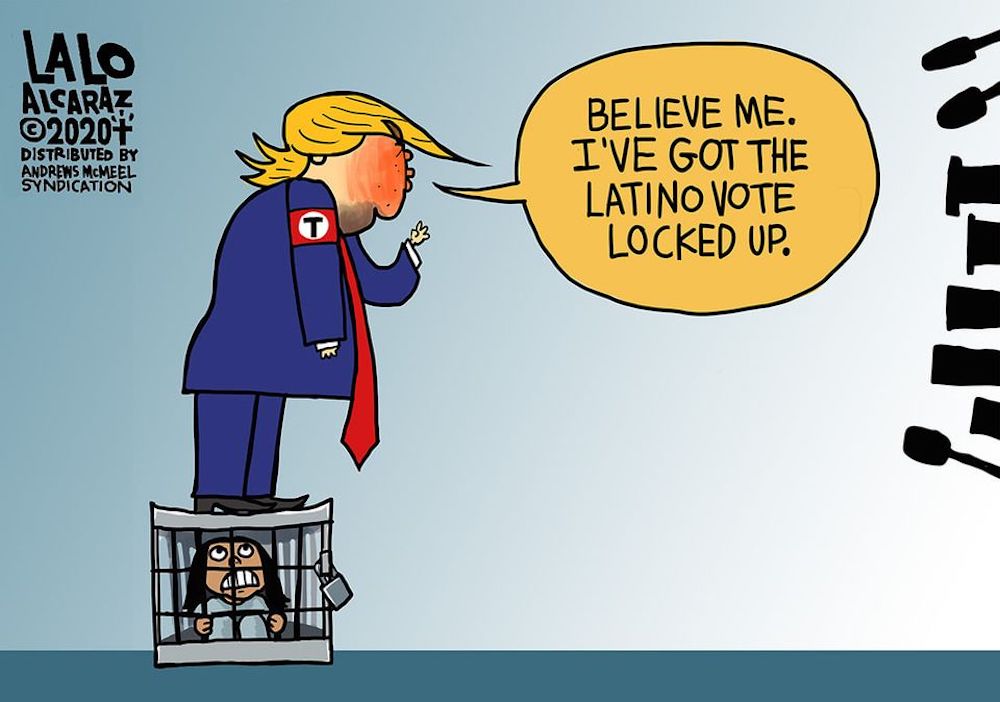 Lalo Alcaraz
September 1, 2020
Pocho
Re: Digging in on Issues at the Local Level Works!
 
I am also sharing. This is a powerful example of positive energy in a challenging time.
This is detailed and balanced writing.
My congratulations to the people of western Massachusetts.
It's long but very good reading.
Maggie Meehan
Posted on Portside's Facebook page
     =====
I am sharing this GREAT example of justice organizing with as many folks as possible -- hope all readers will also share -- to make sure we all have examples of what WE can do with our neighbors in this fight for justice & peace NOW!
Leanna Noble
Posted on Portside's Facebook page
     =====
Organizing around issues and policies that put people before profits requires staying on issue not identity while clarifying policy not personality
Terry Reed
Posted on Portside's Facebook page
Re: Work Stoppages for Black Lives
(posting on Portside Labor)
 
Last week's actions by professional athletes in the NBA, WNBA, NFL, MLB, and professional tennis are a call to action for all of the labor movement. 
Jay Schaffner
Posted on Portside's Facebook page
Re: Professional Athletes Are Showing America Just How Powerful Labor Really Is
 
There is power in a union. And it's the power together to withhold labor together.
Judy Atkins
Posted on Portside's Facebook page
Terrorists Thrive  --  cartoon by Tom Tomorrow
 
In Trump's America, Domestic Terrorists Thrive
White terrorism only inspires more white terrorism, and the cops welcome it.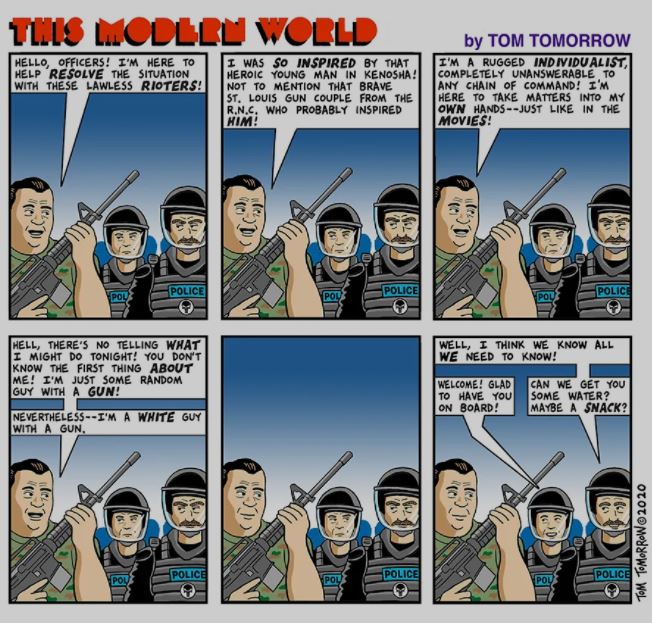 Tom Tomorrow
September 1, 2020
The Nation
Re: In Massachusetts, An Unprecedented Primary Day Awaits
 
And look! Most ballots were mail in and there were ZERO problems.
Christine Pepin
Posted on Portside's Facebook page
Re: A Boon to Disaster Capitalism: Puerto Rico's Perpetual State of Emergency
 
This is a typical compilation of half truths from off-island media. There have been missteps, errors, and yes some corruption, but Puerto Rico's record against COVID-19 is much better than the vast majority of states'.
William Leffingwell
Posted on Portside's Facebook page
Every so often a word that's been mostly sequestered in the medical community becomes prominent in everyday usage. Today the word is systemic. The demonstrations shaking the country from coast to coast — and have taken hold abroad — have brought that word front and center as it relates to racism.
Is racism systemic to our society or is it confined, as some would have it, to a few "bad apples"? A cursory look at 400 years of our history indicates that there's something rotten in the whole damn orchard. Thus the word systemic.
As if the recent rash of police killings weren't enough to indicate the scope of the problem, investigations by the Southern Poverty Law Center have revealed the existence of hundreds of racist and anti-Semitic groups throughout the country. And their activities are not only verbal but often weaponized. That, to me, is more than sufficient evidence to justify the label systemic.
Seymour Joseph
Re: Health insurance and the COVID-19 shock
 
"Because the large majority of nonelderly U.S. households rely on employer-sponsored insurance (ESI) to pay for health care, any economic shock that destroys #jobs also destroys access to health coverage. The COVID-19 crisis is one such shock..."
Read more with author Josh Bivens and Ben Zipperer on Portside 
Cornell University Press
Posted on Portside's Facebook page
Re: The Contours of Atlanta's Policing Debate
 
Real police reform will take place only when a credible program that people can readily understand is put forward. The issue is not police procedures, police training, chokeholds, "bad apples," or even racism. The issue is power. Forty years ago, I concluded that the police departments in every major city were out of control. Nothing I have seen since has changed that opinion. Indeed the rise to prominence of Trump's I.C.E. – probably the worst of them – has only made the issue more graphic. One of the emblematic moments came when the audience turned their backs on New York Mayor Bill deBlasio at a Police Academy graduation. Just weeks ago the Kenosha police waved at the young murderer of two protesters while shackling to his hospital bed the man they had just shot nine times. These are pure demonstrations of police power over elected officials and the rest of us. And yet we continue to think that pressuring mayors and city council members will solve the problem.
A shield covers the police, protecting them from all outside influence. Politicians routinely appear smiling in photos with police officials, even when they are perfectly aware of how little control they have over them. (Consider how often police ":forget" to wear required body cams or "forget" to turn them on or how departments refuse to release footage when available.) The police jealously guard investigations of police corruption as an "internal matter." Prosecutors are reluctant to file charges against police. In one shooting incident after another, police unions stonewall criticism, no matter how outrageous the behavior. The media downplays charges of police misbehavior and, in the case of protests that turn "violent," rarely question who is responsible for the violence. Juries refuse to convict police of even the most repellent misbehavior. In my (admittedly limited) experience arbitrators called in to settle contract disputes with municipalities generally side with the police. Indeed, the collective bargaining process is often used as a mechanism for insulating the police from outside scrutiny. The findings of civilian review boards are regularly ignored. At the same time, money and equipment is poured into increasingly militarized police departments. By what logic on God's green earth do we need to send in a SWAT team over a domestic dispute? I know that such incidents are especially dangerous – but a SWAT team?
I have often wondered how this happened. One explanation I have heard – in my own community as well as from the media – is that the police are a powerful voting bloc. This is not true because their numbers are relatively small and in many communities, members of the police do not even live in the communities they police. More relevant is the fact that the police can readily create incidents that embarrass local elected officials, even those who largely support them. But their ultimate power is the threat that they will withhold their labor allowing criminals to run free, a form of terrorism directed at the community at large. This is made all the more effective by those stoking fears in the population at large. You know: "American carnage."
Perhaps the most fundamental explanation is the historical role of the police in suppressing class and racial threats to the existing order and in the protection of private property. In the name of law and order they have regularly intervened with force against strikes, antiwar, civil rights, immigration, and environmental protests—and whatever else you've got. Consider the red squads, the anti-Muslim surveillance units. Consider the murder of Fred Hampton. For this reason, the prevalence of extreme right wing politics among those assigned to "Serve and Protect" all of us is generally ignored.
Let me also say something in defense of the police. Like teachers – they are left to deal with all of the social problems that "we can't afford to deal with." This outrage has, for example, turned the Los Angeles County Jail into the country's largest mental hospital. Some have called transferring part of police budgets to programs designed to deal with these problems. But here again, the media has freely allowed the right to characterize "Defund the Police" into a call for abolishing the police.
I do not know how to fix this problem of police power. But I do know we will not fix it until we recognize what the real problem is.
Robert Supansic
Re: 'The US Is Nowhere': As The Political Crisis In Belarus Deepens, America Is Conspicuously Absent
 
This is a joke? The National Endowment for Democracy (ie US State funding) lists spending of $1,744,000 to groups in Belarus in 2019 alone. If that spend (along with much else no doubt) is successful, Belarus can expect wholesale privatisations, factory closures, unemployment and cuts in social spending. See the article from Jacobin posted last week.
Dan Morgan
Posted on Portside's Facebook page
     =====
What is going on in Belarus is obviously an attempted "color revolution." It was disappointing to see Aug. 26 article by Christopher Miller re-posted at Portside pining for deeper US involvement . Even more dismaying, Miller's article cites views of arch-imperialist, arch-militarist John Bolton with seeming approval. One expects from Portside a high level of understanding of US imperialism's "soft power" political technologies. Portside is valuable service to progressives . But Portside editors should know better than this. 
Joe Jamison
New and Free Social Justice Books (Social Justice Books)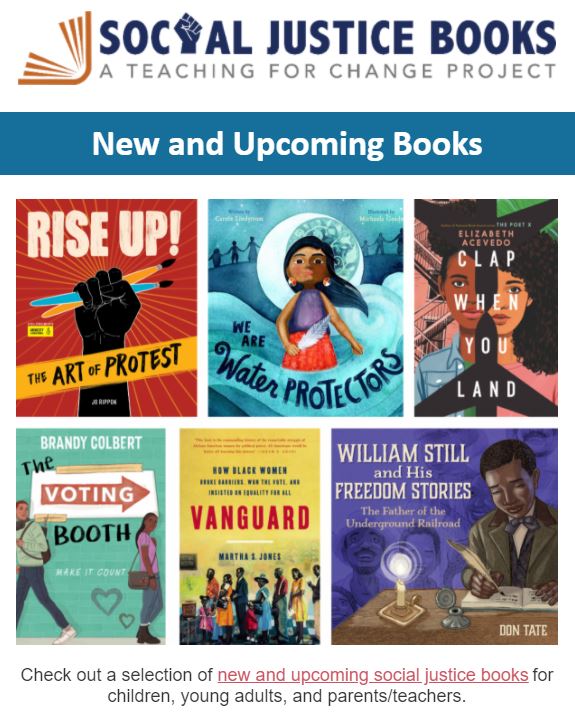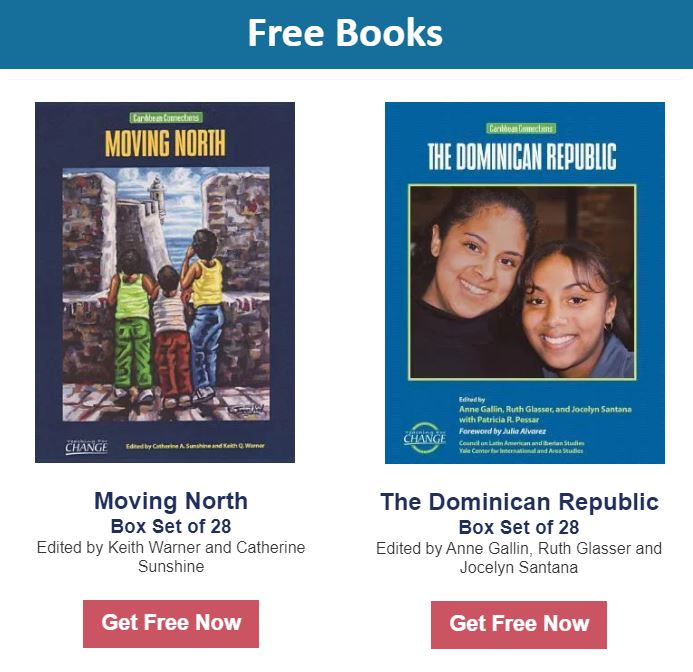 We need to clear out of our storage unit, so we are offering these books to you for free – just pay the price of shipping.
If you are in the D.C. area, pick them up at our office.
Suggestion: Order a box and place copies in Little Free Libraries.
More Free Books
Teaching for Change
PO Box 73038
Washington, DC 20056
Islamophobia Reporting App (Islamophobia Research & Documentation Project)
 
From Europe to India, Islamophobic tropes have been splashed across the pages of publications such as The Economist and The Hindu that portray Muslims as a threat to the world much like the COVID-19 virus, as well as mobilizing the familiar tropes of Muslim terrorists and radical Islam.
Polemics and polarization in a time of a pandemic can be violent and deadly.
Islamophobia Reporting App: August 2020 Reported Data
Our mission is to develop a sustained response that both examines the roots of Islamophobia, & provides the empirical data to quantify the problem. Only then can we develop the tools required to educate policymakers on how best to counter Islamophobia.
The Islamophobia Studies Center is a 501c3 Non-Profit Organization
Teaching the Vietnam War 75 Years After Vietnam's Independence (Zinn Education Project)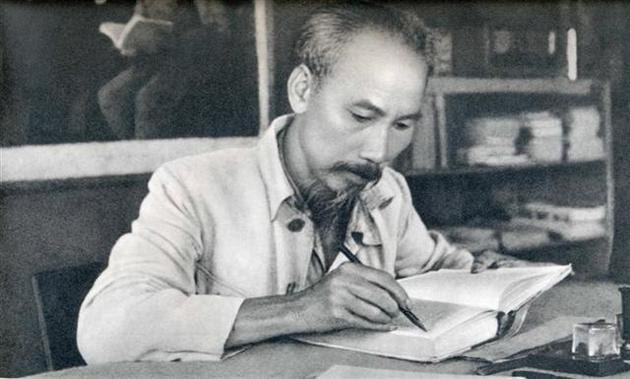 Seventy-five years ago, September 2, 1945, marked the official end to World War II, with the surrender of Japan. It is also the date of the Declaration of Independence of a united Vietnam — free of Japanese occupation and French colonialism.
At that moment, President Harry S. Truman was faced with an historic choice: recognize Vietnamese independence or support France in the reconquest of its colony. Ultimately, the United States chose colonialism over freedom — and that choice led to the deaths of millions of Vietnamese, Cambodians, and Laotians; and tens of thousands of U.S. soldiers.
It is a choice young people need to study.
The Zinn Education Project features numerous resources to help our students probe the roots of U.S. involvement in Vietnam and the impact of the Vietnam War — which the Vietnamese rightly call "The American War" — and resistance to the war.
Teaching the Vietnam War: Beyond the Headlines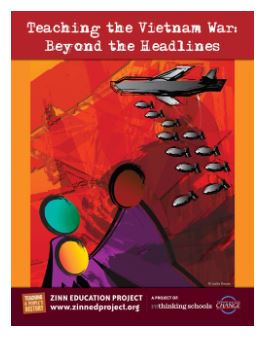 In a collection of eight lessons, students learn about the roles of presidents, generals, journalists, whistleblowers, and grassroots activists in the Vietnam War.
This 100-page teaching guide, prepared by the Zinn Education Project for middle school, high school, and college classrooms, enhances student understanding of the issues raised in the award-winning film, The Most Dangerous Man in America: Daniel Ellsberg and the Pentagon Papers.
The guide uses role play, critical reading, discussion, mock trial, imaginative writing, small group work, and personal narrative.
If We Knew Our History
Camouflaging the Vietnam War: How Textbooks Continue to Keep the Pentagon Papers a Secret
By Bill Bigelow
In the Academy Award-winning documentary Hearts and Minds, Daniel Ellsberg, who secretly copied and then released the Pentagon Papers, offers a catalog of presidential lying about the U.S. role in Vietnam: Truman lied. Eisenhower lied. Kennedy lied. Johnson "lied and lied and lied." Nixon lied.
The Pentagon Papers that Ellsberg exposed were not military secrets. They were historical secrets — a history of U.S. intervention and deceit that Ellsberg believed, if widely known, would undermine the U.S. pretexts in defense of the war's prosecution.
Textbooks resist telling students that the U.S. government consistently lied about the war. . . Teaching students a deeper, more complete history of the American War — as it is known in Vietnam — is not just a matter of accuracy, it's about life and death. . . .
Teach the Vietnam War with Film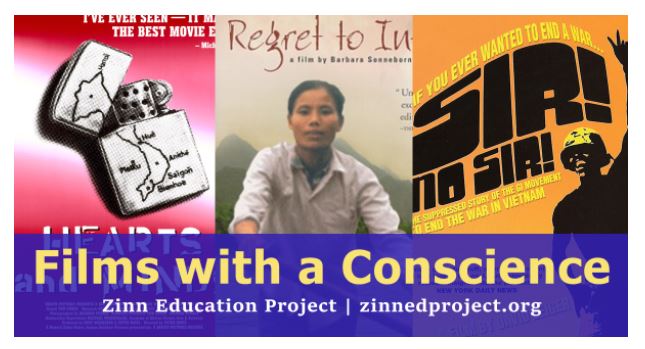 During the COVID-19 crisis, we share this annotated list of more than 100 films. It has always been a good idea to use "films with a conscience," but films may now be an even more accessible "text" we can use to help young people think deeply about the world. Many of these films alert students to how individuals and social movements have tried to make life better.
The list includes six films about Vietnam War. Many are available to stream online for little or no cost.
Zinn Education Project
A collaboration between Rethinking Schools and Teaching for Change
PO Box 73038
Washington, D.C. 20056
Phone: 202-588-7205 | Email: zep@zinnedproject.org
Tribute to Essential Workers - Labor Day Weekend - September 6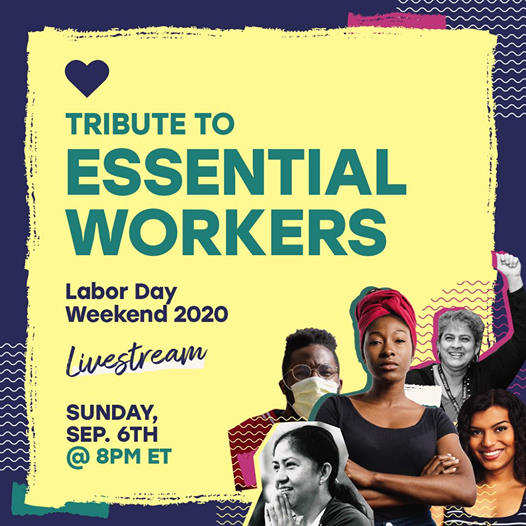 Join Us (virtually) in Honoring Essential Workers:
Join us this Labor Day weekend to pay tribute to the lives and work of essential workers. On Sunday night, September 6th we'll come together to watch performances, hear stories, and honor the lives of working people who continue to sacrifice daily for our nation's safety and wellbeing.
Together we'll issue a powerful call for transformation in honor of the people that we've lost and to fight for the working people who are essential to our economy and society. These essential workers are disproportionately Black and other women of color, immigrant, and other communities in the margins. We have a responsibility and opportunity to create an inclusive future that ensures that everyone is treated with dignity and respect–through raising pay and workplace standards, improving safety, and increasing worker power in the workplace.
Our Partners
National Domestic Workers Alliance
AFGE Local 704
AFL-CIO
Amalgamated Transit Union
American Federation of State, County and Municipal Employees
American Federation of Teachers
Brave New Films
Center for Biological Diversity
Center for Popular Democracy
Coalition for Humane Immigrant Rights (CHIRLA)
Color of Change
Community Catalyst
Daily Kos
Democracy Green
Democracy Initiative
Demos
eQuality HomeCare Inc.
Fayetteville PACT
Green America
Greenpeace USA
Hand in Hand: The Domestic Employers Network
Her Justice
Jobs with Justice
Justice for Migrant Women
Labor Education Action Research Network
Labor Network for Sustainability
Masks For America
McCarren Gathering
Miami Workers Center
MomsRising
MoveOn
National Council for Occupational Safety and Health
National Education Association
National Women's Law Center
NC Black Alliance
NextGen America
Nuestras Manos
Onward Rides
Paid Leave for All
People's Action
Poor People's Campaign of the Shenandoah Valley
Resistance Revival Chorus
ROC-United
Service Employees International Union
Super Majority
Tax March
The ICAN OUTREACH COMMUNITY ORG.
The Oakland Institute
TIME'S UP Foundation
UAW
UltraViolet
United for Respect
Valley Protein Blue Collar Workers Organizing Committee
Women's March
Women2Women
Working Families Organization
The Political Economy of the COVID Pandemic - September 10 (CUNY School of Labor and Urban Studies)
 
The CUNY School of Labor and Urban Studies is launching a series of web interviews on Covid Capitalism: Pandemic, Recovery and Rebellion.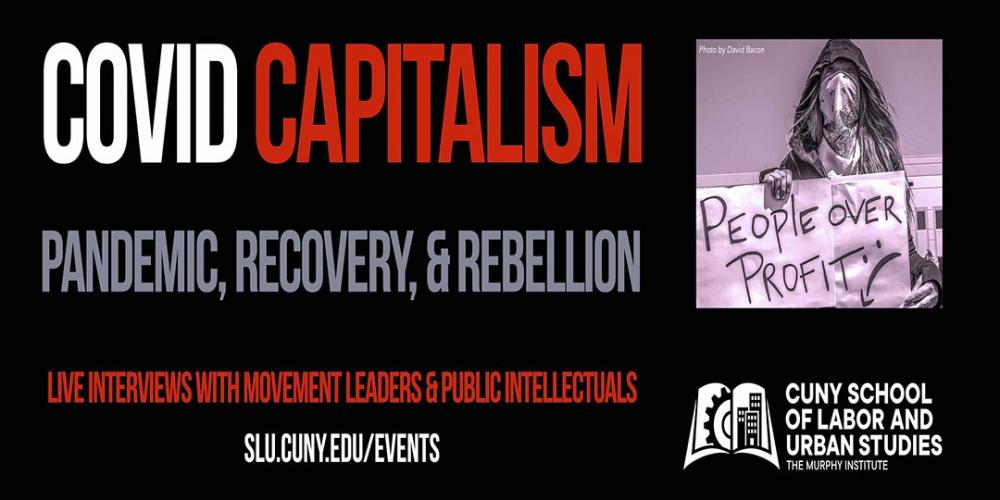 Each month one of our faculty members will conduct a live interview with organizers and movement scholars.
The first installment will be Thursday, September 10, 12 - 1 pm
"The Political Economy of the COVID Pandemic" 
with:
Leo Panitch - Canada Research Chair in Comparative Political Economy and Distinguished Research Professor of Political Science - York University 
Samir Sonti - Assistant Professor of Urban Studies - CUNY School of Labor & Urban Studies 
Register in the link below. It is free to participate.
Join us to examine the impact of the COVID pandemic on the U.S. and global economy. Professors Panitch and Sonti will contrast the current crisis with previous periods of economic crisis, as well as discuss the possible consequences of this crisis for global capitalism.
CUNY School of Labor and Urban Studies
25 West 43rd Street, 19th Floor
New York, NY 10036
(646) 313-8300
"Climate Justice Through Racial Justice" March - New York - September 20 (Peoples Climate Movement-NY)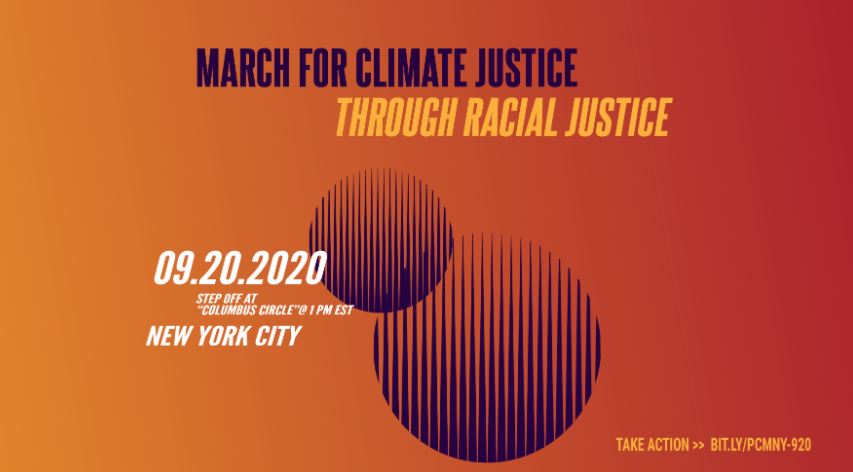 The cry for justice is being heard in every corner of the country. The painful realities of the COVID-19 crisis, the economic disaster, and the horrors of racism/white supremacy are moving people into action in unprecedented ways. These last 6 months have shed a new light on the ways these issues are all connected. Now is the time to take the next step. 
On Sept. 20th we are marching because we know that addressing the climate crisis effectively rests in our commitment to racial justice. This isn't the first march calling for climate justice and racial justice, and we know it won't be the last. This march will kick off and set a tone for Climate Week by prioritizing Black, Brown, and Indigenous peoples, making clear the intersection between climate justice and racial justice. 
Building movements for racial, economic, and climate justice in NYC requires using every tool we have available – voting, completing the census, holding elected officials accountable, and mobilizing mass actions. One thing is clear - we cannot achieve climate justice without racial justice. 
Make plans now to march with us on Sept. 20. More information about the Climate Justice Through Racial Justice March can be found here.  And please take a moment to fill out this form to let us know how you will help get the word out and build the march on Sept. 20. 
Finally, we urge you to make a donation today. Your financial support will make it possible to provide face masks and hand sanitizer, will let us get materials needed for art builds, and will help cover the other costs related to this effort. Please make a generous donation right now. 
We hope to see you on the streets on Sept. 20th. 
PCM-NY Admin Team
Leslie, Kei, Nancy, Marilyn, Laurel, and Allen
The Peoples Climate Movement-NY is proud to be one of the groups that initiated the Climate Justice Through Racial Justice March on Sept. 20. The other groups include: Action Corps NYC, American Indian Community House, Bronx Climate Justice North, Climate Reality Project NYC/Metro Chapter, Corporate Accountability, Extinction Rebellion NYC, March for Science NYC, North Bronx Racial Justice, Plus1Vote, Schaghticoke First Nations, Sustaining All Life - NYC, United Confederation of Taíno People
We invite your organization to co-sponsor and support us with these actions! We will be listing all co-sponsors on our website.
SpeakOut Youth Summit with Angela Davis and Mariah Parker - October 3 (SpeakOut - The Institute for Democratic Education and Culture)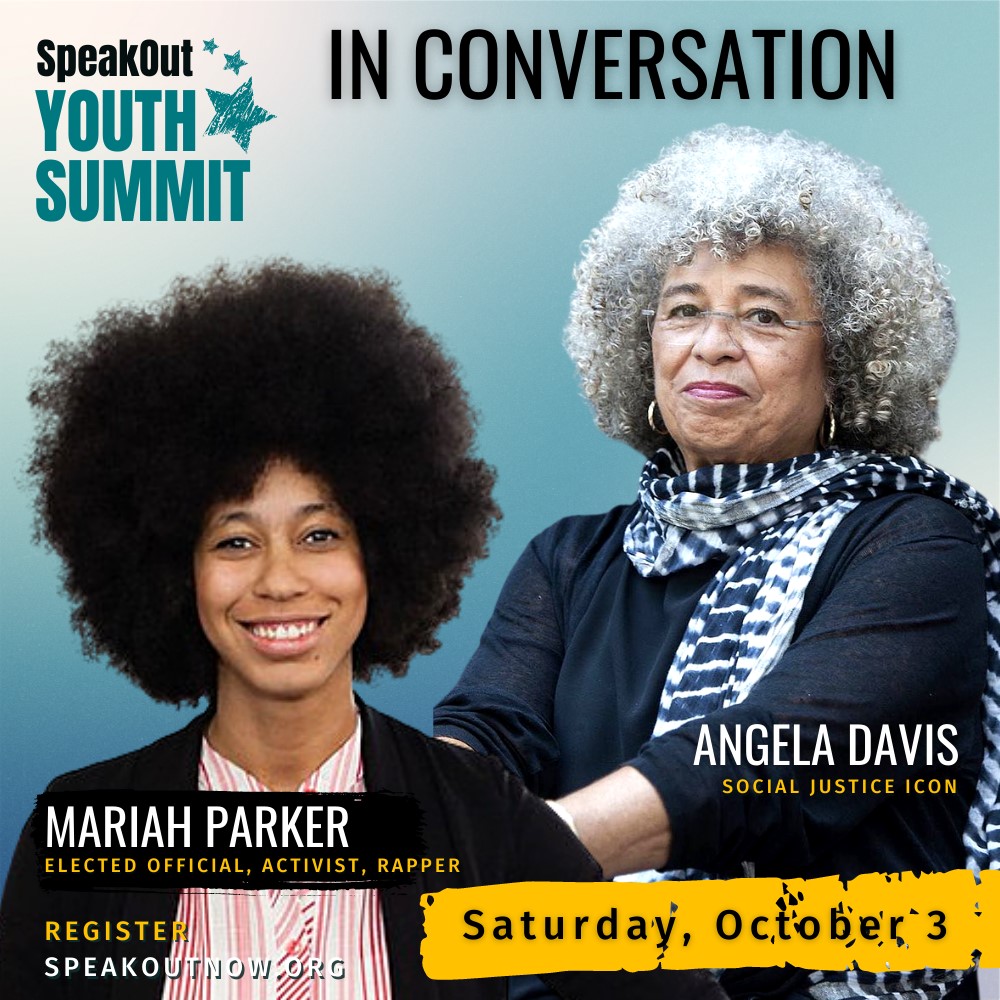 Registration for the SpeakOut Youth Summit 10/3:
These two scholar-activists come together, across generations, to talk about art, politics, and how we can change the world.
ANGELA DAVIS is an iconic activist, scholar, and author who, over the past 5 decades, has been at the forefront of our nation's quest for social justice. Her work as an educator – both at the university level and in the larger public sphere – has always emphasized the importance of building communities of struggle for economic, racial, and gender justice.
MARIAH PARKER is a queer hip-hop artist and PhD candidate in linguistics at the University of Georgia. She was also elected County Commissioner at age 26, as part of the new wave of young women of color entering politics nationwide.
We're coming together for an empowering day curated by SpeakOut - The Institute for Democratic Education and Culture.
A day-long virtual summit for students and young people (35 and under) on racial justice, leadership development, and radical imagination. Over 15 workshops, inspiring keynotes, panels, and performances.
Visit www.speakoutnow.org for more info.