Global Left Midweek - October 28, 2020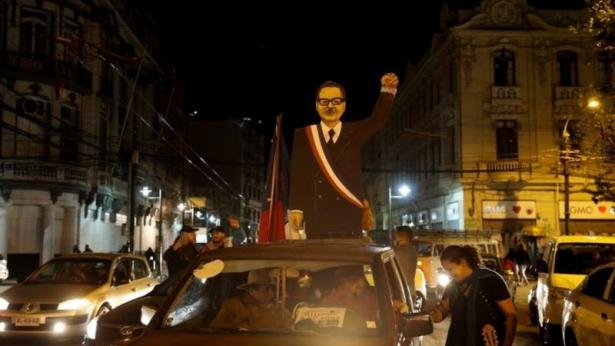 Chileans voted to reject the constitution of Pinochet, who overthrew President Allende, whose cardboard figure was paraded through the streets of Valparaiso,credit: Reuters
__________
Massive Protests Rock the World! 
Nigeria * Chile * Belarus * Iraq * Indonesia * Poland * Thailand * Israel * Costa Rica * Hungary
__________
India's Communist Movement: 100 Years

Tricontinental: Institute for Social Research
The communists have galvanised hundreds of millions of people into action in order to bring about far-reaching changes in society. 
__________
Armenian Leftists Choose Peace
LeftEast (Bucharest)
"Our struggle is not merely anti-war. It is a part of the broader anti-colonial, anti-capitalist and anti-fascist struggle waging worldwide. Unfortunately, this struggle has fallen upon us along with a full-scale war and a deadly pandemic."
__________
Center-Left New Democratic Party Takes British Columbia
Justin McElroy / CBC News (Toronto)
It was the first election in the province's history in which the NDP received the most votes and there wasn't a significant split between several centre-right parties. 
__________
Bolivia: MAS Leader On the Election
Adriana Salvatierra / Jacobin (New York)
"The emergence of conservative political projects has shown us that it is possible to go backward even with regard to conquests we may have considered irreversible."
__________
Vietnam's COVID Strategy
Tran Le Thuy / The Guardian (London)
Vietnam is one of the few countries in the world currently experiencing positive GDP growth. They don't need to choose between the economy and public health.
__________
Black Lives Matter in the Arab World
Ricard González / Equal Times (Brussels)
Equality activists in the Arab world are tackling a serious taboo in the public arena: racism towards Black people.
__________
Interview With a Hong Kong Activist
Promise Li and Ko Chi-kuen / Lausan (Hong Kong)
"Hongkongers tried their best to stand up against their oppressors and we have something to contribute to the history of mass movements, and for our own future movements."