Counting Continues in the 2020 Presidential Race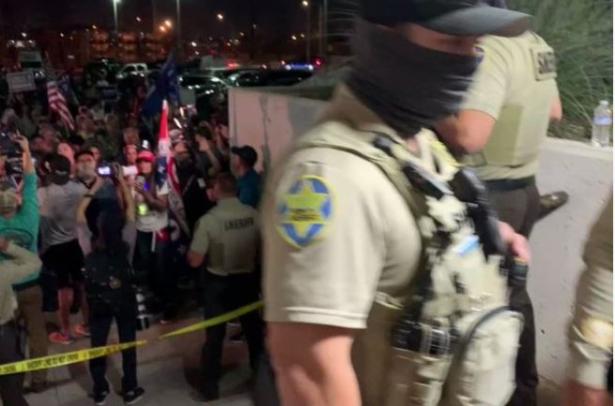 Maricopa County, Arizona, outside where ballots are being counter.,Photo: Briana Whitney, Phoenix CBS 5 reporter
Counting continues in the 2020 presidential race. There is a lot I'd like to say about what this election looks like, but I will wait until we have a final count. Remember: the fact that polling officials are taking time to count the ballots is a good thing, not a bad one. And there is no reason to think election officials are being anything but careful.
Apart from the vote tallies, there have been some important indicators in the past two days about our political system.

First of all, much of Trump's power during his term has come from his ability to dominate the public narrative through threats or rumors. From his insistence that he had hired detectives to investigate President Obama's birth certificate, through Secretary of State Hillary Clinton's emails and Hunter Biden's laptop, he has gathered power by warning that something untoward was looming just over the horizon. But yesterday, after all the hype about expected violence at the polls, there was remarkably little trouble.
Trump's attempt to control politics by controlling the narrative continued early this morning, as the Department of Justice sent an email to federal prosecutors telling them that, while the law prohibits sending armed federal officers to polling places, it did authorize them to monitor "voting fraud" by sending armed federal officers to the places where election officials were counting ballots. About a half hour later, Trump called a press conference in which he declared victory and claimed that the ongoing counting of legally cast ballots must be stopped. Counting the ballots, he said, was the Democrats' attempt to "steal the election."
But Trump's power is wavering, and he can no longer control the narrative. As he spoke, NBC News and MSNBC cut in to note that he was lying. After he finished, other media outlets also pushed back. On ABC News, Terry Moran said: "This isn't law, this isn't politics, this is theater," Moran said. "And let's be blunt: it's the theater of authoritarianism." Throughout the day, Trump tweeted angrily about the on-going counting of ballots; Twitter hid many of the tweets behind warnings that they were spreading disinformation.
Republican leaders have been surprisingly quick to turn on the president. Last night, the Fox News Channel was the first to call the state of Arizona for Democratic candidate Joe Biden which, according to Gabriel Sherman of Vanity Fair, led Trump to call Rupert Murdoch, who owns the Fox News Channel, to demand a retraction. Murdoch, who has said for months that Trump would lose the election, refused.
Today, Senate Majority Leader Mitch McConnell (R-KY) told reporters that "claiming you've won the election is different from finishing the counting." Former New Jersey Governor Chris Christie, who caught the coronavirus when he helped to prepare Trump for the first presidential debate, told ABC News, "There's just no basis to make that argument…. There just isn't. All these votes have to be counted that are in now." Among others, Ohio Governor Mike DeWine, Representative Adam Kinzinger of Illinois, Senator Marco Rubio of Florida, and Maryland Governor Larry Hogan, Republicans all, echoed McConnell and Christie.
Still, last night Trump's campaign sent out an estimated 9 million texts to his followers claiming the election had been stolen and asking for money for lawsuits to fight the apparent outcome. Today, Trump and his supporters flooded Twitter and Facebook attacking election results, prompting critics to urge the social media outlets either to take down the posts or to shut down the accounts spreading the disinformation.
The Trump team's tactic appears to have worked, though. Today, Trump supporters gathered outside the TCF Center in Detroit, a city that is 79% Black, to complain that there aren't enough Republican poll watchers to oversee the ballot counting, which they think is tilting artificially toward Biden. Tonight, supporters gathered outside Arizona's Maricopa County Elections Office, where election officials are counting ballots, yelling "count those votes!"
The officials are, indeed, counting the votes. And U.S. District Judge Emmet Sullivan in Washington, D.C., is following up on the failure of the United States Postal Service to comply with his order to make sure no ballot was left in a USPS plant on Tuesday. Sullivan made the order after civil rights groups learned that 300,000 ballots had been scanned into processing facilities but not out of them. After 5:00 on Tuesday, an attorney for the Justice Department told Sullivan that the USPS had its own system and thus would not comply with the order.
Today, Sullivan brought USPS officials into a hearing to explain their actions. The official in charge of handling ballot processing, Kevin Bray, told Sullivan that the lack of an outgoing scan on the ballots likely meant they had been removed by hand for faster delivery. He could not tell Sullivan how many ballots are still in the system. Sullivan ordered him to provide that data by 9:00 tomorrow morning. The hearing will resume at 11:00.
For his part, Biden, along with running mate Senator Kamala Harris, gave a brief statement today celebrating yesterday's demonstration of American democracy and praising the 150 million people who voted in the election despite the pandemic. "Here," he said, "the people rule." He explained that he was not claiming victory- yet- but that he and Harris expected that when the votes were counted, they would win. He called for Americans to lower the temperature and come together as a nation. "We are not enemies," he said, and "the presidency itself is not a partisan institution. It's the one office, in this nation, that represents everyone." He reminded listeners that counting ballots was at the heart of our democracy. "We the people will not be silenced. We the people will not be bullied."
Another news story dropped quietly yesterday while people were distracted with the election. The Inspector General of the Department of Homeland Security issued a report challenging Acting Director Chad Wolf's actions this summer when he sent law enforcement officers from the department to Portland, Oregon. The report challenged the deployments' legality on a number of fronts, and concluded that the issue is open, unresolved, and urgent. The Department of Homeland Security's top attorney, Chad Mizelle, an ally of senior White House policy adviser Stephen Miller, rejects the inspector general's findings.
Trump insisted in his campaign rallies that stories about coronavirus were simply attacks on his candidacy, and on November 4 we would no longer hear about the pandemic. Sadly, today brought us not to silence, but to a new record: the U.S. had more than 100,000 new infections today. At slightly before 7 pm EST tonight, the number was 104,004 cases. Infections are spiking, and public health officials expect the rise will continue unless we address it.
—
Notes:
Coronavirus cases exceed 100,000 in one day for the first time, even as the nation is split on the pandemic vs. the economy
Presidential election results 2020
News anchors forcefully call out Trump for prematurely declaring victory
Management Alert - FPS:  Did Not Properly Designate DHS Employees Deployed to Protect Federal Properties under 40 U.S.C. § 1315(b)(1)
Stephen Miller Ally Tapped as Top Homeland Security Attorney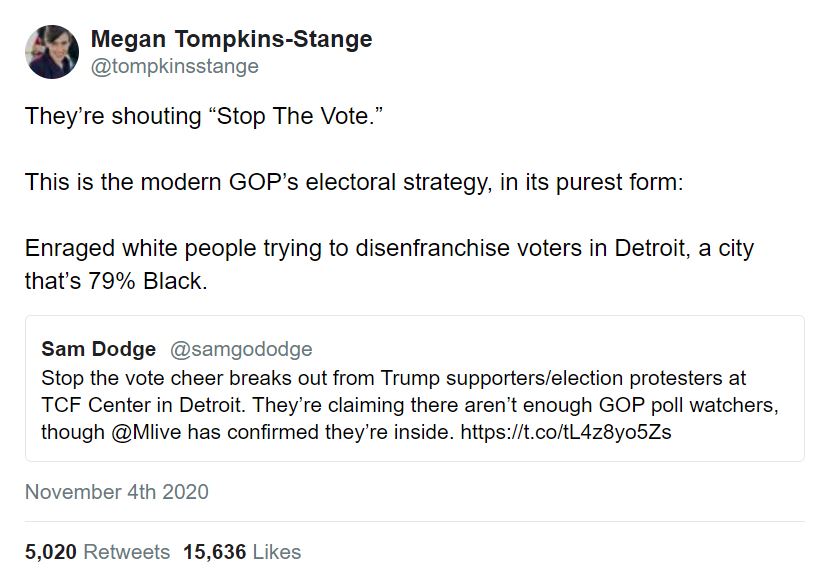 Biden Campaign Optimistic as 2020 Vote Count Stretches On (Updated)
Trump's Campaign and Family Boost Bogus Conspiracy Theories in a Bid to Undermine Vote Count
Republican Allies Break With Trump, Say Take Time to Count All the Votes
Pressure Rises On Facebook, Twitter To Rein In Trump As False Claims Spread

Biden: We Believe When the Count is Finished We'll Be the Winner
[Heather Cox Richardson is professor of ​history at Boston College and co-​host of NPR's politics and history podcast Freak Out and Carry On.
Professor Richardson teaches nineteenth-century American history at both the undergraduate and the graduate level. Her early work focused on the transformation of political ideology from the Civil War to the presidency of Theodore Roosevelt. It examined issues of race, economics, westward expansion, and the construction of the concept of an American middle class. Her history of the Republican Party, To Make Men Free (2014) examines the fundamental tensions in American politics from the time of the Northwest Ordinance to the present. She is currently working on an intellectual history of American politics and a graphic treatment of the Reconstruction Era.
Richardson started publishing "Letters from an American," a nightly newsletter that chronicles the 2019 Trump–Ukraine scandal in the larger context of American history]
]