Turning Arizona Blue: On the Ground in Maricopa County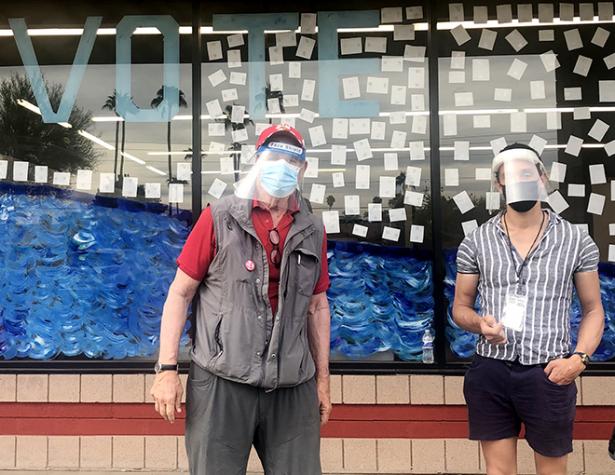 Peter and Nelson Perez-Olney masked up and ready for door knocking,
Choices about where to work the elections are always a mixture of strategic judgment and family circumstances. In 2016 my wife Christina and I decided to work for Hilary Clinton in Rockingham County New Hampshire. My mother lived at the time in North Andover Massachusetts right across the border. So election work trying to stop Trump was combined with time with Elinor Olney and a free place to stay. We correctly saw the danger that Trump posed and we worked alongside many others to successfully to flip New Hampshire to Hillary and a Senate seat to the Democrats. 
In 2018 it was time to flip the House of Representatives to put a check on Trump's dangerous agenda and actions. California CD 39 in Orange County was a perfect fit for me because I could commute 25 miles from El Monte, the hometown of Christina and where my mother-in-law lives.  My mother-in-law Ramona Pérez became the darling of the campaign as she baked lasagna-sized trays of oatmeal raisin cookies for volunteers who I coordinated.
Pre Covid 2020 I was headed to Tucson and Pima County because my 96-year-old cousin Sig Olney resides in Oro Valley north of Tucson. But Covid dictated a shift in plans and Maricopa County, where Phoenix is the county seat, became the destination for my Dump Trump activity this year.

Arizona with its 11 electoral votes was designated a "Tri-Fecta" state. We had the opportunity to flip a historic red state to blue, a Senate seat to Democratic control and gain a majority in the state legislature – crucial to redistricting post census. Maricopa County is the big prize in Arizona. Over half of the state's residents, 4.9 million, reside there. No Democrat since Harry Truman in 1948 has carried the county or the state. In 2016 Trump carried the County by a margin of 45,000, and it was the largest county in population nationwide that he won in his election triumph. But Maricopa is changing. The population is 31% Latinx. Labor, community and immigrants' rights groups battled to rid the County of racist Joe Arpaio who delighted in humiliating Latino immigrants in his 24 years as Sheriff. Organizations like LUCHA (Living United for Change in Arizona)) played a major role in the winning battle to dump Arpaio in 2016 and were geared for election 2020. The fact that Hotel Employees and Restaurant Employees (HERE) Local 11 based in Los Angeles had absorbed the union's hospitality members in Arizona and were committed to working the Arizona election was a good sign for activists interested in achieving the Trifecta. And in the midst of the pandemic HERE announced that it was deploying staff and members to key swing states like PA, FLA, NEV and AZ to work the doors. This fact alone was what drew me to their operation.
The HERE was the only labor union "on the doors". Direct discussions with voters to commit them to candidates and more importantly to commit the supporter to actually vote by mail, early or on Election Day are crucial to winning. No other national union in America committed to going to the doors of voters. I think this is one big mistake that labor made even factoring in the pandemic. Voters in Maricopa County welcomed us at the doors. 
HERE ran a program with strict health protocols – daily temperature checks and pre-screening. We wore masks and visors appearing often to look like medical personnel or riot police. All briefings were carefully conducted outdoors and partners riding in cars looked like Uber fares as the driver sat in front with a partner in the back, windows open and AC on in 95-degree heat. HERE did two months of doors without casualties. My wife quarantined me when I returned from Arizona and I tested negative for Covid at Kaiser.
We were assigned 80 doors a shift working for up to eight hours into the evening. Our job was to first ID support then commit supporters to vote immediately by mail or to commit to a plan to do early voting prior to November 3. A plan was recorded with the canvasser then we followed up with a reminder text: 
"Miguel I talked with you yesterday about voting. Hope you were able to deliver your ballot! Thanks "Peter for Biden"

"We did it this morning. Thanks for following up! Two more for Biden", Miguel
Privacy and anonymity were not an issue. As in union organizing, the key is public commitment and execution. It belies all the American norms of respecting the privacy and sanctity of secrecy in voting. This aggressive approach may rub some the wrong way, but it wins union representation elections and it is key to winning political elections. I believe that if some of the other major unions with strong organizing programs had hit the doors in swing states our margins would have increased considerably. Fortunately we have hung on for a squeaker, but a squeaker victory due to forces like HERE, LUCHA and Seed the Vote an activist organization from California, which flooded battleground states with committed volunteers. Seed the Vote mobilized over 7000 volunteers nationwide and deployed them with partners in Arizona, Pennsylvania and Florida.  In Georgia the group Stacy Abrams' group "Fair Fight" may well have flipped the state for Biden and forced Senate races into runoffs (one Senate seat was a special election).
My son Nelson, an IBEW union electrician, decided to join me on this mission. He and I made the 12-hour trip from SF to Phoenix in his car on October 21. Without his attention to detail and his energy I would not have been able to handle the grueling regimen. He was so inspired by the program on the ground in Maricopa County that he decided to stay beyond October 31 and work the doors through Election Day. He committed to returning to his local and teaching his sister and brother union members the canvassing techniques that he learned in Arizona.
Our turf in Maricopa County was the City of Chandler with about 250,000 inhabitants in the southeast corner of the County. It is home to the largest domestic manufacturing facility of Intel where prototype computer chips are fabricated.  The city has a surging Latinx population of Mexican immigrants accounting for about 30% of the population.
We found ourselves one day in neighborhoods that were trailer parks with large Latinx communities. The next day we would sneak through automatic security gates to penetrate neighborhoods that had luxury homes on golf courses. We found Biden supporters in both neighborhoods largely because we had lists of Democratic registered voters and newly registered voters. I had a retiree testify to his support for Biden fresh from the golf course where he had shot an 86, a pretty fair handicap for a senior. One of the interesting features of many neighborhoods was the battle of the yard signs. 
My favorite hand written yard sign was: Flush the Orange Turd on November 3rd!". Trump signs and flags were always the biggest and most prominent however, and we ran into a three-mile-long car and truck caravan for Trump on Sunday, October 25th.
In the end our work contributed to the flipping of Maricopa County (plus 46,000 for Biden) and thus the whole state of Arizona by 18,713 votes (as of 8:35 PST 8 Nov). We flipped the Senate seat aiding ex-astronaut Mark Kelly to victory. Our efforts to complete the Trifecta were not successful however as the Republicans continue to hold the state legislature. 
Perhaps the biggest victory beyond individual candidates was the victory for Proposition 208, which taxed the rich to raise money for teacher salaries and the Arizona schools.
The heroes of this election season are the millions of citizen volunteers throughout the country who texted, phoned and post carded, but perhaps the biggest contribution nationally was the work of the beleaguered HERE which lost 80% of its members in the hospitality industry because of the pandemic. They bet all their remaining resources on working the doors to great effect in Nevada, Arizona and Pennsylvania. Susan Minato, Co-President of HERE LA local 11 summed up the union's work in Arizona:
"UNITE HERE Local 11 has been running political campaigns in Arizona since 2007. During this pandemic, this cycle has been no exception. We knocked on 800,000 doors, made 2.5 million calls, and talked to 250,000 Arizonans. More important than any demographic changes, it is the face-to-face conversations with voters that has made Arizona turn blue in 2020." 
There will be extensive commentary on the left in the coming days about the fact that the Biden campaign and program did not offer anything in the area of economic or racial justice but rather a "Return to Normalcy".  This is no doubt true and the passage of a $15 minimum wage in Florida where Biden lost is symptomatic. However once Biden became the nominee the die was cast and aggressive campaigning and support for the Biden/Harris ticket was necessary to "Dump Trump". Trump's utter disregard for public health and safety meant that he was free to run an aggressive ground game with "spreader" rallies and car caravans. Labor's failure beyond HERE to get on the doors early and often was a huge hole in our operation and accounts for some of the tightness of the vote in many states. Going forward …….
Georgia on My Mind:
Next stop is Georgia. Let's make sure that Biden is not tempted to "Reach Across the Aisle" to make deals with Mitch McConnell. January 5th in Georgia we will have the chance to flip two Senate seats and create a 50-50 Senate with Kamala Harris casting the deciding ballot! All eyes are on Georgia, and all hands need to be on deck to flip both those seats. Georgia activists may not want Yankee carpetbaggers, but they will want texting, phoning, post carding and money. And hopefully this time labor unions will all unite to bang the doors. If volunteers for the doors are needed, my bags are already packed!
Peter Olney is retired Organizing Director of the ILWU. He has been a labor organizer for 40 years in Massachusetts and California. He has worked for multiple unions before landing at the ILWU in 1997. For three years he was the Associate Director of the Institute for Labor and Employment at the University of California.