labor
Why Teamsters Failed to Deliver in 2020 Election
President-Elect Joe Biden addresses Teamsters at the 2019 Presidential Forum.,
Almost a month out from election day, it is apparent that Teamsters-endorsed Joe Biden will be the next President of the United States. While the former Vice President won the popular election by over 6 million votes, the Democratic Party failed to win a majority in the Senate and barely held on to its majority in the House of Representatives. These results will halt the Trump administration's aggressive attacks on labor — but it also means our core political goals, saving our pensions and expanding the right to organize, are likely left dead in the water for at least another two years.
Did union members themselves favor the union-endorsed presidential candidate? According to the AFL-CIO, its post-election survey shows "union members went 58 percent for Joe Biden and Kamala Harris." Exit polling from Edison Research, reported in many mainstream news outlets, show 57 percent of voters from union households for Biden nationwide, but with Trump winning a majority of them in Pennsylvania and Ohio. It's unclear how Teamsters voted in the 2020 election. Pre-election survey data collected by the IBT was never released, but anyone working at UPS, YRC, or other major Teamster employers would tell you that the membership was sharply divided on whether or not they supported Trump.
What Did The Teamsters Do?

What we do know is that Teamsters chose three issue priorities on an internal poll sent to all active members: 1) protecting our pensions, 2) enhancing the right of workers to organize, and 3) negotiating trade deals that benefit workers instead of shipping their jobs away. These are important issues that not only matter to Democrat, Republican, and Independent Teamsters, but to the working class as a whole.
The IBT built a pledge around these issues, encouraging every candidate to sign on and record a video explaining how they would keep their promises. Most candidates in the Democratic primary signed the pledge and submitted videos to the Teamsters Vote 2020 website. A highlight of IBT engagement in the 2020 presidential election was the Presidential Forum that took place in Cedar Rapids, Iowa on December 7, 2019 [see it all on video here], attended by hundreds of members and officers from across the country. President Trump declined to sign the pledge, submit a video, or participate in the forum event.
Members of Local 705 at the Teamsters Presidential Forum in 2019.
Like most unions, the Teamsters sat out the rest of the Democratic primary process even when the solidly pro-union Vermont Senator Bernie Sanders was a real threat to win the nomination. The presumption was that all unions would rally behind the eventual Democratic nominee and ensure that the Senate be wrested from the control of the Republican majority. Only then would we have a chance at passing the Butch Lewis Act, the Protecting the Right to Organize (PRO) Act, and making pro-labor appointments without Senate obstruction.
Unfortunately, there was little to no member engagement from the IBT following that December event in Iowa. The General Executive Board of the IBT endorsed Biden in August 2020 -- well after the primary had been decided, but with crucial months ahead to turn out the vote. Even if it was not remotely possible to unite every union member around the Biden-Harris ticket and endorsed down ballot candidates, much could have been done to convince the many disengaged members that their vote does matter and turn them out to the polls. Even with the highest voter turnout in over 100 years, roughly one out of every three eligible voters did not participate.
Can We Blame It On Covid-19?
It is undeniable that the Covid-19 pandemic negatively impacted everyone's ability to campaign from April to November. Many locals were understandably focused on how to protect not only our members on the frontline, but also those who were laid off and effectively locked out of work for the unforeseeable future.
No union was harder hit than UNITE HERE. Over 90 percent of their 300,000 members -- casino and hotel workers, airline catering and retail, and the like -- were laid off for most of the year. Instead of simply hanging on and hoping for survival, their union leadership employed 1,700 of their members as canvassers and sent them to the battleground states of Arizona, Nevada, Florida, and Pennsylvania. They worked with public health professionals to ensure door knocking and direct voter contact could be done safely, utilizing extensive PPE and training.
Due to their member canvassers and volunteer phone bankers, UNITE HERE delivered impressive results that arguably saved all union members from four more years of an employer-dominated National Labor Relations Board. The numbers reported by UNITE HERE speak for themselves: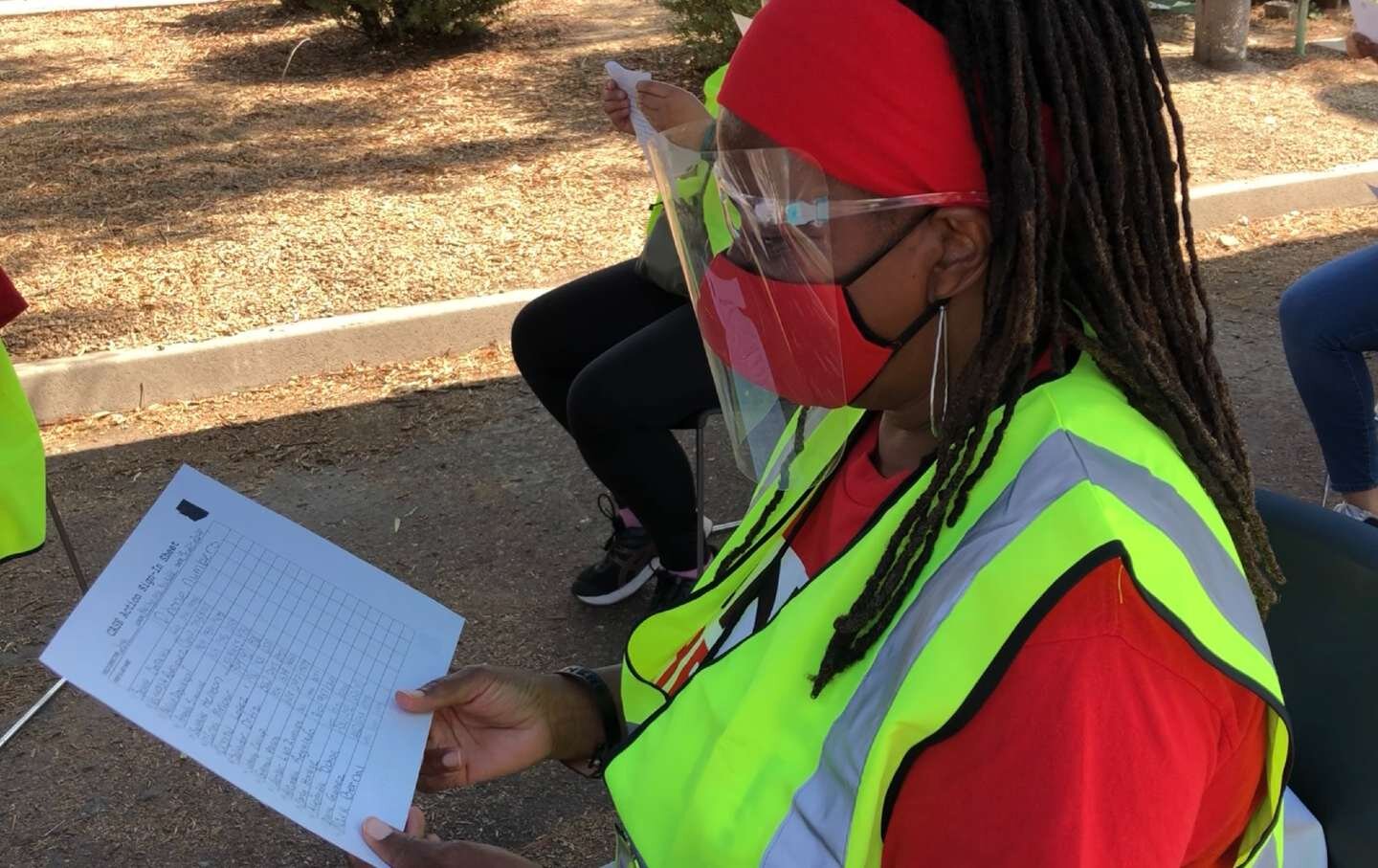 A UNITE HERE union member reviews a block walking list in Arizona.
3 million doors knocked in Nevada, Arizona, Pennsylvania, and Florida

462,135 infrequent voters pledged to vote for Biden-Harris via a conversation

120,775 of voters spoken to by a UNITE HERE canvasser had not voted in in 2016 in their current state
IBT General President James P. Hoffa declared that, "the stakes in the 2020 election could not be higher for working people" -- but that was not at all reflected in what was committed. How was it that the Teamsters, a union more than four times the size of UNITE HERE, accomplished far less?
Teamsters DRIVE is Stuck in Neutral
We have identified three core reasons preventing us from having a more effective Teamsters political program. Overcoming these problems would dramatically improve the lives of our members and our prospects for growth. Considering that major battles loom on the horizon, like recovering from UPS givebacks and organizing Amazon, we will need all the advantage we can get from more favorable political terrain.
The first reason is the decentralized nature of our union. Unlike UNITE HERE, the IBT has little power to impose tasks onto joint councils and locals. In some regards, this allows us a more democratic and member-led union and is not at all something we would want to scrap. However, the realm of national politics (as well as national contract bargaining) is one that requires much greater coordination between all levels, from the rank and file to the very top.
While the DRIVE program (Democrat, Republican, Independent Voter Education, the Political Action arm of the union funded by voluntary member contributions) funneled money to campaign coffers and voter engagement largely outside the bounds of our membership, it has largely been ineffective when it comes to politically educating and mobilizing Teamsters. DRIVE also failed to take good models of member engagement and generalize them on a national level.
Local 25 in Boston, Local 89 in Louisville, and Local 344 in Wisconsin engaged in the elections in a more serious way, putting boots on the ground to turn out the vote for friends of labor. They did so on their own initiative, without being a part of a larger political strategy that could only come from the International. Most locals lack political staff or even a committee that functions beyond a rubber stamp for campaign donations. There needs to be enthusiastic guidance and support for members and officers who wish to develop local programs and more effective committees.
The second reason is the contradictory and unclear way that Hoffa has related to the Trump presidency. It must be admitted that many Teamsters responded vigorously to Trump's promise of jobs and the revival of manufacturing in his 2016 campaign, and were not swayed in 2020 by his record of failure on both counts. The fact that tens of millions of people lost their jobs and healthcare this year was not inevitable, but the product of a White House that downplayed the severity of the crisis in the most critical early stages and failed to offer adequate healthcare and unemployment subsidies for a successful lockdown.
Between 2016 and 2020, the IBT did little to expose the failures of the Trump administration to live up to its "pro-worker" rhetoric. Hoffa was even publicly gleeful over the prospects of a Trump presidency in his first week, telling CNBC "he's only been in since Friday and look what's happened [...] he's done amazing things." Hoffa also supported Trump's tariff program that led to the loss of 300,000 jobs across a variety of sectors, according to Moody's Analytics.
In 2019, during the height of Trump's economic numbers, the Teamsters still managed to lose 65,000 members. This was the largest decline in membership for our union in the last 20 years. One can only guess about the reasons without access to IBT membership data, but it is likely the 2018 Janus v AFSCME decision resulted in public sector division losses. The Supreme Court decision, effectively making all state employees "right to work," was made possible by Trump's appointment of pro-employer Judge Neil Gorsuch. Had the Republican Party managed to keep the White House and gain the House of Representatives in 2020, it is likely unions would be fighting even more devastating national "right to work" measures for the private sector -- legislation that Trump promised to sign if it came to his desk.
The third reason, another uncomfortable truth to admit, is that the divisions between the rank-and-file and the International Union have never been greater. Every time our union fails to fight concessions or to enforce our contracts, this undermines member identification with political programs. If Hoffa and his ilk argue for supporting employer-friendly contracts, why should a Teamster listen to their advice on political candidates? Why would a UPS Teamster vote with the union, when their union ignores membership votes on national contracts?
Of course, we believe there is more than enough reason to vote out anti-labor politicians no matter how much reform is needed within our union. But reforming the way our union operates is an essential component of building an effective political program. When members are directly involved in handling grievances, running contract campaigns, and organizing non-union workplaces, they are more likely to understand through experience how much politics affects our ability to survive as a union. Too many officers see expanded engagement and direct member involvement as training their future opposition, rather than reinforcing the fundamental union values of teamwork, solidarity, and democracy.
Teamsters locals can prove in practice what a politically involved union we can be. The Senate run-off elections in Georgia this January will decide whether or not we will have a Democratic majority in both houses of Congress. Any honest Teamster will tell you that we cannot dream of passing Butch Lewis, the PRO Act, or the HEROES Act without this. If locals and joint councils commit to educating their members on the importance of these elections, and put boots on the ground to win the state of Georgia for working people, we can make a lasting impact.
Ryan Haney is a truck driver and member of Local 745 in Dallas, Texas. Sean Orr is a package car driver and member of Local 705 in Chicago, Illinois. The views expressed here are those of the authors and do not reflect the opinion of any Teamster local or official committee.
In a follow-up piece, they will discuss the post-Trump political terrain and how the next IBT leadership could re-build a political program that delivers for our members and all working people.
The Teamster Rebel is a print and online newsletter written by and for rank and file Teamsters across Texas. Our publication connects union brothers and sisters across divisions of employers, crafts, locals, and regions — to share our triumphs and challenges in the daily battles on the shop floor, and to offer a platform for fellow Teamsters who submit letters, articles, pictures, and videos.
To stay in touch, you can follow us on Facebook and sign up for our e-mail newsletter.