Leaders Need to Build Peer Accountability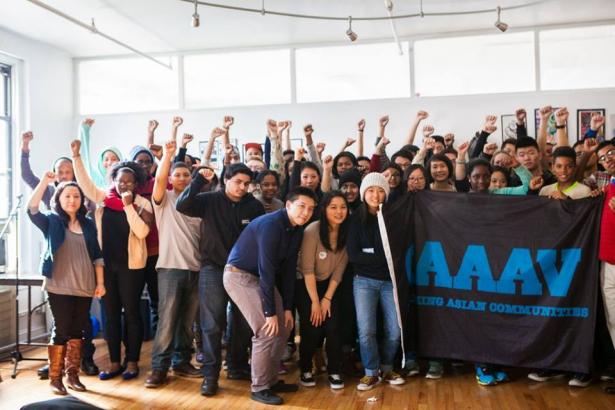 AAAV Organizing Asian Communities works to build grassroots community power across diverse poor and working class Asian immigrant and refugee communities in New York City. We were founded in 1986 by Asian working class women.,CAAAV
The U.S. left has had a complicated relationship with leadership, at least for the last 60 years or so. New Left and feminist spaces were often anti-leadership, rejecting the top-down anti-democratic and bureaucratic leadership models they had seen in older left organizations and unions. But this could lead to dysfunctional dynamics, such as those Jo Freeman describes in her classic article "The Tyranny of Structurelessness." Other left groups, such as many that adopted democratic centralism, were overly hierarchical.
Reform movements exist in some of unions, pushing for greater rank-and-file participation and control. And with the rise of a large non-profit social justice sector, we have seen some organizations implode with internal strife over who leads and how.
The right wing has a strong infrastructure dedicated to training leaders for the conservative movement, but for the most part, they do not center the values of democracy, equality, inclusion and participation that are key to many left and social justice groups.

Among progressive and left organizations, more people are beginning to reflect on what makes for effective and healthy leadership. We are pleased to open a discussion amongst community and labor organizers who are thinking about leadership and sharing lessons learned. We begin our dialogue with this contribution from Cathy Dang-Santa Anna, former Executive Director of CAAAV Organizing Asian Communities, and will continue next week with an article from Kathleen Mulligan-Hansel, Co-Director of the National Labor Leadership Institute run by the AFL-CIO and The Worker Institute at Cornell ILR School. -Organizing Upgrade
To build a strong and durable left, healthy leadership and process is necessary. After 15 years working as a community organizer and five of those years as an executive director, I continue to  see some leaders make the same mistakes I made – mistakes it took me years to learn how to avoid.
Some leaders will create teams and supervise, but fail to hold people accountable because they want to be liked, Others may expect respect and expect people to automatically listen to directives (though I do believe that if you choose to work at an organization with hierarchy and structure, you have to follow the structure.)
It took me five years to learn how to build collective and peer accountability into the culture of an organization. Doing so took a lot of work and I made many mistakes, but it was worth it in the end. When accountability can be built, it makes for a stronger organization, and if it's successful, leadership isn't so lonely and exhausting.
Several practices helped me build collective and peer accountability:
Creating a mission-driven sense of purpose: I created a mission-driven sense of shared purpose and affirmed that each person had a role in working towards that purpose. By the end of my tenure as a director, I would frequently ask people to restate the mission before planning meetings or at retreats. I had to pull people out of their own individualism and individualistic needs to see the broader picture.
Actively building trust: Trust had to be actively built. Time, energy, and space was intentionally created for trust building. Instead of having just a working retreat as we did every November, I organized a mid-year retreat with minimal work. We spent time on an obstacle course, cooked together, and did light evaluation work. Resources were also spent on team bonding, including staff dinners and team building activities outside of work.  Trust was also built through doing the work together. I designed and led a two-week organizing blitz where organizers had to go through trainings and all work on the same organizing blitz. They crossed over to each other's organizing programs so that we operated more as one cohesive organization.
Understanding that conflict can be generative: I had avoided conflict initially as a director, but shifted my own understanding on conflict and came to believe that conflict was generative. Working with a Generative Somatics coach, resources were put into restorative mediation between team members who had conflicts. However, the mediation required the commitment from the individuals involved to actively challenge themselves. Restorative practice requires the parties involved to all shift and grow, which didn't always work. When it didn't, I had to let people leave. I showed my own vulnerability in a time of organizational conflict, took accountability, committed to creating different ways of moving us forward, and followed through on my commitments to the team. Not every organization will commit resources to this level of restorative practice, and it should not be taken for granted.
Building a practice of feedback and self-reflection: Failure to provide timely feedback and lack of active self-reflection were problems I was seeing among the team. At our mid-year retreat, our Interim Deputy introduced a Crit/Self-Crit tool created by FIERCE many years ago, which encouraged the team to provide direct feedback to each other and to self-reflect on the feedback. However, we were only able to use the Crit/Self-Crit tool after a day of team building on the obstacle course so that they knew the feedback came from a place of good intention and trust. We centered this tool on how feedback and self-reflection was important to work towards our mission, vision, and goals. This tool was created from Mao's Criticism/Self-Criticism. Self-criticism was important for me to see in the team because it is only through acknowledging one's strengths and shortcomings that one becomes more effective.
Introducing Generative Somatics: Generative Somatics coaching was provided to each team member and they were given at least 10 sessions. I reiterated that the coaching was professional development for the purpose of creating stronger organizers to work towards the mission. I wanted to prevent us from absorbing the coaching for solely our individual selves. It was one coach who worked with the whole team so that she was able to help shift everyone's practice to better fit into one unified team.
Encouraging political struggle: We had to struggle politically. Some of the articles that we read on staff time and discussed together that were helpful in addressing feedback, self-reflection, and individualism were Grace Lee Boggs' Organization Means Commitment, Mao's Combat Liberalism, On Contradiction, and Criticism/Self-Criticism. We had to struggle politically in a shared space and talk through disagreements over lunch or during a set time we could find. We attempted the readings every month or every other month over the course of a year. While other political topics were led by some on the team, I led the reading sessions on the writings from Grace Lee Boggs and Mao because I had to set a direction for us. I asked open-ended questions and made time for reflections on the pieces during the sessions. Not everyone was on board with all the content we read, but I had to bring us into greater alignment.
Lastly and most importantly of all, this process for building peer accountability does not work for everyone. It is important to find the right people for the team, people who will honor the collective agreements, can center the mission, organization, and team before themselves, and will refrain from engaging in toxic behavior. I had to let people leave who weren't honoring our shared commitments and organizing goals or only saw their own needs and not their team's or teammates'. It required people who could self-reflect on how their actions or inactions affected their team, the membership, and the work. I know some have a hard time with this concept, but it is absolutely okay for people to leave an organization.  None of building collective accountability was clean and easy: it was all very messy and sometimes I wanted to give up.
The process I laid out required a lot of financial resources, money we didn't have as an organization when I first started as the director. It took me four years to raise enough funding to pay for coaching for the staff, for a mid-year retreat where we could spend money on an obstacle course, and for hiring an Interim Deputy Director whose sole focus was internal development. Organizers cannot expect coaching or team building activities that can be costly, because not every organization will have the funding. For that, leadership and organizations that take this level of investment cannot be taken for granted. I had to shift from the mindset of operating in scarcity to operating with abundance, which was extremely hard for me because I come from a working-class family who experienced extreme poverty, war, and refugee resettlement.  I know this is true for many leaders who come from working-class families, which is even more the reason we have to support them. (Honestly, I had to erase how my mom raised me to save and not spend any money.)
I made many mistakes with the makeup of the team on the way to building a powerful team that was able to practice peer accountability. By the time I realized and learned all of this, I was exhausted and had no more patience and energy. I wish I knew all the skills I have now early on in leadership, but it is only through learning these lessons that we grow to become more effective. And there is nothing wrong with making leadership mistakes. It's all about how we acknowledge our mistakes and take action, because our protagonism is powerful.
Cathy Dang-Santa Anna has organized in labor and community-led development for nearly 15 years with Restaurant Opportunities Centers United, the Retail Action Project, Asian Pacific American Labor Alliance, and other grassroots organizations in Los Angeles and New York City. She served as Executive Director of CAAAV Organizing Asian Communities for five years, and now works as a Senior Advisor with the Center for Empowered Politics (CEP) and the CEP Education Fund. She was a 2019-2020 Soros Equality Fellow.