Global Left Midweek - March 10, 2021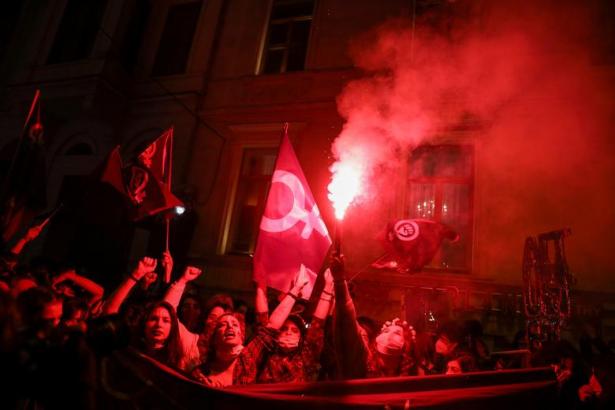 International Women's Day 2021, Istanbul. Photo,Reuters
International Women's Day 2021

Photos  / Reuters (London)
Alexandra Kollontai on IWD / Socialist Project (Toronto)
Movements to Watch  Gabrielle Debinski and Alex Kliment / GZERO (New York)
Abortion Rights in Latin America  Katy Watson / BBC (London)
Manifesto from Romania  / LeftEast (Bucharest)
Video: Poland  Włodek Ciejka / transform! Europe (Vienna) 
South Africa  Omogolo Taunyane / Al Jazeera (Doha)
Myanmar  Macarena Aguilar and Maggi Quadrini / openDemocracy (London)
__________
Paris Commune at 150
Michèle Audin and Ethan Earle / Rosa Luxemburg Stiftung (Brussels)
Why the Paris Commune was and remains important, for the construction of the French state as well as the legacy of the international Left.
__________
Podcast: Rosa Luxemburg and the Challenge of Political Strategy
Johanna Bussemer, Lea Ypi, Michael Brie, Joshua Wavrant / Rosa Luxemburg Stiftung (Berlin)
Part of the online symposium "Rosa Luxemburg at 150: Revisiting Her Radical Life and Legacy" hosted by the Rosa-Luxemburg-Stiftung and the International Rosa Luxemburg Society.
__________
Sudan's Second Wave
Sara Abbas / Red Pepper (London)
The Sudanese revolution has been unique in its depth and scope. Yet the path to progress remains fraught with obstacles.
__________
Kosovo: Big Win for the Left
Serafina Bytyqi / LeftEast
Kosova's general election on the 14 February ended with a ground-breaking victory for the left-wing party, Movement for Self-Determination (LVV). LVV won the elections by a massive landslide, capturing 48 % of the electorate.  
__________
Violent Protests in Senegal 
Video  Leanne de Bassompierre / Bloomberg News (New York)
Opposition in the Streets  / Independent (London)
__________
Lula Cleared and Ready to Run
Igor Carvalho / Brasil de Fato (São Paulo)
A Brazilian Supreme Court ruling restores Lula's political rights, allowing him to run in next year's presidential election.
__________
Tunisia's Interrupted Revolution
Tharwa Boulifi / Newsweek (New York)
In February, demonstrators backed up by the General Tunisian Union of Work (UGTT), one of the most powerful political organizations in Tunisia, demanded the fall of the regime and an end to police brutality. Protesters reported being brutalized by the security forces.
__________
Ecuador Election Debate: Two Left Parties or One? 
Arauz and La Unión por la Esperanza  Denis Rogatyuk / Jacobin 
Pérez and Pachakutik  Paul Amar et al. / New Politics (New York)
__________
India: Vijay Prashad on the Farmers' Fight
Vijay Prashad / Peoples Dispatch (New Delhi)
With elections coming up in several Indian states, what impact will the farmers' protest and the government's response to them have on the correlation of forces?