Asian Americans Have Been Verbally and Physically Attacked, Shunned During Pandemic, Study Shows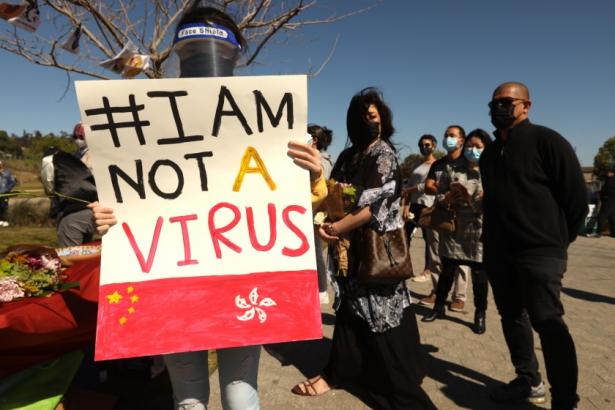 A rally against anti-Asian violence at Los Angeles State Historic Park on Feb. 20. The rally was organized partly in response to the fatal assault of Vicha Ratanapakdee, an 84-year-old immigrant from Thailand, in San Francisco., Genaro Molina / Los Angeles Times
Asian Americans Have Been Verbally and Physically Attacked, Shunned During Pandemic, Study Shows
By Anh Do
March 16, 2021
Los Angeles Times
Since coronavirus shutdowns began last March, thousands of Asian Americans have faced racist verbal and physical attacks or have been shunned by others, according to a study released Tuesday.
The report by Stop AAPI Hate documents 3,795 racially motivated attacks against Asian Americans from March to February, noting that the number is likely a fraction of the attacks that occurred, because many were not reported to the group.
On Tuesday, eight people, including six Asian women, were shot to death at massage parlors in the Atlanta area.
Authorities said Wednesday that the attacks "did not appear to be" motivated by race. The alleged shooter told investigators that he had a "sexual addiction" and wanted to get rid of the temptation that the establishments represented.
But rights groups stressed that the broader context of recent hate crimes and harassment of Asian Americans should not be ignored.
Stop AAPI Hate formed last March in response to attacks related to the perception that Asians were responsible for the coronavirus because of its origins in Wuhan, China. The group did not collect data in previous years to show whether attacks against Asians have increased during the pandemic.
About 68% of the anti-Asian attacks documented in the study were verbal harassment, 21% were shunning and 11% were physical assaults.
About 9% of the attacks were civil rights violations such as workplace discrimination or being refused service at a business. Nearly 7% of the attacks were online harassment.
Most of the incidents occurred at businesses or on public streets.
More than two-thirds of the attacks in the study were reported by women.
More than 40% of the attacks were reported by Chinese Americans, 15% by Korean Americans and 8% by Filipino Americans.
"We ask policymakers at the local, state and national level to partner with us on implementing community-based solutions that will help ensure Asian Americans have equal rights and access to opportunities," said Manjusha Kulkarni, a co-founder of Stop AAPI Hate and executive director of the Asian Pacific Policy and Planning Council.
The report includes descriptions of the incidents provided by victims.
At a subway station in Annandale, Va., an Asian American woman was on an escalator when a man repeatedly punched her in the back and followed her, fake-coughing and shouting "Chinese b—."
In an example of shunning, a ride-hailing driver in Las Vegas said to an Asian American customer, "Another Asian riding with me today, I hope you don't have any COVID," while leaning away from the client. The driver also told the person not to request any more rides from anybody.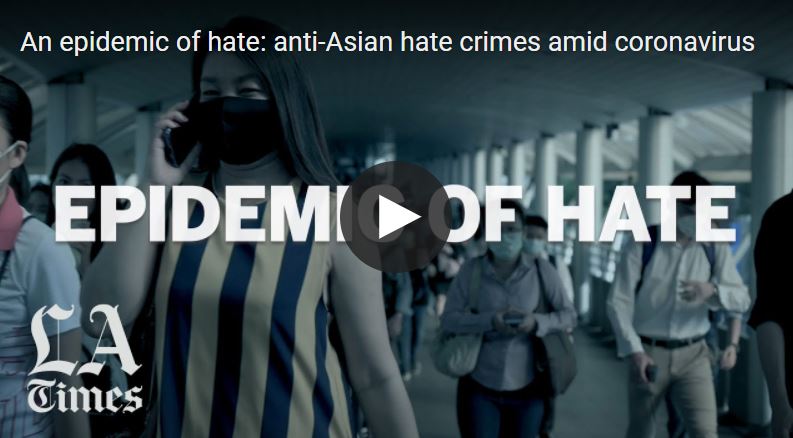 Watch here
In August, Hong Lee was waiting for tacos at a restaurant in the Pico-Union area of Los Angeles when a stranger approached her, handed her his business card and asked her to lunch.
She explained that she was married and declined.
Then, she said in an interview with The Times, "the man started screaming at me, telling me to go back to Asia, followed by two minutes of calling me every single derogatory word you could imagine."
Lee, a Vietnamese American nonprofit worker in her mid-30s, remembered feeling cornered by the man and "asking for help, but no one stepped up."
Finally, an employee asked the man to move to the other side of the room. He collected his food and walked out, Lee said.
A police officer refused to take an incident report because "he said, 'This happens all the time and there's nothing I can do,'" she recalled. "He said there's no crime here."
Lee, a mother of two, talked with her Korean American husband about whether to publicize what happened to her. She decided to encourage others "not to take this quietly."
Her video of the incident, which she posted on Instagram and Facebook, went viral. She now volunteers as an ambassador for Los Angeles County's "L.A. vs. Hate" campaign, connecting victims to social services and mental health resources.
She also reported the incident to Stop AAPI Hate.
"It's in our culture just to keep our heads down, and we don't want to talk about things that humiliate us," she said. "But why do we need to be passive?"
Violent attacks against Asian senior citizens in the Bay Area and New York City have intensified the public outcry against anti-Asian hate crimes, though it is unclear whether many of those incidents were racially motivated.
"We need to reckon with both the historical and ongoing impact that racism, hate and violence are having on our community, especially on women, youth and seniors, who are particularly vulnerable," said Cynthia Choi, a co-founder of Stop AAPI Hate and co-executive director of Chinese for Affirmative Action.
Choi and others appealed to the public to report hate attacks.
Russell Jeung, a Stop AAPI Hate co-founder and professor of Asian American studies at San Francisco State University, referred to former President Trump's use of the terms "kung flu" and "China virus."
Hatred against Asian Americans should not "be a legacy of COVID-19 or the last presidential administration," Jeung said.
About 4 in 10 Asian Americans said people have acted uncomfortable around them because of their race since the pandemic started, and 31% said they have been subjected to racial slurs or jokes, according to a Pew Research Center study.
In Los Angeles, hate crimes against Asians and Pacific Islanders surged in 2020, reflecting a national trend. Advocates and law enforcement say many more incidents occur than are reported.
After Lee publicized her case, five other women came forward describing a similar attacker, who is now under investigation.
"There's no sense in staying silent," Lee said. "No one should stay fearful."
[Anh Do is a Metro reporter covering Asian American issues and general assignments. A second-generation journalist, she has worked at the Dallas Morning News, Seattle Times, Orange County Register and Nguoi Viet Daily News, the largest Vietnamese-language newspaper in the U.S. Twitter Instagram Email Facebook ]
Race Forward Decries Hate Violence Against Asian Americans in Atlanta and Across the Country
March 18, 2021
Race Forward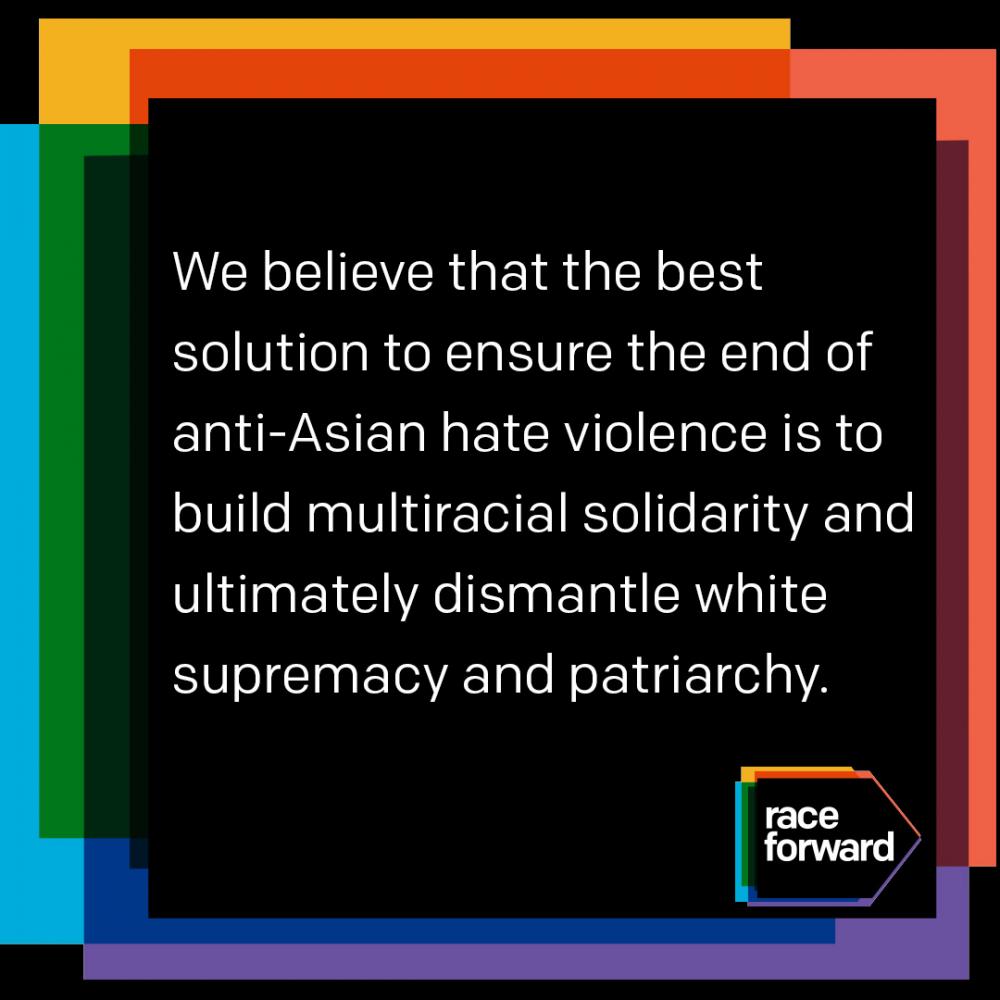 On Tuesday evening, March 16, 2021, a white gunman in Atlanta, Georgia, killed eight people—six of whom were women of Asian descent—at three separate massage businesses in Atlanta. We mourn the lives lost to this racist and gender-based violence, including Delaina Ashley Yaun, Xiaoje Yan, Daoyou Feng, and Paul Andre Michels. Their lives had meaning.
We condemn police statements regarding the murderer as simply having had "a bad day," and suggestions that his "sex addiction" meant the shootings had nothing to do with race. Such statements imply that a racist killer is worthy of far more sympathy than the Asian women and others who were killed. It is dehumanizing and disrespectful. We still do not even know all of the victim's names.
These murders are a part of a disturbing trend of increasing violence against people of Asian descent across the country. According to Stop AAPI Hate, there have been almost 4,000 incidents of violence reported in the past year. Sixty-eight percent of those reports were from Asian women. We know that these incidents are only a fraction of occurrences, as many hate crimes go unreported. 
We vehemently condemn anti-Asian violence and racist violence in all of its forms. We note that this violence was intentional and intersectional—racialized, gendered, and directed primarily at working class women. We recognize that the root causes of this violence are white supremacy and patriarchy. We also condemn media coverage that has increased tensions between communities of color, and that has further marginalized Asian and Asian American women and femmes.
The inflection point in this wave of violence can be traced directly to former President Donald Trump's explicit calls to violence against Asians, through his comments on "the Chinese virus" and "the kung-flu." Some perpetrators of violence against Asians have explicitly cited former President Trump's calls as provoking their own actions.
These incidents fall into a pattern of racist scapegoating and misogyny that has been endemic in American history—from the anti-Asian riots and lynchings of the nineteenth and twentieth centuries to the 1982 murder of Vincent Chin, the 1989 schoolyard massacre of five Southeast Asian American children in Stockton, California to the post 9/11 scapegoating of Arab, Middle Eastern, Muslim, South Asian, and Sikh people to the 2012 mass shooting of 6 Sikh Americans in a Wisconsin temple to the brutal ICE raids that daily tear apart the lives of migrant, immigrant, and refugee families.
Such violence has relied upon criss-crossing narratives, including the 300-year old narrative of Asians as strange, sickly, exotic, and carriers of contagious diseases, the narrative of Asian women as subservient and hypersexual objects for white men to use as they please, and the narrative of Asian Americans as unneeding and undeserving of support. This combination has led to many forms of violence, including street harassment, sexual assault, and state-sanctioned police and military violence.
This particular act of racialized and gendered violence in Atlanta also has roots in U.S. imperialism across Asia. The tragic killing of Jennifer Laude, a transwoman sex worker in the Philippines at the hands of a US military serviceman, is one example that highlighted the particular dangers faced by transwomen. In all too many cases, American military personnel who have perpetrated sexual violence against Asian women have been shielded against prosecution by the law. 
Many Asian women—whether migrant, refugee, immigrant, or U.S. born—work in unprotected, low-wage service industries like nail salons and spas. The criminalization of the sex trade has left many cisgender women—but particularly transgender women—who work in these industries facing unfathomable violence, often at the hands of police and law enforcement. Shaming women for their work is not the way to end individual and state-sanctioned hate violence against Asians and Asian Americans. It blames the most vulnerable for social and economic conditions created by policies set at home and abroad.
We believe that more police, counterterrorism units, and vigilante groups will not provide a solution to such violence, because this violence is rooted in systemic and structural racism. We strongly advocate community-based solutions to build alternatives to the kinds of militarization and criminalization that oppress Black communities, Indigenous communities, Latinx communities, Asian and Pacific Islander communities, and all communities of color.
We believe that the best solution to ensure the end of anti-Asian hate violence is to build multiracial solidarity, promote the dignity of work and the health of communities, support the organizing work of Asians and Pacific Islanders working to serve those most in need in collaboration with multiracial communities nationally and globally, and ultimately to dismantle white supremacy and patriarchy. 
We acknowledge the deep tradition of cross-racial solidarity that has built community-based solutions, and that such work continues now. In particular, we want to lift up many of the organizations that have been tirelessly doing this important work. 
The violence of this past week underscores the importance of our continued efforts to achieve racial equity in this country. We firmly stand in solidarity with our Asian communities in their time of need, and send light and love to all those affected by this senseless tragedy. 
The Race Forward Team
Race Forward
145 East 57th Street, 4th Floor
New York, NY 10022