Media Bits and Bytes - April 20, 2021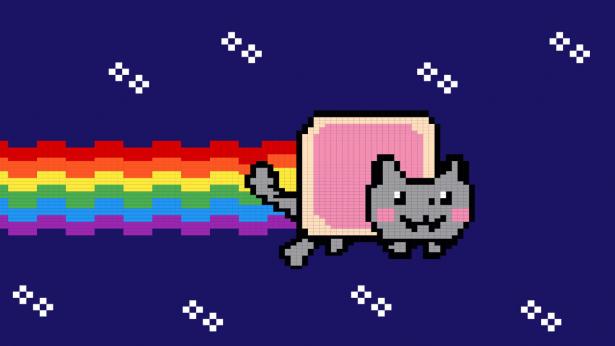 A non-fungible token (NFT) is a digital certificate for intellectual property stored on the blockchain. And Nyan Cat, Grimes, and Kings of Leon are all involved. Credit, PCMag
By Jelena Šapić
Mašina
The increased digitalization of labor presents a whole new set of challenges from the legislative and labor organizing perspective. Companies use sophisticated software to monitor their employees, but workers can also utilize software in their struggle for labor rights and a more equitable economy.
Spectrum Strikers Launch Public IPC
Hundreds of NYC cable technicians have banded together to create a fairer, more affordable, pro-people telecom option in New York City (and, hopefully, beyond).
Al Jazeera
Freelance photographer Tim Evans told AP that officers surrounded protesters after a 10pm curfew passed. They charged into the crowd and started pepper-spraying and tackling people, he said. Evans said one officer punched him in the face and tore off his credentials, forced him onto his stomach and pressed a knee into his back. "I was yelling 'press.' He said he didn't care." 
How YouTube Chooses Video Recommendations
By Andrew Hutchinson
Social Media Today
A lot of the feedback that YouTube got in the early days of its algorithmically-defined feed was that people's home feeds were being filled with "sensational or off-putting videos", so it switched focus to watch time as a key metric instead.
By Gabe Schneider
Reynolds Journalism Institute
Movement journalism represents a fissure in American journalism. Many of the journalists that practice it seem unconcerned with larger legacy newsrooms that are preoccupied with stature and tradition, instead of emphasizing the importance of doing right by the communities they report with.
By Samanth Subramanian
Quartz
The best broadband in the US isn't in New York or San Francisco. It's in Chattanooga, Tennessee. And it's owned by the city's government—which makes it a shining case study for president Joe Biden's push to have more municipal authorities build and run internet infrastructure.
By Rebecca Sun
The Hollywood Reporter
As newsrooms cover violence against Asian Americans, journalists of Asian heritage find themselves — and their cultural identity — in the spotlight.
By Andy Greenberg
Wired
The US has now sent the Kremlin a message in the form of a punishing package of diplomatic and economic measures. But even as the retribution for the SolarWinds hack becomes clear, the question remains: What exactly is that message? By most any interpretation, it doesn't seem to be based on a rule that the United States has ever spelled out before.
Can Algorithmic Registers Solve Automated Bias?
The Finnish tech company Saidot's platform collects data that allows organisations to better assess the risks posed by AI, and to communicate openly about them to the public or employees.
By Chandra Steele
PCMag
A non-fungible token is a unique unit of cryptocurrency. It's a digital certificate for intellectual property and is stored on the blockchain. So the owner of an NFT owns an asset, whatever that may be, and the proof of ownership of that asset.