Media Bits and Bytes - World Press Freedom Day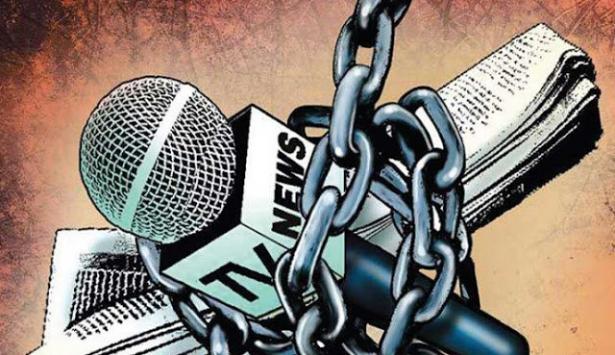 Unhappy World Press Freedom Day 2021
By Patrick Murphin
Heretic, Rebel, A Thing to Flout

How is it going on the press freedom front these days? Well the needle on the dial hovers between not so good and terrible. In fact the press both traditional media and emerging digital media is under greater pressure in more nations than at any time since the Second World War.
Reporting: Unraveling the Protest Paradigm
By Danielle Kilgo
Columbia Journalism Review
Protest movements that might convey their concerns through news coverage instead see their efforts delegitimized by a press that favors spectacle, conflict, disruption, and official narratives over the substance of movements that challenge the status quo. Not all protests are treated as equals by the press.
Falun Gong, Steve Bannon and Internet Freedom
By David Folkenflik
NPR
The U.S. Agency for Global Media and the U.S. State Department subsidized software developed by adherents of Falun Gong. Once the software was approved for funding, a grand total of four people abroad used it to access Voice of America and Radio Free Asia, a key purpose for its subsidy. That's right, four.
Media Sidestep Chauvin Trial Lessons
By Jeff Cohen
Common Dreams
Corporate liberal media—owned and sponsored by the mightiest economic forces in our society—have increased their talk about race and racism in recent years, especially since the rise of Trump. They've even used the phrase "systemic racism"—while avoiding the corporate systems that propel and reinforce racism. 
Morocco: Free Imprisoned Journalists
By Stefano Mauro
il manifesto Global
Two Moroccan journalists who have distinguished themselves for their criticism of the Moroccan government began a hunger strike on April 9. They have been held in preventive detention for eight and ten months respectively.
"Law and Order" Is Switching Sides in New Series
"Law and Order: For the Defense" will take a look inside a criminal defense firm. The series will put the lawyers under the microscope, along with the criminal justice system with every week delivering the promise of a contemporary morality tale.
The Need to Re-Write News Writing
By Dan Hind
openDemocracy
A system that cannot accurately describe its own nature cannot begin to describe how repression in other countries is underwritten by our own. We have to liberate our own media systems from the forms of subtle control that distort its coverage and confound our understanding.
Florida's Revenge on Social Media for Dumping Trump
By Kim Lyons
The Verge
Florida is on the verge of passing legislation that would fine social media companies like Twitter and Facebook that "knowingly de-platform" political candidates.  Florida Republicans insist the bill has nothing to do with Trump, a famous denizen of social media who was banned earlier this year by major platforms.
Online Advertising is Raking It In
Facebook, Google and Amazon are reaping the benefits from advertising's pandemic hot streak.
By Jomo Kwame Sundaram
Inter Press Service
The name Said Zahari deserves to be immortalised worldwide as symbolising the now universal struggle for press freedom. Today, on the occasion of World Press Freedom Day, let us all salute Said Zahari and his Utusan comrades of 1961.